Herculaneum is a rare find for visitors and day trippers who would like to behold the rich cultural heritage, art and architecture of a bygone era. Herculaneum guided tours let you experience the ghost town in its well-preserved legacy. This little known and less frequented site is located somewhere between the popular tourist spots of Pompeii and Naples.
The preservation of many organically built wooden objects, murals, frescoes, skeletons, and other items because of the pyroclastic surge caused by Mout Vesuvius, which has allowed us to get a better understanding of how people lived in the early Roman empire. It would be a tremendous folly to overlook this ancient marvel, while it exists so close to major Italian tourist destinations, especially when you can book your Herculaneum tickets so easily.
Keep reading to find everything you need to know about Herculaneum tours!
Advantages of a Herculaneum Guided Tour
---
Take a look at the benefits of going on a Herculaneum guided tour:
Skip the line entry to Herculaneum, and enter at the time slot chosen
While Herculaneum is less crowded with tourists, it is still fast becoming a bustling attraction, especially for history lovers. With a Herculaneum tour, you can avoid queuing up and waiting for your turn. Instead, you can just skip the line and go right ahead with your explorations of the park. This not only saves precious time, but is also really helpful in maintaining appropriate Covid safety procedures. You can choose any date and time when buying the Herculaneum ticket and plan your trip accordingly. Now, that makes for a truly worry free adventure.
An expert archeologist who takes you through the Herculaneum Archeological Park
What's better than a knowledgeable tour guide? You can get the answer to this question when you reach the park, only to find yourself under the expert guidance of a competent archaeologist to tell you all there is to know about this historic town. Stroll by the impressive basilica, the expansive spa complex, the luxurious houses, and more. Learn rare tidbits about this region with evident Samnite, Greek, Etruscan influences, and a prominent Roman presence from your assigned archaeologist-cum-guide in English or Italian.
An Audio guide with 5 different languages and 63 listening points
With the help of the official audio guide, explore one of the best-preserved archaeological sites on the planet. Discover the mysteries of the ancient settlement that time and Mt. Vesuvius' volcanic rocks and ash concealed. The official audio guide will choose the best routes to fully explore and enjoy the place. Listen to the interesting guide with 63 listening points to better appreciate the history of this place in 150 minutes. The audio guide's fascinating descriptive storytelling, which is available in 5 different languages, makes for a great option if you have got time on your hands.
A 360° virtual tour and sneak a peek into the daily life of elite Ancient Romans
Listen to the official audio guide to Herculaneum Archeological Park to truly understand and fall under its enchantment. Herculaneum is considered one of the best-preserved ancient sites on earth and is replete with intriguing historical factoids. Utilize the easy-to-use touch screen to access 360 ° virtual tours. The audio guide uses precise historical geo-localization technology, which helps you learn about the old city before Vesuvius erupted in 79 CE and travel back in time to the olden days of this once prosperous city.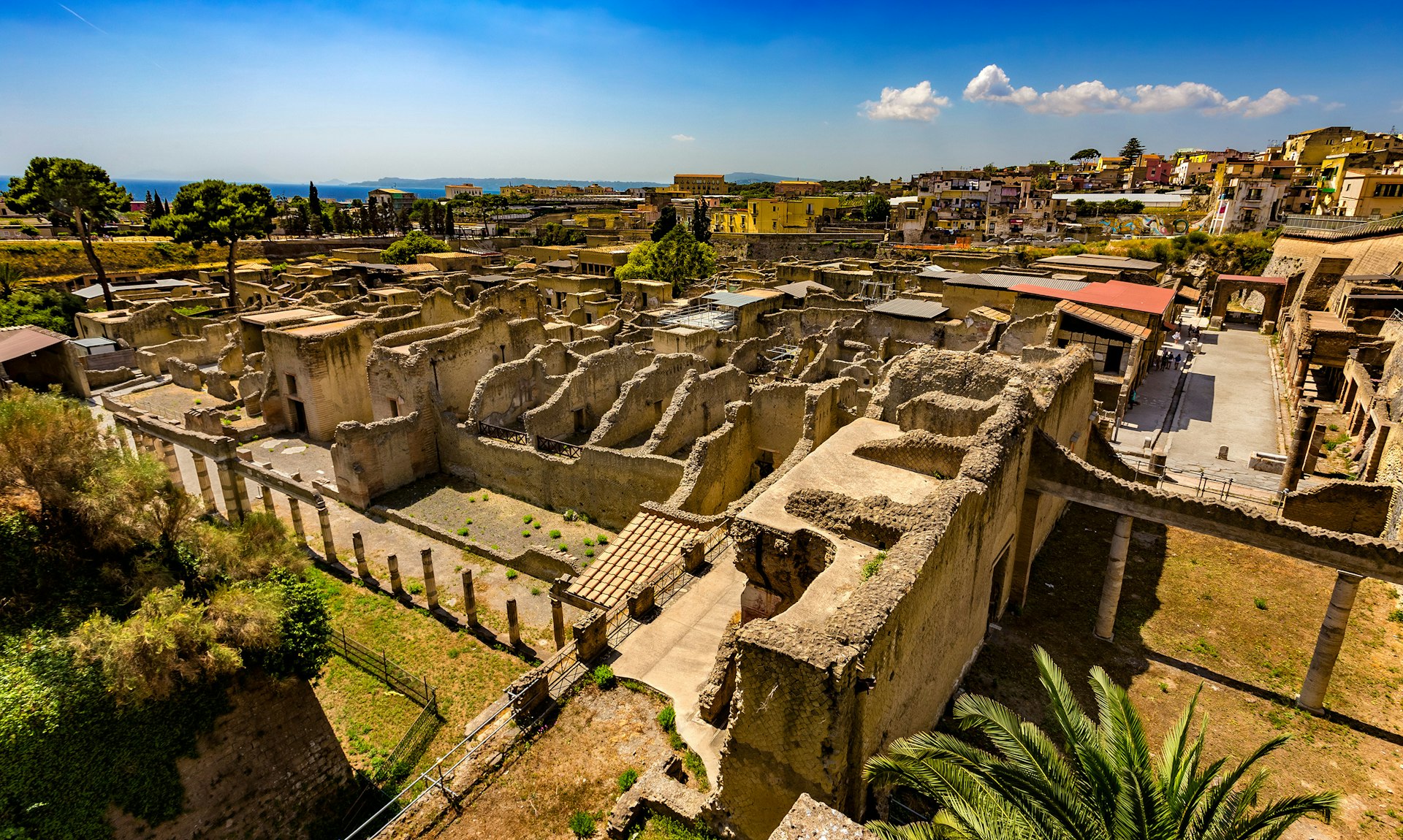 The Best Herculaneum Guided Tours
---
Guided Tours
Combo Guided Tours

Herculaneum
Visiting The Ruins Of Herculaneum, Italy
Planning to buy Herculaneum tickets? Our handy guide will take you through everything you need to know.
Choosing the Best Herculaneum Guided Tour
---
Confused about which Herculaneum tour might be the best choice for your travel needs? Read along to find out the highlights and the important aspects of each tour option listed below before buying your Herculaneum tickets.
Enjoy your trip to Herculaneum Archaeological Park at your own pace with the self-guided tour. The tour includes entrance tickets, along with an engrossing audio guide available in 5 languages. Get an immersive experience with the easily accessible 360° virtual tours. The official audio guide lets you learn about the ancient region's rich past. There's also a narrative storytelling session, especially for children, so even young curious minds remain entertained.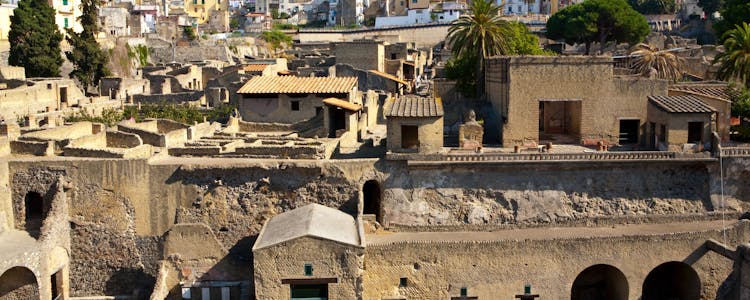 2

Guided tour with an Archaeologist
Embark on an unforgettable expedition to the past as you venture into the ancient village of Herculaneum, which offers a panoramic view of the Gulf of Naples. Save yourself some time with this Herculaneum ticket, which lets you skip the line and start your tour right away. What's more, you get to learn about the captivating history of the area from an expert archaeologist for 2 hours.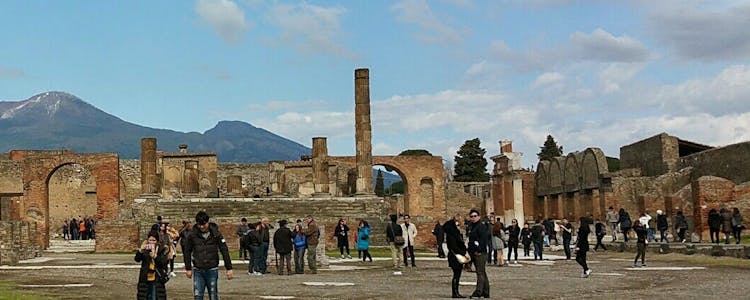 Herculaneum Tours Deconstructed - A Typical Guided Tour Experience
---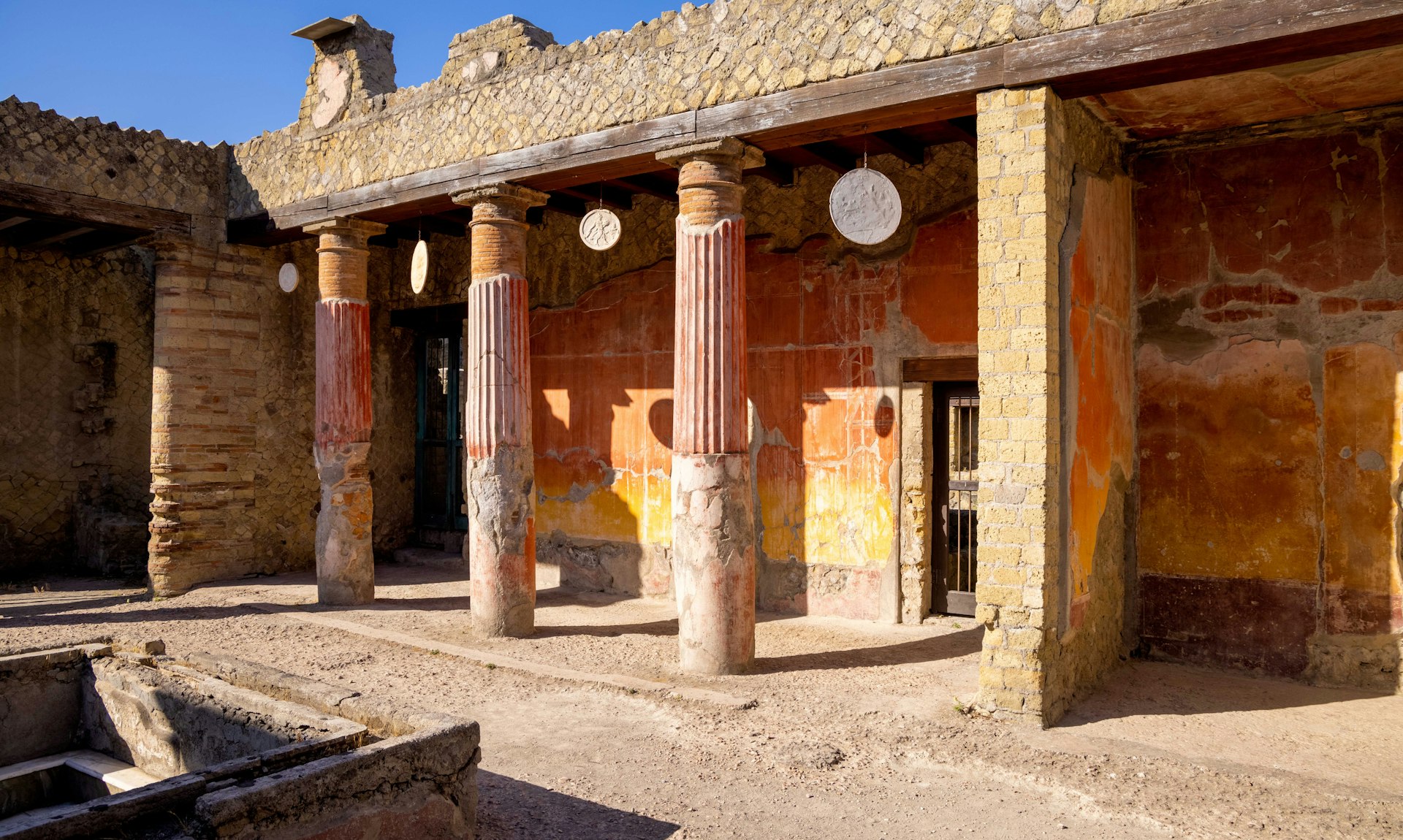 The ruins of Herculaneum, once a thriving seaside town situated within Mount Vesuvius's disastrous range, provide tourists with a singular experience. A UNESCO World Heritage Site, it is home to priceless archaeological finds, like the ancient spas and palatial residences that offer a snapshot of its ancient grandeur.
The Central Baths
Take a look around the thermal baths which were very popular back in the day. Built around the turn of the first century CE, the Central Baths at Herculaneum were organised into separate men's and women's facilities, as was customary, each with its own arrangement of changing rooms (apodyterium), warm rooms (tepidarium), and hot rooms (caldarium). The women's bathroom boasts a floor mosaic of geometric shapes, while the men's bathroom has a mosaic of dolphins. Numerous pieces of art adorned this centre of Roman culture, and they can be seen throughout the Central Thermae site.
Casa dello Scheletro - Skeleton's house
Experience the relatively humble Casa dello Scheletro has 5 different types of mosaic flooring, including one located at the entryway with white arrows to help you find your way around the building with its beautiful blue frescoes. Only the faded wall mosaics with mythological themes remain from the originals; the rest are currently housed in Naples' Museo Archeologico Nazionale. The moniker House of the Skeleton comes from the 1831 discovery of skeletal remains in a room on the second floor, assumed to have died during the eruption of Mount Vesuvius in 79 CE.
Casa dell' Albergo
Your guided tour will take you to The House of the Inn or Casa dell Albergo, which is situated in a stunning seaside setting in Insula III. The house was initially discovered in 1852 and was constructed during the Augustan era. It was once thought to be an inn due to its size and the existence of its own private baths, but it is now thought to be a private residence, although a quite opulent one. It is believed to have been converted for commercial use after the earthquake in 62 CE.
Casa dei Cervi - Deers' House
Make your way toward the Casa dei Cervi or Deer's House, another luxury two-story waterfront mansion with a courtyard in the middle. It used to feature a sizable garden with marble tables and statues of deer that are now well-preserved in the on-site museum. You will also find the marble chips and lovely mosaic designs on the floor quite an amazing sight to witness. Don't miss the frescoed walls.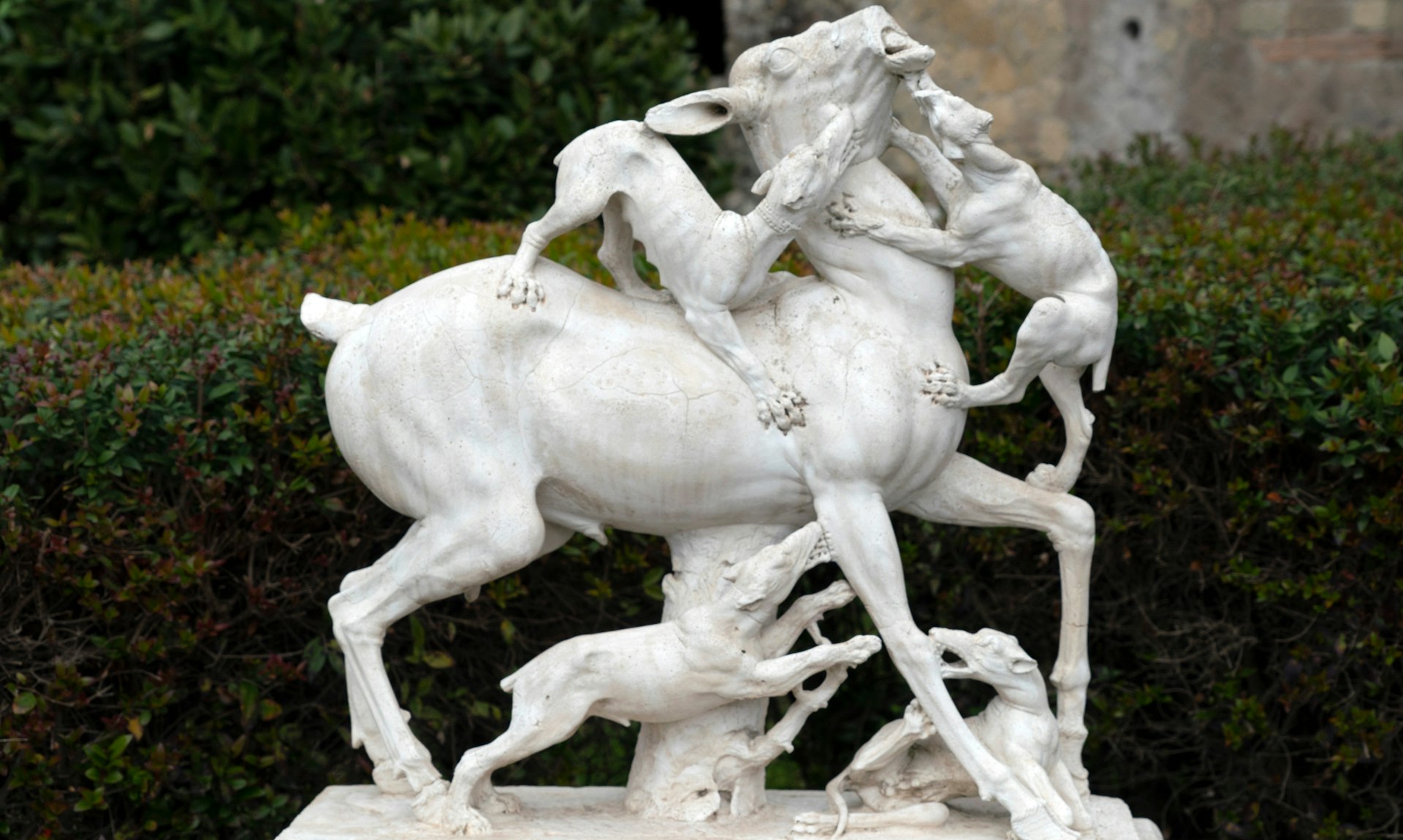 Samnite House
Wander around the Samnite House, which is among the town's earliest aristocratic residences, to have been uncovered in the Herculaneum. The home boasts lavish stucco and fresco decorations as well as an exquisite atrium that is surrounded by a gallery and small rooms. The building is distinguished by the traditional columns and pillars from that time.
Villa dei Papyri - Scrolls' Villa
A visit to the luxurious Villa dei Papyri is one you absolutely mustn't miss in your Herculaneum tour. This expansive and magnificent villa on the seashore is home to the well-known Herculaneum scrolls, which were named for the extraordinary library of papyri (scrolls). Its superb architecture and rare pieces of art, including paintings, bronze and marble statues, etc., are spread across four terraces. An outstanding sight to behold, both for its historical significance and the Instagram-worthy pictures, Scroll's Villa promises to be memorable.
House of the Neptune and Amphitrite Mosaic
Witness some of the most impressive and well-preserved mosaics and wall paintings in the city in the House of Neptune and Amphitrite. The erstwhile owner made the most of a fairly compact area to turn it into a spectacular showcase of a wealthy Roman town residence. Named after the Roman sea god and the Greek sea goddess, it boasts one of the most exquisite mosaic glass walls. A glass mosaic is also present on the wall next to it, and marble masks are shown above. It has a garden room in place of the peristyle, which gives it a distinctive touch.
Are Herculaneum Tours Really Worth it?
---
Simply put, yes. A Herculaneum guided tour is indeed worth your while and money. Choosing a Herculaneum tour offers you the opportunity to explore the archaeological park at your leisure. Take in the famous historical ruins of this coastal resort town that give you an insight into the rich tradition and culture of the ancient Roman empire at your convenience. From the House of Scrolls to the thermal baths, from the House of Neptune to the boathouses, these tours allow you to glimpse into their lives, both the good times and the bad.
Herculaneum Practical Information
---
Opening Hours
The Herculaneum Archaeological Park remains open every day of the week, though both timings may vary, depending on the season.

The park will remain open from 9:00 AM to 7:30 PM, from April 1 to October 31, with the last visitors being granted entry at 6:00 PM

From 1 November to 31 March, the park's opening hours are from 8:30 AM to 5:00 PM and the last entrance is at 3.30 PM.

Herculaneum is closed on 25th December, 1st January and 1st May.
Getting to Pitti Palace
By Bus: Bus 5 will take you to Plinio, which is a 5-minute walk from Herculaneum. You can also take the bus route 176, E41.
By Train: If you are visiting from Rome, you can take the train from the Termini station which will take you 2 to 3 hours depending on the speed. Transfer in Naples.
For a day trip from Naples, go to Napoli Stazione Centrale / Garibaldi, take the Circumvesuviana line train to Sorrento, and exit at the ERCOLANO station.

You can also visit Pompeii and take the train from Pompeii Scavi station/Villa dei Misteri and disembark at the Ercolano Scavi stop, which is 10 minutes away on foot from the park.


By Car: You can rent a cab or a car to go to the Herculaneum. Take the Ercolano exit on the A3 autostrada.
Insider Tips
---
Here are some useful tips you should consider when visiting the Herculaneum:
On the first Sunday of every month, admission is free. So if you choose to visit on that day, make sure you have plenty of buffer time to adjust for crowds.
Infants under the age of three go free. Reduced ticket prices are available for children ages 4 to 11 and students ages 12 to 17.
Carry valid photo IDs to redeem your tickets and especially if you want to avail of discounted tickets.
Take a refillable bottle of water along to avoid dehydration and you can keep refilling it from the water fountains at the park. Carry snacks to avoid shelling out on expensive meals in the restaurants in and around Herculaneum.
Consider purchasing a Campania Artecard if you're a teacher or student as it grants free or discounted entry to numerous museums and archaeological sites in and around Naples and Campania. Also included in the three-day pass is free public transportation.
Wear sturdy and comfortable shoes as the tour involves a lot of walking.
Wear smart casuals. If you are visiting in the summer, remember your sunscreen and sunglasses.
Follow Covid safety protocols, sanitisers are available on request.
The best time to take the Herculaneum tour is early morning or late evening.
Carry earphones for the audio guide if you are using Android phones.
Royal Palace Madrid Guided Tours
FAQs
---
You can choose to book a private tour of the Herculaneum Archaeological Park for a fixed rate that accommodates up to 8 people per tour.
Herculaneum guided tours are flexible. You can select a time of your choosing when booking your tickets.

However, please remember that opening hours will differ according to the season/month and choose a date/time accordingly. From April 1 to October 31, the site remains open from 9 AM to 7.30 PM, with the last entry at 6 PM. Opening hours are 8.30 AM to 5 PM, last visitors can enter at 3.30 PM.
Yes, you can book a private tour just for yourself and/or your party at the Herculaneum.
If you are travelling on a budget, you can book the Herculaneum Entrance Ticket and Audioguide tour, which is priced at €28.
The Herculaneum guided tours remain closed on 25th December, 1st January and 1st May. The last entrance for the months of April to October is 6 PM, while during the winter months of November to March, tourists can enter the site 1 and a half hours before the park closes, i.e., 3.30 PM.

Keep in mind that tickets to Herculaneum guided tours can be bought whilst availability lasts. So, book your tickets now for a hassle-free travelling experience.
Ready to head to Herculaneum ?
---
Purchase discounted Herculaneum tickets via Headout today! Explore Herculaneum in a hassle-free fashion with all the need-to-know information in hand.