There's no better feeling in the world than finally ticking off an item from your bucket list. Most people have adventure activities and sports on their bucket lists- after all, the rush of adrenaline that accompanies going on an adventure cannot be recreated elsewhere. From scaling a mountain and watching the sunrise to jumping off a plane with the Dubai skyline visible below in all its glory, each adventure activity makes you feel alive.

Beyond the spiritual, bucket list adventures are also fantastic avenues for discovering the many wonders that populate our planet. Embarking on a bucket list adventure travel tour lets you experience our magical planet one at a time.

Planning to participate in some bucket list adventure activities? We have put together the perfect list of the top 20 bucket list adventure activities you mustn't miss out on.
20 bucket list adventure activities
---
1

Swim with whale sharks at Isla Contoy
Cancun
$69
Price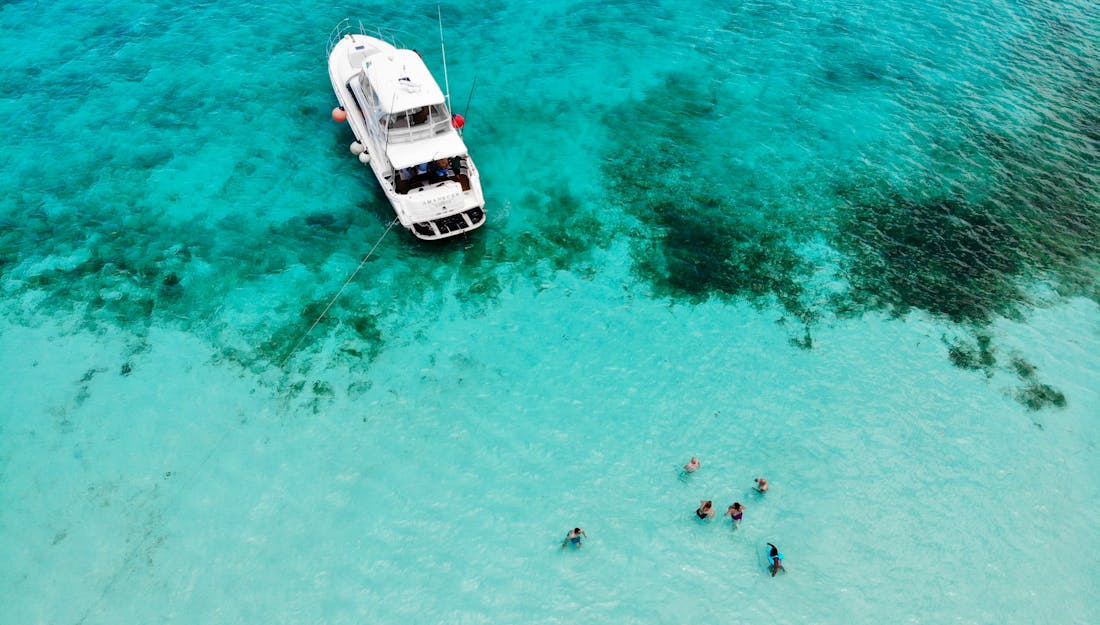 Visiting Cancun entails more than just soaking up the sunrays and playing in the sand. Amazing ecotourism experiences such as whale shark excursions are also available.. Travel to Isla Contoy, commonly known as Isla de Los Pájaros, an 8.5-km-long island paradise. The Mexican government has also declared it a national park, which was established in February 1998. Spend your time basking in the photons, snorkeling underwater, and gasping at the world's largest fish.
Hot tip: Children between the ages of 0 and 13 are admitted for free. Teenagers between the ages of 14 and 17 pay a lower admission price.
Best Time to Visit
The autumn-winter months
Know Before You Go
This experience is only possible if you book an authorized experience. You'll be required to bring your swimsuit, towel, and other personal items. The experience is wheelchair accessible.
More water sports in Cancun
2

Canoe safari in the Okavango Delta
Botswana
$141
Price

When it comes to seeking adventure, embarking on a safari in Africa is an obvious yet exciting choice. The Okavango Delta in Botswana is a must-see for both first-timers and seasoned safari-goers, owing to its abundance of species and topographical variety. Take a mokoro boat ride to get the best close up view of the wandering elephants, cheetahs, and antelope, among other animals.
Hot tip: Wearing bright colors during the canoe safari is prohibited since bright colors are more likely to attract animals.
Best Time to Visit
Between May and August (when the rains have stopped but the water has managed to reach the Delta, attracting animals from all around)
Know Before You Go
Your experience will depend on the type of tour you book. If you're short on a time, a basic 1-hour ride around the delta would suffice. For a more elaborate experience with meals included, you can go with a 1-day tour.
3

Skydive at Wollongong
Sydney
AU$349
Price

Take a leap of faith from the skies and embrace the instant adrenaline rush from your freefall- an experience that cannot be put into words. Freefall at speeds of up to 200 km/h for around 60 seconds as you plunge downwards like a brick falling from the sky. From your airborne vantage point, you can glide in the skies for 5-7 minutes, taking in the views of Sydney, the Opera House, and the beautiful beaches.
Hot tip:Wear loose, comfortable clothing and closed-toed shoes, such as sneakers or running shoes.

Read our complete guide to Skydiving at Wollongong and check out other cool Skydive sites in Australia too!
Best Time to Visit
Summer months between December and February.
Know Before You Go
The minimum age requirement for skydiving is 12 and the maximum weight for a tandem jumper is 110 kg. All jumpers will be registered online at the Australian Parachute Federation before their skydive.
Book your Sydney Skydive tickets
4

Scale the Machu Picchu
Peru
$759 for the 5-day trek
Price

Machu Picchu, the iconic Incan citadel in the Andes, should be on every adventurer's bucket list. While the site can be reached by bus, more daring visitors can go on a five-day journey down the Inca Trail's full 26-mile length. It not only passes through wonderful ruins along the route but also offers breathtaking vistas of rivers and snow-capped mountains before entering Machu Picchu through the iconic Sun Gate.
Hot tip: If you plan on trekking during the peak season, you need to book at least 6 months in advance to ensure you get a ticket.
Best Time to Visit
May and October are the best months to hike the Inca Trail since permits are less likely to sell out than during the peak months, and it is also dryer and warmer than June, July, and August.
Know Before You Go
You need to acquire a trekking permit in advance, which goes on sale in January and frequently sells out. Because of the vast number of visitors, camping and guide/porter limitations are strictly enforced, with each night's camping taking place in authorized campsites.
5

Trek the Mendenhall Glacier
Alaska
From $214
Price

Hiking through the Alaskan wilderness and getting up close to the Mendenhall Glacier makes for a fantastic bucket list adventure! As you climb through the Tongass Rainforest towards the glacier on this thrilling excursion, you will be treated to a breathtaking view of Alaskan nature. You'll get to explore the glacier's edge, where you'll see ice caves, spectacular crevasses, and unique glacial structures. The Mendenhall Glacier walk and climb is suited for people of all ages and abilities, but you must be in good physical condition: the trek can last up to 6.5 hours and covers approximately 8 miles in total.
Hot tip: Pack hiking boots with good stability and traction. Also bring comfortable hiking pants, a warm sweater or fleece, a hat, and gloves.
Best Time to Visit
The Mendenhall Glacier is open all year, however, the months of May through October are the best for a trek.
Know Before You Go
The Mendenhall Glacier's dynamic nature means that its features are always changing. Before allowing you to use any of the available features, your trip guide will assess them to see if they are safe to use.
6

Surf "The Pipeline"
Hawaii

The Banzai Pipeline, also known as The Pipeline is a Hawaiian surf reef break located off Ehukai Beach Park in Pupukea on Oahu's North Shore. A reef break is a spot in the water where waves begin to break as they approach the reef's shallows. Massive waves crash in shallow water right above a steep and vast reef at Pipeline, generating massive, hollow, dense coils of water that surfers can tube ride. At Pipeline, three reefs in progressively deeper water further out to sea bloom in response to the size of incoming ocean waves.

Price: There's no cost of surfing the Pipeline in Hawaii. If it's your first time, you'll want to enroll in a surfing school.
Hot tip: An above Pipe wave on an ideal tube riding day will need you to master the late drop. So, maintain your posture low, navigate a deep bottom turn, pump for speed, and lean on your inside rail for the barrel.
Best Time to Visit
The months between November and February are the best times to see big wave surfing.
Know Before You Go
The Pipeline is amongst the most iconic surfing spots in the world. Ensure you're well prepared and aware of how to surf safely before giving it a go.
7

Hot air balloon over Cappadocia
Turkey
From $178
Price

Cappadocia is a stunning and amazing terrain that has been formed over thousands of years by erosion. These cave-like structures and rock-hewn shrines date back to the 4th century. A balloon tour is an essential part of any vacation for visitors who appreciate natural beauty from the high skies. The beautiful panorama of Cappadocia enchants the traveler from the moment of flight, around daybreak. You'll feel as if you're floating through a picture, passing by mythical chimneys, gliding over valleys dotted with pigeon houses, and passing through orchards and vineyards.
Hot tip: Wear warm clothes for your hot air balloon ride as temperatures can drop down to low levels while you're up in the air
Best Time to Visit
Between April and November when the weather conditions are most suitable.
Know Before You Go
High-heeled shoes are not recommended for this balloon ride. Wear comfortable shoes and bring a hat along.
Top rated Hot Air Balloon Experiences in Cappadocia
8

Walk in the icy depths of the mammoth Langjökull Glacier
Iceland
From $215
Price

The massive Langjökull, sometimes known as the 'Long Glacier,' is Iceland's 2nd-largest glacier, spanning 361 square miles. Langjökull is Iceland's most prominent glacier for jeep and snowmobile excursions, skiing and hiking. A man-made ice tunnel at Langjökull's highest peaks is a sight to behold for anyone passing by the glacier. The tunnel, designed and built by geophysicist Ari Trausti Gudmundsson, allows people to explore the inside of a glacier without having to travel to Iceland in the dead of winter to see the ice caves.
Hot tip: Temperatures within the ice cave can drop to below zero degrees Celsius, so dress warmly and in sturdy footwear.
Best Time to Visit
Langjökull, unlike certain regions of Iceland's interior, is open all year. Regardless of the season, there is an adventure that allows you to experience Langjökull for yourself.
Know Before You Go
The landscape around Langjokull Glacier is harsh, and the weather can be unpredictable. It's usually ideal to go on an adventure with a knowledgeable local guide.
More adventures in Iceland
9

Zipline the world's longest zipline at Jebel Jais
Ras Al Khaimah
From $98
Price

Glide over the world's longest zipline at speeds approaching 150 kilometers per hour! Take a moment to catch your breath on a floating landing platform as you return to floor level after that magnificent journey! This bucket-list adventure will take you on an unforgettable journey. You will land on a safe, suspended platform after taking off from the UAE's highest point, above 1,680m above sea level, and soaring above the majestic Jebel Jais mountains in Ras al Khaimah at an average speed of 120kph.
Hot tip:Sturdy trainers, running shoes, or closed-toe shoes with high traction are required as flip flops or loose footwear are not allowed.

Read our first time's guide to ziplining at Jebel Jais and prep for your first zipline experience like a pro!
Best Time to Visit
The UAE summer is an ideal time to visit Jebel Jais because the average temperature is 10 degrees Celsius cooler in the mountains.
Know Before You Go
Those under the age of 18 must always be accompanied by an adult. Guests who are pregnant or who are under the influence of drugs or alcohol will not be allowed.
Book your Jebel Jais tickets at the best price on the internet!
10

Snorkel between continents at Thingvellir National Park
Iceland
From $134
Price

Snorkeling in the Silfra Fissure has been named one of Trip Advisor's Top 5 activities in the world! On the surface, this tiny volcanic canyon with crystal clear ice and brilliant blue water winding through a large lava field in Thingvellir National Park does not appear to be much. Put on a mask and look below to see a wonderful sub-aquatic wonderland with supernatural colors of blue, perfect vision, and fantastic rock formations. Silfra Fissure is also the only spot in the cosmos where you may go snorkeling in between the tectonic crust as they slowly slide away, dividing Iceland in two.
Hot tip: Pack a change of clothes, towel, and warm socks since it's pretty cold. here.
Best Time to Visit
Thingvellir is a year-round destination, but the ideal months to visit are May to October.
Know Before You Go
The minimum age requirement for this experience is 12 years. Also, the whole experience takes about 3 hours so ensure you set aside enough time.
11

Go "volcano boarding" on Cerro Negro
Nicaragua
From $55
Price

Outside of Leon, Nicaragua is an active volcano known as Cerro Negro (Black Hill). It's only 161 years old, therefore it's comparatively new. It's easy to ride or surf down the steep incline on a wooden sled since the volcano is mostly made up of microscopic penny-sized grains of volcanic rock. Volcano boarding can be done in two different ways. You can either stand on a snowboard or sit on a sled. It's a lot of fun to race down an active volcano at 30 mph on a small piece of wood, which makes it one of the top bucket list adventure activities!
Hot tip: The wide roads promise a comfortable ride.
Best Time to Visit
The best months to visit Cerro Negro in Panama are January through April, June through September, and December, when temperatures are moderate and rainfall is limited to average.
Know Before You Go
Your ticket includes all the safety equipment required for volcano boarding but wear clothes that cover you completely just in case.
12

Bungee jumping above the Kawarau River
New Zealand
$164
Price
The Kawarau Gorge Suspension Bridge spans the Kawarau River in the Otago area of New Zealand's South Island. The Kawarau Bungy Centre, the world home of Bungy, opened in 1988 and is a must-see for any visitor to Queenstown. The view alone will delight any gathering, nestled inside a rock face overlooking the magnificent Kawarau River. This 43-meter Bungy jump, which is home to the world's first and most famous of leaps, is still the most renowned Bungy site, drawing hordes of thrill-seekers each year.
Hot tip: While there are no restrictions on what you can wear, it is recommended that you layer up and bring a jacket because it can be rather cold in the winter.
Best Time to Visit
This bucket list adventure activity is available at all times of the year. If you're looking to avoid crowds, visit in the morning on a weekday.
Know Before You Go
The minimum age requirement is ten years. Children under the age of 14 must be accompanied on the adventure by an adult who signs consent at check-in. The allowed weight ranges from 35 to 235 kg.
13

Climb the Half Dome at Yosemite National Park
U.S.A
Free
Price
Half Dome is a Yosemite landmark and a great challenge for many hikers, rising over 5,000 feet above Yosemite Valley and 8,800 feet above sea level. Thousands of individuals visit the summit each year. For the most part, it's a fascinating and challenging hike; for a few, it turns into more of an adventure than they anticipated. Every summer, park rangers aid many hikers on the Half Dome trail. Along the route, you'll get spectacular views of Vernal and Nevada Falls, Liberty Cap, Half Dome, and incredible views of Yosemite Valley and the High Sierra from the crest and peak.
Hot tip: Bring well-worn boots with strong traction and ankle support. Many folks find that wearing gloves helps while going up using the cable. If you bring your gloves up, though, be sure you put them away and not throw them around.
Best Time to Visit
The cables are up from late May or early June through Columbus Day weekend in October, and you can't climb Half Dome unless the cables are up.
Know Before You Go
To access the trail's cable segment, you'll need a permit. The majority of permits are distributed through a lottery held at the end of March, with further lotteries of 50 or so permits each day held two days in advance throughout the summer.
14

Jump off the world's highest cliff jump at the Canyon Swing
Queenstown
From $199
Price
When it comes to adrenaline-pumping, edge-of-your-seat adventure activities in Queenstown, you don't want to miss the Canyon Swing. The world's highest cliff jump, the Canyon Swing lets you freefall from 60 meters. It's an adrenaline rush unlike any other. It's a jump that's unique. It's a memory of a lifetime. Once at the edge, you get to choose how you exit the platform and scream into the emptiness.
Hot tip: Get pictures and videos of your thrilling canyon jump by opting for a media ticket instead of a regular ticket.
Best Time to Visit
Visit the Canyon Swing on a bright summer day to ensure you get a complete view of the surroundings.
Know Before You Go
Minimum age is ten years old, and children under the age of fifteen must be accompanied by an adult. The combined tandem weight is 180 kg, with a maximum solo weight of 160 kg.
15

Hike the Kawah Ijen volcano
Indonesia
From $157
Price

Mount Ijen is unlike any other volcano you've ever seen (if you've ever seen one before)! It is home to the world's largest acidic crater lake, a hazardous sulfur mining business, and, of course, the electric blue flames! Only two spots on the planet may see these blue flames: Java, Indonesia, and Iceland! Hike Kawah Ijen at midnight for a spectacular sunrise and a gorgeous blue flame. This trekking experience is unlike any other you've ever experienced, and it's a great addition to this list of the top 20 bucket list excursions.
Hot tip: Taking a guide saves time and assures your safety if you are unfamiliar with the local culture and Ijen Crater hike etiquette, as well as the potential threats.
Best Time to Visit
The dry season, which spans April to October, is the optimum time to visit Mount Ijen. Because it is the rainy season between November and March, the path can be fairly muddy and slippery, making the climb significantly more difficult.
Know Before You Go
Warm clothing, hiking shoes, a regular face mask, and your camera are all recommended.
16

Climb the Sydney Bridge
Australia
From $198
Price

Sydney Harbour is often regarded as one of the world's most marvelous harbors. The Sydney Opera House and Sydney Harbour Bridge are global landmarks and iconic in their own right. With this awesome bucket list adventure, you get to make your way to the Sydney Harbour Bridge's majestic top for spectacular views of the city. The Sydney Bridge Climb is an exciting and dynamic experience that takes you through the core of this steel mammoth and allows you to breathe the crisp air at the summit. Some of the sights visible from the top include the Opera House, Botanical Gardens, Luna Park, and Observatory.
Hot tip: You will only be able to participate in this activity if your blood alcohol level is less than 0.5. Have the celebratory champagne after you've climbed down the bridge and not before!
Best Time to Visit
There's no best time to climb the Sydney Bridge since each time of the day offers a unique experience that cannot be compared or recreated elsewhere.
Know Before You Go
You will not be allowed to bring your cameras or cellphones on the climb for safety reasons. It, along with the rest of your stuff, can be stored in safe lockers. Kids between the ages of 8 and 15, who are at least 1.2 meters tall, may participate in this activity with an adult.
Grab your Sydney BridgeClimb tickets on Headout
17

Trek to the Everest Base Camp Trek
Nepal
From $645
Price

The Everest Base Camp trek is a breathtaking experience and a strong presence in the list of the most popular bucket list adventure activities. The trail leads adventurers to the base of Mount Everest, the world's highest peak. The hike is known for its mountain peaks and scenery. During the excursion, you'll pass across ridges and trails, but there will be plenty of opportunities to stop for a break and eat meals while admiring the stunning views of the snow-covered valley. The finest part of the trip is meeting kind individuals along the road who will go out of their way to assist you if you need it.
Hot tip: You should start hiking or taking long walks at least once a week at least 8-12 weeks before your trek to prepare for the Everest Base Camp trek.
Best Time to Visit
The months of March to mid-May and September to mid-November Are typically considered the best time to trek to the Everest Base Camp.
Know Before You Go
Choose your tour guide with care. The quality of your experience and safety depends on the guide leading you and you need to ensure you make the right pick.
18

Go tobogganing at the Whistler Mountain
Canada
From $26
Price

Whistler and Blackcomb Mountains are a skier's dream come true, the pinnacle of big mountain adventures. There are over 8,100 acres of snowy slopes, 16 alpine bowls, three glaciers, top-class terrain parks, more than 200 miles of defined trails. You also get to enjoy quick access to the slopeside base Village, which features lodging, stores, and an amazing après-ski scene. As you ride down this exciting tubing slope, feel the wind in your hair and an endless expanse of snow all around you. This incredible bucket-list excursion is suitable for both the young and the youthful.
Hot tip: Make sure you're dressed warmly for the cold. Base layers, full snow gear or waterproof pants, a winter jacket, and warm shoes/boots with a strong grip are all recommended.
Best Time to Visit
The months of June through August, as well as December and March, are ideal for a trip to Whistler. From December to February, the mountains are at their best for skiing, while March provides higher temperatures but still good snow.
Know Before You Go
To tube, children must be at least 3 years old and be at least 91 cm tall. Children with heights between 91 cm and 103 cm will slide on a mini-tube and will only be able to use the Mini-kids lane. Parents can ride on their tube with their children while gripping the mini tube handles.
19

Fly a vintage Biplane over Dracula's Tomb
Romania
From $159
Price

This 20-minute private jet ride over the famed medieval castle, also known as Dracula's Castle, and the beautiful scenery around it is an unforgettable once-in-a-lifetime adventure. You will be able to witness and capture some of the most spectacular vistas you will ever see throughout your flight. View the breathtaking Bucegi mountains from a bird's eye view of Rasnov Citadel.
Hot tip:This activity depends on weather conditions and the airfield often remains closed during winters. If you want to fly a biplane, ensure you make a summer booking.
Best Time to Visit
The ideal time to visit Romania is just before or just after summer when wildflower-laden pastures in the spring and blazing autumnal leaves provide a kaleidoscope of color to complement pleasant temperatures.
Know Before You Go
There is a maximum weight limit of 100 kg per person. This activity is not recommended for pregnant women, those with epilepsy, or anyone who has cardiac problems.
20

Ice Climbing in Canmore
Canada
From $225
Price

Ice climbing is a sport that is exciting, vigorous and gaining in popularity. Canmore in the Canadian Rockies features some of the world's top ice climbing opportunities. There are wonderful beginner crags and climbing sites in addition to long and tough multi-pitch routes. Ice climbing lessons and guiding are available for persons of all skill levels. Go for this once-in-a-lifetime experience in Canmore, whether you are a novice or a seasoned climber seeking to check off the classics from your bucket list.
Hot tip:It goes without saying but you need to be dressed to survive extreme cold. Bring warm clothes including boots and gloves.
Best Time to Visit
If you want to escape the crowds and enjoy Canmore in peace, go during the Rockies' low season, which runs from September to October and May to June.
Know Before You Go
Ice climbing requires a lot of effort and you'll have to enroll in lessons to learn the tricks and tips. Set aside some time if you're planning to go ice climbing.