FIFA World Cup 2022
When it comes to football, it doesn't get much bigger than this. The FIFA World Cup is by and far, the most elusive trophy that a professional football player sets their sights on. The multitude of factors that need to click in order to even have the chance to represent your country at this prestigious event raises the stakes even higher.

The FIFA World Cup Qatar 2022 is set to be the 22nd edition of this Global Event that only comes around once in 4 years. With a whole host of top players- veterans and young stars, and an array of well-seasoned and hopeful countries, this World Cup promises to be one to remember!

Fascinatingly, the timing of this year's World Cup can prove to be one of the deciding factors as to who might end up clinching the trophy. Players around the world have been amping up their game levels and making moves to increase their match fitness.

In this article, we've provided a comprehensive guide to all things you need to know to prepare for this year's World Cup. Stay tuned to find out each qualified nation's squads as soon as they're announced!
World Cup 2022 At A Glance
Location: Qatar (in 5 host cities).
Dates: 20 November to 18 December 2022.
Stadiums:

Lusail Iconic Stadium in Lusail
Al Bayt Stadium in Al Khor
Al Janoub Stadium in Al Wakrah
Ahmad Bin Ali Stadium, Khalifa International Stadium and Education City Stadium in Al Rayyan
Stadium 974 and Al Thumama Stadium in Doha.

Number of teams: 32 (from 5 confederations)
Sponsors:

Adidas
Coca-Cola
Hyundai-Kia
QatarEnergy
Qatar Airways
VISA
How Does The FIFA World Cup Work?
The journey to the FIFA World Cup

Since the second World Cup in 1934, qualifying tournaments have been held to thin the field for the final tournament.
They are held within the six FIFA continental zones (Africa, Asia, North and Central America and Caribbean, South America, Oceania, and Europe), overseen by their respective confederations. For each tournament, FIFA decides the number of places awarded to each of the continental zones beforehand, generally based on the relative strength of the confederations' teams.
The qualification process can start as early as almost three years before the final tournament and last over a two-year period. The formats of the qualification tournaments differ between confederations. Usually, one or two places are awarded to winners of intercontinental play-offs.
Dive into how qualifying for the 2022 World Cup worked around the world here.
The journey through the FIFA World Cup

The World Cup is divided into two distinct phases: the group stage and the knockout stage.
In the group stage, teams compete within eight groups of four teams each. Eight teams are seeded, including the hosts, with the other seeded teams selected using a formula based on the FIFA World Rankings or performances in recent World Cups, and drawn to separate groups.
The other teams are assigned to different "pots", usually based on geographical criteria, and teams in each pot are drawn at random to the eight groups. Since 1998, constraints have been applied to the draw to ensure that no group contains more than two European teams or more than one team from any other confederation.
Each group plays a round-robin tournament, in which each team is scheduled for three matches against other teams in the same group. This means that a total of six matches are played within a group. The last round of matches of each group is scheduled at the same time to preserve fairness among all four teams.
The top two teams from each group advance to the knockout stage.
The knockout stage represents the business end of the tournament as teams quickly move through the round of 16, quarter-finals, semi-finals, and the two that remain, arrive at the much-awaited final.
View the official match schedule below.
FIFA World Cup 2022 Match Schedule
The Best World Cup Goals So Far
Which Teams Have Made It This Year?
And who misses out?
View the 32 teams that have qualified for the World Cup here.

Notable teams that didn't qualify

Italy 🇮🇹

The Azzurri failed to qualify for the second successive World Cup, having missed out in 2018 too. While they were in need of a rebuild last time around, having won the UEFA Euro 2020, they were one of the favourites to contest for the title at this year's World Cup. However, with the new qualification route in place, they missed out yet again, much to the dismay of the nation.

Sweden 🇸🇪

Sweden made it to the playoff fixtures after finishing second in their qualifying group. They beat the Czech Republic in the first round fixture, but fell short against Poland and failed to qualify for the FIFA World Cup 2022.

Chile 🇨🇱

Chile miss out on their second successive World Cup and they had a qualifying run that they will want to forget. The South American country won just 5/18 games in the qualifying phase and gave themselves no chance. They'll be bitterly disappointed and need to make changes to avoid missing out on another edition.

Colombia 🇨🇴

One of the biggest shocks was Colombia's failure to qualify for this year's tournament. They came agonizingly close, with only 1 point between them and Peru for the final qualification spot.

Nigeria 🇳🇬

The Super Eagles are arguably one of the strongest African nations and their inability to qualify was certainly not expected. They unfortunately lost out to Ghana on the away-goals rules during the course of their playoff.

Notable players that will miss the World Cup

Erling Haaland - Norway

With the form he's been in this season, opposition defenders must be delighted that Norway and Haaland won't be at this year's World Cup. While he will be disappointed to not be part of the big event, he is just 22 and has time on his side. You can fully expect him to be full-guns blazing once the domestic action returns!

Mohammed Salah - Egypt

The mercurial Egyptian will be gutted not to be at the World Cup. Having endured a difficult season so far with Liverpool, the break might do him some good and give him a chance to be fresh for the resumption of the league action.

Marco Verratti - Italy

Possibly one of the best midfielders around at the moment, Marco Verratii misses out this year as a result of Italy's failure to qualify. The Italian would have looked to take the stage when at the peak of his powers, but he'll need to wait until 2026 at the very least!

Luis Diaz

The Colombian has been in sparkling form since his move to Liverpool and misses out this year as Colombia shockingly failed to qualify.

David Alaba - Austria

Austria's failure to qualify for the World Cup means that the experienced defender misses out this year. He will certainly be disappointed, given the stellar form he's been in the past year.

Gianluigi Donnarumma - Italy

The Italian shotstopper is another casualty of Italy's failure to qualify. Having the UEFA Euro 2020, the young man would have been keen on showcasing his ability at the World Cup too.

Martin Odegaard - Norway

The Norwegian and Arsenal Captain has been in top form this season, pulling the strings from midfield. Similar to Haaland, he will be disappointed to miss out, but he has time on his side and may yet be one to look out for in future World Cups.

Riyad Mahrez - Algeria

The Manchester City star misses out this year as Algeria failed to grab one of the spots available to African nations. He is coming off the back of a strong season with his club and is at the peak of his abilities at the moment. Unless things drastically change for the next World Cup, we might not get the chance to showcase his abilities in it!

Stay tuned to find out which players miss out on being named in the World Cup Squad!
Top Players To Never Have Won the World Cup
Group Stage Encounters To Look Out For 👀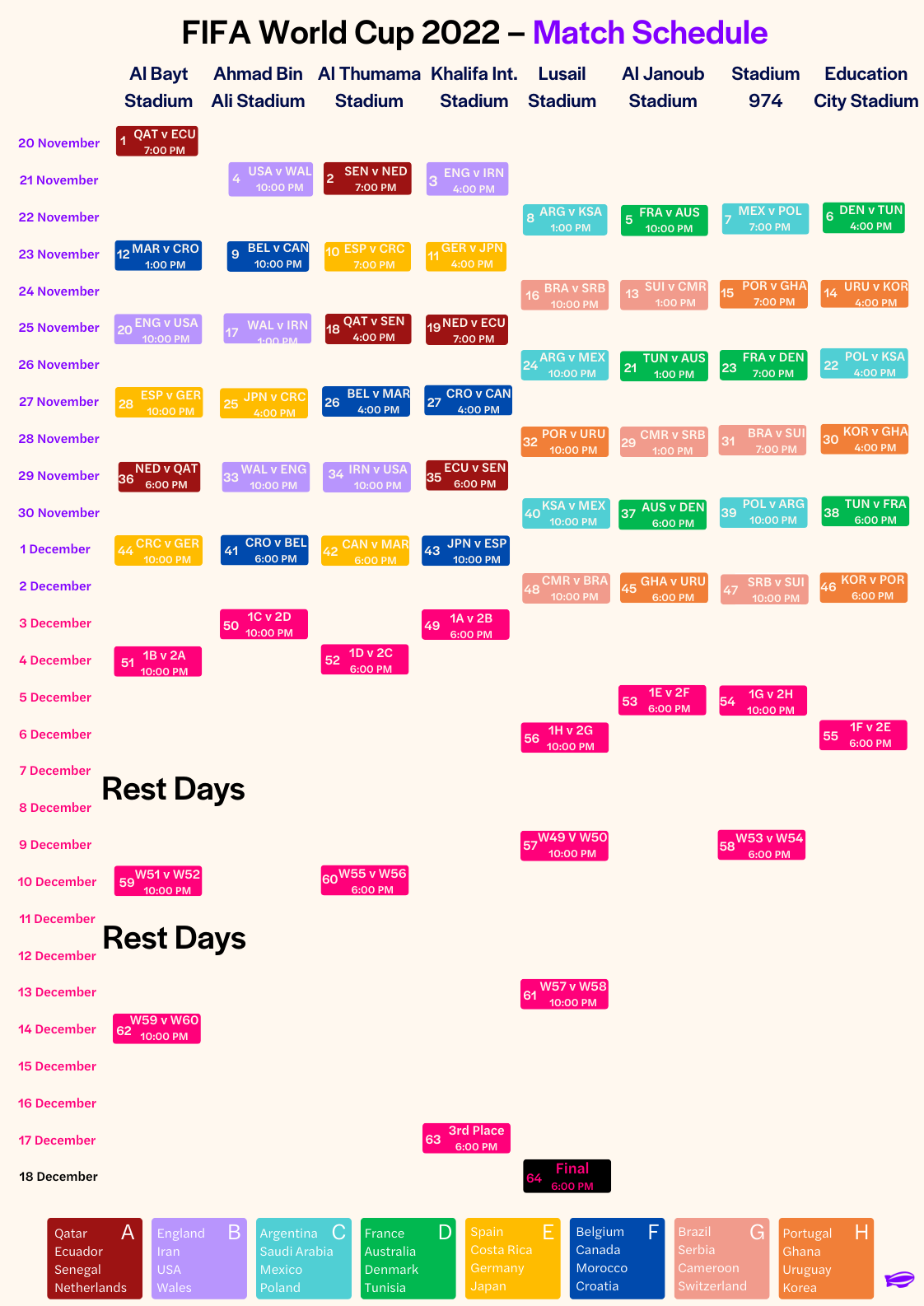 Group A
Netherlands v/s Senegal
The Dutchmen have been in imperious form since Louis van Gaal took over and Senegal are stacked with X-Factors Sadio Mane, Kalidou Koulibaly and Edouard Mendy. It has the potential to be a very exciting match-up.
Group B
England v/s the USA
While both teams have struggled in recent weeks, England made it to the finals of the Euros just last year and the USA have one of the exciting teams around.
Group C
Argentina v/s Mexico and Argentina v/s Poland
Argentina are unbeaten in their last 35 games and won the Copa America last year. On the other hand, Mexico are known for their flair and penchant for causing upsets. Poland's chances of making it past the group stage ahead of Mexico could well depend on how each team fares against Argentina.
Group D
France v/s Denmark
The defending champions go up against an in-form Danish team, led by the resurgent Christian Erisken. These two teams have had their own mini-rivalry in the recent past, keep a keen eye on who prevails this time.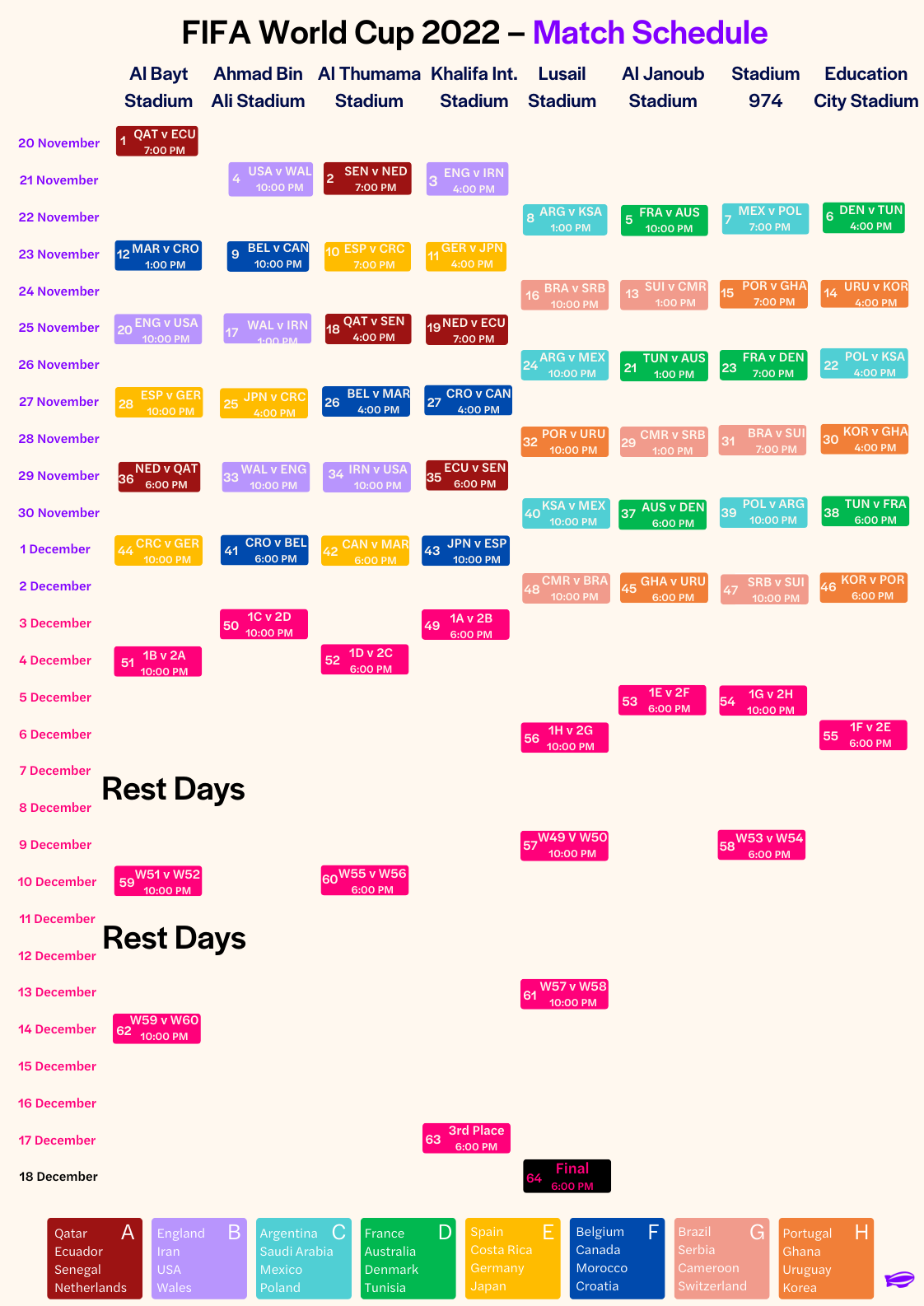 Group E
Spain v/s Germany
Spain demolished Germany 6-0 the last time these two sides met in the 2020 Nations League. Rest assured Germany will be looking to prove a point.
Group F
Belgium v/s Croatia
This might well be Belgium's golden generation's final shot at glory. On the other side, Croatia will be looking to make a statement early in the tournament.
Group G
Brazil v/s Switzerland
The last time these 2 teams met was in the 2018 World Cup and both games ended in entertaining draws. It'll be interesting to see if either team is able to overcome the other this time.
Group H
Portugal v/s Uruguay
Portugal enter this tournament as one of the favourites and Uruguay are looking to rekindle their past glory. Both teams will be looking to go deep in the tournament and this is bound to be a thriller.
Big Upsets Through The Years
Squad expansion: FIFA has confirmed that World Cup squads will no longer be comprised of 23 players, but that international managers will have a selection of 26 to choose from. However, it should be noted that only 23 players will be allowed to appear in match-day squads, meaning that three players are still set to miss out.
Five substitutes allowed: Although five players can be brought on from the bench, managers only have three windows in which to make those changes. The law expands further if nations go to extra time in the knockouts. From there, managers may use an additional substitute, and they also have one additional substitution opportunity.
Offside: FIFA announced that semi-automated offside technology (SAOT) will be used at the 2022 World Cup in Qatar to enable referees to make faster, more accurate offside decisions at the world's biggest football gala. Read on here for an in-depth analysis!
Cooling breaks: Extreme weather conditions may warrant cooling breaks to be implemented during the course of a match in accordance with the protocols established by FIFA Medical. Such breaks will be considered on a match-by match basis.Responsibility for implementing and controlling cooling breaks resides with the referee.
Refereeing: There will be 36 referees at the World Cup later this year, with FIFA including two each from Argentina, Brazil, England and France — and for the first time in the competition's history, women referees will officiate games at a major men's tournament. Among those included are Stephanie Frappart from France, Rwandan Salima Mukansanga and Yoshimi Yamashita from Japan, all of whom will be the first female referees to be appointed to a men's World Cup. They will be joined by three female assistant referees, which is also a first at a World Cup.
Visitor Guidelines
Clothing:

People can generally wear their clothing of choice. Visitors are expected to cover their shoulders and knees when visiting public places like museums and other government buildings.
Swimwear is allowed at hotel beaches and pools.
Fans attending matches should note that the removal of shirts in the stadium is not permitted.

Alcohol:

Alcohol is not part of local culture, but hospitality is. Alcohol will be available to purchase for fans who wish to enjoy it.
Alcohol is served in licensed restaurants and in many hotels across the country today. Fans should note that drinking alcohol outside of designated areas is prohibited.
Fans should also note that it is not permitted to bring alcohol into the State of Qatar. Fans should avoid travelling with alcohol from their country of origin or purchasing duty-free products en route to avoid confiscation upon arrival in Qatar.

Etiquette:

Public displays of affection are not part of local culture and we kindly ask for this to be respected by fans who travel to Qatar for the tournament.
When taking pictures, common courtesy should be exercised and fans are advised to ask permission before photographing/filming members of the public. Fans should also be aware that taking pictures of government buildings is not permitted.
Hayya Card
What is it and why do you need it?
The Hayya card will act as an entry permit for travel into Qatar during the FIFA World Cup tournament from November 10 to December 23.
It will be used as identification for all ticket-holders and provide benefits to enhance the FIFA experience such as free metro and bus access to and from the matches.
You will need to show your Hayya card to gain access to the stadiums to attend matches.
The Hayya card costs QAR100 ($27) and allows multi-entry during its 90-day validity.
The standard processing time is around 7 business days with options for fast tracking available at higher processing fees.
To apply for Hayya, and to book accommodation, please visit Qatar2022.qa or download the Hayya to Qatar 2022 app (available for iOS, Android and Huawei).
Young Stars 🌟
Pedri - Spain

Ever since he made his debut for Barcelona in 2021, there's been no looking back for Pedri. A mainstay in Spain's UEFA Euro 2020 starting XI, it is hard to believe he is still just 19. The silky smooth operator in the Spanish midfield is one to keep an eye on.

Rafael Leao - Portugal

Portugal is a team blessed with an abundance of attacking talent and Rafael Leao is no excpetion to the rule. Coming off the back of a strong 21/22 season with Milan, where he lifted the league title with his club, his confidence levels are as high as ever. He has begun the 22/23 in strong fashion and could be Portugal's X-Factor!

Vinicius Jr. - Brazil

The Brazilian Baller has grown leaps and bounds over the last season. He had his most prolific season yet with Real Madrid last season. He scored the winner in the UEFA Champions League Final against Liverpool to cap off a wonderful year. He has added remarkable consistency and output to his undoubted technical ability and provides a huge selection headache to the Brazilian manager!

Alphonso Davies - Canada

Ever since he joined Bayern, Davies has continued to add facets to his already-impressive array of talents. As quick as you can be and with an eye for an assist, he will be key to Canada's chances of progressing past the group stage.

Ricardo Pepi - The USA

Pepi is touted as the next big thing in a long line of American talents. The tricky winger has incredible driblling ability and is able to utilize it to create and score chances for his team. You can expect him to be the next American to make a big move if he showcases the full breadth of his talents this winter.

Jamal Musiala - Germany

Jamal Musiala is the latest young English talent to leave the familiarity of England and blossom in the Bundesliga. The young English-born German has been bossing the midfield for Bayern Munich this season. Hansi Flick will be tasked with unlocking his potential for the German National Team this World Cup. Rest assured this young man will find a way to shine.

Eduardo Camavinga - France

There's a reason Real Madrid chose to pay for his services, despite having the option to sign him on a free transfer a year later. He has fitted in seamlessly into the Los Blancos' midfield and is a midfielder than can do it all- dribble, tackle, score and assist. Still only 19, he has nailed down a berth in the French National Team that will be looking to defend their title.

Jude Bellingham - England

Jude Bellingham is touted as a generational midfielder and for good reason. The young Englishman is adept at playing anywhere in the midfield and has the calmness and confidence to go with his incredible footballing brain. Technically, he's one of the most exciting midfielders around and with speculation rife as to where he might be moving next, expect this to be a huge tournament for Jude.
Potentially Their Last World Cup 😢
Cristiano Ronaldo - Portugal

Not much needs to be said about Cristiano Ronaldo, his career speaks for itself. You can't put it past Ronaldo to make it to the next World Cup, but if it is to be final appearance, he will be looking to end with a bang. This is the one trophy that has eluded him in his illustrious career and if Portugal manage to win it, it might just cement his reputation as the greatest international footballer.

Lionel Messi - Argentina

Same as Ronaldo, there aren't enough superlatives to describe Messi's career and footballing ability. In all likelihood, this will be the great man's final World Cup. Having come agonizingly close to winning it in 2014, Argentina lost out to Germany in extra time. There has been a fire in Messi's belly when he's played for Argentina off-late and expect to see that continue at the World Cup. A victory for Argentina will not only complete a stellar career, but also cement his status as one of the greatest players of all time.

Sergio Busquets - Spain

The veteran midfield general has been a mainstay in both the Barcelona and Spanish teams for the past decade. As one of the all-time midfield greats winds down his career, he will be looking to end on a high with a deep run into the tournament with Spain.

Luka Modric - Croatia

The only player not named Ronaldo or Messi to win a Ballon d'Or since 2008, and it came on the back of a stellar tournament at the FIFA World Cup 2018. The Croatian Captain played a vital role in the country's journey to the final. The way Modric has been playing the last 2 seasons in particular, it is hard to believe he is 37. The midfield maestro is very much at the peak of his powers, but it is unlikely we will see him at the next World Cup. Sit back and enjoy his magic, potentially for the last time ever at a World Cup.

Karim Benzema - France

Possibly one of the most underrated players of the last decade, Karim Benzema is finally getting the plaudits he deserves. He has been Real Madrid's focal point ever since the departure of Cristiano Ronaldo, and he is coming off the kind of season that might just win him the Ballon d'Or. He's back in the French squad after a few years away, and he could prove to be key to their chances of defending their title.

Thiago Silva - Brazil

The veteran defender has shown that he can do it in some of the toughest leagues across the world. He is as classy a defender as they come and oozes confidence and calmness. At the age of 38, it is likely to be his last World Cup. Brazil are one among the favourites to win this year's World Cup and to do so, they'll need Thiago Silva at his best. Having added a Champions League title with Chelsea, the World Cup is the last one to complete an incredible set of trophies in a long and distinguished career.

Dani Alves - Brazil

The mercurial right-back has won a whopping 43 trophies over the course of his lengthy career. As a result, he is the most successful football player in the history of the sport. The one trophy that eludes the 39 year old, is the World Cup. If he were to win it this year with Brazil, he would go down as the greatest right-back in the history of the sport, and one of the all-time greats.

Robert Lewandowski - Poland

Robert Lewandowski is a player who is right at the top of his game at the moment. He had a remarkable goal-scoring record during his time at Bayern, and has transferred the same prowess to his new club Barcelona. The Polish Captain will be crucial to his team's chances of progressing through the group stages. All he needs is a half-chance to convert and if his team supplies with him well, he could be among the top-scorers at the World Cup.

Luis Suarez - Uruguay

One of the deadliest strikers to have graced the game in the past decade and a brilliant link-up player. Suarez has moved to Nacional this season as the 35 year old looks to be as sharp as possible for the World Cup. Given his past injury record, it is likely that this will be his final appearance at a World Cup. Expect him to put in a passionate display to help his country progress!

Manuel Neuer - Germany

THe German keeper has been one of the best in business for so long now that it's hard to believe he is 36. He had a slight dip in form a few years ago, but has swiftly overcome that. His leadership and assurance at the back will be vital to Germany's hopes of going deep in the tournament.

Thomas Muller - Germany

The first and best Raumdeuter to have played the game, Thomas Muller is a player who is unlike any other. His ability to identify half-spaces on the football pitch led to the creation of a new position and over the course of his career, he has played it to perfection. A vastly decorated player with high football IQ and immense leadership qualities, he will be key to his team's chances this year.

Olivier Giroud - France

A traditional number 9 that facilitates play for the forwards around him, Olivier Giroud must go down as one of the best target-men in football history. Despite not scoring any goals at the previous World Cup, he was absolutely vital to France's World Cup Winning Run. With it likely to be the 36 year old's final World Cup, you can expect him to play a big role in France's title defence.
FIFA World Cup 2018 Recap
Iconic World Cup Moments
Where Can I Watch The World Cup?
If you've been lucky enough to get tickets to watch in person- I envy you, but this might not be relevant for you. If you're like me and you're going to be watching from home (or elsewhere), read on! 👀
View a comprehensive, country-wise breakdown of the channels and/or apps you can use here.
If you happen to be in Qatar but didn't manage to get tickets to any of the matches, fret not. You have the option to attend the FIFA Fan Festival™ at Al Bidda Park. With a whopping capacity of 40,000 and an atmosphere that is likely to be raucous, it's a great way to simulate an in-game experience.
Timelines Of Europe's Top 5 Leagues
With this being the first World Cup to be held in the Winter, football leagues across the world have had to adapt their schedules to ensure the league finishes in time.
Premier League

November 12/13: Last round of games before the mid-season break
December 26: Premier League action resumes
May 28, 2023: The final round of fixtures for 2022/23

La Liga

November 12/13, 2022: Last round of games before the mid-season break
December 31, 2022: La Liga action resumes
June 4, 2023: Final round of fixtures for 2022/23

Serie A

November 12-13: Last round of games before the mid-season break
January 4: Serie A action resumes
June 4. 2023: Final round of fixtures for 2022/23 played

Ligue 1

November 12-13: Last round of games before the mid-season break
December 28: Ligue 1 action resumes
June 3-4, 2023: Final round of fixtures for 2022/23 played

Bundesliga

November 13: Last round of games before the mid-season break
January 20: Bundesliga action resumes
May 27, 2023: Final round of fixtures for 2022/23 played
A round-up of some interesting stats through the years at the World Cup!
Most Successful Nation

Brazil, 5-time champions.

Most Consecutive Championships

2, Italy (1934–1938).
2, Brazil (1958–1962).

Goals Scored in World Cups Till Date
Most Times As Runners-Up Without Ever Being Champion

Netherlands, 3 (1974, 1978, 2010)

Maximum Attendance At A Game

The 1950 final between Brazil and Uruguay at the Maracana Stadium in Rio de Janeiro remains the most attended match in World Cup history with 173,850 official spectators.

Number Of Red Cards Shown
Most Goals Scored (Finals)

16, Miroslav Klose (Germany, 2002–2014)

Most Goals Scored (Qualifying)

39, Carlos Ruiz (Guatemala, 2002–2016)

Most Hattricks in World Cup History

2, Sándor Kocsis (Hungary, 1954)
2, Just Fontaine (France, 1958)
2, Gerd Müller (West Germany, 1970)
2, Gabriel Batistuta (Argentina, 1994 & 1998)

Fastest Goal in World Cup History

11 seconds, Hakan Şükür (Turkey), vs South Korea, 2002
The World Cup is right around the corner and we couldn't be more excited if we tried! With the final round of international games having been completed, the qualified countries now have the hardest task at hand- deciding their squads. Stay tuned for updates on who makes it and who doesn't!

In the meantime, we hope this article has served a good means of preparing yourself for the all the drama, excitement, and flurry of emotions that's bound to be in full-display, starting November 20.