Every winter, New York City transforms into a festive wonderland. Elaborate holiday window displays, decked out restaurants and bars, and, of course, a stellar lineup of highly anticipated Christmas shows.
This year, get in the holiday spirit with NYC traditions like the Radio City Christmas Spectacular and George Balanchine's The Nutcracker, The Illusionists: Magic of the Holidays and so much more! Here's your guide to this season's best Christmas shows in Broadway.
Top 3 Reasons to Watch Broadway Christmas Shows
---
There are many reasons to watch a Christmas show at the Broadway theatres -
The productions are always top-notch, and the theaters are beautiful. Broadway is known for its amazing shows, and New York is the perfect place to see them.
The shows are filled with festive cheer, beautiful costumes, and stunning sets that will get you into the Christmas spirit.
And finally, there's nothing quite like experiencing a classic Christmas show in Broadway!
Best Broadway Christmas Shows to Catch This Season
---
Get into the Christmas spirits will some classic Christmas theatre shows at Broadway. The heartwarming shows are sure to grab your attention, with some running for decades. Here are out top picks for this season:
How to Buy Broadway Christmas Show Tickets?
---
Booking tickets has never been easier with Headout! You can even get tickets at the last-minute, although, we recommend booking early!
Additionally, with Headout, you can even find great discounts on Broadway Christmas Show Tickets, which can be conveniently booked from the comfort of your home!
Things to Know Before Watching the Show
---
Broadway shows are a great way to get into the Christmas spirit! However, there are a few things you should know before you go. Here are some tips to help make your experience the best it can be:
Broadway shows during the Christmas season are always popular, so be sure to get your Broadway Christmas Show tickets early!
Be prepared for a big crowd.
Many Broadway shows will also have a special holiday pricing structure. So, if you're on a budget, this might be the time to splurge on a show!
Arrive early to get the best seats.
Ensure that your phones are in silent mode to not disturb the audience.
Read the synopsis of the show to have a rough idea of what the plot is.
Finally, don't forget to take your tickets/ QR codes!
How to Dress for a Christmas Show in Broadway?
---
Christmas is just around the corner and if you are wondering what to wear to a Broadway Christmas show, we've got you covered.
The first thing to remember is that it is always better to be overdressed than underdressed.
When in doubt, go with a dressier option. A festive dress or skirt and blouse combination is always a great choice, as is a nice suit or cocktail dress.
If you're really not sure what to wear, check with the theatre ahead of time - they may have specific suggestions or guidelines for what's appropriate.
As a general rule, avoid anything too casual or too revealing. And most importantly, have fun!
Other Things to do on Christmas in New York
---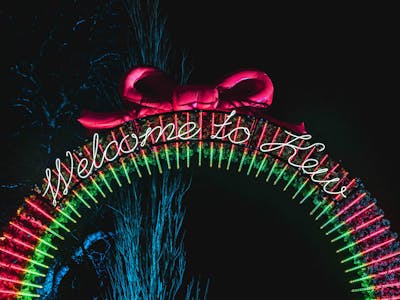 See the Christmas lights and window decor!
Christmas is the season of glittering lights, and New York has some of the finest Christmas decors! Whether it's the huge Christmas tree at Rockefeller Center or the window decor at the stores on 5th Avenue, be sure to see it all!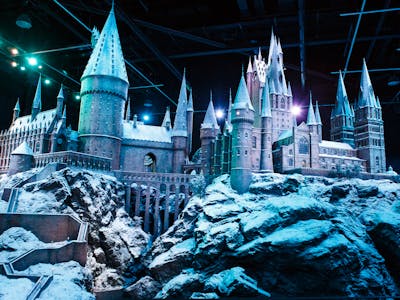 Bank of America Winter Village
When: Oct 27, 2022 - Jan 2, 2023
With over 125 stores, you can find everything from clothes to treats. The Bank of America Winter Village at Bryant Park also features an ice rink in the middle of the park!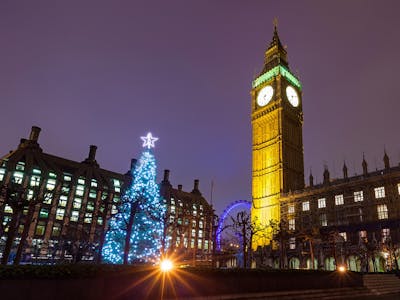 Dyker Heights
When: Christmas Eve
New York's Christmas decor is often associated with the Rockefeller Center, however the Dyker Heights in Brooklyn is even better. The decorated residential neighbourhood looks like a picture straight from a movie!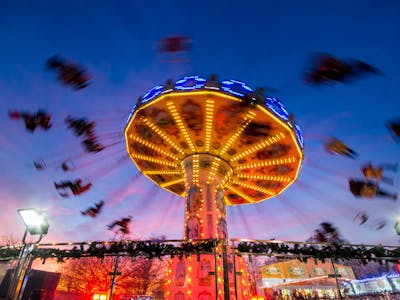 Grand Central Terminal Holiday Fair
When: Nov 14 - Dec 24, 2022
Yet another holiday-themed market, you're sure to find the best holiday gifts here. As the market is indoors, you can save yourself from the Christmas wind!
That's a wrap for our roundup of the best Christmas Broadway shows 2022!
Some of the most popular Broadway show include Aladdin, Wicked and Chicago. These shows are highly rated and have been running for years, so be sure to browse through our entire Broadway collection!
FAQs
---
Broadway theatre shows are bigger and more expensive than off-Broadway shows. Broadway shows usually tend to have bigger-name actors and more elaborate sets and costumes.
Tickets for Broadway Christmas theatre shows can range from $30 to $200 or more, depending on the seat location and the show. Some shows offer discounted tickets for students and seniors.
There is no specific dress code for attending a Broadway Christmas show, but you will likely see people dressed in everything from formal wear to jeans and T-shirts. Be sure to check the show's website or Facebook page before you go for any specific dress recommendations.
Most of these Christmas shows will take place in December or early January. However, there may be a few productions that run later into January or even February. Be sure to check the show's website or box office for specific dates and times.
We always update our website with the best show tickets at the best prices, So be sure to check them out!
More Broadway Guides
---
For more Broadway information, here are some helpful quick links!