Tucked away in the heart of the Greek capital, Athens, lies the anicent citadel of the Acropolis- one of the world's most famous archaeological sites. Built atop a massive hill, this iconic monument dates back to the 5th century BC. Find out the deep-rooted past of the monument that played a significant role in Greek history and archaeology.
Whether you're a first-timer or a frequent visitor in Athens, a guided tour of the Acropolis will always pay for itself. With milennia-worth of history, fascinating stories, and ancient anecdotes hidden in every corner, a walk through this site with a local archeologist will let you experience the Acropolis in its truest form.
Keep reading to find out everything you need to know about Acropolis guided tours, how to pick the right one for yourself, and insider tips while visiting this site.
Advantages of An Acropolis Guided Tour
---
Someone to lead the way
A tour guide will expertly navigate your way through the highlights of the Acropolis in a timely fashion. With a tonne of highlights peppered throughout the attraction, there is much to see. Having a guide helps you focus on the main highlights while showering you with facts throughout.
No more waiting around in line
Acropolis is one of the most visited attractions in Athens, and therefore, almost always crowded. When you book a guided tour, however, you most likely get to skip the ticketing queues and head right to the front (where your guide will be waiting for you). This ensures that even on a time crunch, you make the most of your visit.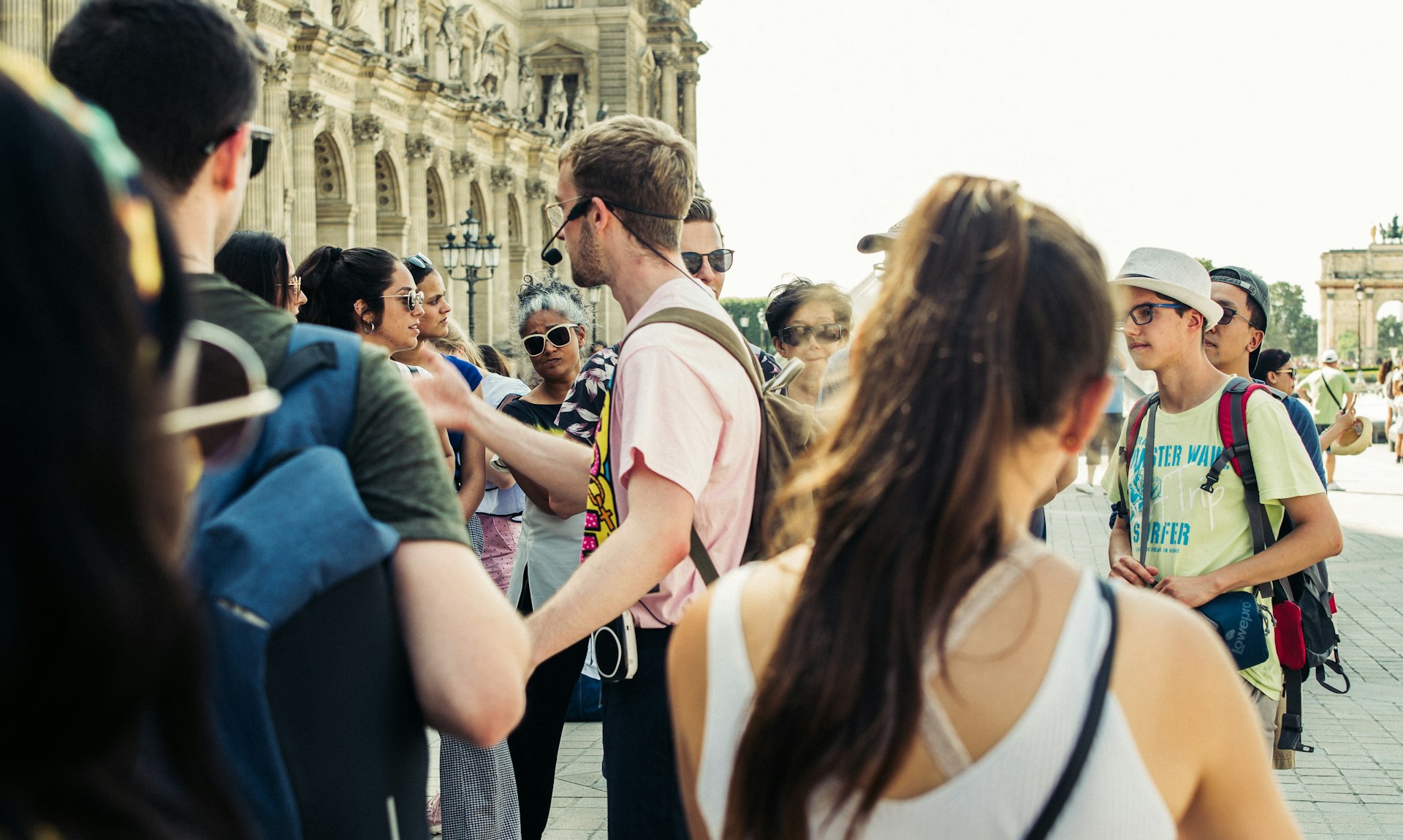 Visit more than one attraction at a go
Combine your tour of the Acropolis with another sprightly attraction in Athens to really make the best of your trip. Athens is filled to the brim with historical landmarks, so you can take your pick (temple of poseidon, museum of cycladic art, etc). Delve deep into the exciting history of this ancient city.
Leave the planning to someone else
Why waste time planning every aspect of your trip when someone else can do it for you? Enjoy a hassle-free trip where everything is planned out for you including what to see, how much time to spend at each stop, and how to navigate your way through a massive historical landmark like the Acropolis of Athens.
Comfort & Safety is guaranteed
When you book a guided tour, you can rest assured that your safety and comfort will be top priority. With your guide taking care of all the travel logistics, all you need to worry about is having a good time.
Make new friends
Guided tours are a great way to meet other like-minded travelers and learn more about the local culture. Explore interesting cultural facts and traditions as you dive into Greek history.
The Best of Acropolis Guided Tours
---
There are a number of guided Acropolis tours available for online booking. Here is a list of our recommended Acropolis tours we think you'll enjoy.
Guided Tours
Combo Guided Tours

Acropolis
5 Easy Ways To Skip The Lines at Acropolis
We've got a few tried and tested hacks to help you skip the lines at the Acropolis of Athens.
Choosing the Best Acropolis Tour in Athens
---
Depending on your preferences, there are certain ways to choose the right Acropolis tour for you:
Enjoy an exclusive private tour for a small group at the ancient citadel that is Acropolis. This tour typically lasts for 2 hours and covers the Acropolis, Parthenon, Theater of Dionysus, Herod Atticus Odeon, Erechtheoin, Temple of Athena Nike, and Propylaea. Your small group tour typically also includes skip-the-line benefits and personal audio sets.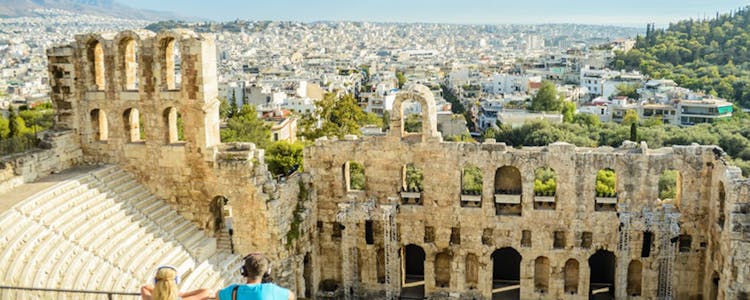 Skip the line and enjoy priority access to the Acropolis AND the Parthenon. Your tour will typically also include a visit to some of the major attractions around Athens, like the Tomb of the Unknown Soldier, the Parliament, and the Athenian Trilogy. Have an expert archaeologist tell you all about the city's fascinating history.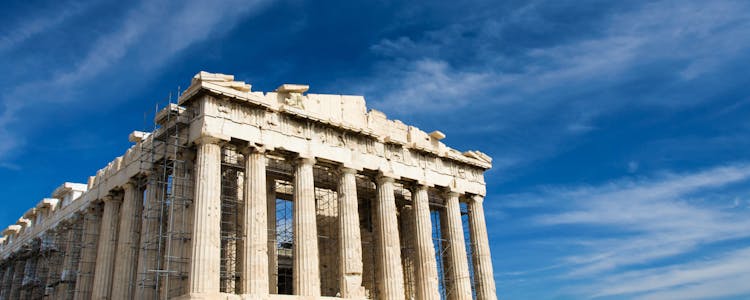 3

A Bonus Athens City Tour
Explore the iconic city of Athens on a city tour including popular attractions like the Acropolis Museum, Acropolis, Temple of Olympian Zeus, the Tomb of the unknown Soldier, Panathinaiko Stadium, and the Parthenon temple. These tours typically last between 3-5 hours. Have an expert guide show you around the city while giving you fascinating insights into its history.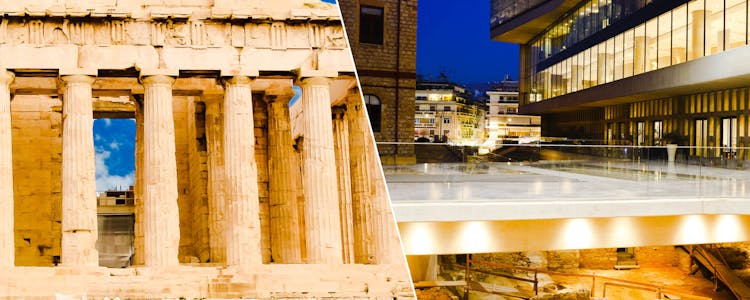 Explore two of Athens' most fascinating attractions - Acropolis and Acropolis Museum. Walk across a massive ancient citadel as you learn about its enchanting history and then head to Acropolis museum to take a close to over 3,000 artefacts and sculptures from the city's past. You don't even have to wait in line because your tour includes a skip-the-line feature!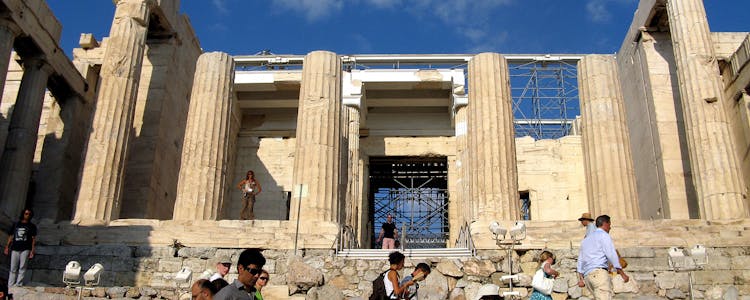 That's right- your Acropolis tour doesn't necessarily have to be led by an actual tour guide. If you're all for exploring an attraction without mingling (a great option during the pandemic, might we add), you might consider an audio guided tour of the Acropolis!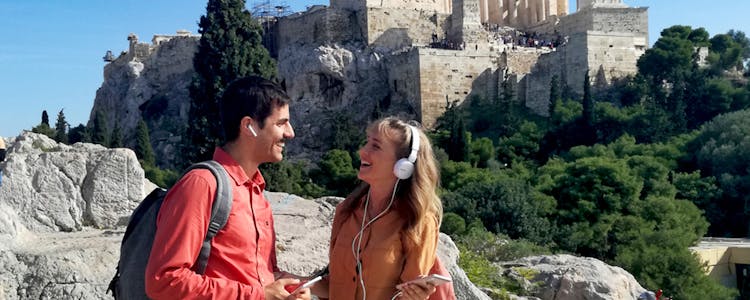 Acropolis Tours Deconstructed - A Typical Guided Tour Experience
---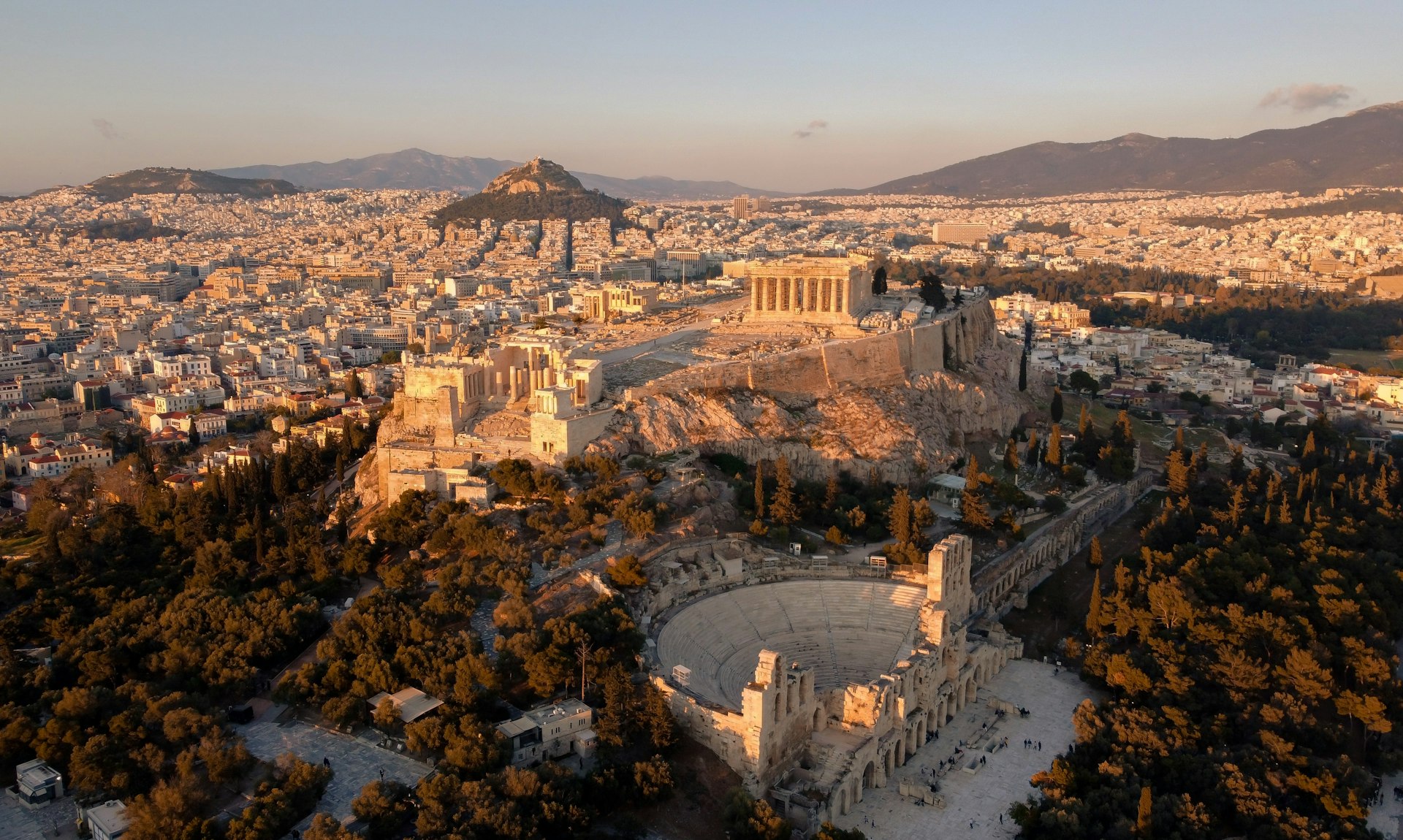 Brace Yourself For A Deep Dive Into History
Meet an expert archaeologist who will take you through one of the most glorious locations in Athens. The remains of the Acropolis have been preserved for centuries and parts of it are even being renovated today.
A Bounty of Ancient Treasures
As you enter, you will spot the Theatre of Dionysus - regarded as the birthplace of the performing arts. As you admire this 5th-century amphitheater, learn all about its history and picture theater-goers from the past fill up the attraction. Next, you will be taken to the Dionysus Sanctuary, dedicated to the Greek god of wine and fertility - a haven for healing. Explore the Propylaea gateway, Erechtheion, the Temple of Athena Nike, and the Parthenon as you walk through the Acropolis.
The Parthenon
Dedicated to the goddess Athena, the Parthenon is one of the Acropolis' most famous and sought-after attractions. The most important surviving building of Classical Greece, you'll be surrounded by decorative sculptures regarded as high points in Greek Art. This enduring symbol of Ancient Greece is worth exploring for a few good minutes, and your guide will do a good job of explaining the importance of this historical landmark.
The Summit
Once you're done exploring these major structures inside the Acropolis, you will be taken to the summit of the hill. As you stand at the highest point in the Acropolis, drink in sweeping panoramas of Athens. Your history lesson continues: find out all about the excavations, the citadel's ruins, the surrounding monuments (Mars Hill & the Odeon of Herodes Atticus), and then some.
Are Acropolis Tours Worth The Hype?
---
Simply put- yes. Acropolis tours are the most efficient way to go about touring the world-renowned attraction. Avoid the hassle of charting out a rough itinerary of the attraction, skip to the front of the line upon arrival, have a local guide lead the way, expertly avoiding the overly-crowded and less-significant attractions, and pick up informative tidbits along the way.
The citadel consists of many different structures within, each with an interesting past. Find out the significance of the Parthenon, Temple of Olympian Zeus, Ancient Agora of Athens, and other parts of the Acropolis. Guided tours add a whole lot of meaning and life to an otherwise mediocre experience.
Visiting Acropolis - Know Before You Go
---
Opening Hours
The Acropolis is open daily from 8 am to sunset. The closing hours change from the summer to winter seasons.
1 Nov - 31 Mar: 8 AM - 5 PM
1 Apr - 31 Oct: 8 AM - 7 PM
Getting to the Acropolis
By Bus: Take Routes X95 or X80 to get to the Acropolis from Athens Airport.
By Car: If you're driving down to Acropolis, you can park at the many garages nearby. Parking Artemis, Metropark - near Plaka, or Rovertou Galli 7-11 Garage are the closest parking spots.
By Metro: Take the Red Line metro to Acropoli station, from where Acropolis is a 2-minute walk.
By Taxi: Taxis are available throughout the city. You can book a local taxi online or by the road to get to Acropolis.
Insider Tips
---
Here are some handy tips to keep in mind while booking your Acropolis tour:
When you're visiting a city like Athens, you'll want to see as many attractions as possible. Get yourself a combination ticket that includes more than one attraction so you can make the most of your visit.
The best time to visit Acropolis is either at 8 am when it opens, or just before closing time when crowds are less. Book your tickets in advance so you can choose your timings and secure your spot.
If you dislike waiting in long lines, get yourself the skip-the-line guided tour. Save time and head right in.
You'll be doing a lot of walking and climbing so make sure you're wearing comfortable shoes and clothing.
The Acropolis is generally quite crowded in summer and temperatures are also high. If you're looking at avoiding large tourist groups, maybe opt for a winter tour instead.
Know which Acropolis entrance you must enter from in advance to avoid spending time in the wrong queues.
FAQs
---
Which is the best Acropolis tour while traveling with children?
What time do Acropolis tours typically start?
Which is the best Acropolis guided tour for budget travellers?
How long are Acropolis tours typically?
Will the prices change for a smaller/larger private group?