The renowned S.L. Benfica soccer team proudly calls the Estádio da Luz in Lisbon, Portugal, home since it opened its doors back in October 2003. As one of Europe's largest stadiums with a capacity for 64,642 spectators and the biggest stadium located within Portugal's borders – this grand venue was part of an urban renewal project that focused on providing improved sports facilities to all fans of Benfica alike.From its unique design to the electrifying atmosphere, Benfica Stadium is one of Europe's most iconic stadiums and an emblem for Portuguese passion for sport. But why has this stadium stolen so many hearts? This blog will explore some of the features that make it stand out from other soccer venues across Europe, and how you can take a tour of this historic stadium.
Benfica Stadium - In A Nutshell
---
Things to know
Capacity: 64642
Teams: S.L. Benfica, and Portugal national football team
Opened: 25th October, 2003
Architect: Damon Lavelle

Opening Hours And Address
Monday to Sunday: 10 AM to 6 PM (May vary on Match Days)

Address : Av. Eusébio da Silva Ferreira, 1500-313 Lisboa, Portugal
Get Directions
Why Go On A Benfica Stadium Tour?
---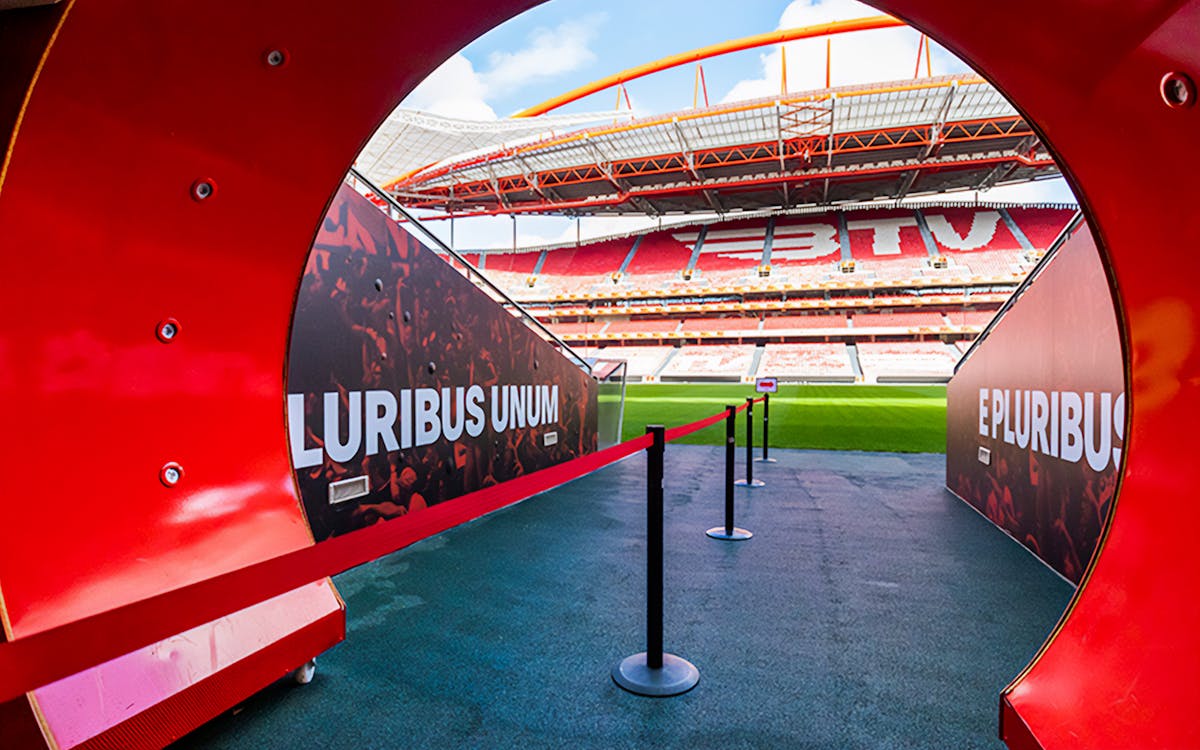 Visiting the legendary Benfica Stadium is an experience like no other. On a tour of this storied venue, you can gain insight into its history through interactive displays and multimedia presentations, as well as explore various sections such as the seating area and dressing rooms up close. Don't forget to check out the dugouts too - it's sure to be a unique opportunity! When touring the Benfica Stadium, you'll gain access to its museum too. Here, one can lay their eyes on memorabilia of renowned games and players that have once set foot in this iconic venue. With a unique atmosphere unlike any other soccer stadium, visiting the Benfica is an experience no fan should miss!
When you visit a stadium, not only can you appreciate the iconic atmosphere and remarkable architecture of match day, but also experience what it's like to take in some of soccer history's most memorable moments from your very own seat. Exploring the Benfica Stadium provides an incredible chance to gain insight into how one of Europe's most successful soccer clubs is run, as well as witness first-hand the level of dedication necessary for success. Moreover, you will be able to fully appreciate this awe-inspiring venue and marvel at its grandeur and some of its defining features. Don't miss out on a once in a lifetime opportunity!
Benfica Stadium Tour - Recommended Tickets
---
What To Expect On The Benfica Stadium Tour?
---
Visiting the stands at Benfica Stadium Tour is a memorable experience. The tour includes exclusive access to areas usually restricted to players and fans, such as the locker rooms and press area. From these stands, visitors can take in the stunning view of the pitch below, seeing how big it really is.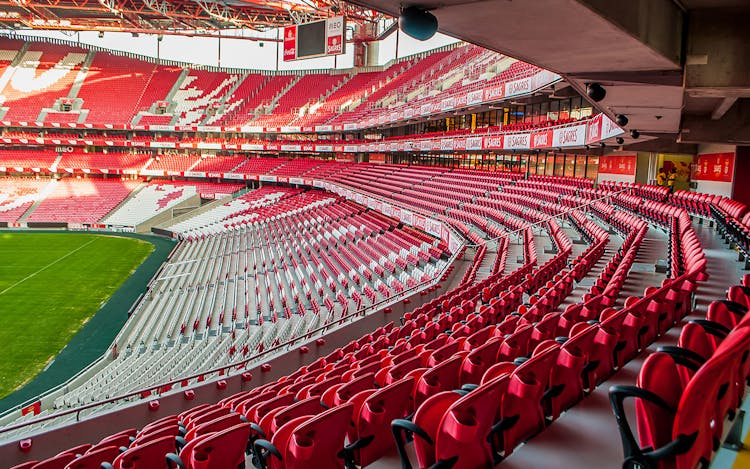 The inside of the dressing room looks like it's straight out of a movie, and you can almost feel the excitement in the air. It's a great way to gain some insight into how professional footballers prepare for big games and to imagine what it must be like to play at one of Europe's most famous stadiums.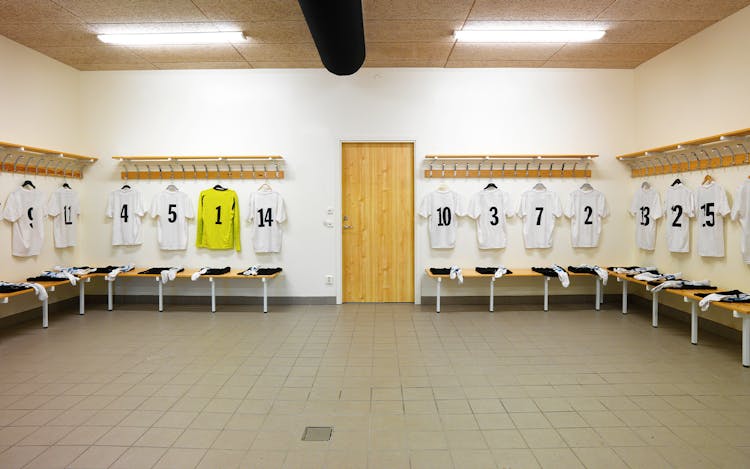 The Press Conference room is where all press conferences and official club announcements take place. As part of your tour of Benfica Stadium you can stand behind the podium where famous faces such as managers, players and directors have addressed thousands of journalists over the years.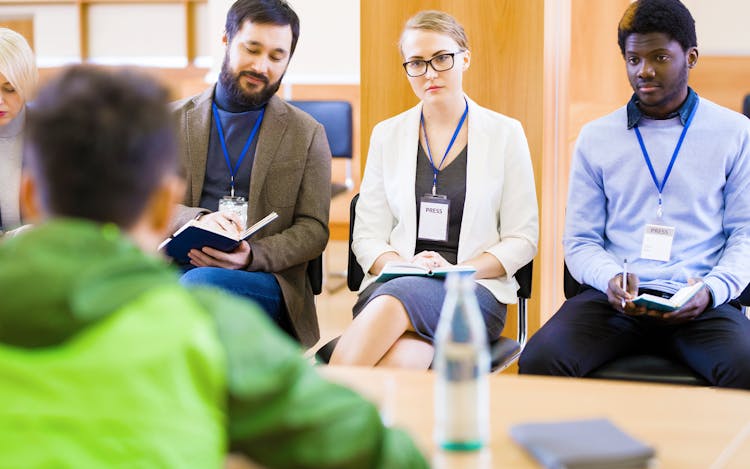 The hall celebrates legendary players from the past and present, including Eusebio, who was named as one of the greatest players in history by Pele himself. You'll also find stars such as Nani, Rui Costa, Simao Sabrosa, Joao Pinto and Luis Filipe among others.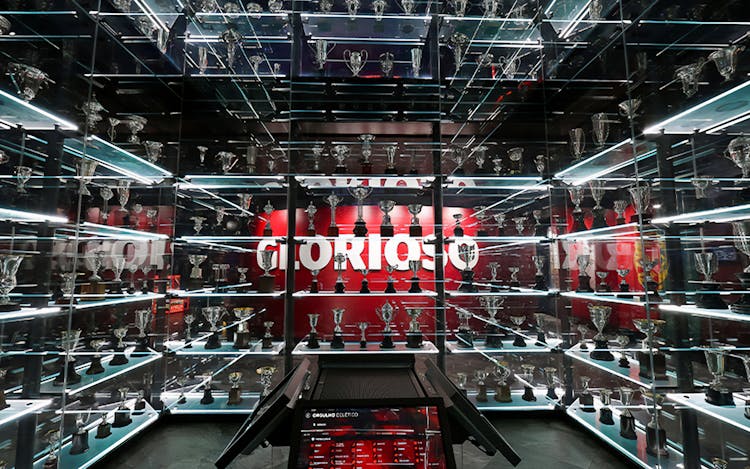 Walk through the iconic tunnel onto the side of the pitch that hosted tons of legendary players, and has seen some of the most iconic matches of all time! The scent of the grass and the view of the stands around you are sure to give you goosebumps, as you enter this iconic field!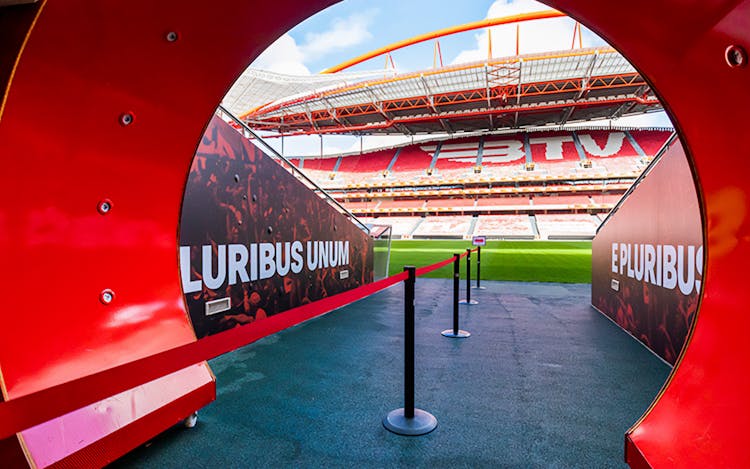 Meet Gloria, Vitoria and Luz, the three eagles at the Benfica Stadium. The eagles are a reminder of the intense passion and loyalty that the club's fanbase has for Benfica, which is why they hold such an important place in Portuguese football culture.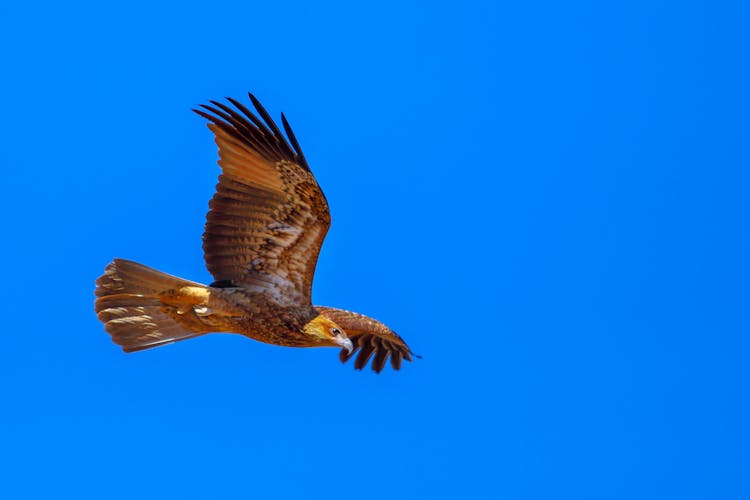 the museum showcases all the achievements of the legendary Portuguese football team, Sport Lisboa e Benfica since its foundation in 1904. Visitors can explore the various halls to learn about some of the greatest moments in club history and also view artifacts from past matches. The atmosphere in this museum is filled with pride and nostalgia as it celebrates one of Europe's most successful clubs.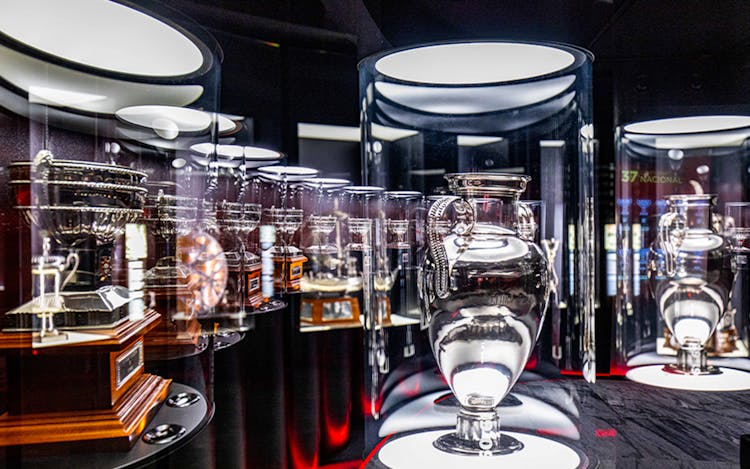 Benfica Stadium Tour - Timings
---
Monday to Sunday: 10 AM to 6 PM (May vary on Match Days)
Closed On: 25 December and 1 January
Best Time To Visit
March to May and September to October offer the perfect opportunity for a Portugal vacation. The days are balmy, sunny, and filled with delightful cultural events like Holy Week festivities, Porto's St John's Day celebrations, or Lisbon's June festivals - just to name a few! To experience it all without the hustle of tourist crowds; an early morning visit to the stadium is your best bet.
Getting There
---
By Metro: Blue ("Azul") Line
Nearest Stop: Colégio Militar or Luz station
By Bus: Lines 750, 754, and 768
Nearest Stop: Colégio Militar bus terminal
By Car: The distance between the Lisbon airport and Benfica Stadium is 7.2 km
Nearest Parking: Parques de Estacionamento Benfica Estádio and Colégio Militar
Handy Information
---
The tickets are valid for 12 months from the date of purchase
Children under three years of age can gain free entry
For visitors with limited mobility, a companion will be admitted gratis upon the presentation of proof at ticket purchase
Please take note: The stadium doors are shut for tours during match days.
Benfica Stadium has all of the accessibility features a visitor could need, including wheelchair-accessible bathrooms, handrails, ramps and elevators. To make your experience even more convenient, there is a reception counter where you can rent wheelchairs to utilize during your visit.
Service animals are allowed inside the Benfica Stadium.
Benfica Stadium Tour - Reviews
---
Nice friendly environment. Us being from Ireland the staff spoke perfect english and very helpful. The tour was very good. The tour guide was very friendly.
- Sean, Headout, January 2023
Gran experiencia a un buen precio. Gracias al guía por su amabilidad y profesionalidad, nos puso facilidades a la hora de entender las explicaciones ya que el tour era en inglés y portugués y nosotros éramos españoles
- Pablo, Headout, February 2023
Benfica Stadium Tour - Insider Tips
---
To ensure that you get the best experience, make sure to buy your Benfica stadium tour tickets well in advance of your visit. This will help guarantee that you are able to access all the areas and attractions on the tour.
Since the tour will involve a lot of walking, it is important to wear comfortable clothing and shoes so that you can get around easily and comfortably.
Make sure to arrive a few minutes early so that you can check-in and get ready for the tour without any delays. This will also help prevent any problems with lines or crowds at the entrance of the stadium.
Don't be afraid to ask your guide questions about the history of Benfica or other aspects of their club during the tour. They are more than happy to answer any inquiries you may have!
Benfica is one of the most respected soccer clubs in the world, so make sure to show them respect while you are on the tour.
Make sure to take as many pictures as possible during your Benfica stadium tour so that you can remember this amazing experience for years to come!
Restaurants in and around the Benfica Stadium
---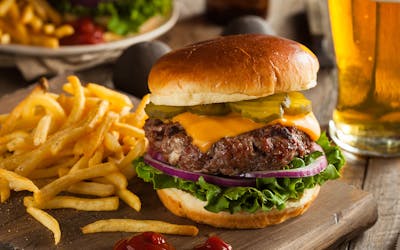 Luz by Chakall
Step into a world of extraordinary flavors and emotions at Luz by Chakall, located in the Estádio do Sport Lisboa e Benfica. Supreme Sports Hospitality and Chef Chakall have crafted an unforgettable dining experience that satisfies on all fronts: culinary, visual, and emotional. Prepare to be delighted as you embark upon this gastronomic journey! Luz by Chakall is located inside the Benfica Stadium.
Menu Highlight: Cheesy Boom Burger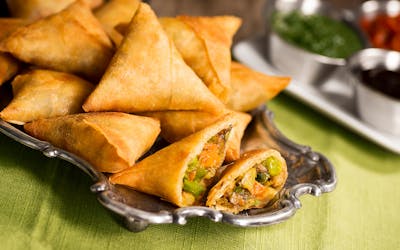 The Darjeeling Express
The Darjeeling Express dishes are inspired by the Dio region of India, Mozambique's use of coconut, and a hint of Portuguese cooking. Although not spicy like your regular Indian curry, they bring out an exquisite flavor with our carefully chosen ingredients to make each meal light yet full-bodied. They promise that the freshness and quality in every dish will be sure to satisfy!
Menu Highlight: The Samosas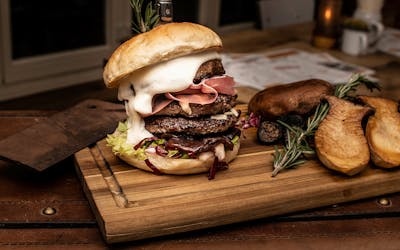 Stay by Upon Lisbon
Located a few minutes from the Benfica Stadium, Stay by Upon Lisbon is a Hamburger restaurant. They serve a wide variety of hamburgers with other accompaniments as well. After a tiring game at the Benfica Stadium or after a tour of the stadium, this makes a great place to indulge in some delicious burgers!
Menu Highlight: The Truffle Burger
FAQs
---
The Benfica Stadium Tour includes a guided tour of the stadium, including access to private areas such as the press room and locker rooms, as well as a visit to the museum and shop. You can also take part in interactive experiences such as testing your shot at virtual reality shooting lanes or discovering what it's like to be a professional footballer through an augmented reality experience with motion sensors.
Unfortunately, no food or drinks are available during the Benfica Stadium Tour due to health and safety guidelines. However, there is a refreshment stand located in the ticket office where visitors can purchase snacks and beverages before or after their tour.
Cameras and video recording are permitted as long as there is no disruption to the tour or other visitors. However, flash photography and filming in private areas may be prohibited for security reasons. Please ask your tour guide before taking photos or videos in any of the restricted areas.
Yes, there is a car park located next to the stadium which can be used by visitors attending the Benfica Stadium Tour. Please note that charges may apply for parking depending on duration of stay and type of vehicle. For more information, please visit www.benficaparkinginfo.com.
The Benfica Stadium Tour typically lasts approximately 90-150 minutes and includes a guided tour of the stadium, private areas, and interactive experiences. The museum and shop can be visited at your own pace after the tour is complete.
Benfica Stadium Tour Guide