As time goes on, we need to honour and remember the history that preceded us. The holocaust is perhaps the most sombre relic of history's past, and we should try to remember the atrocities committed by Nazi-era Germany.
An Auschwitz Birkenau guided tour will take you around Auschwitz Birkenau- which was the largest concentration camp in Poland. If you are looking to know more about the Auschwitz Birkenau tour or how to obtain Auschwitz Birkenau tickets, this is the guide for you.
We will also talk about how to book an Auschwitz Birkenau guided tour and everything you need to know about visiting this historic landmark.
Advantages of an Auschwitz Birkenau Tour
---
There are many ways of visiting Auschwitz Birkenau. But we would suggest you take the Auschwitz Birkenau guided tour. There are several benefits to it:
Fast track entry, no waiting in lines. Get priority entrance at the time slot chosen
When you book your Auschwitz Birkenau tickets, you are granted priority access at the gate. This becomes important, especially during the peak season. The weekends and peak season get crowded and can make it bothersome for you to get into Auschwitz-Birkenau. You should try and book your visit for sometime in April and May. However, this is also the summer season. The only way to navigate through this situation is to pre-book your tickets.
Intimate, personalized attention from a local guide
The Auschwitz Birkenau is a site of historical significance. This landmark is also a place that holds a lot of value for the people and visitors of Poland. It, therefore, makes sense for crowds to come in bright and early and to crowd Auschwitz Birkenau early into the day. This might also make it hard for you to get a guide. If you buy the Auschwitz Birkenau tickets, you get a personalized guide who will be there to guide you through the sombre history of Auschwitz Birkenau.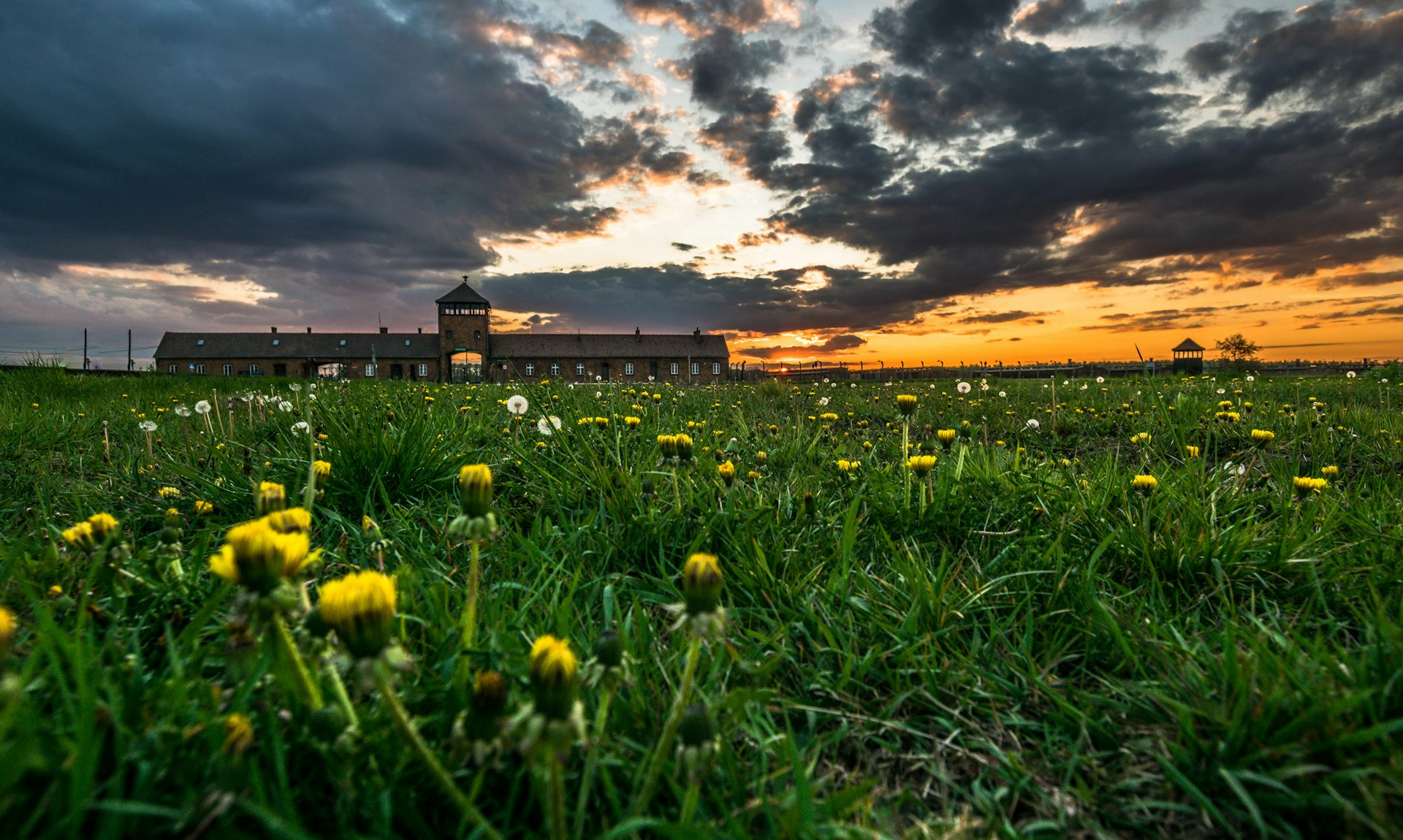 Free Pick-up from the hotel
We know that it might get confusing sometimes to figure out transport. Sometimes there might be no transport to get you to Auschwitz Birkenau at all! The Auschwitz Birkenau tickets also come with a free pick-up service for hotels located in Krakow. The transport can also pick you up from the nearest possible pick-up location. This will come in handy when you have your Auschwitz Birkenau visit planned for later into the day and are out in other parts of Krakow earlier into the day.
Transport by an air-conditioned minivan or minibus
Summers in Krakow can get quite hot. This is especially true if you plan on going to Poland from January through June. To help you get the best out of your trip to Auschwitz Birkenau, buy the Auschwitz Birkenau tickets. The Auschwitz Birkenau tickets also come with access to an air-conditioned minivan or minibus. The air-conditioned minivan or minibus will help you travel to and from your hotel and Auschwitz Birkenau in comfort.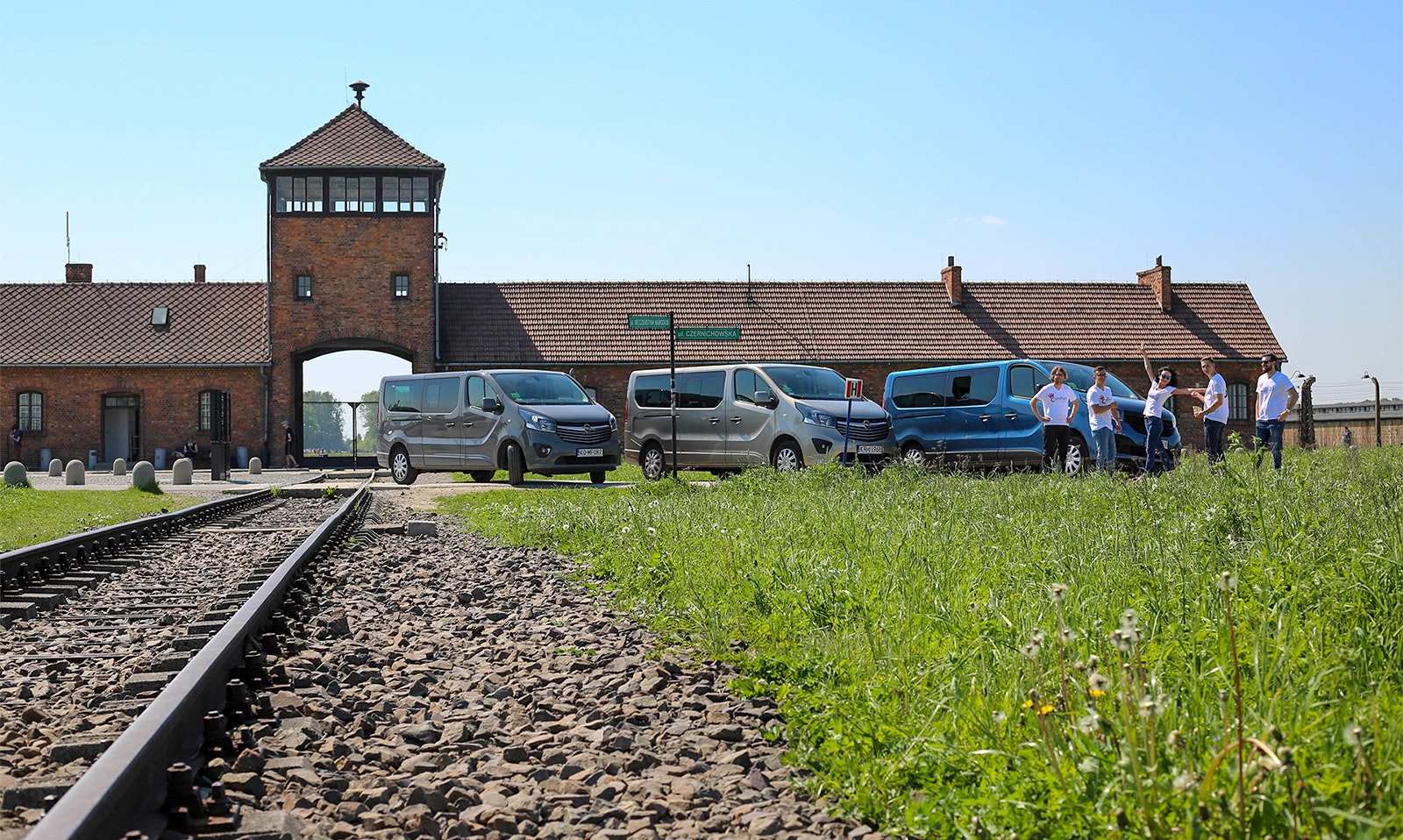 The Best Auschwitz Birkenau Tours
---
Guided Tours
Combo Guided Tours

Auschwitz Birkenau Tours
Visiting Auschwitz from Krakow
A sobering reminder of the horrors of war and unchecked power, the Auschwitz concentration camp and museum are simultaneously revolting and inspiring.
Choosing the Best Auschwitz Birkenau Tour
---
1

Guided tour without transfers
This ticket will get you a fast-track entrance to Auschwitz Birkenau. The tickets are going to take you to Auschwitz I and Auschwitz II–Birkenau. A guide will also be provided to you. The guide will know how to speak English, German, French, Spanish, or Italian. The guide is an official mandated guide and will teach you everything you need to know about the tragic history of Auschwitz Birkenau.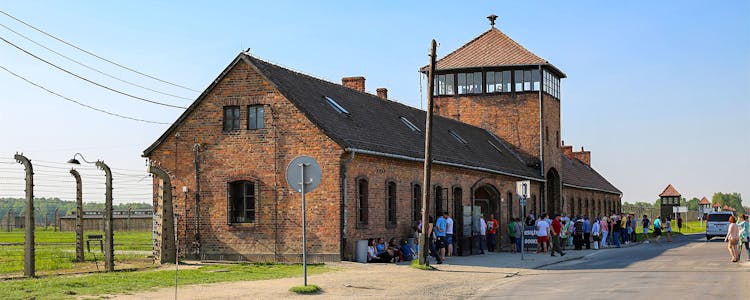 2

Guided Tour with Hotel Pickup from Krakow centre
This ticket will get you a licensed guide who speaks English, Italian, Spanish or german. The ticket will also provide you with the entrance tickets. You will also get the benefit of renting audio equipment should you need it. The best part, however, about this ticket is the inclusion of transport. An air-conditioned minivan or air-conditioned minibus will take you from your hotel in Krakow to Auschwitz.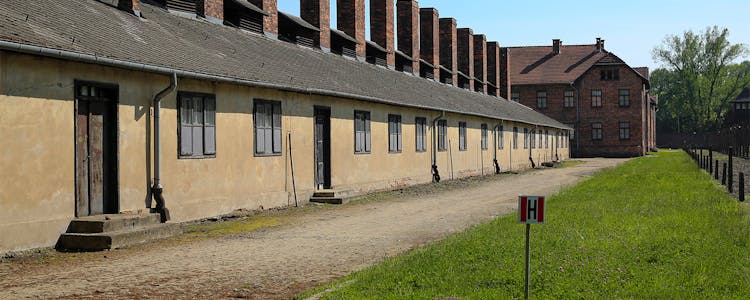 3

Self-guided tour with transfers
If you are someone who likes taking in experiences at your own pace, then this ticket might be the best bet for you. This is a self-guided tour, but you get an experienced driver who will drop you off and pick you up from Krakow to Auschwitz. The ticket also includes the entrance fee.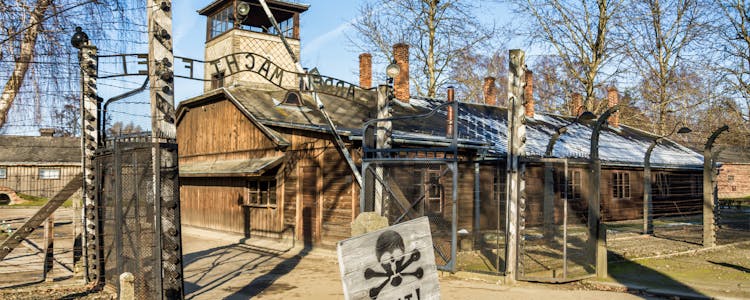 4

Guided Tour with Hotel Pickup from anywhere in Krakow
With this ticket, you can get your tour manager and a guide who can speak five different languages. The ticket also provides you with comfortable AC transport from your hotel in Krakow to Auschwitz.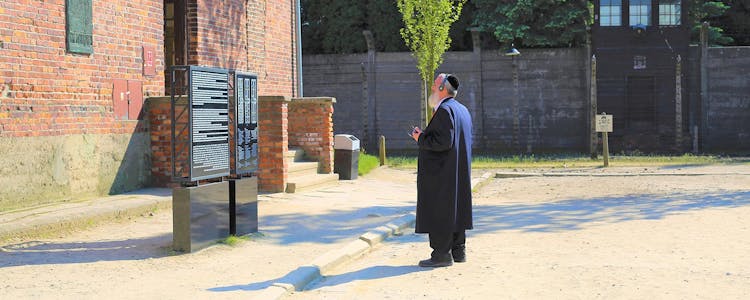 5

Guided tour with free lunch
This ticket provides you with all the benefits of an Auschwitz Birkenau ticket but also provides you with a lunchbox. The lunchbox comes in both vegetarian and meat options. Usually, the lunch will consist of a ham or Cheese Sandwich or Hummus Sandwich, Fruits, and Chocolate. This will be convenient for you if you don't want to be bothered with finding accommodations for lunch after a long day of walking.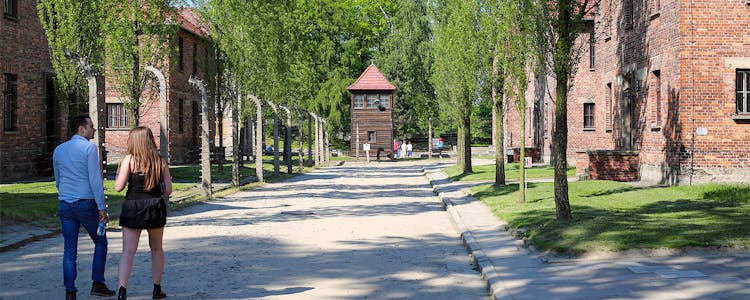 Make a whole day out of your trip to Auschwitz-Birkenau Concentration Camp guided tour. Explore the Auschwitz-Birkenau Memorial and learn more about the history of two concentration camps and a historic mine with your tour guide. Also, wander through the underground city of the Wieliczka Salt Mine.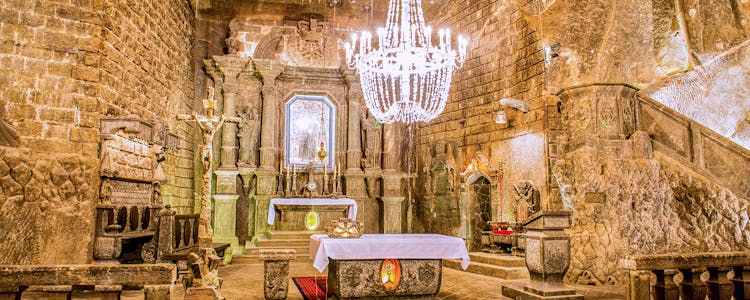 Auschwitz Birkenau Tours Deconstructed - A Typical Guided Tour Experience:
---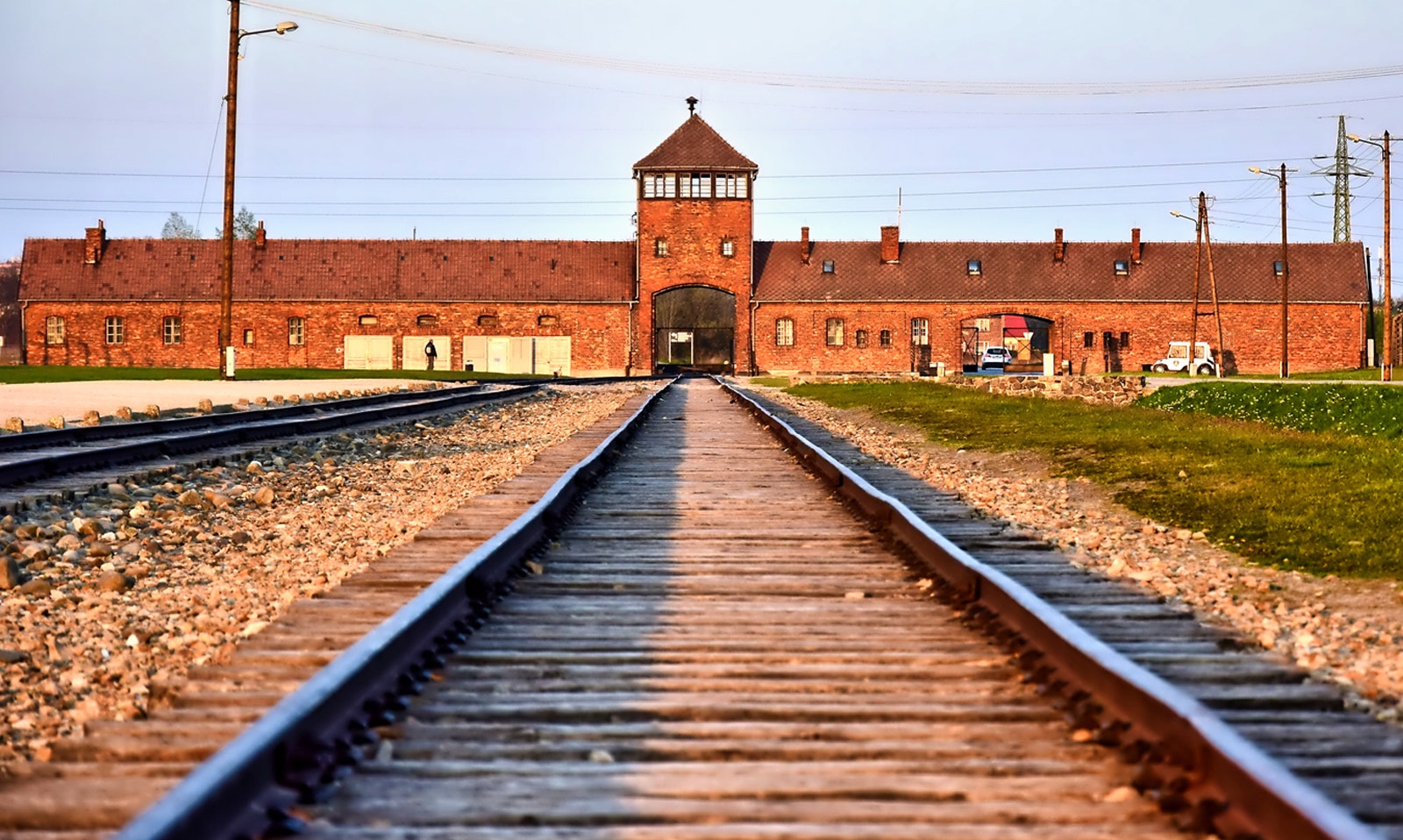 Auschwitz is the Third Reich's most infamous landmark. The concentration camps of Auschwitz Birkenau echo the tragedies of the past and need to be honoured and remembered. Take a trip to Auschwitz-Birkenau Memorial and Museum to learn more about the sombre realities of the concentration camps of Auschwitz.
Auschwitz I, Bunker 5
The Auschwitz I, Bunker 5 acts as a memorial. Auschwitz I, Bunker 5, features the personal belongings of the people who suffered at the hands of Nazis. Here, you will see a collection of personal effects like glasses of inmates, shoes, pots, pans, and arguably the saddest things of all, shaved hair of the victims.
Auschwitz I, Bunker 11
This bunker is also known as the death block. This is where the actual killing of the Jews took place. There is a place where Zyklon B gas was used to kill inmates. Besides, the gas chambers are the death walls. This is where the execution of prisoners took place. . The windows of this bunker were nailed shut to prevent the inmates from knowing what was happening outside.
Auschwitz I, Bunker 20
The Auschwitz I, Bunker 20 acts as a museum that goes into how the Nazis rose to power. The bunker is divided into two floors. The ground floor showcases the persecution in France, while the second-floor museum focuses on the war in Belgium. The museum has heart-wrenching and often horrible real-life images of the people in the concentration camps and other articles of the war.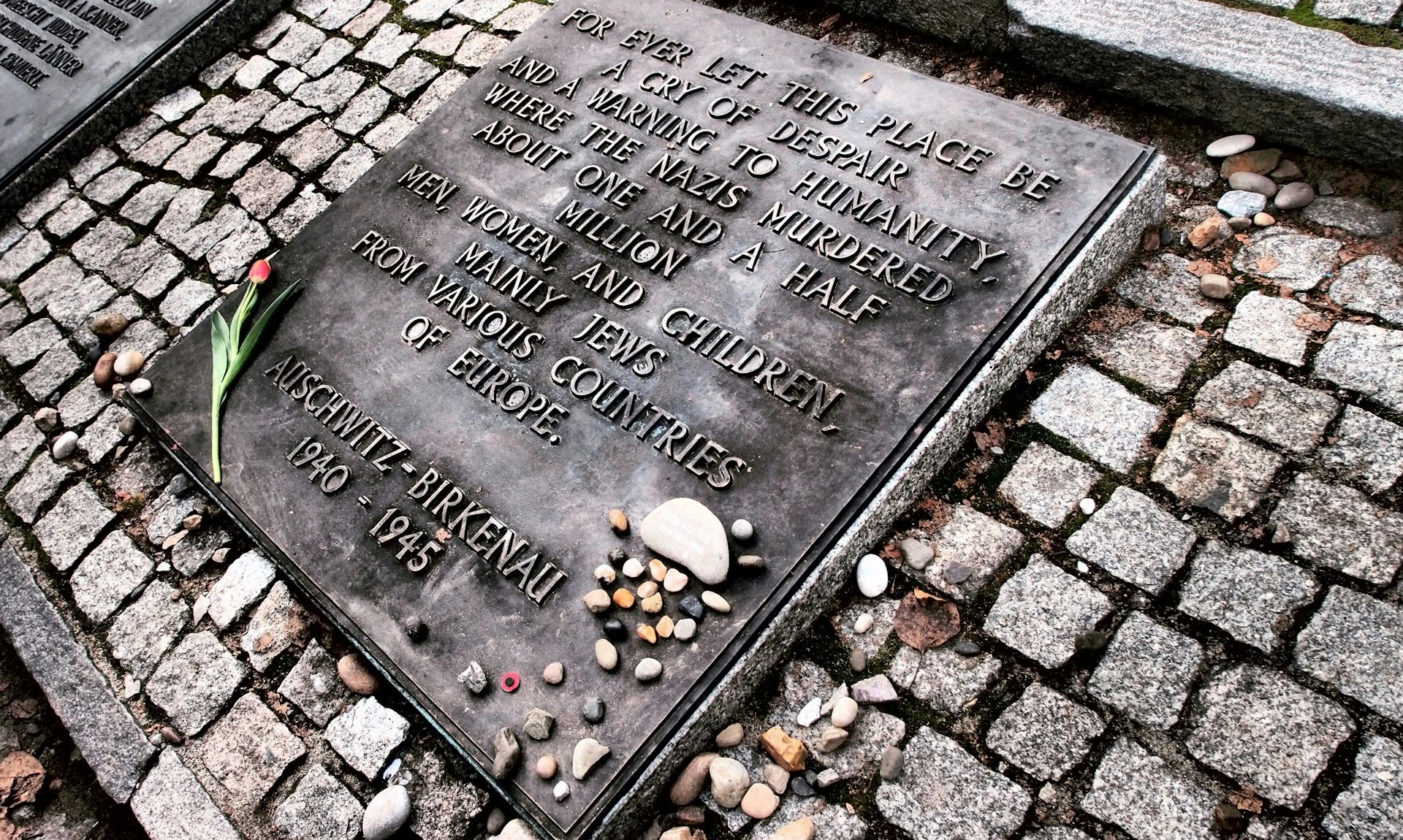 Auschwitz I, Bunker 27
This bunker is arguably the most heartbreaking part of the whole Auschwitz Birkenau Tour. On the ground floor of this bunker, you will find a huge book with the names of all the Jewish victims. The upper floor has a museum and features a collection of drawings from children who were in the camp.
Birkenau
The Birkenau is located three km away from the main Auschwitz bunkers. The Birkenau site is where most of the killing took place. The site is full of horrors even now. This is also where most of the gas chambers were housed. Make sure to book a guide to see the Birkenau since most of the sites here are unlabeled and don't have many information plaques on them.
Are Auschwitz Birkenau Tours Really Worth it?
---
To know the history and essence of a place, taking the help of a guided tour is always worth it. Auschwitz-Birkenau is a place that harbours a lot of horrible tragedies and histories. The presence of a licensed tour guide can help you see behind the curtains some of the worst atrocities committed by Nazi Germany.
Therefore, yes, the Auschwitz Birkenau tour is worth it. And you will not regret getting the full history and story narrated to you by an actual Auschwitz-Birkenau licensed tour guide.
Auschwitz Birkenau Practical Information:
---
Opening Hours
The Auschwitz Birkenau opening hours depend on which month it is:

December: 7:30 AM to 2 PM
January, November:7:30 AM to 3 PM
February: 7:30 AM to 4 PM
March, October: 7:30 AM to 5:00 PM
April, May, September: 7:30 AM to 6 PM
June, July, and August: 7:30 AM to 7 PM
Closed: January 1, December 25, and Easter.
Getting to Auschwitz Birkenau
There are several ways to get to Auschwitz and Birkenau. There are two main sections in Auschwitz, Auschwitz I, the primary camp, and Auschwitz II-Birkenau, which is located 3 km away. Auschwitz Birkenau camps are located in the city of Oswiecim, around 66 km west of Krakow.

By Bus: Behind the main railway station of Krakow is the Dworzec MDA station. You can board the Auschwitz bus from there.
By Taxi: You can hire a taxi to take you to Auschwitz. It takes around 198 PLN or $52 per person.
By Train:Take the train from Krakow to Auschwitz at the main railway station. Trains run every two hours, and the journey lasts for about 1 hour and 40 minutes. However, the train costs twice as much as the bus. And you would have to walk for 20-30 minutes to get to the concentration camps.
However, if you are visiting the Auschwitz Birkenau concentration camps, your best bet would be to take the train. The trains are super fast and will get you to Krakow in 2.5 hours. From Krakow, you can take the three options listed above.
Insider Tips
---
Here are a few things you should know before visiting the Auschwitz Birkenau:
Don't bring in outside food, as the restaurants inside Auschwitz Birkenau serve some really good hearty meals.
Do not underestimate the size of the Auschwitz and Birkenau bunkers. Make sure to bring plenty of water and to wear comfortable shoes.
The in-house publication will have scores of reading material to buy from if you are interested.
The whole of Auschwitz has photography access; however, there are some areas where photography is not allowed. So be mindful of that.
To avoid the crowds, try getting in before 10 AM or after 3 PM.
Book tickets online to avail discounts and offers. This also allows you to book your guide in the language you prefer.
St. Peter's Basilica Tours
FAQs
---
Yes, you can get into the Auschwitz Birkenau memorials for free. It is only the guided tours that require you to pay a fee.
Yes, you can get into the Auschwitz Museum without a pre-booked pass. However, on busy days, the first preference will be given to patrons with pre-booked passes. This means that if you don't have a pass, you might have to wait in line.
If you plan on touring Auschwitz Birkenau on your own, it will take you almost two hours.
Yes, there are washrooms all around Auschwitz and Birkenau. However, they are all paid. To access the free washrooms, go to the back of the camp.
Auschwitz remains open throughout most of the year, including Jewish holidays. However, they remain closed on Christmas Day, January 1, and Easter Sunday.
Ready to head to Auschwitz Birkenau?
---
Purchase discounted Auschwitz Birkenau tickets via Headout today! Explore Auschwitz Birkenau in a hassle-free fashion with all the need-to-know information in hand.
Fancy heading out to some other stunning Krakow attractions? Take inspiration from our list of the best things to do in Krakow here.