Immersed in history, London is an avant-garde city. Streaked with diversity is its art scene, making it an art capital. With one of the biggest art scenes in the world, it rivals New York and Paris. London's slew of art galleries is always brimming with ideas and imaginations. The galleries are home to modern art, decorative and experimental artworks and more! With so many boutique galleries and museums, it can be hard to plan a visit to one. With London's art circuit evolving, the next big exhibition in town is the Art of Banksy London. The collection exhibits more than 60 artworks by the most secretive artist in the art world!
Art of Banksy London 2021
Essential Information
---
Banksy London - Things to know
Suggested duration - 30 minutes
Art Of Banksy London Exhibition ticket price: £ 14.50 for students aged 6-18 years; £ 21.50 for adults
Closest Subway Stop -Covent Garden
Must-see at Banksy London
Girl and Balloon, Flower Thrower, Rude Copper
Art of Banksy London Opening Hours
Sunday to Wednesday: 10 AM - 6 PM; Last admit at 5 PM
Thursday to Friday: 10 AM - 9 PM; Last admit at 8 PM
Saturday: 9:30 AM - 7 PM; Last admit at 6 PM


Art of Banksy London Address
50 Earlham Street, London WC2H 9LJ
Get Directions
Who is Banksy?
---
Banksy is a famous British graffiti artist whose real identity remains a mystery. In the 1990s, his freehand artworks popped up overnight in trains and many walls in Bristol, his home city. On one occasion when he was 18-years-old while evading the police, Banksy hid beneath a dustbin van. That's where he spotted stencil letters sprayed onto the truck. The idea stayed with him as Banksy was looking for a faster way to paint. By the 2000s, he had switched to a multi-layered stencil art style combined with other art mediums.
The Mild Mild West is one of Banksy's first notable pieces that cropped up in 1999, in Bristol. The street graffiti shows a fluffy teddy bear carrying a Molotov cocktail. The teddy bear is approaching three policemen who are carrying riot shields. The art throws light on the Bristolian character.
Banksy's artworks are easily recognisable. It captured global attention when it started appearing throughout the world. Banksy uses satire and dark humour in his art style to highlight political issues. Banksy's works have appeared all over the world from Australia, France, Italy, to the United States and Canada.
Why should you visit The Art Of Banksy London?
---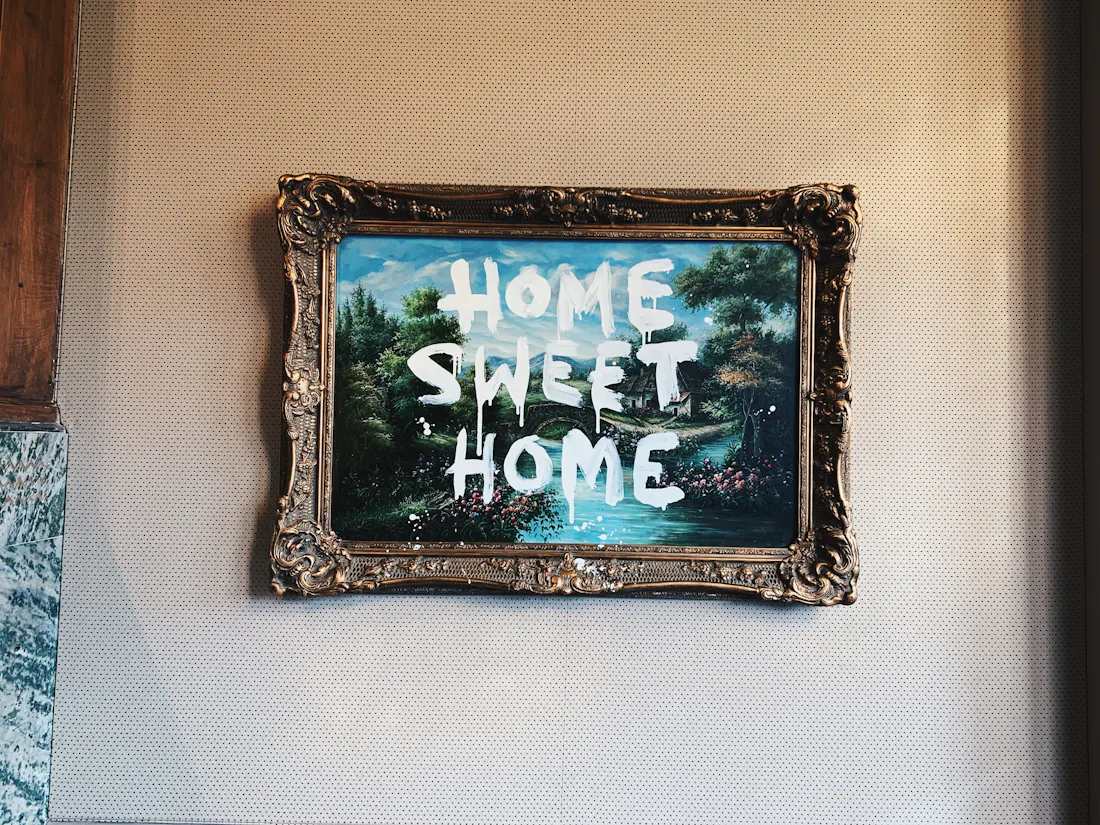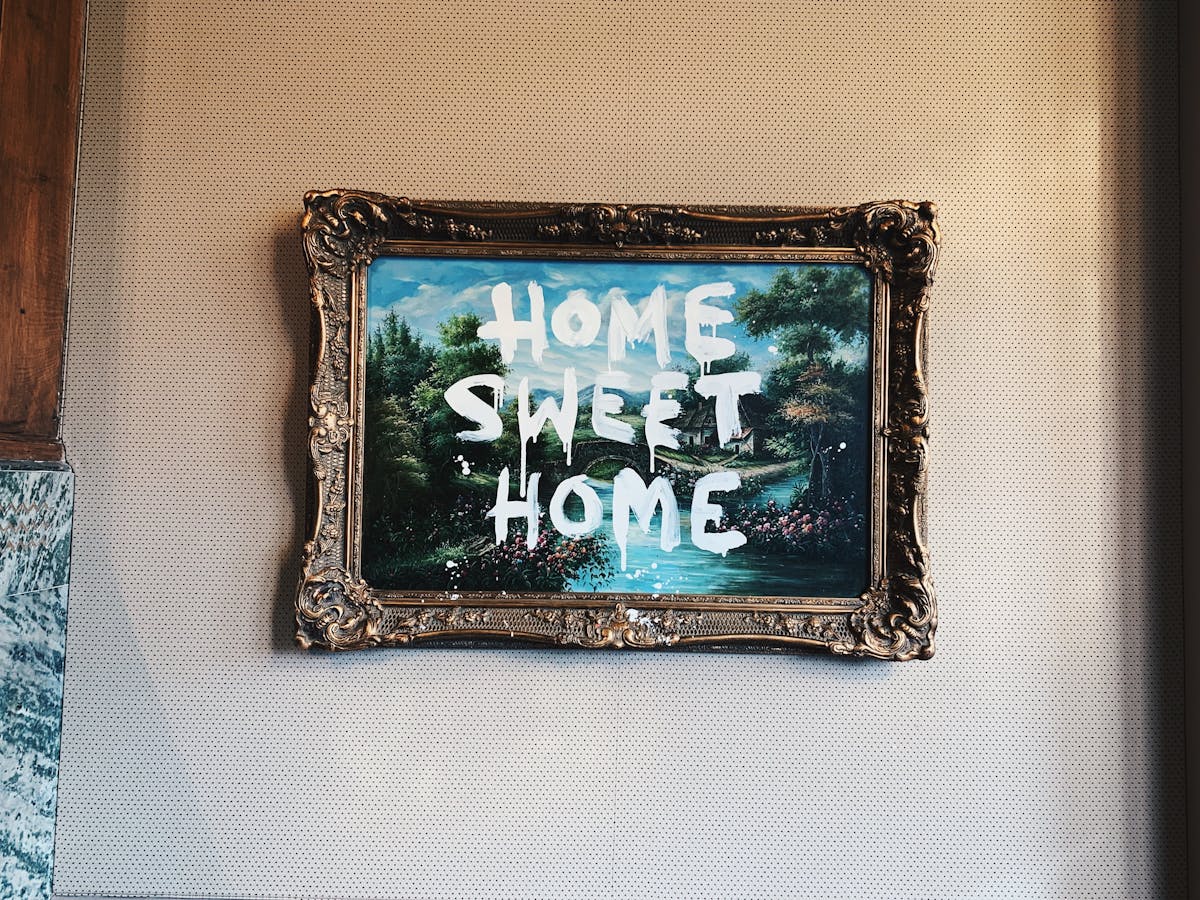 The Art Of Banksy London is the largest touring showcase of Banksy artworks. The entire collection is privately owned and is on loan from private collections for public viewing. Thousands of visitors turned up to see this original exhibit of Banksy artworks across Melbourne, Tel Aviv, Auckland, Toronto, Miami and Sydney. Next up is London so grab the chance to see the Banksy London exhibition in Covent Garden.
Prints, sculptures, screenprints, canvasses, unique works and limited-edition pieces are on exhibit. Banksy made these artworks between 1997-2008. This period resulted in Banksy's most recognisable and well-known works. Also on display are a few lesser-known, original and unique works on canvas, wood and paper. You will have the chance to see some iconic pieces like Girl and Balloon, Flower Thrower and Rude Copper.
Girl and Balloon is the same artwork that caused a global sensation in the art world in 2019. The painting fetched $1.4 million in an auction. But right after, the painting self-destructed half of itself. While this stunt surprised everyone, Banksy confessed he had planted a shredder in that artwork.
This immersive experience could be a once-in-a-lifetime opportunity to see original art pieces of Banksy's works.
COVID-19 Safety Measures at Banksy London
---
Only a limited number of patrons will be allowed inside Banksy London exhibition in each time slot so that it is easier for patrons to follow a 1 metre social distancing when inside.
It is mandatory for every patron, above the age of 11 to wear a face mask at all times whilst inside the exhibition.
Every patron will be subjected to a contact-free temperature check before entering. Anyone with a temperature higher than 37.8 ℃ may be denied entry to the exhibition.
The venue is regularly cleaned and sanitised. Common contact surfaces and toilet facilities are sanitised regularly.
Hand sanitisers are placed at designated points throughout the building. Patrons are encouraged to regularly use hand sanitisers.
The exhibition operates on an immersive one-way user journey with separate entry and exit points
The Art Of Banksy London Exhibition
---
More than 50 original and authenticated Banksy artworks are on display. You will get to see iconic pieces like True Love, Winnie the Pooh, Grin Reaper, Monkey Queen, TV Girl and Rude Copper. In another artwork on display, titled Turf War, you can see a portrait of Winston Churchill, the former British Prime Minister. Churchill has a green mohawk instead of a bald head in the artwork. In Banksy's Happy Choppers, you will see a squadron of armed military helicopters in the backdrop of a bright blue sky.
Banksy's Most Iconic Artworks
---
Here are some of the most iconic Banksy artworks.
Devolved Parliament is a 2009 oil-on-canvas painting. It shows the Members of the Houses of Common of the United Kingdom as chimpanzees.
Girl with Balloon (2002) is one of Banksy's most famous works. It first appeared under the Waterloo Bridge in London city.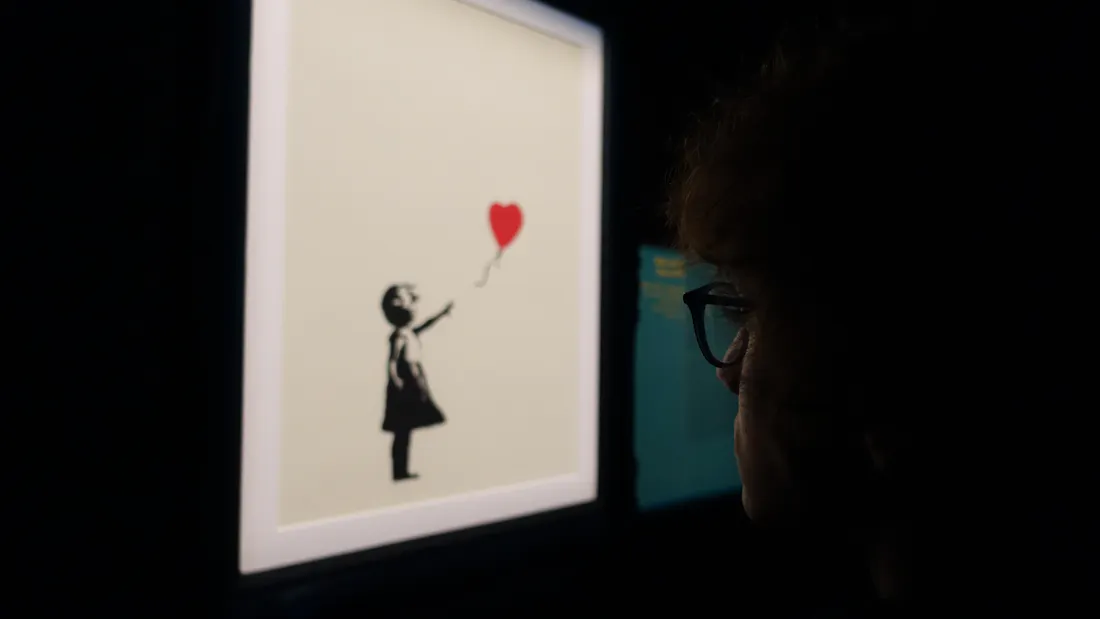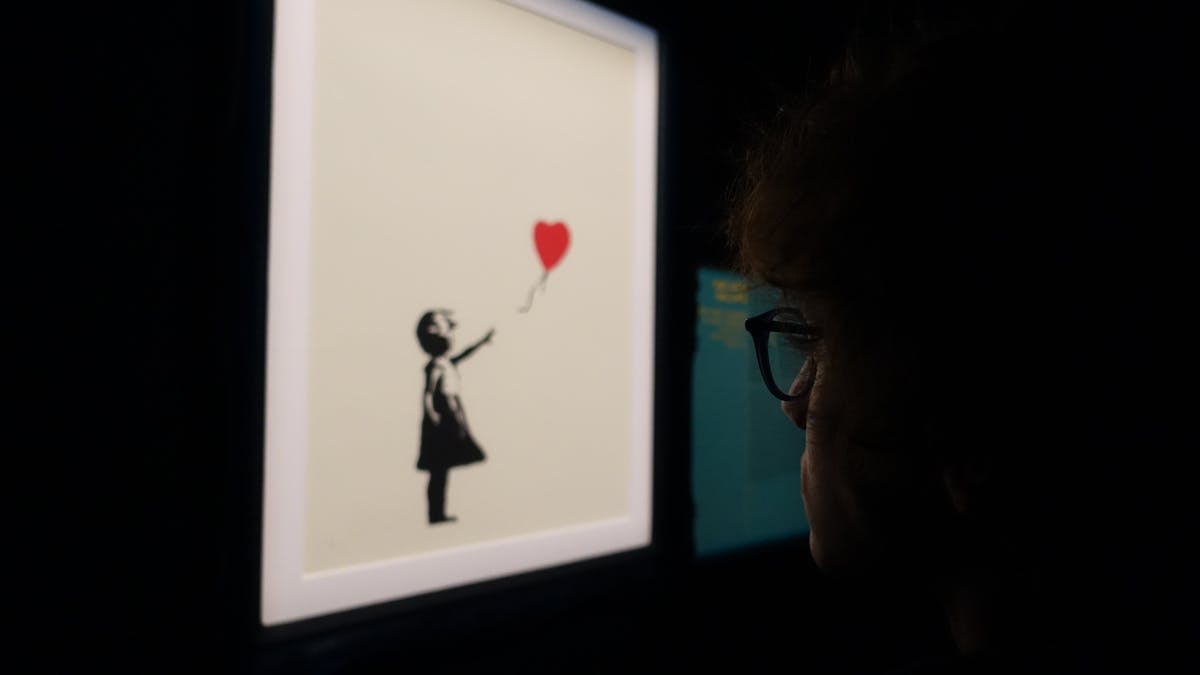 Titled Rage, Flower Thrower, the artwork appeared in Jerusale's West Bank barrier wall, in 2003. It shows a masked Palestinian throwing a bouquet.
The 2006 mural, Sweep it Under the Carpet, appeared on a street wall in North London. The mural depicts a maid sweeping dirt under the cover of a brick wall.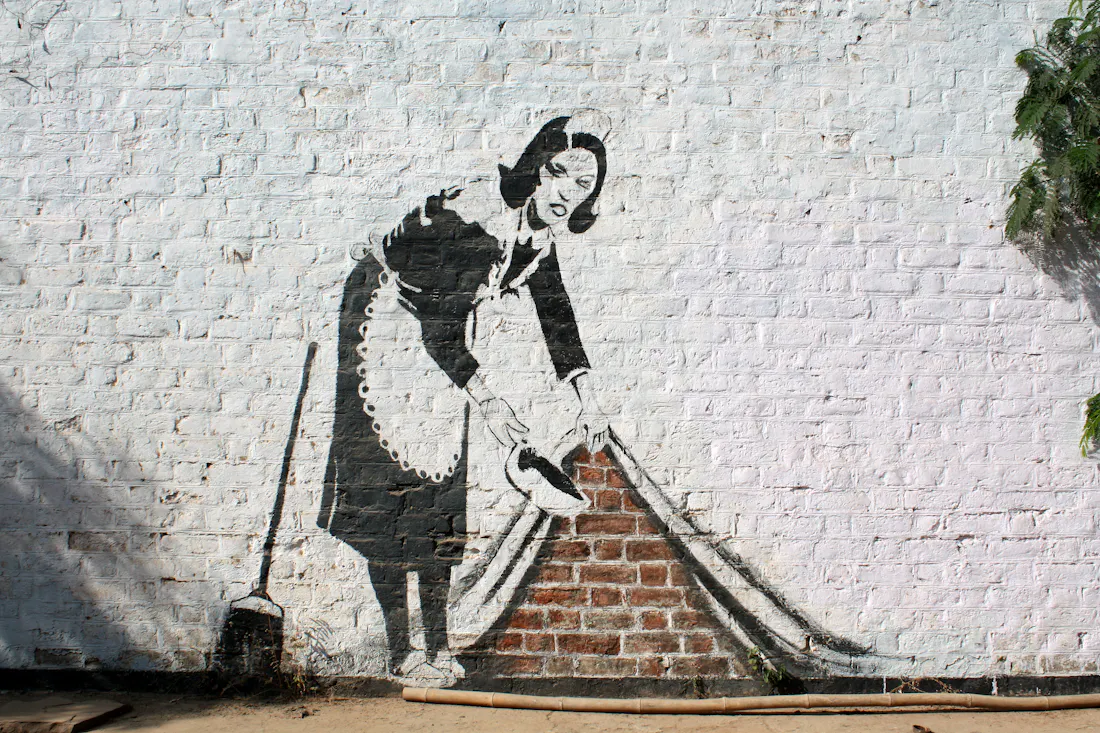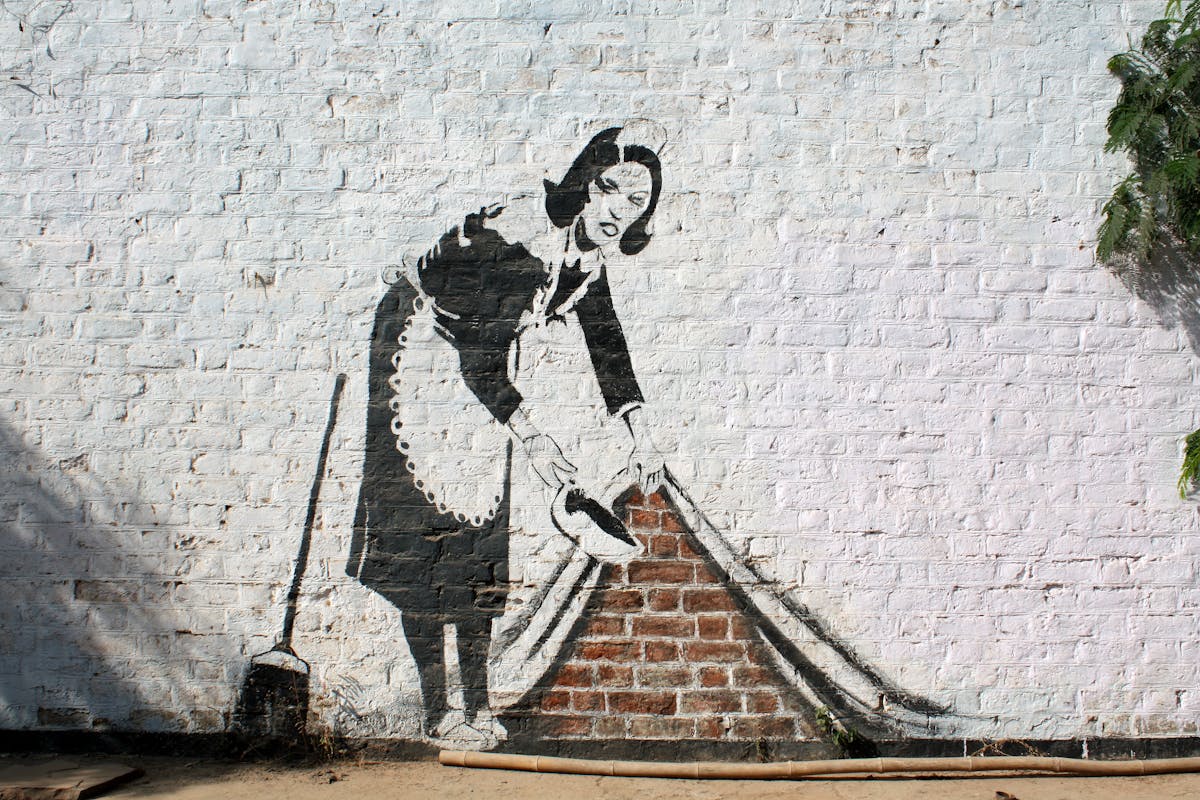 Humour is a prime theme in Banksy's artwork. This is visible in a mural titled Rodeo Cowboy Kid seen in New York. Banksy turned a chipped plaster of a wall, into a work of art to show a boy riding a bull like a cowboy.
The Art of Banksy London Tickets
How Much Do Banksy London Exhibition Tickets Cost?
---
If you are in London, don't miss the Banksy London exhibition. The exhibition houses the largest collection of privately-owned Banksy artworks. The Art of Banksy London ticket prices can vary, depending on the time of your visit.
On Weekdays, the tickets start at £ 14.50 for students aged 6-18 years and can range from £21.50 - £49.50 for others. On weekends, the prices for students begin at £16.50, and range between £24.50 - £49.50 for others.
Discounted Tickets: Concession tickets are available for visitors aged 6-18, and those enrolled in a university. Please ensure to carry a valid ID. Disabled Patrons can bring one carer free of charge. The helper ticket does not need to be booked prior.
Tips for your Banksy London visit
---
Book your tickets in advance to avoid an end moment rush at the box office. During peak times, the exhibition can sell out quickly.
Be sure to arrive at least 15 minutes before your allotted time slot.
If you wish to avoid long queues, opt for the Fast Track Tickets, a limited ticket. Buying this ticket will allow you to come at any date and time, without having to queue to gain entry.
Carry your accepted debit & credit card for payments as the venue does not accept cash payments.
Make sure to take photographs of the artworks that interest you to learn more about them later.
Food and drinks are not allowed inside the Art of Banksy exhibition. So eat well and stay hydrated before heading here.
Carry a small purse or bag to the venue as backpacks and duffle bags are not permitted inside. Visitors with such items have to check in their bags at the bag-check for no additional cost.
Flash photography may not be allowed. So remember to disable your camera's flash before clicking photos at the exhibition.
Visiting Art Of Banksy London 2021
Practical Information
---
Opening Hours
Sunday to Wednesday: 10 AM - 6 PM; Last admit at 5 PM
Thursday to Friday: 10 AM - 9 PM; Last admit at 8 PM
Saturday: 9:30 AM - 7 PM; Last admit at 6 PM

Getting There
Tube
The closest tube stop is Covent Garden Tube station. It is a 3 minutes walk to the venue from here. Alternatively, you can get down at any of these tube stations and walk it to the Art of Banksy exhibition: Leicester Square (5 mins), Tottenham Court Road (8 mins), Holborn (8 mins), Charing Cross (10 mins).

Bus
The following bus routes have a stop at Cambridge Circus: 14, 19, 24, 29, 38, 176, N5, N20, N29, N38, N41, N279.

Car
If you drive to the venue, make note of the nearest car park: Q-Park Chinatown on Newport Place.
Parking
The nearest car park is Q-Park Chinatown on Newport Place.
Amenities
Wheelchair accessible venue; provision to leave backpacks and duffle bags
Best Time to Visit
We recommend you plan your visit and reserve your time slot for your visit to the exhibition. Plan a visit during the weekdays as weekends will see more art aficionados headed to the exhibit.
Where to dine around The Art Of Banksy London
---
Here are a few restaurants and eateries around the Art of Banksy London where you can grab a bite.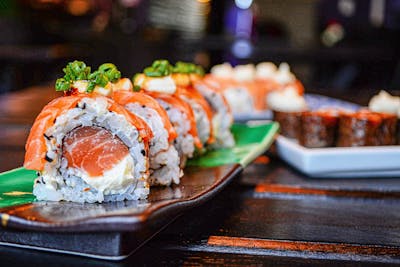 Flesh & Buns Covent Garden
One of the best brunch spots to try in London, the Izakaya-style restaurant brings together some Japanese and Asian delights like sushi rolls, soft shell crabs, and more!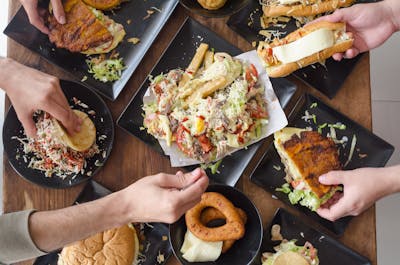 Seven Dials Market
Seven Dials Market is a place with multiple eating options. It brings together a delicious selection of food and drinks from cafes and street-food kitchens. Italian, Mexican, British, Japanese, Venezuelan, South American cuisines will take you on a culinary adventure.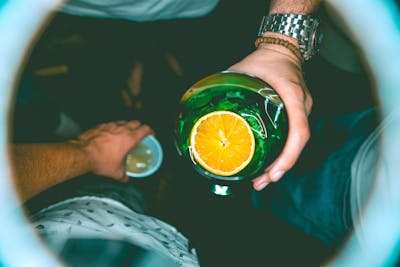 Crown & Anchor
Pair a great selection of traditional homemade pub food with exciting continental lagers, British ales, wine, or just some London gin, at Crown and Anchor. With a relaxed atmosphere, the English-style pub is a great place to feast on some quick bites any time of the day!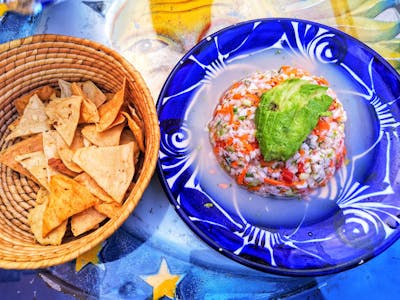 Monmouth Kitchen
Monmouth Kitchen serves an array of Italian, Peruvian, Mediterranean, and European, small plates, entrées, and specialties. The restaurant also serves an exceptional selection of fine wines and signature cocktails. The tranquil setting makes it a relaxed space for socializing.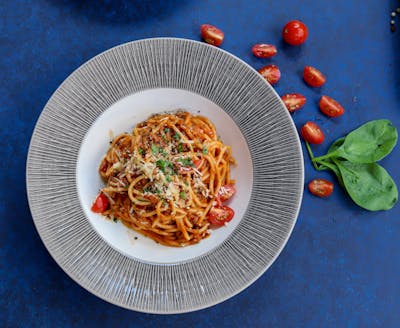 Da Mario
Da Mario offers fresh-made pasta, fish, seafood, meat dishes, homemade desserts. Top it with some of the finest Italian wines in a comfortable family restaurant.
FAQS
---
You can take a tour of Banksy's street art in London. The underpass before London Bridge, Rivington Street, Portobello Road, and Clipstone Street in Fitzrovia are a few streets to spot Banksy's artwork in London. Alternatively, you can also visit Art of Banksy London 2021 in Covent Garden, between 20 May 2021 to 21 November 2021 to see a private collection of Banksy's artworks.
Art of Banksy London will be at exhibit on 50 Earlham Street, London WC2H 9LJ
Covent Garden Tube station is the closest tube stop to the Art of Banksy. The exhibition is a 3 minutes walk from here. Alternatively, you can get down at any of these tube stations and walk it from there: Leicester Square (5 mins), Tottenham Court Road (8 mins), Holborn (8 mins), Charing Cross (10 mins).
The exhibition is open to the public starting 20 May 2021.
Banksy's artworks will be on display until 21 November 2021.
You can visit the exhibition at these timings:
Sunday to Wednesday: 10 AM - 6 PM; Last admit at 5 PM
Thursday to Friday: 10 AM - 9 PM; Last admit at 8 PM
Saturday: 9:30 AM - 7 PM; Last admit at 6 PM
Yes, Banksy is from Bristol in the UK. However, his identity remains unknown.
A painting titled 'Game Changer' celebrates the UK healthcare workers as superheroes. It depicts a young child playing with a toy nurse. This painting was sold for $23.1 million, making it the most expensive Banksy painting ever sold.
Banksy uses stencil painting for his works. This allows him to complete his work much much faster instead of painting freehand. This has helped Banksy hide his identity.
Banksy is famous for his thought provoking satirical street art, mainly made using detailed stencils.
No, you cannot buy a Banksy painting at the exhibition as these paintings belong to private art collectors who've lent their collection for the Art of Banksy London 2021.
Each ticket allows you access to Banksy London exhibition only for 30 minutes.
Yes, the Art of Banksy exhibition taking place at Covent Garden.
The Banksy London exhibition is suitable for all ages.
Banksy is one of the most prominent streets artists of century and his paintings are sold for a million dollars or more. You can find small Banksy pieces like offset printing on cardboard (for an album cover) for a couple of hundreds of dollars. However, if you want a Banksy painting, you'll have to pay six-figures for it. The most ever paid for a Banksy painting is $12,966,840 for the piece Devolved Parliament (2009) on October 3rd, 2019.