Collections
Lifestyle & Entertainment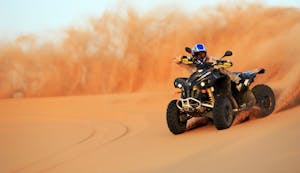 Quad Biking Dubai
Quad biking Dubai is one of the most popular desert activities. Built to be handled off-road, quad bikes are a unique way to get around when the terrain is not so friendly. And in the desert, the terrain is just that. Quad bikes easily traverse the sandy dunes where other vehicles might get stuck. This ability to be easily handled off-road with a little practice and guidance makes quad biking in Dubai one of the favourite past times.
Quad Bike Safari in Dubai
Quad biking is easily available as a desert safari activity in many desert camps. Quad biking is ideal during morning safaris as well as in the evening. Many safaris are dedicated solely to the experience of quad biking and one must surely check them out if they would love an added share of adventure in their desert safaris.
A quad bike safari in Dubai begins at your residence, home or hotel, where you will be picked up by your driver in a 4x4 and driven to the desert camp. At the camp, you can participate in multiple activities, one of which among them will be quad biking. After a day of adventure, one can enjoy a traditional buffet dinner or be driven back to their residence to bring the day to a wonderful close.
Popular Quad Bike Safaris in Dubai
These are some of the most quad biking Dubai experiences that you can purchase online and enjoy: