Madrid is the capital of Spain and one of the most popular tourist destinations in Europe. The city is home to numerous historical and cultural attractions, as well as a lively nightlife scene. Madrid is renowned for its art museums, which include those located in the 'golden triangle of art' - the Prado Museum, the Reina Sofia Museum, and the Thyssen-Bornemisza Museum.
Here's everything you MUST know before you book tickets for the Thyssen-Bornemisza Museum and spend 3 hours inside one of Madrid's best museums.
Thyssen-Bornemisza Museum - In a Nutshell
---
Thyssen-Bornemisza Museum Timings
Tuesday to Sunday: 10am - 7pm
Monday: 12pm - 4pm. Entry is free on all Mondays.
Know before you go
Best time to visit: March-May/September-November
Starting Prices for Thyssen-Bornemisza Museum Tickets at €13
Suggested duration: 2 - 3 hours
Location: Madrid

Address
Paseo del Prado, 8, 28014 Madrid, Spain
Get there
Why Visit Thyssen-Bornemisza Museum?
--- The museum is only second to the British Royal Collection, making it the second-largest private collection in the world.
The collection encompasses works from eight centuries, giving the visitors a chance to see the evolution of European Art.
The temporary exhibits are pretty renowned for their tempting collection, the museum offers guided tours for children, and often conducts many workshops.
The museum's location makes it an even more memorable experience with its proximity to two of the best museums in the region. An entire day can be easily spent around Madrid's 'Golden Triangle of Art', and is sure to leave you impressed.
Whether you're looking for an exemplary art exhibit, a place to unwind, or are just on the lookout for your next inspiration, be sure to visit the museum!
Which Thyssen-Bornemisza Museum Tickets should you buy?
---
Looking for seamless ticket booking experience for your visit to the Thyssen-Bornemisza Museum in Madrid?
Grab your Thyssen-Bornemisza Museum Tickets here.
Entry is free on all Mondays.
Plan your visit
---
Best time to visit the Museum
We would recommend visiting the museum in Spring, from March to May, or in the fall, from September to November, when the weather is better and crowds are fewer when compared to the peak season (Summer).
Visiting in Winter is a great option if your looking for a budget friendly option since hotel prices tend to be a tad lesser during these months.
Thyssen-Bornemisza Museum Timings
The museum is open from Tuesday to Sunday from 10 am to 7 pm.
On Mondays, the entry is free and the museum operates from 12 pm to 4 pm.
The museum closes early on 24 and 31 December, operating from 10 am to 3 pm.
The museum is closed on: 1 January, 1 May and 25 December.
Getting to Thyssen-Bornemisza Museum
By Bus
The following bus routes pass through Thyssen-Bornemisza Museum:

1, 2, 5, 9, 10, 14, 15, 20, 27, 34, 37, 41, 51, 52, 53, 74, 146 and 150.
By Train
Stop at any one of the following stations - Atocha or Estación Recoletos. The museum is just a few minutes walk away.

By Metro

Take line 2 and stop at Banco de España station. The museum is just a few minutes walk away.

By Bike

Take a bike from your nearest bike station, and stop at Marqués de Cubas, 25.

By Car

Type Paseo del Prado, 8, 28014 Madrid, Spain on your smartphone/GPS app and follow the directions.
Parking is available at the Las Cortes.




Accessability/Resources in the Museum
---
Sign language guides and audioguides with audio descriptions are available.
The museums lends out wheelchairs to all and walking stick seats to all in permanent collections, and only to those with reduced mobility in temporary exhibitions.
Accessible toilets are available in the museum, Café, and Auditorium.
Wheelchairs accessible routes are available in the museum, Café, and Auditorium.
Baby feeding room is located in the lower ground floor.
History behind Thyssen-Bornemisza Museum
---
The Thyssen-Bornemisza Museum had its beginnings in the 1920s by Heinrich Thyssen-Bornemisza, a German businessman, and art collector. Thyssen-Bornemisza amassed one of the largest private art collections in the world. He collected many of them from American millionaires who were coping with the Great Depression and kept them at their home in Lugano in Switzerland. He focused on obtaining the old master paintings, like those of Ghirlandaio, Carpaccio, etc.

When the collections were passed onto Heinrich's son, Hans, he expanded the collection with modern ones, including an Impressionist collection. Later it was the wife of Hans, Cervera, a former Miss Spain, who convinced him to relocate the collection to the government building near the Prado museum in Spain.

In 1992, the Thyssen-Bornemisza Museum opened officially in the Palacio de Villahermosa, an 18th-century palace, with 715 works of art. A year later, the works were sold to the Spanish Government for $350 million.

Today the museum houses over 1600 artworks and is the fifth most visited museum in the region. It is conveniently located in the "Golden Triangle of Art", beside the Prado and the Reina Sofía museums, making it a top-rated spot for tourists and art lovers alike.
The Thyssen-Bornemisza Museum: In Detail
--- Style of work
The museum houses a variety of artworks, with the most renowned ones being late medieval art (largely unrepresented in Spanish museums), and European art. The museum is also home to many 20th-century works - from expressionism, fauvism, abstraction, and surrealism, to pop art.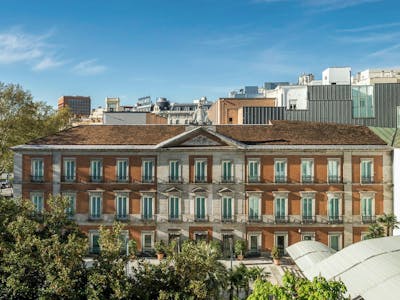 Architecture
Designed in a neoclassical style, the original building Palacio de Villahermosa was remodelled and designed by architect Rafael Moneo from the years 1989 to 1992, to house the museum. The building allows circular movement, which adds space and structure to the levels.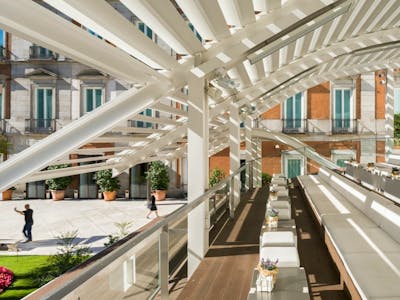 Interior Design
The interiors feature salmon pink interior walls as directed by the Baroness, Carmen "Tita" Cervera. The space features a central courtyard, connected to the garden facade.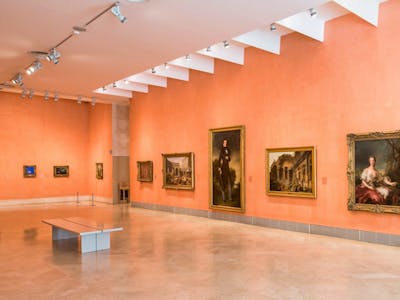 Collection
The collection includes over 1,600 paintings including:
Early European paintings
Renaissance, Baroque and Rococo paintings
18th and 19th century North American paintings
German Expressionism paintings, and more
Map of Thyssen-Bornemisza Museum
---
Top Things to See Inside the Museum
--- Saint Catherine of Alexandria
The fine oil painting by the Baroque artist Caravaggio depicts the fearless and intelligent beauty Catherine of Alexandria, who was martyred in the 4th century. However, he used a prostitute, Fillide Melandroni, as the model for the painting, which turned out to be quite controversial. Harlequin with a Mirror
The popular painting by Pablo Picasso was originally conceived as a self-portrait. The painting combines characters from the circus and the Commedia dell'arte, which Picasso was very much intrigued by. The painting represents a Harlequin, an acrobat, and a Pierrot, in one picture. Les Vessenots in Auvers
The 1890 painting filled with bright greens and yellows was painted by Vincent van Gogh after he left Paris to stay in Auvers-sur-Oise. The painting features repeated and nervous brushstrokes, a characteristic of his final paintings, depicting Van Gogh's conflicting feelings and immense loneliness he was battling at that at the time, before taking his own life in the same year. Waterloo Bridge
Painted by André Derain in 1906, the artist used the pointillist technique to give a mosaic-like effect. Derain has depicted the banks of the Thames River using fauvism, expressive with shades of green, blue, and purple, along with a pop of yellow and pink sunlight from the corners. Rue Saint-Honoré in the Afternoon. Effect of Rain
The 1897 oil painting by Camille Pissarro depicts a shift from a pointillist technique to an impressionist style, used by the artist in his earlier days. The painting depicts people, buildings, trees, street lamps, and more receiving an afternoon shower of rain. Pissarro created this painting while looking out from his hotel room, to see the edge of Théâtre Français (now known as Place André-Malraux) and rue Saint-Honoré.
Insider Tips
---
Try to avoid visiting on weekends, since that's when most places including a museum are packed.
Keep your phone on silent and turn off notifications before entering the museum for a seamless and distraction-free experience.
Get tickets in advance to skip the lines and not tire yourself out.
Do not forget to use the museum's free wifi to access learning contents.
Wear comfy clothes and shoes, since you have to walk around inside and stay focused on the exhibits rather than that tacky clothing.
Have a snack before entering the museum, since it would typically take 2 hours or more before you get out.
Places to visit around Thyssen-Bornemisza Museum
--- Museo Nacional del Prado
The museum houses a collection of over 7,000 paintings, 1,000 sculptures, and more. The Prado Museum is renowned for its holdings of European and Spanish art, and including the works of El Greco, Velázquez, Goya, and Murillo. The museum also has an extensive collection of Italian Renaissance art, as well as French and Flemish paintings. Reina Sofia Museum
The Museo Nacional Centro de Arte Reina Sofía is dedicated to Spanish art and houses a large collection of artworks by some of the most influential artists of the 20th century, including Pablo Picasso and Salvador Dalí. Founded in 1986 and named after Queen Sofía, it is home to over 20,000 works of art, with an extensive library. Puerta de Alcalá
The Puerta de Alcalá, is a neoclassical monument located in Parque del Buen Retiro, one of Madrid's largest parks. Built between 1778 and 1784, it is one of the most recognizable landmarks in Madrid and has been declared a Historic Monument of Spain. At 22 meters tall, it is one of the tallest triumphal arches in the world. El Retiro Park
El Retiro Park is one of the largest and most popular parks in Madrid. Covering over 350 acres, the park is a green oasis in the heart of the city. Visitors can stroll through manicured gardens, relax on stunning lakes, or explore hidden caves. The park also features a number of monuments, including a large fountain and a statue of King Alfonso XII.
FAQs
---
The best time to visit would be from March to May or from September to November, first hour in the morning when crowds tend to be fewer.
A ticket to Thyssen-Bornemisza Museum for an adult costs €13 with Headout. If you are under 18, the tickets are free.
It would take 2 to 3 hours to cover the entire museum.
Yes, children don't need tickets. Everyone under 18 is assured of a free entry.
Yes, Thyssen-Bornemisza Museum open is on all days, except the mentioned public holidays.
Yes, there is a gift shops inside the Thyssen-Bornemisza Museum where you can purchase products including mugs, jewellery, décor and more, and publications related to the museum's collections.