The capital of Spain, Madrid, immediately resonates with soccer fans worldwide. Like any other capital city, Madrid is a bustling metropolis. It has people reaching for corporate success and political supremacy. However, the city is not disengaged from its soul - the art and culture of the European world. It is the little walks like Paseo del Arte that define the city. At the end of this history-laden trail is Museo Reina Sofía, also known as the Museo Nacional Centro de Arte Reina Sofía. The Reina Sofía Museum in Madrid is the premier repository of Spanish art and practically the lifeline of the tender Spanish soul. If you find yourself in Madrid, this is where you should head for a taste of authentic Spanish art.
Reina Sofia Museum - In a Nutshell
---
Opening Hours (Subject to change)
Sabatini and Nouvel Building
Monday, Wednesday to Saturday: 10am - 9pm.
Sunday: 10am - 2:30 pm.
Closed on all Tuesdays.

Parque del Retiro, Palacio de Velázquez and Palacio de Cristal
Open every day from 10am to 6/7/10pm depending on the season.
Know before you go
Best time to visit: June - July
Starting Prices for Reina Sofia Museum Tickets at €11.90.
Suggested duration: Ideally, you will take 2 hours to cover the entire area.
Location: Madrid

Address
Calle de Santa Isabel, 52, 28012 Madrid, Spain
Get there
Reina Sofia Museum, Madrid
---
Reina Sofía Museum stands on the site of the first general hospital in Madrid. It is one of the largest museums in the world, given its mammoth collection of contemporary and modern art. The museum also has a free-access library that houses over 1000 videos, and about 4000 sound recordings in addition to an eclectic collection of 1,00,000 books. The Reina Sofía Museum attracts connoisseurs of art and culture from all over the world because of its expansive collection of art, featuring the works of Pablo Picasso and Salvador Dalí among others. The museum also organizes temporary and permanent exhibitions to showcase a wide range of national and international artworks. It is almost impossible to not be impressed by the grandeur of Reina Sofía Museum!
Why You Must Visit the Reina Sofia Museum in Madrid?
---
Madrid is the most visited city in Spain and a large section of the incoming tourists make it a point to go down to the Reina Sofia Museum. This is why you should be one of them:
The museum is home to the extraordinary works of Pablo Picasso, Salvador Dali, and Joan Miro.
There are nearly 2500 of the greatest ever works of art in Spanish and world history on display in the museum.
With a collection of over 1000 periodicals, the museum comprehensively chronicles the history of Madrid and Spain.
The 18th-century architecture of the structure is itself a work of art, with numerous influences like surrealism and cubism.
The sprawling greenery of the adjacent garden makes for a relaxed stroll after exploring the museum.
Where can I buy tickets to Reina Sofia Museum?
---
The Reina Sofia Museum is one of the most famous attractions in Madrid. It is crowded almost always hence, buying your Reina Sofia Museum tickets online is a wise idea to skip the terribly long queues. Moreover, buying your Reina Sofia Museum tickets online will help you save a few euros as opposed to the gate price.
Reina Sofia Museum: Free Hours
---
Visiting the Reina Sofia Museum is free of charge on April 18, May 18, October 12, and December 6.

It is also free of charge on Wednesdays to Mondays (Closed on Tuesdays) from 7:00 PM to 9:00 PM, and Sundays from 1:30 PM to 9 PM.
Top 7 Artworks to See from Reina Sofia Museum's Collections
---
There are 20,000 paintings in the Reina Sofia Museum and it is humanly impossible to cover them all over a day. So that you don't miss the most famous paintings at Reina Sofia Museum, here's our curation of the Top 7 pieces of art you must not miss while touring the museum.
1

Guernica by Pablo Picasso
This masterpiece by Pablo Picasso depicts a tragic moment in the Spanish Civil War that resonates with the natives till date. Pablo Picasso channels the horrors of Luftwaffe bombing on the city of Guernica into a global suffering in his work.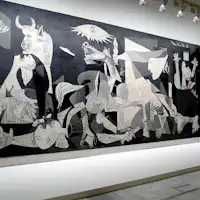 2

The Great Masturbator by Salvador Dalí
Salvador Dalí has poured all his obsessions in this work. However, the work is quite deceptive due to the presence of a number of ideas and elements. The Great Masturbator utilizes surrealism to represent the clash between the feminine and the masculine, eroticism and death.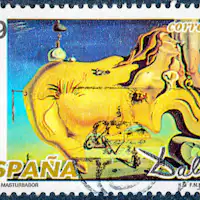 3

Man With a Pipe by Joan Mirò
Joan Mirò plays with the boundaries of a person's ability to interpret with this surrealistic genius. By eliminating all that is irrelevant, Joan Mirò takes away the observer's means to figure out the puzzling figure. That is why Man With a Pipe is one of the essentials of Surrealistic research and studies.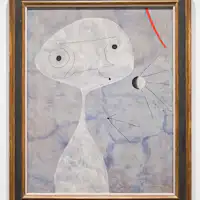 4

Gathering at Café de Pombo by José Gutiérrez Solana
José Gutiérrez Solana was fond of intellectual gatherings that were common in the 20th Century.Taking the center stage in the painting are some of the biggest names during the time: Manuel Abril, Tomás Borrás, José Bergamín, José Cabrero, Gómez de la Serna, Mauricio Bacarisse, Pedro Emilio Coll, Salvador Bartolozzi, and Solana himself.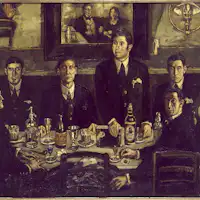 5

Lying Figure by Francis Bacon
Part of the museums international collection, this work depicts Francis Bacon's unique nihilistic outlook of life. He shrouds the reclining human figure in vulnerability, just the way he imagines all of mankind. Francis Bacon's adherence to the Absurdist movement is apparent here.
6

Portrait II by Joan Mirò
Joan Mirò once again paralyzes human perception with this work of his. The rigid work arrests human interpretation with its bold use of color and utter departure from conformism. This painting dates back to the time just before Joan Mirò came closest to surrealism.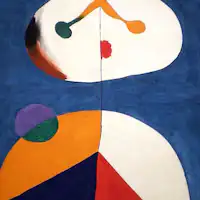 7

Landscapes at Cadaqués by Salvador Dalí
The painting dates back to the time when Salvador Dalí was yet to visit Paris and was just expelled from the Royal Academy of Fine Arts of San Fernando in Madrid. His admiration of Cubism is on display in this landscape. By then Salvador Dalí was well versed in avant-garde painting style.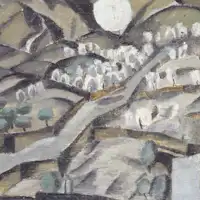 Plan Your Visit
---
Reina Sofia Museum Hours
Main Venue - Sabatini and Nouvel Building: Wednesday to Monday 10:00 AM - 9:00 PM
Venues Parque del Retiro, Palacio de Velázquez and Palacio de Cristal:
April to September - 10:00 AM - 10:00 PM
October, March - 10:00 AM to 7:00 PM
November to February 10:00 AM - 6:00 PM
Getting To Reina Sofia Museum
By Bus
The following EMT Line bus routes will take you to the Reina Sofia Museum:
6, 10, 14, 19, 26, 27, 32, 34, 36, 37, 41, 45, 59, 85, 86, 102, 119, C1, C2, and E1.

By Train
The museum is just a few minutes walk from the closest station - Atocha-RENFE station.

By Car
Exit Avenue del Mediterráneo into Paseo de la Infanta Isabel.
Best Time To Visit
---
The Reina Sofia Museum is said to house around 20,000 works of art. You will be smart to keep enough time to go over the entire museum. It is also likely that you would want to keep some time aside after exploring the museum to relax before you head back to your hotel.

Therefore, the best time to visit the Reina Sofia Museum would be from June to July, since the sun sets at around 9:40 PM in Madrid during that time. You will have enough time to go out into the city after the museum tour.

Since the Reina Sofia Museum is quite popular, you should try to avoid the peak hours. Try to make it to the museum in the first few hours of the day to have a more sedate experience.
Reina Sofia Museum: On Map
---
Handy Tips For Your Visit to Reina Sofia Museum
---
If you are biking to the Reina Sofia Museum in Madrid, bike racks are available near the Sabatini Building and the Plaza Nouvel entrance.
You can park your car at the Atocha station or the Plaza Sánchez Bustillo.
The Reina Sofia Museum is devoid of architectural barriers and is thus wheelchair accessible. Lifts in the Nouvel Building and Sabatini Building have tactile numbering scheme for the visually disabled.
If you have large items of baggage, use the cloakroom at the entrance of the Nouvel Building.
Use the audio guide available at the entrance for a better overall experience.
There are no signs indicating this but photography is not encouraged within the museum buildings.
Keep an eye out for the room numbers you are visiting. Due to its size, it's not uncommon for people to get lost at the Reina Sofia Museum.
If you're interested in visiting the Prado Museum, Thyssen-Bornemisza Museum, and Reina Sofia Museum, the 3 art museums that make up Madrid's Golden Triangle then splurge on the Paseo del Arte. This pass is valid for a year and you'll save about €6 when compared to buying the full-price tickets individually.
Top Things to do Around Reina Sofia Museum
--- Museo Nacional del Prado
The Prado Museum is one of the world's largest and most important art museums. It houses a collection of paintings, sculptures, and other works that span the history of Western art. Among the museum's most famous paintings are works by Diego Velázquez, Francisco Goya, and Peter Paul Rubens. The Museo Nacional del Prado is also home to a large number of Spanish tapestries and an extensive library. The museum receives more than three million visitors each year and is one of Spain's most popular tourist destinations. Thyssen-Bornemisza Museum
Opened in 1992, the Thyssen-Bornemisza Museum is an art museum located in Madrid, Spain. The museum houses one of the world's largest private art collections, with over 1,600 paintings spanning from the 13th century to the 20th century. The collection includes works by masters such as van Gogh, Caravaggio, Rembrandt, and Picasso. In addition to its paintings, the museum also has a significant collection of sculptures, furniture, and other decorative arts.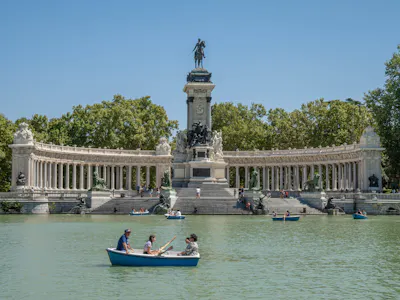 El Retiro Park
El Retiro Park is one of the largest park in Madrid. The park is situated in the city center and covers an area of over 350 acres. It is home to a number of features including a lake, gardens, and a monument to King Alfonso XII. El Retiro park is a popular spot for locals and visitors alike. On any given day, you will find people walking, jogging, and picnicking in the park.
Reina Sofia Museum Reviews
---
This is the modern art museum of Madrid, with as its pride, Picasso's Guernica mural. A whole, large room is devoted to this painting, with several sketches as well as a photographic record of how it was created. But they have a nice collection of Picasso's other works as well, and a whole room is also devoted to Juan Gris, the other Spanish abstract painter. They have some interesting paintings by Dali, and a very interesting collection (of mostly graphical) Russian avant-garde art. It is a pretty large museum, with the paintings well displayed, but a bit of a maze. The audio guide is very informative.
Katrien S , Tripadvisor November 2021
You'll need most of a day to see round the extensive spaces in this terrific building. A colleague remarked that it looks like it was designed by SMEG, but all the same, it's hugely impressive. Multiple buildings, exhibits, floors, beautiful stonework in places, an outdoor garden with sculptures by Miró and Calder... Then there is the 400-seat auditorium and the restaurant, both of which are as impressive as the museum itself. The day I was there the main exhibition was of Cubist paintings - again, very impressively done. I would like to go back when I have more time.
T1005QCianw , Tripadvisor November 2021
Read what others have to say about the Reina Sofia Museum in Madrid on TripAdvisor.
Can't Get Enough of Madrid?
---
If you find yourself in Madrid with some time to kill, fear not! The Spanish capital is brimming with things to see and do. For the history buffs, there is the Royal Palace , a sprawling complex that was once home to the Spanish monarchy. Art lovers can explore one of the many world-famous museums, such as the Museo del Prado or the Thyssen-Bornemisza Museum in the Golden Triangle . And for those who just want to soak up the local culture, Madrid's many plazas offer a perfect opportunity to people watch and enjoy a coffee or glass of wine. Be it whatever that interests you, we've got you covered for more things to do in Madrid!