The Empire State Reopening Date - 1st July 2020
---
As the Empire State Building gets ready to resume functioning, effective steps have been taken to safeguard visitor's health and to also create a comfortable space within the attraction.
Safety Measures in place at the Empire State Building
---
To ensure maximum safety, it is important for all visitors to bring their own facial masks. This is now mandatory by law. Guests must undergo the temperature screening process and will be denied entry if it is higher than 100.4°F.
Visitors must follow the social distancing markers placed within the venue and should stay at least 2 meters away from each other. To avoid overcrowding the attraction had reduced the capacity by 50% creating a safe and relaxed visit for all.
All hosts at the Empire State Building will be wearing protective equipment to ensure maximum hygiene is maintained. Hand sanitizers have also been placed at various points within the venue for guests to make use of.
Moreover, as a part of the $165 million renovation project, the following air quality measures have been implemented for a better experience:

2) State-of-the-art air purification improves air quality and reduces the risk of virus transmission1
4) System designed to provide clean air to over 1,600 hourly visitors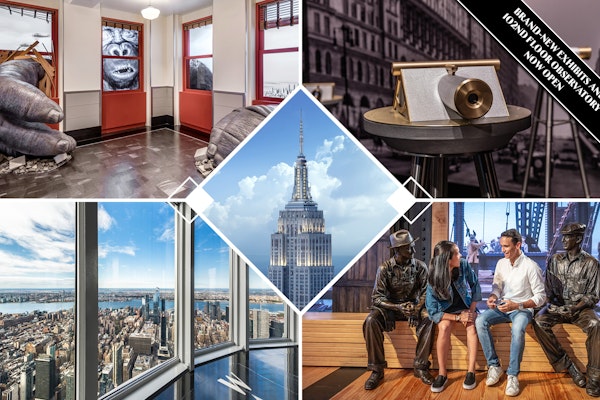 Booking Empire State Building Tickets Online
---
Tickets for the Empire State Building are available here.
Considering the current scenario, it is now mandatory for all guests to make their booking online before going to the venue. These tickets once purchased cannot be cancelled, amended or rescheduled.
Children aged 5 years and below can enter the venue for free. Ages 6-12 years enjoy reduced pricing however, they must carry a valid photo ID for reference.
Empire State Building- Revised Opening Hours
---
July, Monday to Sunday, 8 am - 11 pm, Last Elevator Up 10:15 pm
August, Monday to Sunday, 8 am - midnight, Last Elevator Up 11:15 pm
September, Monday to Sunday, 8 am - 11 pm, Last Elevator Up 10:15 pm

For more information about visiting the Empire State Building refer to the official website here.