Ever dreamt of seeing the fairytale castles from your favourite Disney stories? Let's be honest, we all have at some point wondered whether these dreamy castles actually existed or whether they are just a fragment of the author's imagination. Well they are the symphony of imagination with a dash of inspiration. And the inspiration behind Walt Disney's Cinderella Castle, the Disney Logo, the Cinderella Castle in Disneyworld Florida and the Sleeping Beauty Castle in Disneyland Paris is - the Neuschwanstein Castle in Germany. This fairy tale castle decked with a white limestone façade and deep blue turrets is located in Bavaria, near the town of Fussen and was built by King Ludwig II of Bavaria, also known as the "Fairytale King"!
If you're planning to visit the Neuschwanstein castle, here's all you need to know for planning a 'dreamy' day trip. Read on to know more about how you can book a tour of Neuschwanstein Castle from Berlin, and all that you can do in the town of Fussen.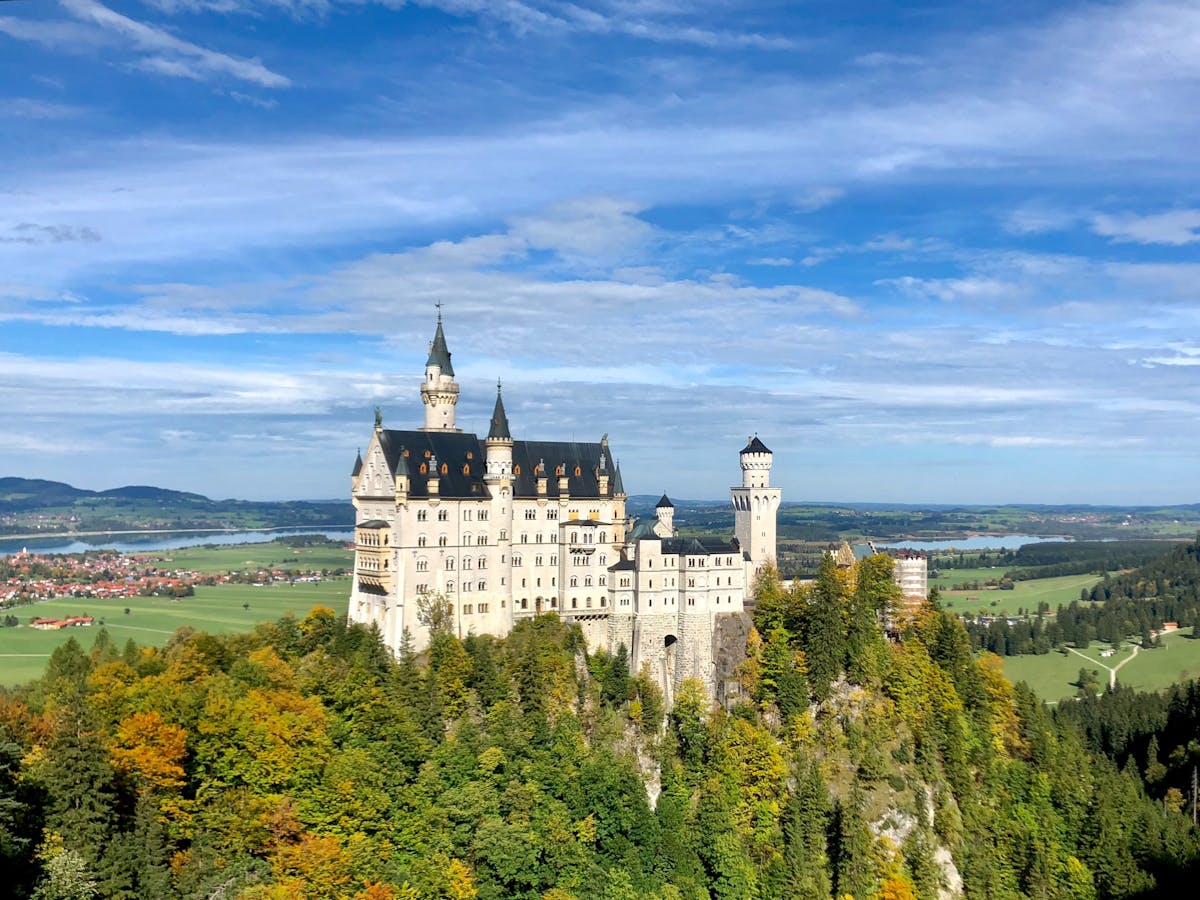 Essential Information For Visiting Neuschwanstein Castle
---
Things to know
Number of visitors per year: 1.4 million
Established: 1884
Architect: Eduard Riedel, Georg von Dollmann, Julius Hofmann
Architectural style: Romanesque Revival architecture
Height: 65 m
Opening Hours And Address
April to 15 October: 9:00 AM - 6:00 PM
16 October to March: 10:00 AM - 4:00 PM

Address : Neuschwansteinstraße 20, 87645 Schwangau, Germany
Get Directions
Recommended Neuschwanstein Castle Tickets
---
While there are many tickets and combos online , we have scouted and found you the best Neuschwanstein Castle ticket at the best price online.
Know Before You Book Your Neuschwanstein Castle Tickets
The above tickets involve a bus/train transfer depending on the season and availability. However, be rest assured that the transfer will be comfortable and entrusts you with a local expert guide.
For an additional fee of 14 EUR, you can get fast track entrance by skipping the queues and engage in a guided tour of the magnificent interiors of the castle. Should you like to opt for this, you have to pay the extra amount to the guide directly.
If you would like an audio guided tour, you may request for it once you meet your guide, before the start of the tour.
While this tour is wheelchair accessible, there are some parts of the tour that might need additional assistance, such as the initial 20-minute uphill walk to the castle. You can opt for the bus shuttle or horse carriage in this case.
The best part about these tickets are the super flexible cancellation policy that allows you to cancel up to 48 hours in advance for a full refund. Last minute change in plans? We've got you covered.
These tickets also enjoy a paperless facility which allows you to flash your ticket vouchers on your mobile phone with valid photo ID at the meeting point. Saves the hassle of printing your tickets!
Neuschwanstein Castle History
---
The foundation stone for the Neuschwanstein castle was laid on September 5, 1869. By 1873, parts of the castle was occupied by Ludwig II, though he never lived to see his full vision realized. It is said King Ludwig only slept 11 nights in Neuschwanstein Castle before his untimely death!
As per the initial plans, the Castle was designed to have more than 200 rooms, but only 12 or so were finished before funds drained out entirely. This neo-romantic castle castle took 22 years to completion and was initially named "Hohenschwangau Castle', as a tribute to a grand recreation of King Ludwig's childhood home. However, it was renamed Neuschwanstein Castle which translates to "New Swan Stone Castle" after his death and seven weeks after his mysterious death this Palace which was built solely for King Ludwig II ( he didn't want anyone to visit the Castle) , was opened up to the public and till date remains the most visited castle in Germany and one of the most popular tourist destinations in Europe.
Why Was The Neuschwanstein Castle Built?
While there are many debatable theories as to why the Neuschwanstein Castle was built, the one that seems most plausible is that the Neuschwanstein Castle was built for a certain deeply personal reason. In 1866, after Prussia emerged victorious from the Austro-Prussian War, Bavaria was forced to accept an alliance with the empire which led to King Ludwig II of Bavaria losing his power. This deeply affected him, which is why it is said that he built the Neuschwanstein Castle as a centerpiece of his imagined kingdom, where he could be the true royal he was.
"I want to remain an eternal mystery to myself and others" – King Ludwig II of Bavaria
Best Time To Visit Neuschwanstein Castle
---
There really is no best time to visit the Neuschwanstein Castle because it is breathtakingly beautiful year round! However, if you want to know what the good and bad of visiting the Neuschwanstein Castle each season round are, read on.
Neuschwanstein Castle In Spring (March to May)
The spring tops second on our list ( after fall, of course) as it's typically off-season, offering travelers a breezy weather, lots of blooming flowers on the alps and slim crowds. There's definitely no better time for photographers to go wild with their camera.
Neuschwanstein Castle In Summer (June to August)
Germany experiences a balmy weather during summers. The longer opening hours makes the Neuschwanstein Castle a popular attraction in the summer, but know that children have summer holidays during this period so be prepared for a huge influx of visitors leading to long lines and considerable crowds.
Neuschwanstein Castle In Fall (September to November)
In autumn, the Bavarian Alps are ensconsed in soft yellow foliage, mild temperatures and crystal blue skies. Just about the best time to visit right? However, be warned that a lot of people plan their trip to Germany during the Oktoberfest which typically straddles September and October so this crowd can descend upon the Neuschwanstein Castle during the fall months.
Neuschwanstein Castle In Winter (December to February)
A snow-clas Neuschwanstein Castle is quite the dream, but braving the German winters is no joke. Apart from the bone-chilling winds and knee deep snow, the best viewpoint — Marienbrücke ( Mary's Bridge ) is blocked off during winters. Expect least tourists during this period, giving you almost the whole castle to yourself! Frolick away.
Getting To The Neuschwanstein Castle From Munich
---
The Neuschwanstein Castle is located about 120 km from Munich which should take you 1 hour 45 minutes to traverse. If you're planning a visit from Munich to Neuschwanstein Castle, it's best, book your tickets ahead! Many people plan on buying tickets on-site and are often dissapointed when the tours for the day are booked out. To avoid the hassle, book your Neuschwanstein Castle tickets ahead and if possibe ( if budgets are not a constraint) book tickets that come with transfers from Munich. That way, your travel and tour plans are sorted for the day.
Here are the best ways to go from Munich to Neuschwanstein Castle
By Train - Depart from Munich's central station (Munchen Hbf) on any train heading to Füssen. Alight at Füssen station, get to the bus stand and hop onto either the RVA/OVG 73 towards Steingaden/ Garmisch-Partenkirchen or line RVA/OVG 78 in the direction of Schwangau. This bus ride should cost € 2.30 one way and take about ten minutes. Get off at the Hohenschwangau / Alpseestraße stop and choose to either trek up/ take the shuttle bus up/ go on a horse carriage to reach Neuschwanstein Castle.You can also Note, most guided tours start early in the morning ( around 8:30, 9:00 ) so make sure you take the first train out of Munich to reach on-time.
By Car - The most common way to get from Munich to Neuschwanstein is by car via the A7. It's a 2 hours drive, and can easily be done as a day trip. Note, you cannot take the car all the way up to the Castle. You will have to park the car at the village of Hohenschwangau and trek up/ take the bus up/ go on a horse carriage. Parking fee in Hohenschwangau is about € 6 for the whole day
By Bus - If you prefer traveling by bus, you can join an organized tour that arranges your transfers from Munich to Neuschwanstein Castle and back or take the Flixbus operators from Munich. By Bus, you are likely to take around 3 hours one-way. Note, no buses are authorised to take you all the way upto the Castle, so you have to trek up/ take the shuttle bus up/ go on a horse carriage from Hohenschwangau Village.
Trains and intercity buses are also available for travelers seeking transportation from Garmsich or from Innsbruck to Neuschwanstein.
Going from Hohenschwangau to Neuschwanstein Castle
---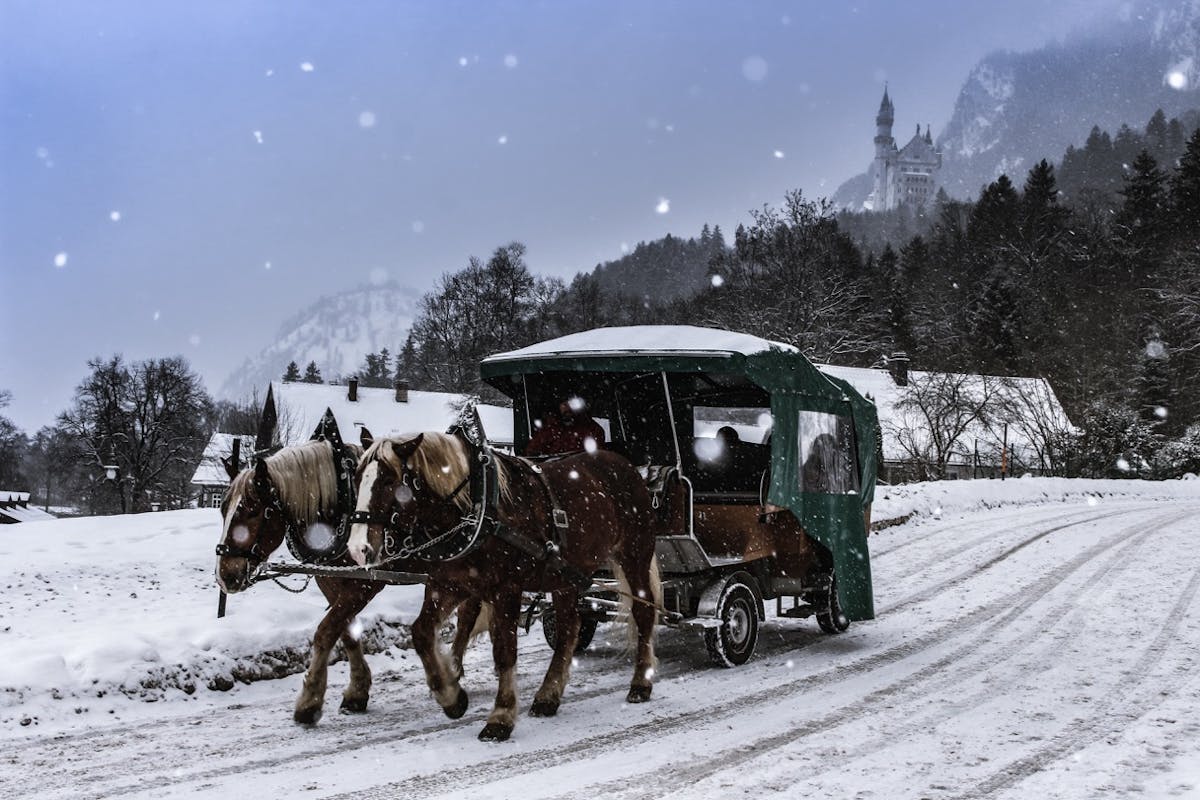 From the previous section, it's pretty clear that reaching the Neuschwanstein Castle is a bit of a task. Buses, trains and cars are not permitted to the Castle periphery, so how do you get to the Neuschwanstein Castle? Well, you have 3 rather fun ways to get up there.
Trek it - For adventure seekers, this is the best way to travel from Hohenschwangau to Neuschwanstein Castle. It's a semi-steep 30-minute uphill trek with jaw dropping views of the Bavarian Alps. Make sure you don comfortable walking shoes as it's a muddy path which can gte slippery. Enjoy this walk, surrounded by pine forests, tinkling brooks and moss-coveted rocks!
Trod on a horse carriage - For an idyllic fairytale visit, there's no better way than landing at the doorstep on a horse carriage. However, we personally wouldn't recommend it as it is a form of animal harm and we strongly condemn the act. Taking the horse carriage is the most expensive option, costing about € 6.00 to go uphill and € 3.00 to go downhill. Yet another reason to steer clear of this one.
Take the authorised shuttle bus - Look out for the authorised shuttle buses, hop onto it catch yourself a window seat. This is the best way to go from Hohenschwangau to Neuschwanstein Castle if you don't fancy walking. You can opt to be dropped at the castle or at the viewing bridge near the castle. This works out cheaper than the horse carriage, costing € 1.80 for uphill, € 1.00 for downhill and € 2.60 roundtrip.
The most cost efficient option would be taking the shuttle uphill and trekking it back to the village.
The Neuschwanstein Castle Tour - Your Experience
---
The only way to get inside the Neuschwanstein Castle is by taking a guided tour in either English or German. If you'd rather visit the castle at your own pace, you can choose an audio guided tour which is available in 16 additional languages. Tours last approximately 35 minutes, and include stops in the two-story throne room, the Tristan and Isolde-inspired bedroom, with a carved oak bed draped in blue silks. Alongside learning about the history of the Neuschwanstein and King Ludwig II, the Castle interiors are simply grandiose, and everything you could possibly imagine and dream of when it comes to a royal castle. You won't be disappointed! Note, you're not allowed to take photos and videos inside the Castle, so soak it all in with your eyes.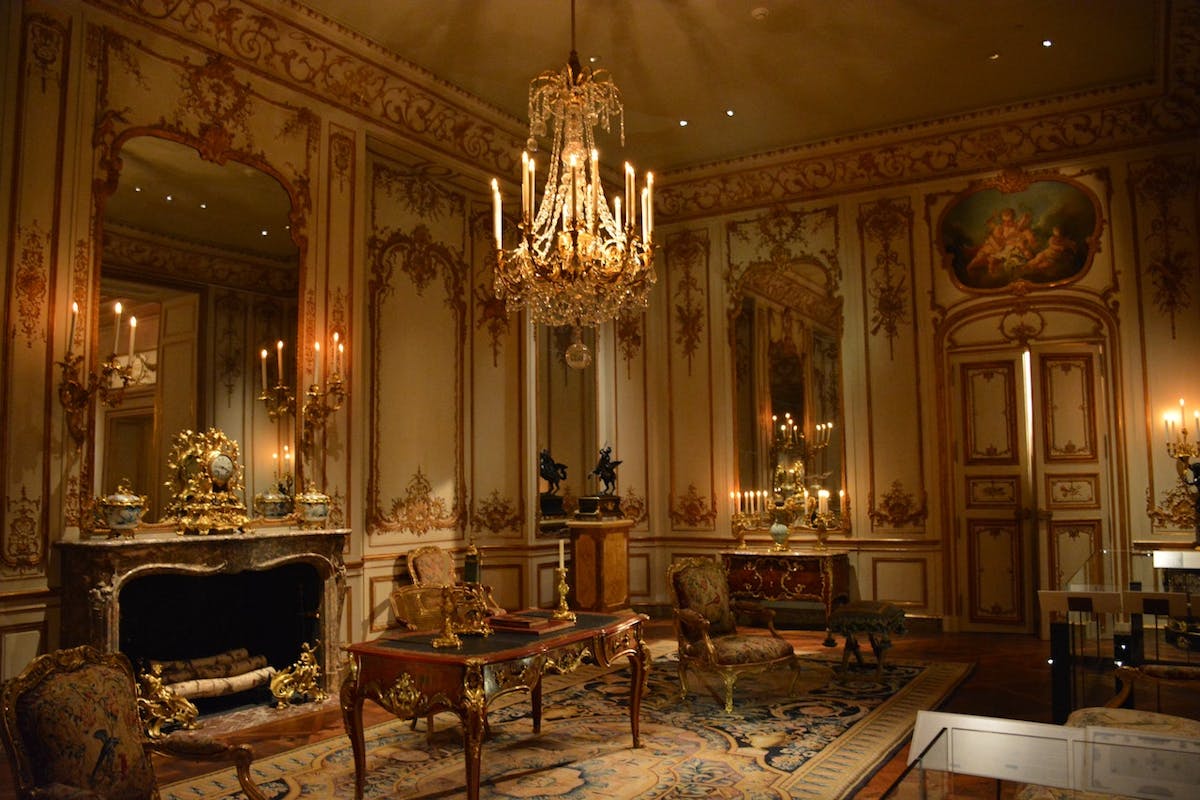 Throne Hall
This grand hall, with its towering four-meter-high chandelier, is located on the third and fourth floors of the Palas and occupies the entire west section. Inspired by Byzantine churches, it was intended to house a throne in place of an altar.
Dining Room
In the Dining Room is a table with a centerpiece of marble and gilt bronze depicting Siegfried fighting the dragon. As with all the king's rooms, the textiles here are very grand; they are made of red silk with gold embroidery and trimmings.
Bedroom
King Ludwig II's bedroom is resplendent, as with all of his other residences. The state bed is neo-gothic and upholstered in blue silk embroidered with lions, swans, crowns, lilies, and the Bavarian coat of arms.
Oratory
The oratory next to the bedroom is also neo-gothic. The murals, windows and central picture on the altar feature Louis IX of France, who was the patron saint of the king.
Dressing Room
The dressing room is decorated to appear as if you are outside in a garden, with a painted ceiling that looks like vines open to the sky. The murals between the paneling show scenes from popular poems set in nature.
Kitchen
The kitchen was outfitted with a large stove, sideboard, two spits (one big and one small), a built-in roasting oven complete with a plate warmer, a baking oven, mortar, and a fish tank.
After your tour, you are free to explore the areas around the castle. Most people trek to the Mary's Bridge as it offers the best views of Neuschwanstein Castle in its complete glory. Be warned, you may have to wedge yourself among the masses of people trying to get the ideal photo.
More Neuschwanstein Castle Tour Deals
---
Why visit just Neuschwanstein Castle when there's so much more to explore around the Castle? From the Palace of Versailles inspired Linderhof Royal Castle & quaint Bavarian town of Oberammergau, you can definitely squeeze in a few more sites on your day trip from Munich to Neuschwanstein Castle. Moreover, getting to the Linderhof Palace and other nearby towns by public transport is not so convinient, hence choosing an organized tour is your best bet.Here are two great combo deals that will take you through the best of the Bavarain alps with an expert local guide.
Neuschwanstein, Linderhof Castle & Oberammergau Tour From Munich
Highlights
This 10 hour long day trip starts at 8:30 AM from Munich and takes you through the best of Bavaria- The Linderhof Castle, the idyllic Bavarian town of Oberammergau and Neuschwanstein Castle.
This tour is available in English and German
Ticket Inclusions
Transport to and fro Munich to Neuschwanstein Castle in an air-conditioned coach.
Guided tours of the Linderhof Castle and the Neuschwanstein Castle
Photo stop at Oberammergau.
Fluent English/German speaking expert guides.
Know Before You Book
To enter the castles and engage in a guided tour you are required to pay an additional charge of 25 EUR to the guide on-ground.
This tour runs daily at 8:30 AM and spans for ten hours, including travel time.
This tour will not be operational on the 24th, 25th, 31st Dec and 1st Jan.
Child tickets (children between the ages of 4-14) are available at a reduced price of 28 EUR. Student tickets are also available at a discounted price of 44 EUR.
Neuschwanstein, Oberammergau & Linderhof Premium Tour From Munich
Highlights
Travel in the lap of luxury from Munich in an air-conditioned, wifi enabled, luxury coach with a selection of snacks and drinks onboard.
Reap the benefits of services provided by a well-versed guide onboard whose commentary will give you fascinating insights into the sweet spots of Bavaria, the Linderhof Royal Castle and Neuschwanstein Castle along with a quick stop at the scenic town of Oberammergau
Ticket Inclusions
Transport to and from Munich to Neuschwanstein Castle in an air-conditioned, wifi-enabled luxury coach.
Guided tours of the Linderhof Castle and the Neuschwanstein Castle.
Fluent English/German speaking expert guides.
Entrance fee for both castles.
Know Before You Book
This tour runs daily at 8:30 AM and spans for ten hours, including travel time.
This tour will not be operational on the 24th, 25th, 31st Dec and 1st Jan.
Child tickets (children between the ages of 4-14) are available at a reduced price of 28 EUR. Student tickets are also available at a discounted price of 44 EUR.
Best Spots to Photograph The Fairytale Castle
---
At the Marienbrucke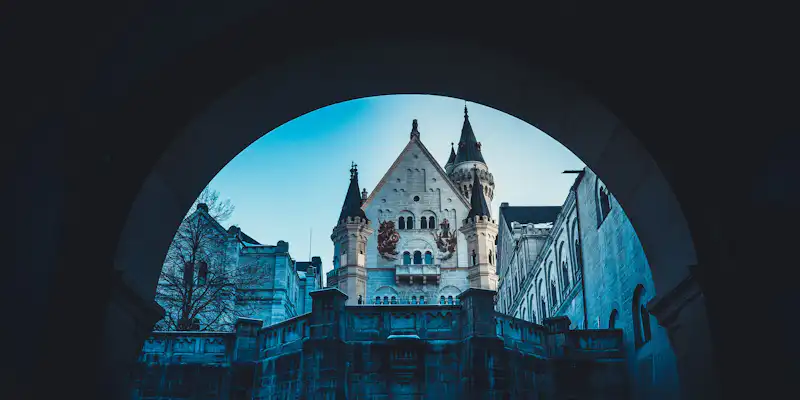 A quick cursory glance on the internet will expose you to stunning full size views of the Neuschwanstein Castle. These photos are from the Marienbrucke also known as Queen Marys's Bridge, a pedestrian bridge crosses the Pollät gorge that is a quick 10 minute hike from Neuschwanstein Castle. You can find your way easily as it is signposted from the castle exit. The shuttle bus usually drops you either at the bridge or at the castle door, so we'd suggest getting dropped at the view point first and then making your way down to the castle for your tour.
Beyond Marienbrucke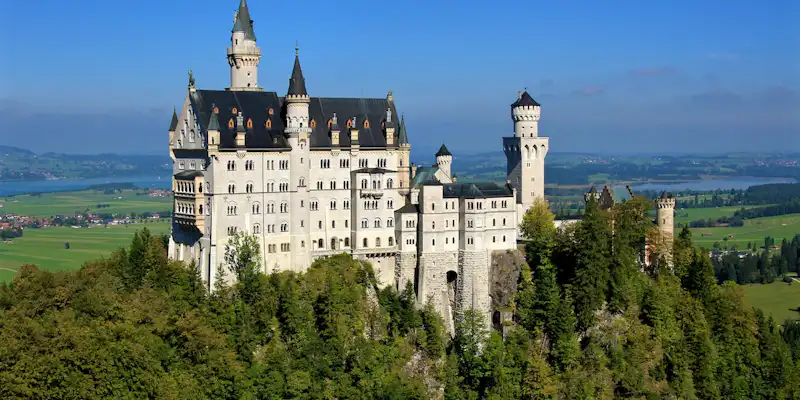 Since the Marienbrucke has become famous for its ideal vantage point, you'll have to battle the hordes of tourists for a human-free backdrop. If you're in good shape, trek beyond the bridge and following the steep path for about 10 minutes up the mountain. Here, you'll find a quiet little spot to get a great photo with the castle, and you won't have brush shoulders with others for it. Please Not: As of August 2018, the hiking trail is closed due to a rockfall. Visit the Neuschwanstein Castle website for more information.
From the Tegelbergbahn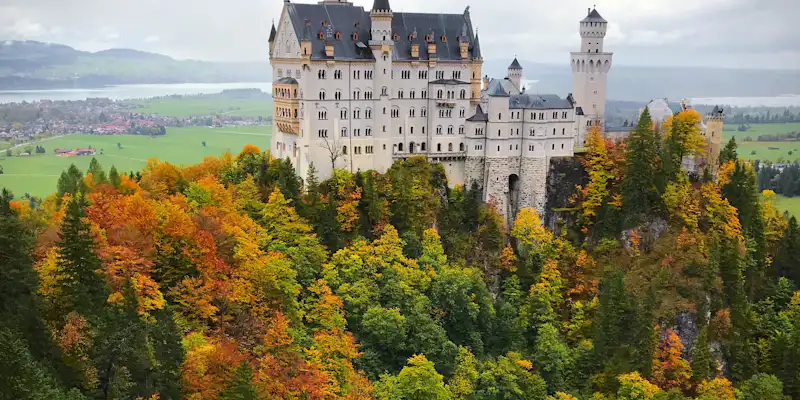 Not mny people know this, but there is a cable car called Tegelbergbahn that is just 2 km away from the Neuschwanstein castle. Take a ride on this and consume splendid views of both Neuschwanstein and Hohenschwangau castles nestled amongst the Bavarian Alps. If you please, you can ask the cable operator to open the windows and click even better pictures!
Explore Around The Neuschwanstein Castle
---
If you've come all the way to Neuschwanstein, might as well take in some of the other beautiful sights in the area. Here's a quick list of the nearby attractions that are worthy of a visit.
Hohenschwangau Castle
This is the original castle of Hohenschwangau where King Ludwig II spent his childhood. You can take a guided tour of the Hohenschwangau Castle to explore its interiors. If you buy the Königsticket, you get entrance to both Hohenschwangau and Neuschwanstein Castles for 25 euro.
Museum of Bavarian Kings
Located down in the Hohenschwangau village, you can take a quick visit to the Museum of the Bavarian Kings if you'e interested in learning more abour the house of Wittelsbach, one of the oldest dynasties in Europe and about other Bavarian Kings.
Linderhof Palace
This palace was also commissioned by King Ludwig II and happens to be the smallest of the three palaces built by him and the only one which he lived to see completed. Inspired from the Palace of Versailles, though much smaller , the Linderhof Palace has a rather private atmosphere wit just four rooms that have a real function.
Oberammergau
This pretty Bavarian town is home to an abundance of history and some unique handcraft traditions. Although it is most widely known for its once-every-decade Passion Play that is staged in town, Oberammergau is also famous for its tradition of fresco painting and wood carving.
Füssen
Füssen, the town with the closest train station to Neuschwanstein Castle is a tiny Bavarian town that is historically famous for violin making.Visit the Violin and Lute museum and take a quick hike to the Lechfall while you're here.
Practical Information For Your Neuschwanstein Castle Visit
---
Neuschwanstein Castle Opening Hours
April to 15 October: 9:00 AM - 6:00 PM
16 October to March: 10:00 AM - 4:00 PM
The Neuschwanstein Castle remains closed on January 1 and 24 / 25 / 31 December
Neuschwanstein Castle Address
Neuschwansteinstraße 20, 87645 Schwangau, Germany. Get Directions >
Neuschwanstein Castle Directions
Neuschwanstein Castle Reviews
---
We loved it, Christian was charming, it was very enjoyable, it is an excursion that must be done without a doubt, highly recommended
Beatriz, Headout, October 2022
Very good experience. Mat was amazing as a guide, very informative and highly recommended
Amarjeet, Headout, March 2022
Read more Neuschwanstein Castle reviews on Headout and see what visitors have to say about this fairytale castle! In any case, it is Germany's most visited Castle, so that speaks a volume in itself.
Handy Tips For Your Neuschwanstein Castle Tour
---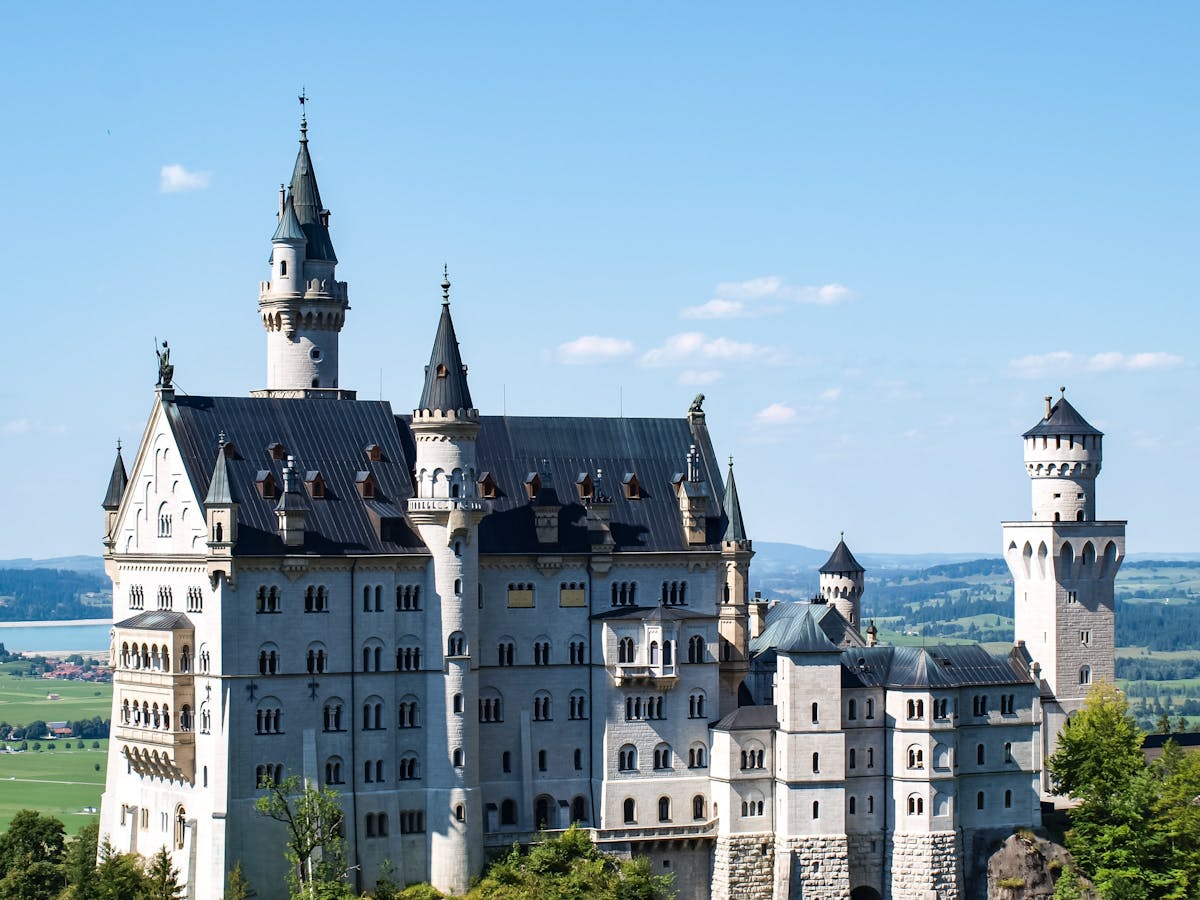 Pick a weekday to visit: For a more sedate exeprience, book an organized tour that has a limited group size and pick a weekday over a weekend as there are considerably lesser crowds.
Check the weather before booking your tickets: If you're especially traveling in the winter, check the weather! If its foggy or rainy, the trek to Neuschwanstein Castle can be shut off and you won't be able to witness good views of the Castle from other view points.
Buy your Neuschwanstein Castle Tickets Online: There are only limited tours per day and if you're late, all that effort of getting there goes to waste. Moreover, standing in queues to purchase the ticket on-site at the Neuschwanstein Castle tickets booth in Hohenschwangau village is not a pleasant task as it can easily take upto 2 hours. Get your tickets here!
Get to the Castle Early: Since the Castle opens at 9 AM, get there as soon as the door opens. We know it can be a hassle to travel from Munich to Neuschwanstein Castle early in the morning, but it's well worth the effort.
Can't get there early? Go late!: If you can't make it early, plan your visit after 3:00 PM. This way, the ones who have traveled from Munich, Garmsich and Innsbruck would have started making their way back hence reducing the rush. However, purchase your tickets early ( online) for a slot at a time after 3PM for assured entry.
Buy the Bayern Ticket: You can buy this ticket at any ticket machine, whether it's at Hbf or your origin station. If you're planning to return the same day, there's a day ticket option that gives you a round trip journey for € 26 for one person + € 5 per additional person up to five people. Make sure you get this one if you're doing a day trip because you'll save a ton of money this way.
Carry snacks and refreshments: Since Neuschwanstein is a tourist magnet, everything is on the steep side. Bring your own snackibles and enjoy a picnic by the alps. If you're taking the 30 minute trek from Hohenschwangau to Neuschwanstein, pack enough water as there are no options to get supplies on your way up.
Don't forget to try the Bergkäse: Once you're back in Hohenschwangau pick up some Bergkäse (mountain cheese) from Allgäu. It is indeed true that happy cows make incredible cheese!
Strictly refrain from photography and videography inside the Castle: Both photography and videography are prohibited inside the Castle, so respect this and take in the beauty of the Castle with your naked eyes.
Dress comfortably suited to the weather: Since there is a lot of walking involved to get to the castle and inside the castle, make sure you're dressed comfortably and are wearing good walking shoes. Also, depending on the season of your visit, make sure you are dressed to protect yourself from the natural elements.
Reduced Mobility: Travelers with disabilities may not find Neuschwanstein Castle to be particularly accessible, as even the shuttle buses and horse-drawn carriages to the entrance are followed by a short walk.
Restaurants near the Neuschwanstein Castle
---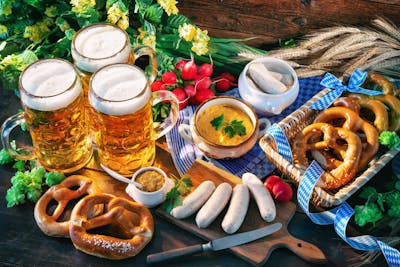 Neuschwanstein Castle Restaurant
Traditional German food with a modern flare is what the Neuschwanstein Castle Restaurant offers its visitors. The restaurant is located in Bavaria and provides breathtaking views of the hills. If you're looking to try something new, order the Schnitzel, creamy apple strudel or Bavarian bratwurst. You won't be disappointed!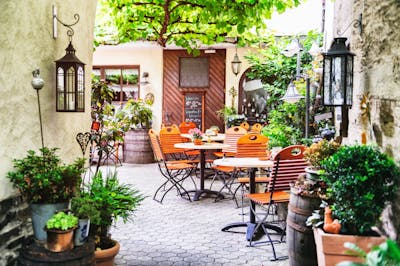 Cafe-Bistro at Neuschwanstein Castle
Café-Bistro at Neuschwanstein Castle is a great place to take a break from your travels, as it offers breathtaking views of the Bavarian Alps and Schloss Neuschwanstein. With servings of both filling snacks and dainty fare, there's something for every appetite. The Swabian Roast with Bratkartoffeln or the traditional Castle Brezel are both excellent choices!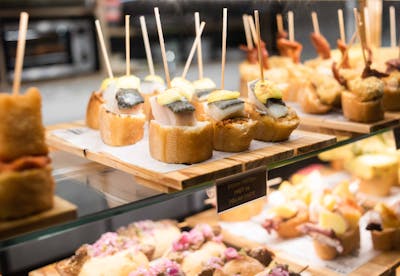 Restaurant Müller
Restaurant Muller offers lovely lunch and dinner options whether you want a light meal before exploring the castle grounds or a romantic dinner with an incredible view of Bavarian Alps. You'll be so pleased by every classic dish prepared with immaculate care and seasoned to perfection. And, man ooh man, the desserts here – pastries and cakes that will make you crave more!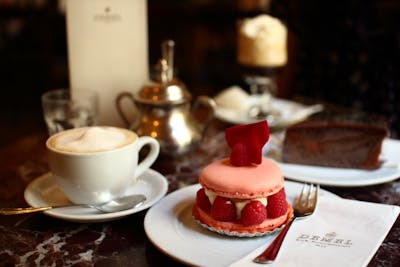 Lisl Restaurant & Terrasse
At the magical Lisl Restaurant & Terrasse, located at Neuschwanstein Castle you'll be guaranteed an experience nothing short of a fairytale! You'll be able to take in the magnificent views of this castle while sipping a delicious Viennese coffee and eating your favorite Austrian delicacies.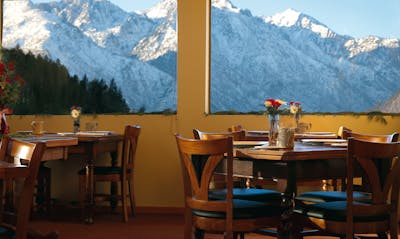 Restaurant Alpenstuben
Adventurous and foodies alike will love Restaurant Alpenstuben at Neuschwanstein Castle. This 19th century palace turned restaurant offers a one-of-a-kind experience, featuring classic Bavarian decor and views of the stunning snow-capped mountains outside every window.
FAQs
---
What's the best time to visit Neuschwanstein Castle?

What are Neuschwanstein Castle timings?

Can I take photos at Neuschwanstein Castle?

What's the best way to experience Neuschwanstein Castle?

Is Neuschwanstein Castle wheelchair-friendly?

Are guided Neuschwanstein Castle tours available?