Lufthansa Bus Munich
Travel effortlessly between Munich Airport and the city with the Lufthansa Express bus. Avoid transport worries with this hassle-free, one-way service. Operating every 20 mins, 7 days a week, it takes just 45 mins to reach the city center! Enjoy air-conditioning, free Wi-Fi, and complimentary newspapers onboard. Departure and arrival are conveniently located in front of the airport terminals....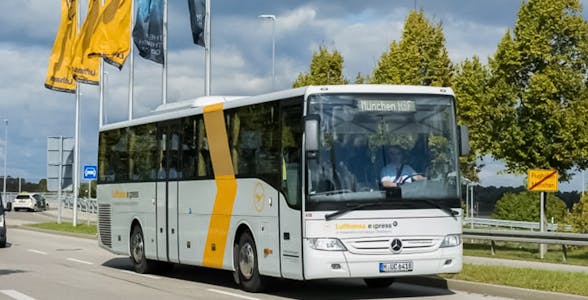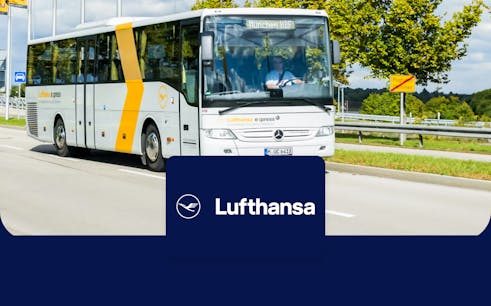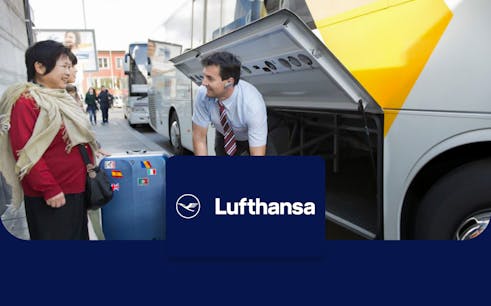 Traveling With Lufthansa Express Bus 

Lufthansa Express Bus makes for a convenient and efficient Munich Airport Transfer at pocket-friendly rates. They run every 20 minutes between the Munich Airport and Munich city center, with accessible boarding and deboarding points like the various terminals in the airport and transit hubs in the city.

Why Book Lufthansa Express Bus Tickets?

Easy Booking: Book Lufthansa Express Bus online through a hassle-free booking platform and get instant confirmation.
Affordable fares: Lufthansa Express Bus offers fine transfer services at reasonable rates, thus giving you a worthwhile deal.
Stay Connected: Enjoy free and fast wifi onboard to stay in touch with your loved ones virtually.
Flexible Plans: With a 24-hour cancellation policy, you can simply cancel the Lufthansa Express Bus tickets, in case of last minute change of plans.
Cool Commute: Stay comfortable with air-conditioned Lufthansa Express buses, no matter the weather.
Quick Services: Never wait long as Lufthansa Express buses run every 20 minutes.
Safe & Reliable: Enjoy a safe and reliable ticket booking and traveling experience with Lufthansa Express Bus.
Comfortable ride: Relax in spacious and comfortable seats on your airport transfer.
Munich Airport to Munich City
Distance Covered: 40 km
Duration: 45 minutes

One-Way Tickets

Travel from the Munich Airport to the city or back with Lufthansa Express Bus One-Way tickets. If you have not set a return date for your outbound journey or simply have plans for an extended vacation, these tickets offer maximum flexibility.

Frequency: Every 20 minutes
Lufthansa Express Bus Munich Routes & Timings

Munich Airport to and from Munich City

Stops: 5
Distance Covered: 40 km
Duration: 45 minutes
Munich Airport to Munich City: Daily: 06:25 AM to 10:25 PM
Munich City to Munich Airport: Daily: 05:15 AM to 07:55 PM

There are 5 stops on the Munich City - Munich Airport Route:  

Munich Airport Terminal 2
Munich Airport Center (MAC)
Munich Airport Terminal 1D
Munich Schwabing / Munich North
Munich Hauptbahnhof/ Munich Central Station
FAQs: Lufthansa Express Bus Tickets

Where can I buy Lufthansa Express Bus tickets?

You can buy Lufthansa Express tickets online at Headout and avail the best offers on your ticket price.

What is the luggage allowance for Lufthansa Express Bus tickets in Munich?

The generous luggage allowance on Lufthansa Express Buses lets you bring 2 pieces of baggage and 1 carry-on bag on your transfer. Additional luggage can be charged.

Is the Lufthansa Express Bus wheelchair-accessible?

Wheelchairs can be taken onboard only if they can be folded and stored in the cargo area of the bus.

What is the cancellation policy of a Lufthansa Express Bus ticket?

You cancel your Lufthansa Express Bus tickets up to 24 hours prior to the commencement of the experience to claim a full refund.

What are the amenities available on Lufthansa Express Bus?

Make your commute from and to the Munich airport and the city comfortable with the amenities available on the Lufthansa Express Bus like spacious and comfy seats, free and fast wifi, complimentary newspapers and air-conditioning. Lufthansa Express Buses offer a safe and reliable passage to the airport or the city at affordable prices.