Matterhorn Glacier Paradise, located near Zermatt, Switzerland, is a true natural wonder that combines the magnificence of the iconic Matterhorn peak with the beauty of the surrounding glacial landscapes. As the highest cable car station in Europe, it transports visitors to a realm of alpine splendor, where the air is crisp, and the panoramas are simply extraordinary.
Know Before You Go
---
Handy information
⏰ Suggested Duration:
3-6 hours
☀️ Best Time to Visit:
June to October
🎟️ Matterhorn Glacier Paradise Ticket:
€111.71
Must-see at the POI
Glacier Palace
Observation deck
Snowpark
Getting There
Schluhmattstrasse 28, 3920
Zermatt - Switzerland
Get Directions
Opening Hours
Open all year, 9 am–3:30 pm
What to expect at Matterhorn Glacier Paradise?
---
- Discover the stunning beauty of Europe's highest glacier palace, magnificently sculpted every year with evocative carvings, intricate ice sculptures, and enchanting lighting.
Explore the eternal snow that covers the mountain year-round, with multiple fun and adventurous snow activities such as skiing, snowboarding, and sledding.
Take a thrilling ride on the Peak2Peak cable car, offering a breath-taking 360-degree panoramic view across 14 glaciers and 38 peaks.
Marvel at an incredible 360-degree view of the Swiss Alps from 12,739 feet up, with unforgettable vistas of the Matterhorn and more.
Recommended Matterhorn Glacier Paradise Tickets
---
Highlights of Matterhorn Glacier Paradise
---
1

The World's Highest Viewing Platform

Matterhorn glacier paradise viewing platform
Experience the thrill of standing atop Matterhorn Glacier Paradise's viewing platform and take in the breathtaking views of the stunning Swiss Alps from the world's highest viewing platform at 3,883 meters. As you gaze out over the magnificent peaks and glaciers, you'll be immersed in a panorama that stretches across three countries – Switzerland, Italy, and France.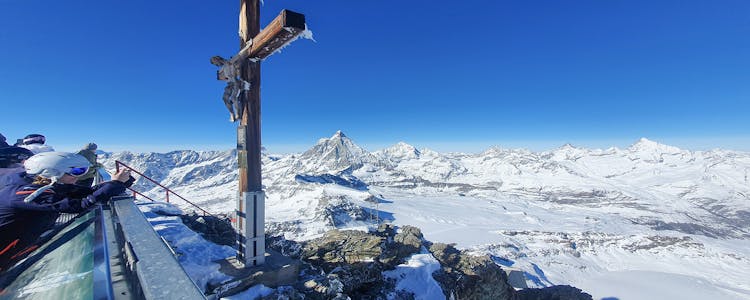 2

Glacier Palace

Matterhorn glacier paradise glacier palace
Explore the magical world of ice at the fascinating Glacier Palace, a must-visit attraction at Matterhorn Glacier Paradise where you can wander through ice tunnels, see impressive ice sculptures, and learn about the history of this unique glacier. Marvel at the intricate ice carvings, step inside the ice palace, and discover the secrets hidden within the frozen walls. It's a truly immersive experience that offers a glimpse into the captivating world beneath the surface of the glacier.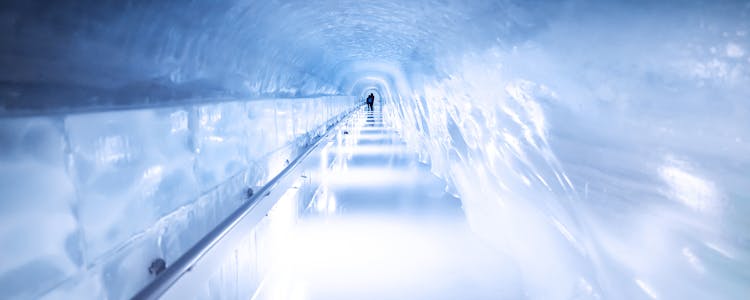 3

Snow Tubing and Sliding

Adventure Activity at matterhorn Glacier
Get your adrenaline pumping with snow tubing and sliding at Matterhorn Glacier Paradise. Ride down the snow-covered slopes on inflatable tubes or sleds and have the time of your life. Whether you're a child or an adult, this thrilling activity is guaranteed to put a smile on your face. Feel the rush as you speed down the slopes, surrounded by the breathtaking alpine scenery.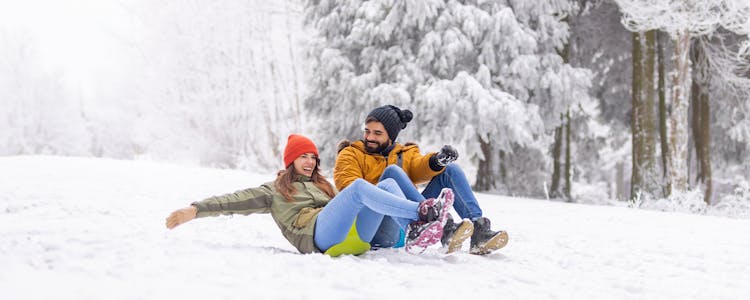 4

Skiing and Snowboarding

Skiing at matterhorn
For the ultimate winter sports experience, hit the slopes at Matterhorn Glacier Paradise. With skiing and snowboarding opportunities for all levels, from beginners to experts, you can enjoy the world-class pistes and breathtaking views.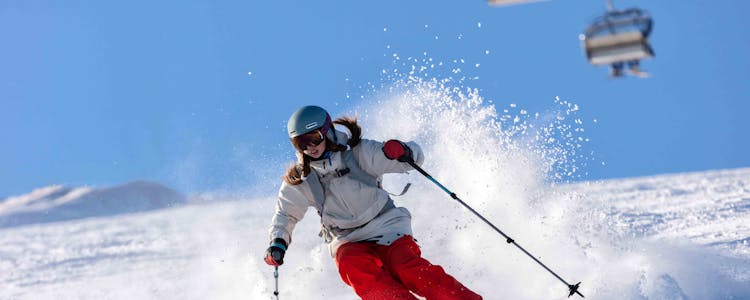 5

Ice Climbing

Ice-climbing at matterhorn
For the adventurous traveler, ice climbing at Matterhorn Glacier Paradise is a must. With professional guides and equipment, you can safely scale the icy peaks and feel the thrill of the challenge. Test your strength, agility, and mental resilience as you conquer frozen waterfalls and vertical ice walls. The adrenaline rush and sense of accomplishment that come with ice climbing in this majestic alpine setting are unparalleled.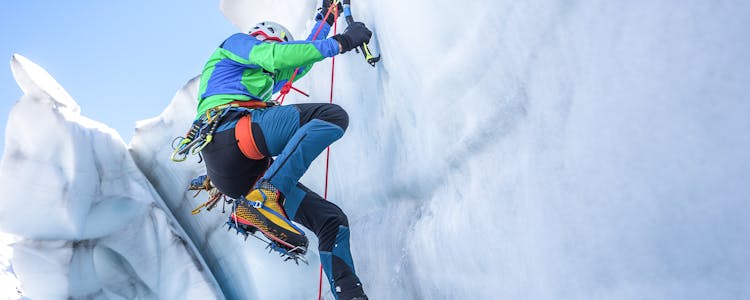 Best Time to Visit Matterhorn Glacier paradise
---
The most popular and best time to visit Matterhorn Glacier Paradise is during the summer months of June to September. This period offers the most favorable weather conditions with warmer temperatures, longer daylight hours, and a higher chance of clear skies. The snow begins to melt, revealing lush green meadows adorned with colorful alpine flowers, creating a picturesque backdrop for hiking and outdoor activities. The hiking trails are accessible, allowing you to explore the stunning landscapes, enjoy panoramic views, and experience the beauty of the Swiss Alps in full bloom.
However, if you want to indulge in adventure activities then winter months from November to December are the ideal time to visit.
Matterhorn Glacier Paradise Opening Hours
---
Exhibition Rooms: Open daily from 9:00am to 4:30pm
Crystal Cave: Open daily from 9:30am to 3:30pm
Glacier Palace: Open daily from 9:00am to 3:45pm
Summit Restaurant: Open daily from 9:00am to 3:30pm
Shops: Open daily from 8:00am to 4:30pm (varies seasonally)
Getting There
---
Cable Car
To reach Matterhorn Glacier Paradise, you have to take a series of cable cars starting from Zermatt. Below is a detailed route to reach Matterhorn Glacier Paradise.
Zermatt to Furi: Begin your journey by walking or taking a bus to Zermatt Bergbahnen, the cable car station located at the southern end of Zermatt. From here, board a gondola that will transport you to Furi.
Furi to Schwarzsee: Take a moment to capture stunning photos and experience the Matterhorn from a different angle by taking a cable car from Furi to Schwarzsee. This scenic ride lasts approximately 8 minutes.
Schwarzsee to Trockener Steg: Resume your journey by boarding another gondola from Schwarzsee. Enjoy the picturesque surroundings as you ascend for approximately 9 minutes, reaching the breathtaking destination of Trockener Steg.
Trockener Steg to Matterhorn Glacier Paradise: From Trockener Steg, embark on a futuristic cable car that will whisk you away to the summit of Matterhorn Glacier Paradise. The exhilarating ride lasts about 8 minutes, offering magnificent views along the way.
The detour at Schwarzsee is optional. You can choose to take a direct cable car from Furi to Trockener Steg.
Insider Tips to Visit Matterhorn Glacier Paradise
---
Don't miss Glacier Palace, an underground world of ice sculptures that can only be accessed via a large ice tunnel.
For the ultimate experience, try skiing on the glacier in the summer.
ake photos with the world-famous Swiss St Bernard dogs, who reside at the base station.
When exiting the cable car on the glacier, avoid sliding or running on the ice, as it can be extremely slippery.
Take home a souvenir, such as a piece of Matterhorn rock, or try some of the local Swiss cuisine in the mountain restaurant.
Dress appropriately for the changing weather and height, as temperatures can drop quite abruptly.
Restaurants Near Matterhorn Glacier Paradise
---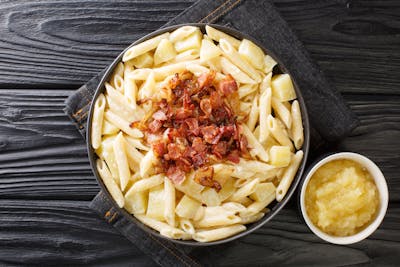 Zermatt-Bergrestaurant
Located just steps away from the Matterhorn Glacier Paradise, this restaurant offers stunning views of the surrounding mountains. Try their traditional Swiss dishes such as veal sausage or alpine macaroni.
Distance: At Matterhorn Glacier Paradise.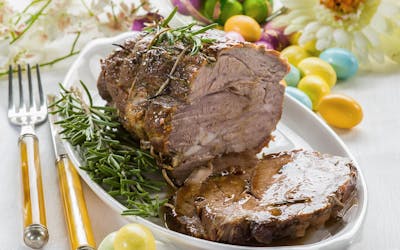 Restaurant Matterhorn
This cozy restaurant serves up delicious Swiss cuisine with a modern twist. Don't miss their roasted lamb with rosemary or their famous Matterhorn cheese fondue.
Distance: 0.7 miles from Matterhorn Glacier Paradise.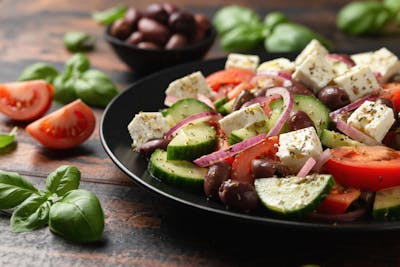 Refugio Matterhorn Glacier Paradise
For a quick bite, head to Refugio Matterhorn Glacier Paradise. Their hearty paninis and fresh salads are the perfect refuel after a long day of skiing or hiking.
Distance: 0.7 km from Matterhorn Glacier Paradise cable-car station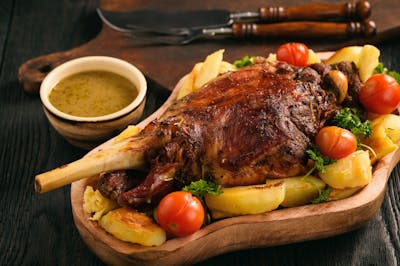 Schaeferstube Zermatt
Visit Schaeferstube Zermatt for a taste of traditional Swiss hospitality. Their rack of lamb served with dauphine potatoes and seasonal vegetables is a must-try.
Distance: 0.9 miles from Matterhorn Glacier Paradise.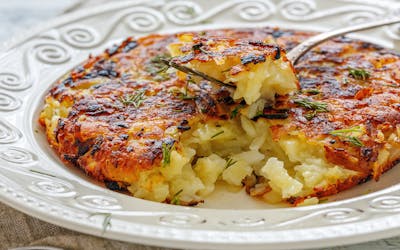 Chez Vrony
This charming chalet-style restaurant is worth the short walk from Matterhorn Glacier Paradise. They use fresh, local ingredients in their authentic Valais dishes like rösti and raclette.
Distance: 0.5 miles from Matterhorn Glacier Paradise.
Places to Stay Near POI
---
Things to Do Near Matterhorn Glacier Paradise
---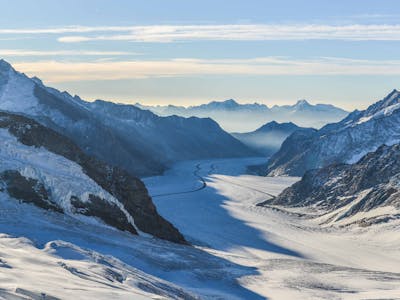 Jungfraujoch
Situated a mere 12 kilometers away from Matterhorn Glacier Paradise, Jungfraujoch is an awe-inspiring destination often referred to as the "Top of Europe." With its panoramic views of the Alps, visiting Jungfraujoch is a truly unforgettable experience. This remarkable location boasts an array of attractions, including ice sculptures, an observatory, and the chance to explore the highest railway station in Europe. Prepare to be mesmerized by the breathtaking vistas that stretch as far as the eye can see.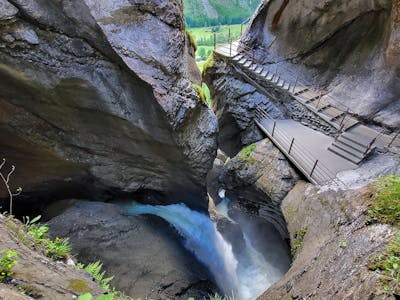 Trümmelbach Falls
A short 11-kilometer distance from Matterhorn Glacier Paradise lies Trümmelbach Falls, a natural wonder nestled within the mountainous terrain. This extraordinary glacier waterfall system features ten cascades thundering through the interior of the mountain. Witnessing the immense power and beauty of these falls is an incredible sight to behold. Traverse through the rocky tunnels and marvel at the captivating force of nature as water rushes past you.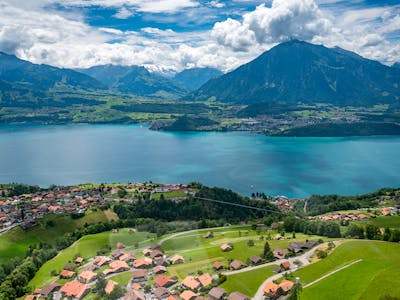 Lake Thun
Located approximately 18 kilometers from Matterhorn Glacier Paradise, Lake Thun is a breathtaking spot renowned for its picturesque scenery. The crystal-clear waters of the lake, framed by snow-capped peaks, create a postcard-worthy setting. Engage in various water activities such as swimming, boating, or simply relax by the shore and enjoy a delightful picnic. Lake Thun is also home to charming castles and a medieval old town, adding to its allure.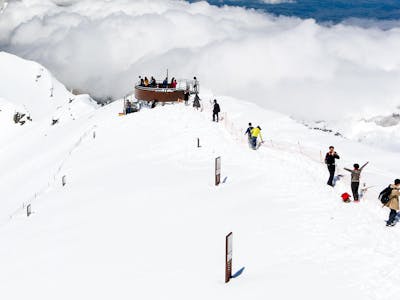 Schilthorn
Situated 25 kilometers from Matterhorn Glacier Paradise, Schilthorn offers a mesmerizing alpine experience. This mountain peak provides breathtaking panoramic views that stretch across the surrounding landscape. Ascend to the summit and indulge in a meal at the revolving restaurants, immersing yourself in the beauty of the Swiss Alps. Schilthorn holds a special place in cinema history as the filming location of James Bond's "On Her Majesty's Secret Service."
Lauterbrunnen Valley
Just 6 kilometers away from Matterhorn Glacier Paradise lies the enchanting Lauterbrunnen Valley. Known for its majestic waterfalls and lush valleys, this destination exudes romantic charm. Immerse yourself in the serenity of nature as you witness the cascading waterfalls and take in the verdant landscapes. Lauterbrunnen Valley is an ideal location for hiking and skiing, offering opportunities to explore its natural wonders.
FAQs
---
The best time to visit Matterhorn Glacier Paradise is between May and November. During this period, the weather is generally milder, and the cable cars are operational, allowing you to access the summit and enjoy the breathtaking views.
To reach Matterhorn Glacier Paradise from Interlaken, you can take a train to Zermatt, which is the nearest town to the resort. From Zermatt, you can then embark on a scenic cable car ride that will transport Furi and from there Trockener Stegg and the final leg of the journey is from here to Matterhorn Glacier Paradise. There is no other way to reach Matterhorn Glacier Paradise other than cable-car rides.


Matterhorn Glacier Paradise offers a wide range of activities for visitors. You can indulge in skiing or snowboarding on the pristine slopes, go for glacier hiking to explore the icy landscapes, and experience the thrill of standing on the highest viewing platform in Europe, offering breathtaking panoramic views of the surrounding Swiss Alps
Yes, there are several dining options available at Matterhorn Glacier Paradise. You can enjoy a meal or refreshments at one of the restaurants or cafes located within the resort.
Yes, you have the option to bring your own skiing or snowboarding equipment to Matterhorn Glacier Paradise. Alternatively, if you prefer not to carry your gear, you can conveniently rent equipment at the resort. There are rental shops where you can find high-quality gear suitable for your winter adventures.
The temperature at the top of Matterhorn Glacier Paradise can vary, ranging from -10°C to 10°C. It is essential to dress appropriately for the alpine conditions. It is recommended to wear layers, including warm clothing, a waterproof outer layer, and sturdy footwear to ensure comfort during your visit.
Side Navigation Bar - Find it at the Bottom of the Blog