Schilthorn is a mountain in Switzerland that offers panoramic views of the Alps. It is located at an altitude of 2,970 meters (9,744 feet) above sea level, making it one of the highest peaks in the region. Once you reach the top of Schilthorn, you can enjoy the panoramic views from the revolving restaurant, Piz Gloria. The restaurant is 360 degrees, so you can see all the way around. You can also take the Thrill Walk, which is a 500-meter-long (1,640 feet) suspension bridge that hangs over the mountainside.
Schilthorn in a Nutshell
---
Handy information
⏰ Suggested Duration:
6 hours
☀️ Best Time to Visit:
Summer months (June to September)
🎟️ Schilthorn Ticket:
€109.89
Must-see at the POI
Piz Gloria
Thrill Walk
Panorama Viewing Platform
Things to know
Location: Schilthorn is located in the Bernese Alps in Switzerland.
Restaurant: Piz Gloria
Significance: Schilthorn gained international fame as a filming location for the James Bond movie "On Her Majesty's Secret Service" in 1969.

Opening Hours and Address
April 1 to October 31: 7:25 AM to 5:55 PM
July 1 to August 20: Additionally open every Thursday, Friday, and Saturday until 20:00
November 25 to December 18: 9:00 AM to 4:55 PM
December 19 to April 1: 9:00 AM to 5:55 PM
3826 Lauterbrunnen, Schilthorn - Switzerland
Get Directions
What to expect at Schilthorn?
---
The viewing platform offers panoramic views of the Alps. It is located just below Piz Gloria
Piz Gloria is a revolving restaurant that offers 360-degree views of the Alps.
The Thrill Walk at Schilthorn is a 500-meter-long (1,640 feet) suspension bridge that hangs over the mountainside.
Schilthorn is a popular ski resort during the winter months. There are several slopes for all levels of skiers and snowboarders.
The James Bond museum is dedicated to the James Bond film "On Her Majesty's Secret Service". The film was filmed at Schilthorn, and the museum features props, costumes, and other memorabilia from the film.
Recommended Schilthorn Tickets
---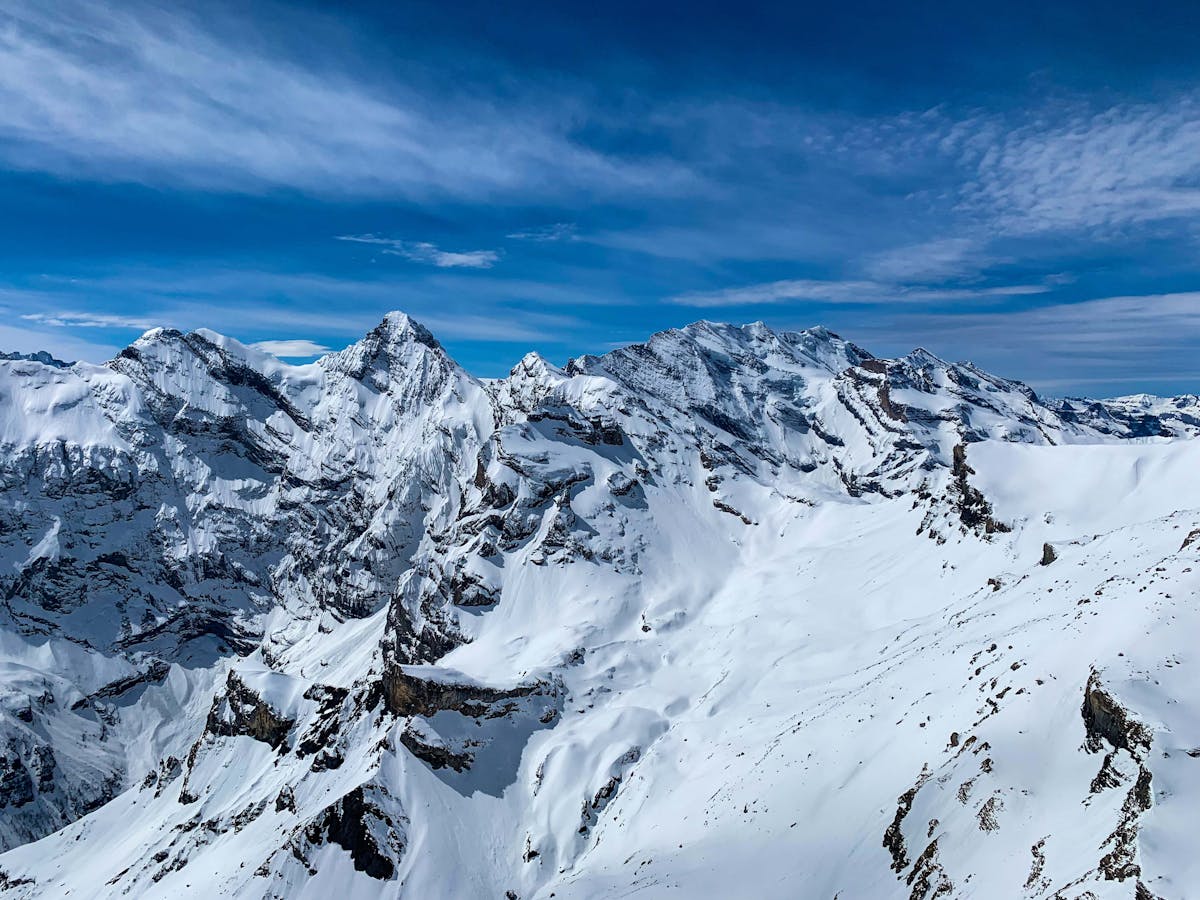 Schilthorn History
---
Schilthorn holds a significant place in Swiss tourism and cinematic history. The mountain gained prominence after being featured in the James Bond film "On Her Majesty's Secret Service." Released in 1969, this movie marked the first appearance of George Lazenby as Agent 007. The iconic Piz Gloria revolving restaurant, perched atop Schilthorn, served as the villain's lair in the film. Today, visitors can step into the world of James Bond by exploring the interactive James Bond World exhibition. Schilthorn's cinematic legacy, coupled with its stunning natural beauty, makes it a must-visit destination for film enthusiasts and nature lovers alike.
Highlights of Schilthorn
---
1

Piz Gloria Revolving Restaurant

Restaurant at SCHILTHORN
Indulge in a culinary delight at the Piz Gloria Revolving Restaurant, perched at an altitude of 2,970 meters. As you dine, the restaurant slowly rotates, providing you with ever-changing panoramic views of the surrounding Swiss Alps. Savor delectable Swiss cuisine and international dishes while being mesmerized by the breathtaking 360-degree vistas. The restaurant also features a bar where you can enjoy a refreshing drink while admiring the alpine beauty.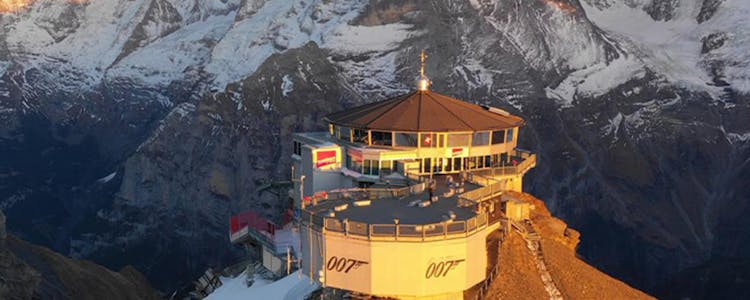 2

James Bond World

James bond museum
Step into the world of 007 at James Bond World, an interactive exhibition located within Piz Gloria. Immerse yourself in the fascinating behind-the-scenes details of the making of the James Bond film "On Her Majesty's Secret Service." Explore the captivating displays showcasing props, costumes, and film memorabilia. Get a glimpse into the exciting world of spies and experience the thrill of being a secret agent.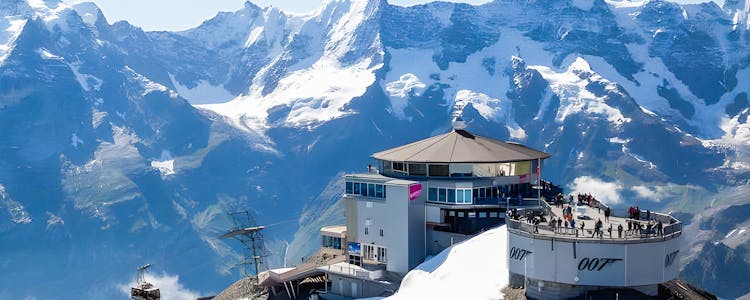 3

Skyline View Platform

Schilthorn viewing platform
Ascend to the Skyline View Platform and be rewarded with vistas that stretch as far as the eye can see. Marvel at the majestic peaks of Eiger, Mönch, and Jungfrau, standing tall against the backdrop of the azure sky. The platform offers an unobstructed 360-degree view, allowing you to appreciate the beauty of the surrounding alpine landscape from a unique vantage point.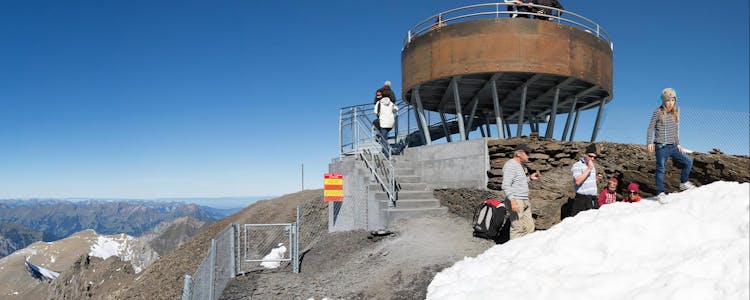 4

Cable Car Ride

schilthorn cable car
Embark on a memorable cable car ride to Schilthorn, departing from either Stechelberg or Mürren. As you ascend, be prepared to be enchanted by the breathtaking alpine scenery that unfolds before your eyes. The cable car offers panoramic views of the lush valleys, cascading waterfalls, and towering peaks. It's a thrilling and scenic journey that adds to the overall experience of visiting Schilthorn.
5

Alpine Flower Park

Schilthorn flower park
Discover the natural beauty of the Swiss Alps at the Alpine Flower Park. This enchanting park is home to a diverse range of vibrant alpine flora, showcasing an array of colors and fragrances. Take a leisurely stroll along the designated trails and immerse yourself in the tranquility of nature. Learn about the various plant species that thrive in this alpine environment through informative signs and displays.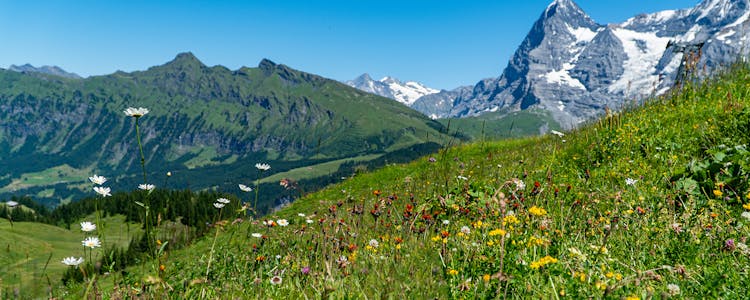 Best Time to Visit Schilthorn
---
The best time to visit Schilthorn is during the summer months, from June to September. During this period, the weather is generally pleasant, with clear skies providing optimal visibility for the stunning mountain panoramas. It's recommended to plan your visit earlier in the day to avoid crowds and fully enjoy the attractions. Additionally, visiting on weekdays tends to be less crowded compared to weekends. Be sure to check the weather forecast in advance to make the most of your visit to this captivating alpine destination.
Schilthorn Opening Hours
---
Summer:

April 1 to October 31: 8:00 AM to 5:30 PM

July 1 to August 20: Additionally open every Thursday, Friday, and Saturday until 23:00.

Winter:

November 25 to December 18: 9:00 AM to 4:30 PM

December 19 to April 1: 9:00 AM to 5:30 PM
Getting There
---
No bus,train or car can directly reach Schilthorn. The only way to reach Schilthorn is via a cable car ride.
Cable Car
From Stechelberg: This is the shortest route, and it takes about 32 minutes to reach the summit. You can take the cable car from Stechelberg to Gimmelwald, Mürren, and then Birg. From Birg, you will take another cable car to Schilthorn.
From Lauterbrunnen: This route is a bit longer, but it offers some stunning views of the Lauterbrunnen Valley. You can take the cable car from Lauterbrunnen to Grütschalp, and then the train to Mürren. From Mürren, you will take the cable car to Birg and then Schilthorn.
Insider Tips to Visit Schilthorn
---
Arrive early in the morning to enjoy breathtaking views with fewer crowds.
Consider purchasing the combined ticket that includes cable car rides and admission to the attractions.
If you plan to dine at the Piz Gloria Revolving Restaurant, it is advisable to make a reservation in advance, especially during peak tourist seasons. .
Try dining at the Piz Gloria revolving restaurant for a unique culinary experience with stunning views.
Dress in layers and wear sturdy footwear to stay comfortable while exploring the mountain.
If you're interested in additional activities like the Thrill Walk or the Schilthorn Via Ferrata, plan accordingly and allocate enough time in your itinerary.
Restaurants Near/At Schilthorn
---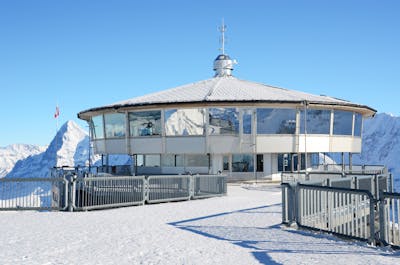 Piz Gloria Revolving Restauran
Perched atop the Schilthorn summit, the Piz Gloria Revolving Restaurant is an architectural marvel that offers a truly unique dining experience. As you step into this iconic establishment, you'll find yourself surrounded by floor-to-ceiling windows that provide unparalleled 360-degree views of the Swiss Alps. But what sets this restaurant apart is its revolving feature, allowing you to enjoy a continuous panorama of the majestic mountain landscape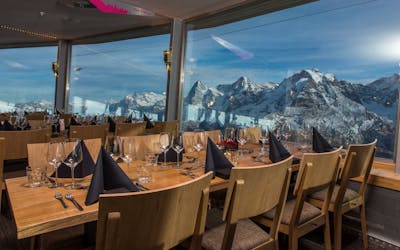 Birg Mountain Restaurant
Situated at the Birg Station just below the summit of Schilthorn, the Birg Mountain Restaurant offers a delightful dining experience amidst breathtaking mountain vistas. Step inside and be greeted by a warm and cozy atmosphere that perfectly complements the surrounding alpine beauty. One of the highlights of their menu is the Swiss cheese fondue, a traditional dish that tantalizes the taste buds with its rich and creamy flavors.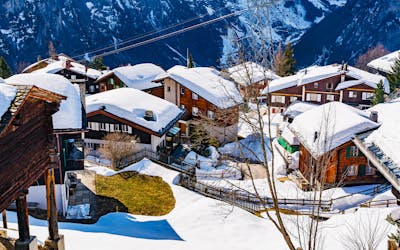 Mountain View Restaurant Mürren
Nestled in the charming village of Mürren, the Mountain View Restaurant lives up to its name by offering mesmerizing vistas of the surrounding peaks. The moment you step inside, you'll be greeted by a warm and welcoming ambiance that complements the natural beauty outside. The menu features a delightful blend of Swiss and international cuisine, ensuring there's something for everyone.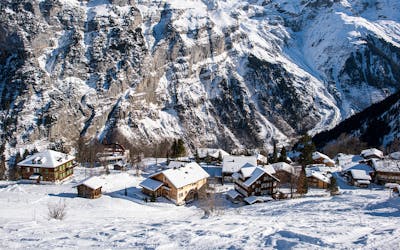 Restaurant Schuh
For an authentic taste of Swiss hospitality and culinary traditions, head to Restaurant Schuh in Mürren. This charming establishment invites you to savor the flavors of the Swiss Alps while surrounded by breathtaking natural beauty. The menu showcases a variety of alpine specialties that are sure to satisfy your cravings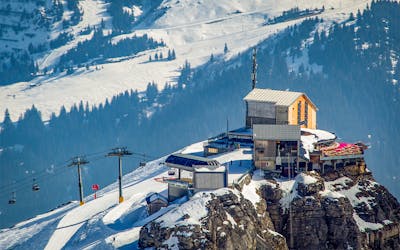 Café Bapu
For a cozy retreat and a moment of relaxation, Café Bapu in Mürren offers a welcoming atmosphere and a range of delightful treats. Take a break from your exploration of the Swiss Alps and unwind with a freshly brewed Swiss coffee, served with care and precision. Complement your beverage with a slice of their homemade Swiss apple pie, made with locally sourced apples and a buttery, flaky crust.
Places to Stay Near Schilthorn
---
Things to Do Near Schilthorn
---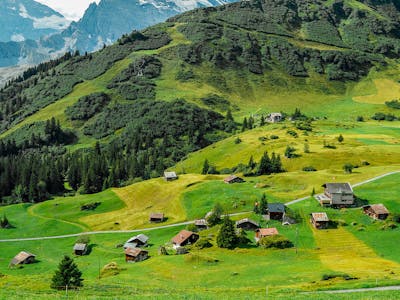 Mürren
Immerse yourself in the enchanting village of Mürren, a picturesque gem nestled in the Swiss Alps. Stroll through its charming streets l, lined with traditional Swiss chalets andolorful flowers. Take in the serene ambiance and soak up the breathtaking alpine views that surround the village. Explore the local shops, taste delicious Swiss cuisine in cozy restaurants, and capture unforgettable moments against the backdrop of majestic peaks.
Distance: 5 kilometers from Schilthorn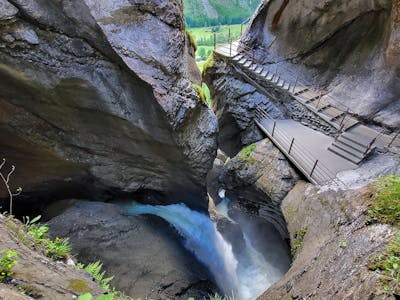 Trummelbach Falls
Prepare to be captivated by the awe-inspiring Trummelbach Falls, a natural wonder nestled within the mountains. These magnificent falls are unique as they flow inside the rock, creating a powerful display of cascading water and thundering sounds. Embark on a short journey from Schilthorn to witness the sheer force of nature as you explore the series of thundering waterfalls carved deep into the mountain
Distance: 7 kilometers from Schilthorn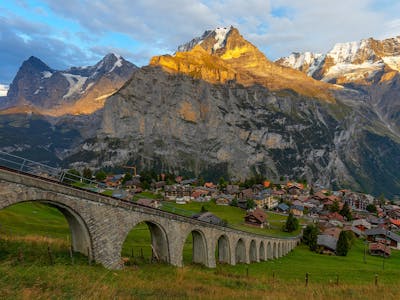 Allmendhubel
Embark on a scenic cogwheel railway ride to Allmendhubel and be greeted by breathtaking alpine landscapes that stretch as far as the eye can see. As the cogwheel train ascends, immerse yourself in the panoramic views of snow-capped peaks, lush green meadows, and vibrant wildflowers. Upon arrival, explore the hiking trails that meander through this idyllic setting, offering opportunities to witness alpine flora and fauna up close.
Distance: 9 kilometers from Schilthorn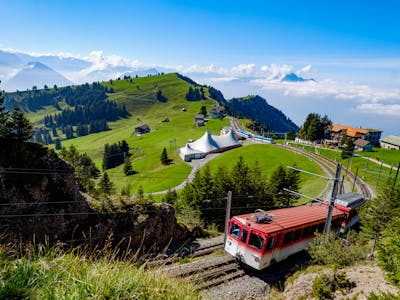 Schynige Platte
Step aboard a nostalgic cogwheel train and embark on a scenic journey to Schynige Platte, a mountain ridge offering breathtaking views and natural wonders. As the train chugs along, soak in the nostalgic charm and enjoy panoramic vistas of the surrounding mountains and valleys. Upon arrival, explore the Schynige Platte Alpine Garden, home to over 650 species of alpine plants.
Distance: 16 kms from Schilthorn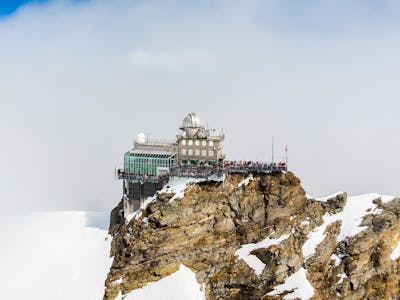 Grindelwald
Venture to the picturesque village of Grindelwald, nestled in the heart of the Swiss Alps. Surrounded by towering peaks, verdant meadows, and cascading waterfalls, Grindelwald is a haven for outdoor enthusiasts. Embark on thrilling hiking trails that lead to breathtaking viewpoints, such as the iconic Eiger Trail or Bachalpsee Lake. For adventure seekers, try your hand at skiing, snowboarding, or paragliding in the winter months.
Distance: 12 km from Schilthorn
FAQs
---
The cable car ride is generally safe and offers stunning views. However, it may not be suitable for those with severe acrophobia.
Reservations are highly recommended, especially during peak tourist seasons, to ensure availability and secure a preferred dining time.
Other than cable cars, no other public transport can reach upto Schilthorn. You can take public transport to reach the nearest cable car station from where you have to take a cable-car upto Schilthorn
While there are hiking trails in the surrounding area, the primary attractions at Schilthorn are accessible by cable car.
Yes, Schilthorn is open year-round. However, winter weather conditions may affect cable car operations, and some attractions may have modified hours.
Schilthorn and the cable cars offer wheelchair accessibility. However, it's advisable to check with the staff in advance for specific arrangements and assistance.
Yes, most establishments at Schilthorn accept credit and debit cards. However, it's always a good idea to carry some cash for any unforeseen situations.
Side Navigation Bar - Find it at the Bottom of the Blog