Perched atop an ancient volcanic rock, Edinburgh Castle stands as a testament to Scotland's rich and storied past. Within its formidable walls lie tales of kings and queens, battles and triumphs, echoing through centuries of history. Prepare to be enthralled by its grandeur, captivated by its secrets, and transported to a realm of alluring beauty.
Edinburgh Castle in a Nutshell
---
Handy Information
| | |
| --- | --- |
| ⏰ Suggested Duration: | 2-3 hours |
| ☀️ Best Time to Visit: | 9:30 AM-11 AM |
Must-see at Edinburgh Castle
The Crown Jewels of Scotland
The Great Hall
The One O'Clock Gun
Getting There
Castlehill, Edinburgh EH1 2NG
United Kingdom
Get Directions
Opening Hours
1 April to 30 September: 9:30 AM to 6 PM
1 October to 31 March: 9:30 AM to 5 PM
Why is Edinburgh Castle Worth Visiting?
---
Iconic Scottish Landmark: The Castle has played a pivotal role in Scottish history for over a thousand years.
Magnificent Architecture: The grand Castle showcases stunning Gothic and Renaissance architecture.
Remarkable Views: Experience breathtaking views of the city skyline from the Castle's vantage point atop a craggy volcanic rock.
Royal Residences: Discover opulent royal chambers and the Scottish Crown Jewels at the Castle.
Military Significance: Explore the military history of Scotland at the Castle's War Museum and witness the One O'clock Gun firing.
Recommended Edinburgh Castle Tickets
---
Edinburgh Castle History
---
Resting on Castle Rock, a volcanic crag that rises 135 meters above the city of Edinburgh, Edinburgh Castle has been a witness to over 1,000 years of history. The castle was initially built as a fortress in the 12th century, and it has since served as a royal palace, military garrison, and prison. During the Middle Ages, the castle was home to the Scottish monarchs, and it was a key stronghold during the Scottish Wars of Independence. In the 1600s, the castle was transformed into a military barracks, and it played a vital role in Scotland's defense against various invasions. During the Jacobite rising of 1745, the castle came under attack from the Jacobite forces, who ultimately failed to seize it. The castle's more modern additions, such as the Scottish National War Memorial and Mons Meg, a 15th-century cannon, highlight its role in Scotland's more recent military history. But even though the castle has seen its fair share of conflict, it is also a place of beauty and intrigue. The castle's many towers and turrets offer stunning views of the city, and its halls and chambers are filled with fascinating artifacts from Scotland's past.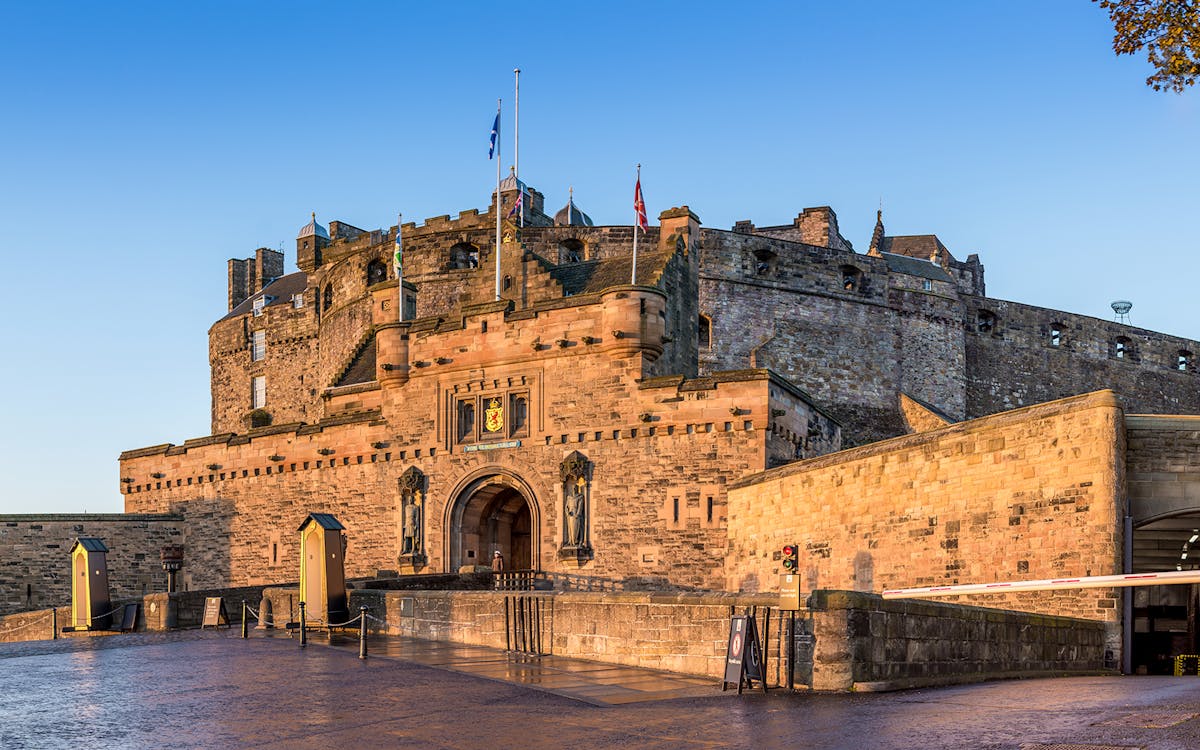 Edinburgh Castle Architecture
---
Nestled in the heart of Edinburgh, the commanding presence of Edinburgh Castle beckons visitors to discover its remarkable architecture. From the elegant Romanesque curves of St. Margaret's Chapel to the Gothic grandeur of the Great Hall, the castle showcases a tapestry of architectural styles spanning centuries. The castle's design reflects the influence of the Normans and Scottish Kings, who shaped it into both a regal abode and a formidable stronghold. Every stone, meticulously carved and laid, whispers tales of skilled craftsmen who poured their expertise into this enduring fortress. Step inside, and the castle's interior unveils treasures that mirror its exterior splendor. The Royal Palace unveils the shimmering Scottish Crown Jewels, while the Stone of Destiny stirs ancient legends. With its rich history and breathtaking architecture, Edinburgh Castle is a must-visit attraction for anyone interested in medieval castles.
Highlights of Edinburgh Castle
---
1

Royal Palace

Edinburgh Castle Royal Palace
Delve into the heart of Edinburgh Castle and behold the regal magnificence of the Royal Palace. Located in Crown Square, it was the residence of Scottish monarchs. This architectural masterpiece continues to captivate visitors with its grandeur and exquisite interiors.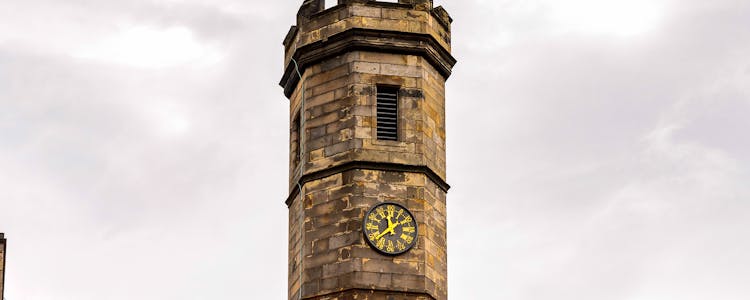 2

Crown Jewels

Edinburgh Castle Crown Jewels
Step into a realm of regal splendor at Edinburgh Castle, where the Crown Jewels of Scotland await. Marvel at the iconic Scottish Crown, Sceptre, and Sword of State, adorned with precious gems that bear witness to the nation's storied past. A treasure trove of history awaits your gaze.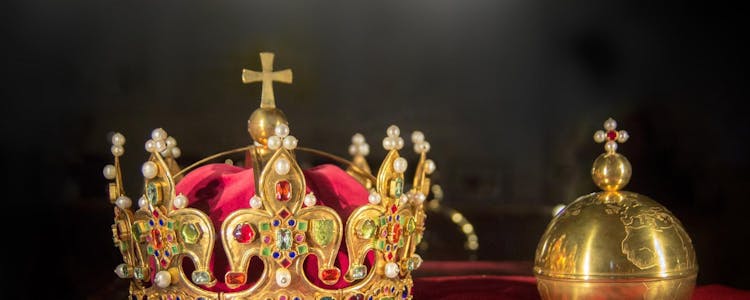 3

One O'clock Gun

Edinburgh Castle One O'clock Gun
Experience the thrilling tradition of the One O'clock Gun at Edinburgh Castle. Hear the resounding cannon blast daily (except Sundays) at 1:00 PM, marking noon for all. Join locals and visitors alike in this time-honored spectacle that adds a touch of excitement to your castle exploration.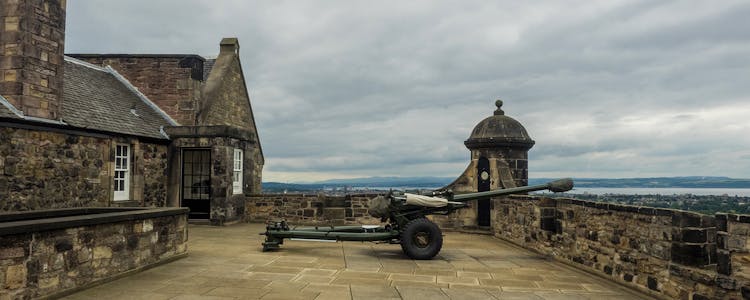 4

The Great Hall

Edinburgh Castle Great Hall
The Great Hall at Edinburgh Castle is a majestic space adorned with royal portraits, medieval weaponry, and a grand fireplace. Immerse yourself in Scotland's vibrant history as you explore this remarkable hall, where the past comes to life in every corner.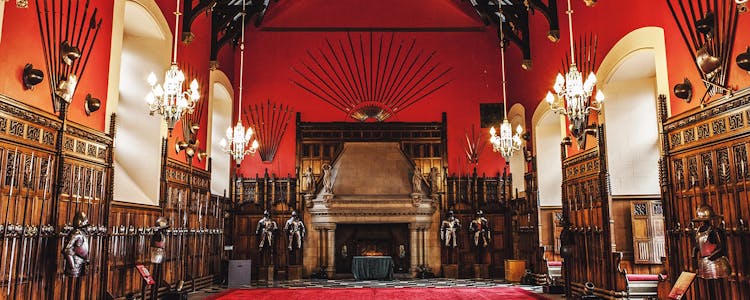 5

Scottish National War Memorial

Edinburgh Castle Scottish National War Memorial
Located inside Edinburgh Castle, the Scottish National War Memorial stands as a poignant tribute to the Scottish soldiers who died in World War I and II. With its stunning architecture and evocative displays, it is a moving tribute to the fallen heroes.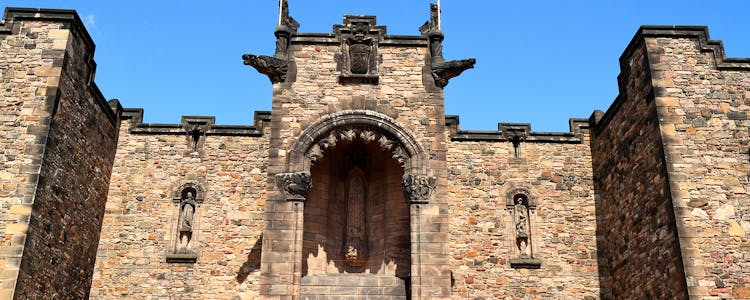 6

St. Margaret's Chapel

Edinburgh Castle St. Margaret's Chapel
St. Margaret's Chapel, the oldest structure in Edinburgh Castle, dates back to the 11th century. This small, tranquil chapel holds great religious importance and rich historical significance. It invites visitors to experience its serene ambiance as a hidden gem within the castle's walls.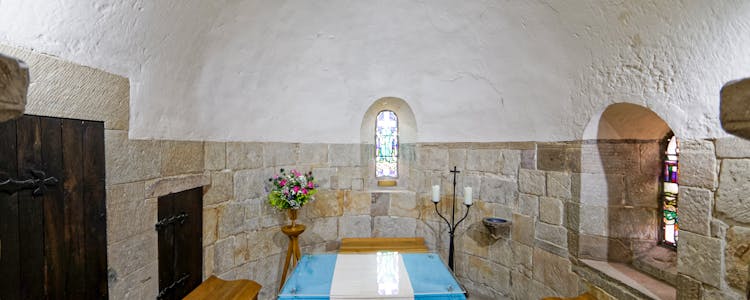 7

Mons Meg

Edinburgh Castle Mons Meg
Mons Meg, the colossal medieval cannon, stands as a captivating attraction within Edinburgh Castle. As the largest cannon ever forged in Scotland, it bears witness to many tumultuous battles of the past, leaving an indelible mark on the castle's storied past.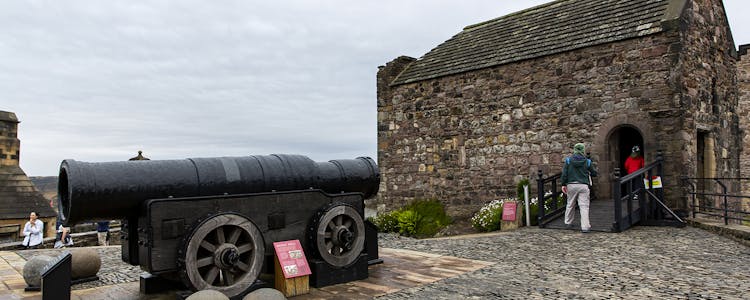 Best Time to Visit Edinburgh Castle
---
If you're planning your visit to Edinburgh Castle, the best time to go is during the summer months from June to August. The weather is mild and pleasant, making it perfect for a stroll around the castle. However, do prepare for crowds and book your tickets in advance to avoid long waiting times. The best time of the day would be to arrive right at the opening time to avoid the crowds and get the most out of your visit.
Edinburgh Castle Opening Hours
---
1 April to 30 September: 9:30 AM to 6 PM
1 October to 31 March: 9:30 AM to 5 PM
Closure: The castle is closed on 25 and 26 December.
Getting There
---
Bus
Hop on the Airlink 100 express bus from the airport to the city center, arriving at Waverley Bridge near the main railway station in just 25 minutes. Alternatively, keep an eye out for local buses that pass through the Mound or George IV Bridge.
Tram
Trams depart from the airport to Princes Street, Edinburgh's primary shopping destination, every 7 minutes throughout the day. The travel time for this journey is approximately 30 minutes. From there, the castle is a short 3 minute walk away.
Train
Located in the heart of Edinburgh, Waverley serves as the city's primary train station. A quick stroll from the station will lead you to the castle, visible from the station exits. Keep in mind, the path to the castle is uphill, but well worth the effort for the stunning views that await.
Insider Tips to Visit Edinburgh Castle
---
Arrive early (9:30 AM-10 AM) or book tickets online to avoid long lines.
Catch the daily One O'Clock Gun firing (except Sundays) and witness this iconic tradition with stunning views of Edinburgh.
Pack appropriate clothes for Edinburgh's unpredictable weather and wear comfortable shoes as there are steep hills and uneven surfaces.
Head to the castle's Crown Square and take photos with the iconic view of the city's skyline behind you.
Take the time to explore the castle's multiple exhibitions, especially St. Margaret's Chapel, the oldest building in Edinburgh, and the Scottish National War Memorial.
Edinburgh Castle Facts
---
Edinburgh Castle has been besieged 26 times over the course of its history, but it has never been captured by an enemy.
St. Margaret's Chapel is the oldest surviving building in Edinburgh, and it is one of the few remaining examples of Norman architecture in Scotland.
The Great Hall was built in the 14th century, and it is one of the largest medieval halls in Scotland.
The Stone of Destiny, a legendary ancient symbol of Scottish monarchy, is also housed within the castle. It has been used in the coronation ceremonies of Scottish kings and queens for centuries.
Edinburgh Castle witnessed a harrowing historical event known as the 'Black Dinner of 1440' that became the inspiration for George R. R. Martin's infamous Red Wedding in 'Game of Thrones'.
It is believed that Edinburgh Castle is haunted, with many reported ghostly sightings and paranormal experiences, adding to its mystique and allure.
Restaurants At Edinburgh Castle
---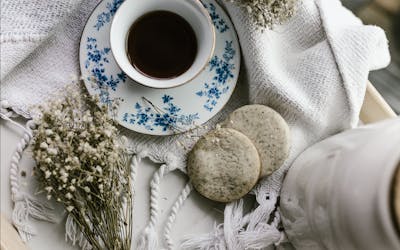 The Tea Rooms
Indulge in elegance at The Tea Rooms, situated at the top of Edinburgh Castle's Crown Square. With its stylish ambiance, it offers a delightful haven to savor delectable snacks, meals, and the timeless pleasure of a traditional afternoon tea. A treat for the senses awaits in this refined and inviting setting.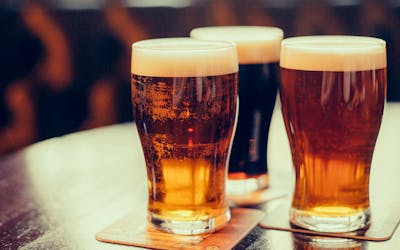 Redcoat Café
Indulge in delectable delights at Redcoat Café, where breathtaking views complement a seasonal menu. From savory soups to toasted deli sandwiches, this charming eatery caters to all appetites. Sip on refreshing beers, wines, or spirits, and savor hot beverages and soft drinks for a truly satisfying dining experience.
Places to Stay Near Edinburgh Castle
---
Things to Do Near Edinburgh Castle
---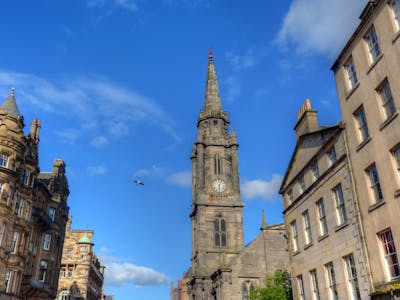 The Royal Mile
The Royal Mile, the historic heart of Edinburgh, is a vibrant and enchanting stretch of road connecting Edinburgh Castle to the Palace of Holyroodhouse. Lined with charming cobblestone streets, it exudes a captivating blend of medieval and Georgian architecture, bustling shops, cozy pubs, and captivating tales from centuries past.
Holyrood Palace
Immerse yourself in royal history at Holyrood Palace, the official residence of the British monarch in Scotland. Explore opulent State Apartments, walk in the footsteps of monarchs through the historic ruins of Holyrood Abbey, and wander through beautiful gardens. A regal experience awaits at this iconic Edinburgh attraction.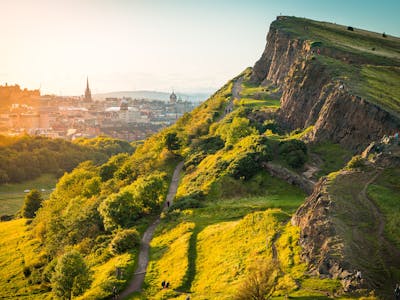 Arthur's Seat
Arthur's Seat, an ancient volcanic peak in Edinburgh, offers a breathtaking natural escape within the city. Standing at 251 meters tall, it provides stunning panoramic views of the city skyline and the surrounding landscapes. Its mythical associations and diverse wildlife make it an enchanting destination for nature lovers and hikers.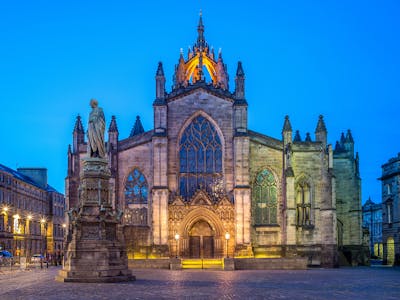 St. Giles' Cathedral
St. Giles' Cathedral, a magnificent architectural masterpiece, stands proudly at the heart of Edinburgh's Royal Mile. With its striking Gothic spire and intricate stained glass windows, this historic place of worship has witnessed centuries of Scottish history, making it a must-visit destination for history enthusiasts.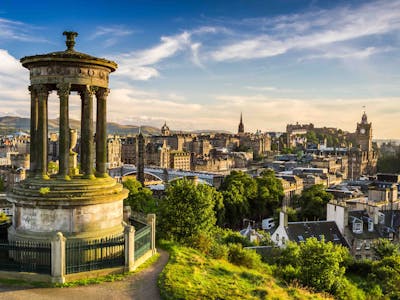 Calton Hill
Calton Hill, situated east of Edinburgh Castle, boasts a cluster of historical and cultural marvels. From the iconic Nelson Monument to the National Monument and the Old Royal Observatory, this hill offers a captivating blend of heritage and scenic beauty that beckons explorers seeking an enriching cultural experience.
FAQs
---
Edinburgh Castle has a history dating back over 900 years.
King David I, Son of St. Margaret of Scotland built Edinburgh Castle.
Covering an area of approximately 35,000 square meters (377,000 square feet), Edinburgh Castle is one of the largest castles in the United Kingdom.
You can make use of the public transportation in Edinburgh to get to the castle. The easiest way is to pick buses, trains or trams.
Edinburgh Castle is closed on 25 and 26 December.
Yes, Edinburgh Castle features two restaurants where visitors can enjoy a meal or grab a snack while exploring the castle grounds.
Yes, there are washroom facilities available at various locations within Edinburgh Castle to ensure the comfort and convenience of visitors.
There is no specific dress code to visit Edinburgh Castle. However, it is advisable to dress appropriately for the weather and wear comfortable footwear as the castle grounds involve some walking on uneven surfaces.