Magnificent mountains, scenic routes, crystal clear water bodies and seaside cliffs, countryside cottages, and lip-smacking local delicacies - an Italian road trip is considered to be amongst the best experiences in Europe. Whether you're an adventurous couple or you're planning an all girls trip - Italy's roads and the hidden destinations it leads you to - will not disappoint you! So, rent a car (maybe a vintage one), grab your keys, put together your favourite road trip playlist and Get. Set. Go.
In this article, we've rounded up the top eight road trips in Italy. When hitting the roads it's highly recommended to make as many stops along the scenic routes to make the most of the breathtaking views it has to offer.
1

Under the Tuscan Sun
Florence to Orvieto
165 km
Distance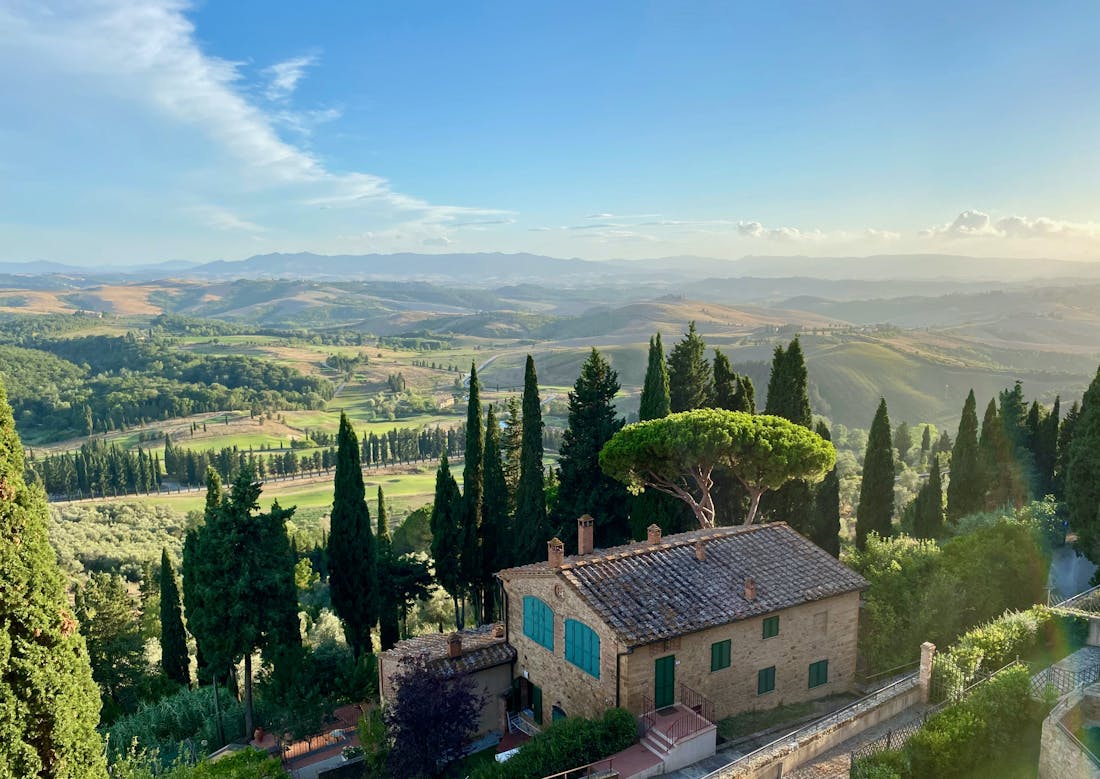 The delightful drive between Florence and Orvieto is the best way to experience the Tuscan countryside best known for its vineyards, medieval aged hamlets and cutesy cafes. When planning a road trip through here, opt for wine tasting sessions, food tours or simply a walk around the local regions. This Italian road trip is a favourite among oenophiles and epicures. Seina is one of the most popular halts between Florence and Orvieto. Approximately one hour from Florence, you can visit the Piazza del Campo (historic and iconic plaza in Italy), visit the iconic and historic churches, pop by one of the many art galleries and go cafe-hopping. Apart from Siena, plan for pit stops at Pistoia, San Gimignano, Cortona or Todi. Map it >
Handy blogs to plan your Tuscan road trip
All you need to plan your perfect day trip from Florence to Tuscany
40 best stops between Florence and Orvieto
Best Time to Visit
From late September to October and between April and May, the temperatures are comfortable and you'll see fewer tourists.
Travel tip
Make sure you pack a bottle or two of wine from Tuscany's many wineries.
2

Sicily's Southeast
Catania to Ragusa
103 km
Distance

One of the largest Medditerrean island, a road trip around Sicily is marked by beautiful beaches, mini-islands, roadside stores, iconic monuments, authentic seafood cuisine and vintage bars. Starting the trip from Catania, you can halt at many a medieval hamlets with rich history and architecture including - Francofonte (popular for red oranges), Vizzini (which is also the oldest hamlet in Sicily) and Chiaramonte Gulfi (popular for churches, museums and local food). Map it >
Handy blogs to plan your Sicily road trip
Itinerary for a road trip to Southern Sicily
One week in Sicily
Best Time to Visit
May to June or September to October is considered ideal to visit this coastal island. Avoid August for this road trip from Catania to Ragusa as the heat peaks around this month.
Travel tip
Approximately three hours from Ragusa is The Valley Of Temples in Agrigento that comes highly recommended and is a must-see.
3

Coastal Amalfi
Salerno to Sorrento
55 km
Distance

Claimed to be one the best road trips in Italy, this stretch overlooks an array of pristine beaches and the deep blue Tyrrhenian Sea. Apart from the 'grammable scenic route you can also explore the historic and iconic churches, museums and historical landmarks on the way. Pompeii (a city that was buried by a volcanic eruption in AD 79) is a popular halt between Salerno and Sorrento. Other halts between these two cities are Cava de' Tirreni, Lettere and Blue Grotto. Map it >
Handy blogs to plan your Amalfi road trip
Discover The Best Amalfi Coast Day Trips
Planning your perfect trip to the Amalfi Coast
Best Time to Visit
The best time to visit the Amlfi coast is in fall and spring, between May and September.
Travel tip
Stop at the Castellammare Coast and Strada Panoramica towards Sorrento for a breathtaking view of the coastal line.
4

Catching the Dolomites
Bolzano to Cortina d'Ampezzo
132 km
Distance

Mountain lovers, a drive across the Great Dolomite Road will leave you mesmerised. Starting from Bolzano, make sure you take multiple breaks and halts to make the most of this scenic route. Popular halts along this stretch are Feldthurns, Terenten, Brunico and Misurina. Each of these are tiny countryside hamlets where you can park, grab a quick bite and simply soak in the paradise you're surrounded by. On the way from Bolzano, there's an iconic nature park called Schlern-Rosengarten Nature Park where you can go on adventurous hikes and walk along nature trails. Map it >
Handy blogs to plan your Dolomites road trip
See the best of the Italian Dolomites on a one-week road trip itinerary
A wonderful Dolomites road trip
Dolomites Road Trip Itinerary – The Best of the Italian Dolomites in 7 Days
Best Time to Visit
During the months of summer from May to September, the weather is pleasantly warm and the mountains are lively and colorful.
Travel tip
Plan a road trip that extends over 4 to 5 hours (or even a few days if time permits) to make the most of the breathtaking view this route has to offer. A short hike is definitely recommended.
5

On Lake Como
Como to Bergamo
92 km
Distance

The road trip between these two Italian cities are marked by quaint lakes and the beautiful southern shoreline. When taking this route, explore the historic museums and stop by the various amusement and theme parks on the way to Bergamo. If you're a fan of The Lord Of The Rings, make time for Casa degli Hobbit, a cutesy Hobbit themed villa that's nestled a few kilometers after Como. Museum buffs, make sure to mark these off on your way to Bergamo - Museum Cozzi Fratelli, Museum of Saronnese Industries and Labor and Rec & Play Museum. Map it >
Handy blogs to plan your Lake Como road trip
Discover The Best Lake Como Day Trips
Three epic Lake Como drives
Take A Road Trip Around Lake Como, Italy
Best Time to Visit
The best time to take this road trip in Italy is between late April and September.
Travel tip
This route also homes an array of lush greenery parks. Pack a picnic and make a day of it as you enjoy the surroundings.
6

Best of Abruzzo
Rome to Sulmona
163 km
Distance

When taking this route, you'll come across many charming hilltop villages, rich architecture and countryside cafes. Approximately 30 kms from Rome is a picturesque hilltop town called Tivoli you must stop at. It is known for its ancient Roman culture, waterfalls and also houses two UNESCO world heritage sites namely - Villa Adriana and 16th-century Villa d'Este. Make sure to also add the Regional Natural Park Sirente Velino, a natural park known for adventure sports and cultural activities to your road trip itinerary. Map it >
Handy blogs to plan your Abruzzo road trip
Road Trip From Rome To Abruzzo
Abruzzo Travel Guide
Best Time to Visit
April and June, or September through October is considered the best time to take road trips around Rome.
Travel tip
Celano Gordes, a well-known canyon of the Central Apennines nestled a few kilometers before Sulmona is a highly recommended stop during this trip.
7

Foothills of Sabina
Rome to Terni
103 km
Distance
Old-bricked monuments, hilltop villas and countryside meadows - it's indeed a pleasant drive from Rome to Terni. This route lets you explore hidden and ancient towns with rich culture and decades-old architecture. Recommended pit stops on this route - Monterotondo, Ponzano Romano, Bufalotta, Fiano Romano, Narni and Amelia. Each of these can be explored real quick and have options for movie theaters, museums, historic landmarks and iconic dining joints. Map it >
Handy blogs to plan your Sabina road trip
Taking A Nature-Filled Day Trip From Rome
Rome to Terni road trip planner
Best Time to Visit
April and June, or September through October is considered the best time to take road trips around Rome.
Travel tip
A few kilometers from Rome there's a nature's preserve called Riserva Naturale Valle dell'Aniene, a scenic riverside park ideal for picnics, cycling or walking.
8

Along Sardinia
Bosa to Capo Caccia
71 km
Distance

Beach babies, this Italian road trip is for you! Experience the best of both the worlds - rocky cliffs on one side and beautiful beaches and lush greenery on the other. The most iconic halt in this trip would be at the Alghero, which is also called 'The Little Barcelona'. Go beach hopping, grab a chilled beer, go surfing or chase the sunset - it's all fun in Little Barcelona. Map it >
Handy blogs to plan your Sabina road trip
Sardinia Road Trip: from Olbia to beaches and seaside towns
Sardinia Road Trip – A 2 Week Complete Local Guide
Sardinia Road Trip Guide – 1 Week Itinerary
2 Weeks in Sardinia: The Perfect 14-15 Days Road Trip Itinerary
Best Time to Visit
April to June, when the temperatures are pleasant, makes for a great time to take this road trip.
Travel tip
Bosa is known for its colourful and lively houses, so make sure you get great snaps while you're here.
Driving in Italy - Quick Things You Must Know
---
If your driving license is from any other country other than European Union, you must carry an International Driving Permit (IDP).
The speed limit for driving in Italy is 130 kilometer per hour on highways. However, these differ depending on the weather and road. The speed limit to drive within cities is lower i.e. 90 kilometers per hour.
The legal driving age in Italy is 18 years.
A blood-alcohol level of 0.05% (approx 1 to 2 glasses of wine) is the legal alcohol limit in Italy.
Make sure you're not driving in the bike or the bus lane as it's illegal.
Wearing a seat belt while you're driving is mandatory throughout Italy.
Headlights must always be turned on when you're driving - whether it's night or day.
Children under age 12 are not allowed to occupy the first seats of the vehicle.
You cannot talk on your phone or text while driving. If you're caught doing either, you will be slapped with a hefty fine and even suspension of driving privileges.
Violation of any law or rules calls for a strict penalty and a hefty fine.