Collections
Sightseeing Combo Tickets
Lifestyle & Entertainment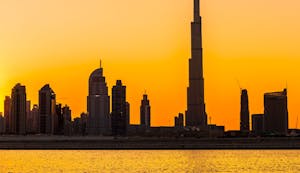 5% CASHBACK 5% CASHBACK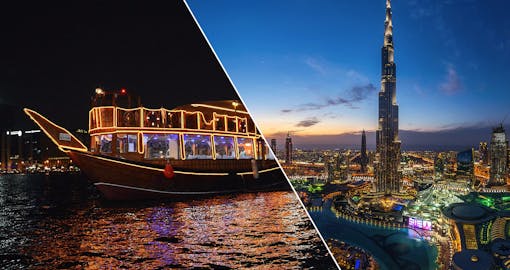 5% CASHBACK Burj Khalifa Sunset Tickets
Sunset and late afternoons present the best time of day to visit the Burj Khalifa. The temperature has gone down, the sun is a little less harsher and the views are as clear as required to be thoroughly enjoyable. As the sun sets into the gulf, the amber lighting gleaming off the skyscrapers and the red sands of the desert paint a truly stunning picture.
The Burj Khalifa
The Burj Khalifa is the tallest building in the world and a marvel of human endeavour. Inaugurated in 2010, the building has held the record for the tallest building since and numerous other records. The Burj Khalifa stands at a height of 830 meters, and is home to two of the highest observation decks in the world. At sunset, these observation decks offer one of the greatest sights in the Middle East.
Burj Khalifa Information
Name: Burj Khalifa, formerly known as Burj Dubai
Opening Date: 4 January, 2010
Height : 830 meters, including the antenna
Transport: 57 elevators and 8 escalators
Floor Count: 163 floors above ground
Burj Khalifa Facts and Records
1. The Burj Khalifa is three times as tall as the Eiffel Tower and more than twice as tall as the Empire State Building.
2. The elevator taking you to At The Top are one of the fastest in the world. Travelling at a speed of 10 meters/second, these elevators will take you to the 124th floor in a minute.
3. The elevator to the top also has the longest distance of travel for a single elevator. The elevator travels 140 floors.
4. The mighty Burj Khalifa is visible up to a 100 kilometres away.
How To Get To Burj Khalifa
Address: 1 Sheikh Mohammed bin Rashid Boulevard, Dubai, United Arab Emirates
Cab - Take a cab from anywhere you are and head to the Burj Khalifa in Dubai Downtown.
Metro - Both Terminals 1 and 3 stop at the aptly named Burj Khalifa Station. Get down at the station and walk to the Burj Khalifa ten minutes away. It is a huge building and hard to miss.
Others - People have been known to skydive on to the building as well.
Top Burj Khalifa Tickets Reviews
"Going as high as you can does make a difference. We timed our visit to catch the sunset at about 6:30 and see Dubai light up with its neon lights. Going outside on the upper and lower levels was great." - Oyestertravel, Tripadvisor, March 2017
"A great experience to stand on top of the tallest building in the world. You have a great view of the city. Truly worth the experience." - Travel Diva, February 2017
"Definitely recommend!! Everything is so gorgeous especially when you go out on the balcony.. staff is very helpful and the elevator is so cool. It shows digital displays of other buildings and once you've reached their height and exceeded it. I loved it! Amazing souvenirs at the stores too." - Felicia, March 2017