Collections
Lifestyle & Entertainment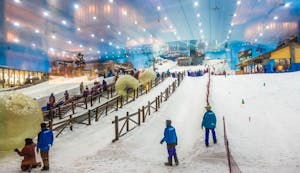 Ski Dubai Snow Park
Cool-off in temperatures as low -1 degrees to -2 degrees in this artificially created snowpark with 3,000 square meters of snow. It is the first indoor ski resort in the middle east where you can snowboard, ski and even meet the humble snow creatures, penguin!
Things To Do
Ski
The main attraction of this snow park is that it allows ski enthusiasts to engage in the sport. Glide and zoom forward in fresh snow at the snowpark. While you are at it you can challenge yourself with 5 varying levels of difficulties in terms of the length and height of the slopes.
Snowboarding
Just like sandboarding, snowboarding lets you strap onto your snowboard and manouver white slopes and twisted path ways. The length of your journey will be about 400 meters with a freestyle zone and a variety of challenging railings and slopes. Snowboarding is also a part of the Olympic and Paralympic games.
Penguin Encounter
Get the chance to meet Gentoo and King penguins with your penguin encounter tickets. You can also witness the Penguin march which happen every day for free. Depending on the type of encounter you also get the opportunity to encounter them under water and get a training session with one of the penguins!
Getting here
Located on Sheikh Zayed Road, Ski Dubai is easily accessible by a self driven vehicle or cab. Alternatively, you can also take the metro and get down at Jebel Ali station.
Trip Advisor Reviews
"Enjoy ski and fun! Winter, snow, penguins and minus temperature inside, time for sking and snowboadring :)" Michal
"This is a dream come true. I'm from Miami and skiing indoors on a multiply slope drop was amazing. the prize is quite worth it. MUST DO IF YOU ARE IN DUBAI!!!" - Alex A