Windsor Castle Reopening Date - 23rd July
---
In order to provide a relaxed and safe space for all, Windsor Castle will be following strict guidelines from the British Government and Public Health starting 23rd July 2020. All visitors are requested to abide by the new rules to ensure a relaxed and safe space for all.
New Safety Measures at Windsor Castle
---
Due to safety reasons it is important that guests maintain a safe distance of at least 2 meters from other visitors. Hand sanitizers will be provided at various points within the venue reducing the risk of spreading any infection.
Given safety of all guests are of utmost priority certain rooms will remain closed as it is difficult to maintain social distancing. This includes Queen Mary's Dolls' House and Precinct Tours. The Undercroft Café is open with a limited menu and a reduced seating capacity system will be followed. All shops will remain open however, during busy times guests will be required to queue for a short period to avoid overcrowding within the venue. It is not mandatory to wear masks before entering the store but it is necessary to sanitize your hands on arrival.
Free media guides will be available at the start of the visit which will be cleaned and sanitized after every use. If required, guests can also carry their own headphones. Pushchairs can be used around the Castle grounds, but will need to be checked in at the cloakroom in the Inner Hall before entering the rooms. It can be collected once guests finish touring the State Apartments.
Smoking, including e-cigarettes is not permitted anywhere inside the Castle grounds. For safety and security reasons, a one-way system operates along the visitor route inside the Castle. Cloakroom facilities have been temporarily suspended.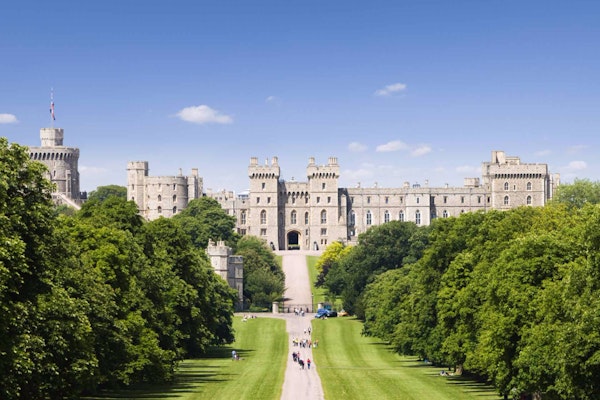 Booking Windsor Castle Tickets Online
---
Tickets for Windsor Castle are available here.
In order to monitor and avoid overcrowding within the venue, it is important for guests to book their tickets in advance before arriving at the venue. Group bookings of 15 or more will not be accepted. Card payment will be accepted within the venue when accessing cafes or gifts shops.
Advantage Card holders will be able to acquire a ticket on the day of their visit by presenting their card at the Admission Centre. Guests do not require to book in advance however, future dated tickets cannot be issued from the venue.
For more information about visiting the Windsor Castle, refer to their information page here.