Safety Measures in place at the Vatican
---
Keeping with the norms of hygiene and social distancing, visitors to Vatican Museums will be subject to a temperature check via remote thermal scanners and only those with a facemask will be permitted in. Staff will wear masks and gloves and visitors will be required to sanitize their hands before entering the premises. The masks and gloves are required to be worn throughout the duration of your visit.
Within the museum, patrons are advised to maintain an interpersonal distance of over 1 meter and avoid gathering next to paintings. Guard corps in place will ensure that the rules are followed strictly.
A medical team from Italy's Misericordie Volunteer Group and the Vatican's Health and Hygiene Department will be present on ground through the opening hours, ensuring all necessary medical precautions are in place.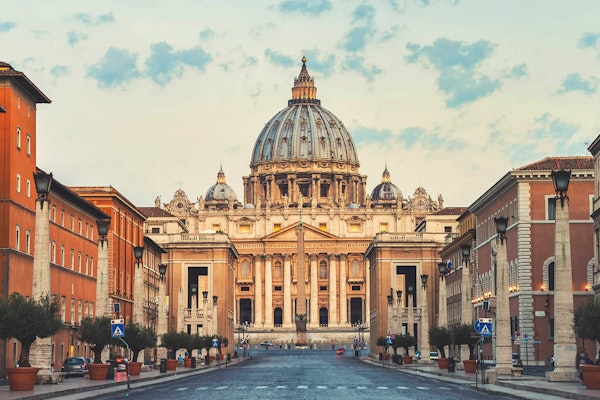 Buying Vatican Tickets Today
---
Due to health and medical concerns in the (post)-covid world, ticket options for visiting the Vatican Museums have been limited to only standard admission tickets and group tours with less than 10 people.
Vatican Guided Tours - Only groups of 10
Guided tours of the Vatican Museum have been resumed, however, in groups of 10 (plus guide) only. It is the guide's responsibility to ensure an interpersonal distance between visitors for their safety. The use of radio transmitter equipment during guided tours are not allowed.
Tours of the Excavations of Saint John Lateran are suspended until further notice. However, guided visits to the Necropolis of the Via Triumphalis is now permitted.
Booking Vatican Tickets Online
Tickets for Vatican Museums are available here. On the day of the visit, one must arrive 10 minutes before the time printed on your voucher and will not be allowed any later than 15 minutes hence. No refunds are available on tickets purchased and entry will phased at 15 minute intervals.
Post Corona Phase - New Rules at Vatican Museums
---
The usual free entry to the museums on the last Sunday of the month has been suspended indefinitely.
Audio guides and video guide systems provided by the Vatican Museum alone are permitted.
The exit that provides one access to St. Peter's Basilica from the Sistine Chapel will remain closed until further notice.
Sign up for our monthly newsletter
Your dose of travel fix - from hacks and deals to travel tips and everything in between, delivered monthly to your inbox
Please enter a valid email
Unsubscribe anytime
Vatican Museums - Revised Opening Hours
---
Monday to Saturday - 8:30 AM to 6:30 PM
Final entry is at 4:30 PM
Guests are expected to exit the exhibition rooms by 6 PM
Closures 2021:
Every Sunday
11 February
For more information about visiting Vatican Museums, refer to this press release issued by Vatican Museums.
Frequently Asked Questions
Yes, the Vatican Museums in Rome reopened on June 1st 2020 after the COVID-19 lockdown.
🚶🏻‍♂️🚶🏻‍♂️Social Distancing
😷 Mandatory Masks
🤒 Temperature Check
🧽 Frequent Cleaning
🧼 Hand Sanitisation Station
👮‍♂️ Reduced Capacity
Read more about the safety measures adopted.
Yes, the timings are now as below:
Monday to Thursday
10 am – 8 pm
Final entry 6 pm
Friday and Saturday
10 am – 10 pm
Final entry 8 pm
To ensure maximum security it is advised for all visitors to book in advance to reserve their respective slots. Recommended tickets for Vatican Museums.
Guided tours of the Vatican Museum are now restricted to groups of 10 (plus guide) only. Tours of the Excavations of Saint John Lateran are suspended until further notice.