Beijing has long been China's cultural hub, a gateway to its 3000-year old history. Today, the city is the perfect confluence of tradition and modernity. It is home to monumental landmarks like the Great Wall and the Forbidden City, while also boasting a stunning skyline of skyscrapers and fast-paced financial districts.
Its appeal to travelers around the world is set to increase come Spring 2021, with the launch of Universal Studios, Beijing. This upcoming theme park will feature attractions, entertainment, restaurants and rides from the world of Universal, Warner Bros., and Paramount Pictures among others. It is jointly owned by NBCUniversal and Beijing Shouhuan Cultural Tourism Investment.
As the fifth Universal Studios-branded theme park, the Beijing Universal Resort will be the largest, covering an area of around 400 hectares. The construction project started in August 2018 and includes the theme park Universal Studios Beijing and Universal CityWalk retail as well as the first-ever Universal-themed resort hotel and the first Nuo-branded resort hotel of Beijing Tourism Group.
Universal Beijing Resort™
---
Universal Beijing Resort™ is a Universal Studios latest theme park destination featuring all-new attractions - rides, shows and attractions from around the world – plus specially created experiences designed to reflect China's cultural heritage. It is located in the Tongzhou district of Beijing, around a 30-minute drive from the centre of the capital.
Universal Beijing Resort aims to bring a high-tech experience to their visitors with an intelligent park digital system in collaboration with Alibaba, inclusive of a "Face ID recognition" system where visitors can buy tickets, enter the park, rent lockers, make a restaurant reservation, shop, and more through the digital system!
Opening Date
Universal Beijing is set to open a strategic 7 months ahead of the Winter Olympics that will be held in Beijing in 2022.
Universal Studios Beijing - Handy Guide
---
Universal Studios Beijing - Things to know
Best time to visit - Early morning or early afternoon
Suggested duration - 5-6 Hours
Recommended Universal Studios Tickets
Opening Date - 2021

Universal Studios Beijing Top 5 rides to watch out for
• Clone of Raptor Encounter
• Transformers: Battle for the AllSpark
• Decepticoaster
• Harry Potter and the Forbidden Journey™
• Jurassic Flyers

Universal Studios Beijing Address
Liyuan Town, Tongzhou District
Beijing, China
Get Directions
Universal Studios Beijing Themed Lands
Hollywood Boulevard
Jurassic World: Isla Nublar
Kung Fu Panda Land of Awesomeness
Wizarding World of Harry Potter
Minion Land
Transformers: Metrobase
Waterworld
Universal Studios Beijing Themed Lands
---
Universal Beijing, as it is commonly referred to, is part of Universal Resort Beijing and is designed with seven themed zones -- each part of an iconic movie franchise from these Hollywood studios.
The 7 themed lands at Universal Studios Beijing
Hollywood Boulevard
This zone is being built to replicate the original Hollywood Boulevard from the 1970s. Visitors can enjoy a true taste of the glam and glitz of Hollywood in this zone that aims to bring together Western and Eastern pop culture. It is said to feature attractions like 'Lights, Camera, Action', a behind-the-scenes tour of special effects in Hollywood, featuring legends like Steven Spielberg and Zhang Yimou. It is also said to include Mel's Drive-in, the restaurant from George Lucas' 1973 movie, American Graffiti. A large stage is also being designed for theatre performances and movie screenings.
Top Shows
Jurassic World: Isla Nublar
Head out on an epic adventure at Universal Beijing's Jurassic World, inspired by the famed movie franchise. To make the experience as realistic as possible, this zone will feature life-like versions of popular dinosaurs like Tyrannosaurus, Velociraptors and Idmonius Rex who are set to roam freely in the park. This zone will also include the main building from the original Jurassic world, an exciting inverted roller coaster and and other indoor dark rides.
Top Rides
Jurassic Flyers
Rapotor Encounter
Kung Fu Panda Land of Awesomeness
Get set to explore Legendary China with Po and friends at Universal Beijing's Kung Fu Panda Land of Awesomeness. Stated to be a complete indoor theme park, this fun land takes visitors and fans through life size replicas of Jade Palace, Panda Village and even the Peach Tree of Heavenly Wisdom. Be prepared to meet some of your favourite characters from the Kung Fu Panda universe!
Top Rides & Shows
Kung Fu Panda Journey of the Dragon Warrior
Po's Kung Fu Training Camp
Peach Tree of Heavenly Wisdom
Wizarding World of Harry Potter
The Wizarding World of Harry Potter is a true delight for fans of the globally-adored book and film series. Journey to a life-like replica of wintery Hogsmeade, the local village students in the Harry Potter universe visited on weekends to stock up on school essentials, tasty treats and prank items. This zone will fully resemble Hogsmeade, complete with cobblestone streets, snow-capped roofs and character favorite diners and pubs, full of entertainment, familiar faces and more.
Top Rides
Harry Potter and the Forbidden Journey
Flight of the Hippogriff
The Nighttime Lights at the Hogwarts Castle
Ollivanders
Hogwarts Express Conductor
Transformers: Metrobase
Based on the hit movie franchise, the Transformers: Metrobase takes the universe a step further. An extended narrative was developed for this theme zone: Metrobase, a top-secret location, is an Energon (fuel)-rich site, selected as headquarters for the technologically-advanced N.E.S.T (Non-biological Extraterrestrial Species Treaty), to build an alliance between Autobots and humans who will protect Earth from Decepticons, the forces of evil. This land is said to be designed with unique Cybertronian architecture and will feature several attractions like a Transformers-themed roller coaster.
Top Rides & Shows
Decepticoaster
Transformers: Battle for the AllSpark
Transformers: MORE THAN MEETS THE EYE
Waterworld
Universal Beijing is the first to dedicate an entire zone after Waterworld, a popular science fiction film from 1995 that follows the story of a mariner who struggles to survive after Earth's polar ice caps melted and drowned most of the population. This zone will most likely be full of several water-based rides and is said to feature a stunt show, designed around a one-of-a-kind battle on water.
Top Shows
Minion Land
What better way to spend a day than by partying with minions! This zone in Universal Beijing is based on Illumination's Minion and Despicable Me films. Only the second theme park after Universal Studios Japan to have a separate zone for minions, this land promises to bring oodles of fun. It is said to feature minion shows, an interactive 3D ride and many more attractions. Take some memorable photographs with the little minions running around the park.
Top Rides & Shows
Despicable Me Minions Mayhem
Loop-Dee Doop-Dee
Super Swirly
Minion Meet & Greet
SING on Tour!
Universal Studios Beijing Tickets
---
Universal Studios Beijing Tickets will go on sale after its opening in May.
Universal Beijing Resort App
---
Refind your Universal Studios experience with a handy app that gives you information on everything you need for a smooth experience. Get up to date information on the rides, shows, restaurants, shops and hotels at Universal Beijing Resort and be the first to know about exclusive offers! The Universal Beijing Resort Official App will also keep you informed of the updated park opening and ticket sale information.
Download the Universal Beijing Resort App
Dining at Universal Studios Beijing
---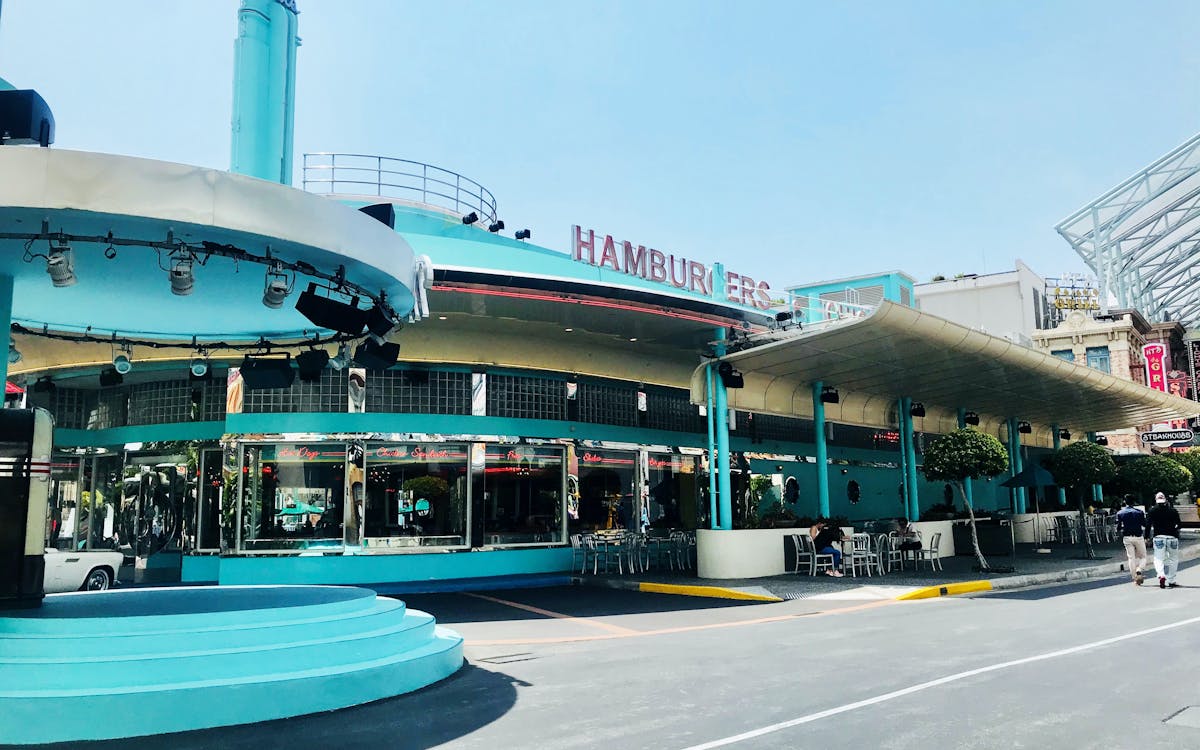 Spending a whole day at an amusement park will sure build an appetite, especially if you're visiting with kids. Universal Studios Beijing has restaurants and dining options that cater to all taste buds. Here are your options:
The Lair - Villian Restuarant
Paradise Mall
Three Broomsticks
Universal CityWalk
CityWalk WUBEI Craft Food & Beer
Neon Street Hawkers
The Cowfish Sushi Burger Bar
Hog's Head
Mr. Ping's Noodle House
Mel's Drive-In
Energon Power Station
Bake My Day
Shopping at Universal Studios Beijing
---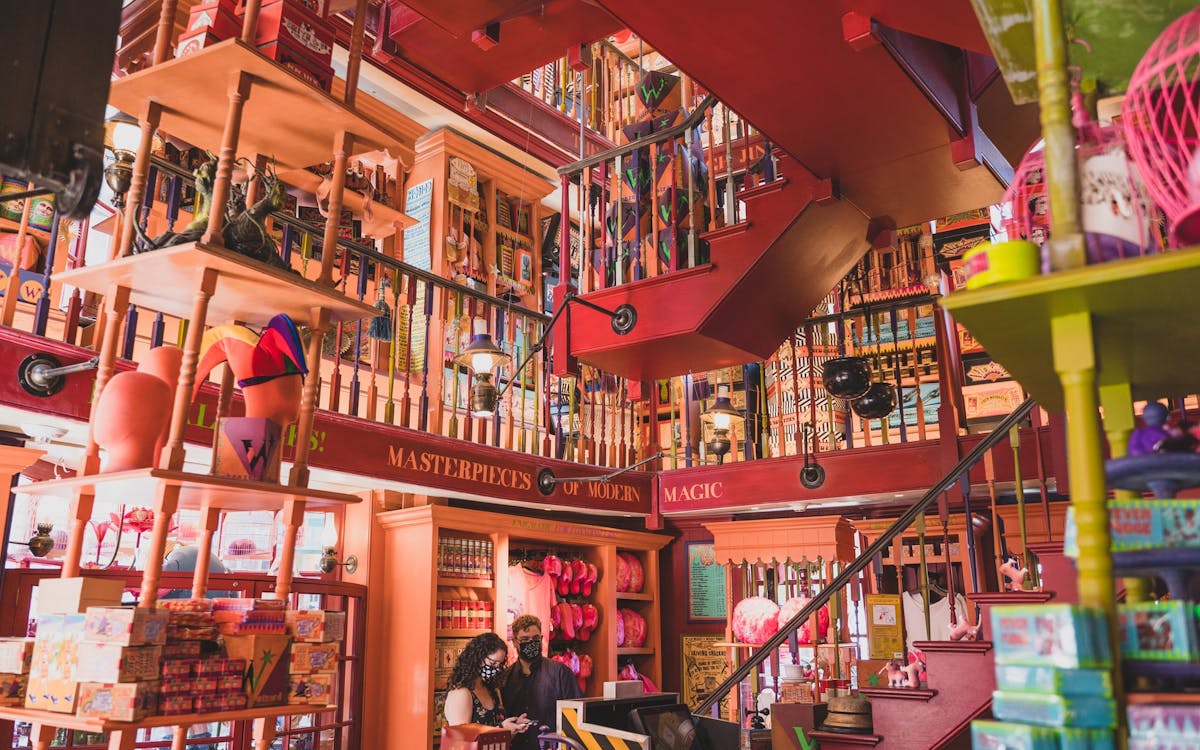 How can you leave an amuseument park without picking up a souvenir? Or maybe shopping for some branded merchandise. Here are the list of stores present inside Universal Studios Beijing that promises a terrific shopping experience.
Owl Post
Universal Studios Store
Filch's Emporium of Confiscated Goods
Hound's Impounds
Jurassic Traders
Minion Mart
Mr Ping's Dragon Warrior Emporium
The Darkroom
Honeydukes
Ollivanders
Hogsmeade Station
Gladrags Wizardwear
Dervish & Banges
The Supply Vault
Hotels at Universal Studios Beijing
---
Like every other Universal Studios around the world, Beijing has world-class hotels. Here's all you need to know about the hotels in Universal Studios Beijing.
NUO Resort Hotel
An opulent escape inspired by the architectural grandeur of the Qing Dynasty's Old Summer Palace, the NUO Resort Hotel draws on 5000 years of China's rich heritage and encapsulates the art of Chinese luxury and hospitality. This hotel is an oasis of tranquility, with 400 well-appointed guest rooms, an elegant spa, and three first-class dining outlets - ranging from exquisite Cantonese cuisine in the grand Qing-inspired JIA restaurant to traditional Chinese tea in The Lobby Lounge. All hotel guests are entitled to exclusive Early Park Admission into Universal Studios Beijing.
The Univeral Studios Grand Hotel
Feel like a true movie star as you step into the golden age of Hollywood at The Universal Studios Grand Hotel and discover a dazzling mix of classic Hollywood style and contemporary comfort. Dining here is a star-studded treat, from cocktails and bites at the Red Dragon Lounge, to hearty share plates at the lively The Lotus Garden, and a fresh coffee masterfully brewed at Peet's Coffee. All hotel guests also get exclusive Early Park Admission.
Practical Information
---
Universal Studios Beijing Opening Hours
To be announced
Getting to Universal Studios Beijing: Directions
Currently, a new metro station is being constructed under the Beijing subway system. This station will be connected to Batong Line and Line 7 of the subway system. More details are expected shortly.
Universal Studios Beijing Location
Address: Liyuanzhen, Tongzhou, Beijing, China
Best Time To Visit Universal Studios Beijing
The best times to visit Universal Studios Beijing are from March to May and from September to October. These temperate seasons provide the best climate to explore the outdoorsy Universal Studios without the sweltering heat and snowy winters that Beijing witnesses other months of the year.
Frequently Asked Questions - Beijing Universal Studios
---
Universal Beijing Resort is set to open in May 2021.
Universal Beijing Resort is located in Beijing's eastern district of Tongzhou.
Yes, in most cases you can purchase same-day tickets to Universal Studios Beijing Resort, subject to availability. We recommend purchasing tickets atleast 2 weeks in advance.
More Recommended Experiences In Beijing
---
Visit Forbidden City
Spanning over 180 acres and harboring over 8000 different rooms, the Forbidden City is the best-preserved imperial palace in China, constructed during the early Ming Dynasty. See imperial living and governing quarters, valuable artworks, and traditional gardens.
Climb the Great Wall
Walk the longest wall in the world, The Great Wall of China and traverse its winding path over rugged country and steep mountains ensconced in lush scenery. A definite bucket list experience while in Beijing!
Visit the Summer Palace
Explore the former summer retreat of imperial families with a visit to the Summer Palace, a World Heritage Site. See landscaped gardens, temples, and pavilions which are in perfect harmony with nature.
Universal Studios Beijing Guide