Dubai managed an unprecedented feat by bringing snow to the desert with Ski Dubai in 2005. Cut to 15 years later and Abu Dhabi is all set to beat Dubai's record by unveiling the Snow Park Abu Dhabi - the world's largest snow play park in 2020. The Snow Park is a part of the $1.2bn Reem Mall, project a mega mall for shopping, entertainment and leisure with 2 million sqft. area and over 450 retail stores.
Reem Island, a short distance from Abu Dhabi is a fast developing enclave and is surrounded by a beautiful waterfront and mangrove forests. Snow Park Abu Dhabi is being designed and led by Majid Al Futtaim Ventures, the ones behind Ski Dubai, so you can be assured of a unique and world-class experience!
Snow Park Abu Dhabi
---
125,000 sq.ft or the area of about two football fields – that's how BIG Snow Park Abu Dhabi will be! Located inside Reem Mall, this soon-to-be world's largest snow play park, Snow Park Abu Dhabi is a designed to have 13 world-class rides and attractions. The theme park will have distinct zones - one of the prime attraction being the Snowflake Garden, a large open play area where you can play with snow that's over 500mm deep!

Take a dizzying whirl on the Crystal Carousel, a pretty merry-go-round with magical animals of the ice forest or climb atop the Enchanted Tree and score a bird's eye view of the entire park - you're bound to have a good time here. The park is also designed to accomodate adventure activities like sledging, zorbing and zip-lining - a real treat for adrenaline junkies!
Snow Park Abu Dhabi Opening Date
Snow Park Abu Dhabi is expected to open late 2021.
Snow Park Abu Dhabi Attractions
---
Inside Snow Park Abu Dhabi
While the entire list of rides and attractions inside Snow Park has not been revealed yet, here are a few that we're looking forward to! Upon completion is is expected to have 13 different rides, activities and attractions. Play, slide, jump and hike – all in snow!
Snowflake Garden
Do you want to build a snowman? Here you can! Enjoy ice labyrinths, snowball fights and other snow-based games in this stunning white garden. Not to forget, snow angels and atleast 15 pictures of the same are an absolute must.
Crystal Carousel
Featuring the animals of the Enchanted Forest, the Crystal Carousel is a twinkling ornate carousel designed to suit both adults and children. Channel your inner child and winter vibe while on this carousel.
Flurries' Mountain
Ever climbed a snow mountain? Now is your chance. Climb this snowy chocolate box peak and make your way to the park's central attraction - The Enchanted Tree!
The Enchanted Tree
A towering tree made of actual timber with all the enchanted feels, this one's the star of Snow Park. It looks magical and promises an equally magical view from atop.
Blizzard's Bazaar
This charmimg retail shop offers cold-weather clothing, hats, postcards, and other souvenirs of the park to take back a piece of Snow Park with you home.
Snow Park Abu Dhabi Tickets
---
Snow Park Abu Dhabi Tickets are not available for online purchase as of now, but watch this space for discounted tickets!
Directions To Snow Park Abu Dhabi
---
Here's how you can reach Snow Park Abu Dhabi
Snow Park Abu Dhabi Opening Hours
---
As Snow Park Abu Dhabi is scheduled to open second half of 2021, watch this space for more information about Snow Park Abu Dhabi timings.
Tips for Snow Park Abu Dhabi Visitors
---
Like Dubai, Abu Dhabi also has a weekend on Friday and Saturday, which means these are the busiest days at the theme park. Avoid these days if you want fewer crowds.
Make sure you reach there early in the day, closer to opening hours, as you can get ahead of the queues at the rides.
Pre-book your tickets online and avoid waiting at the ticketing queue.
The winter wear at the Snow Park Abu Dhabi is adequate but if you or your kids are prone to feel colder than usual bring your own gear. The temperature inside Snow Park will be maintained at -2 °C at all times.
Plan to stay at least two days in Abu Dhabi so you can cover Snow Park Abu Dhabi as well as the Ferrari World and Yas Waterworld to your heart's content.
Be careful that your kids are fully clothed and covered as the snow can be too cold to touch and they might not realize it immediately.
Reem Mall | Snow Park
---
An extravagant 2.8 million square feet of retail, Reem Mall is designed to be a one-stop family leisure destination. With around 450 stores, including 85 F&B outlets and a range of family-focused entertainment offerings, this AED 4.4 billion project is expected to open in 2021. It will also be home to Snow Park, the world's largest indoor snow play; multiplex cinemas and 4 departmental stores - to call out a few of its salient features.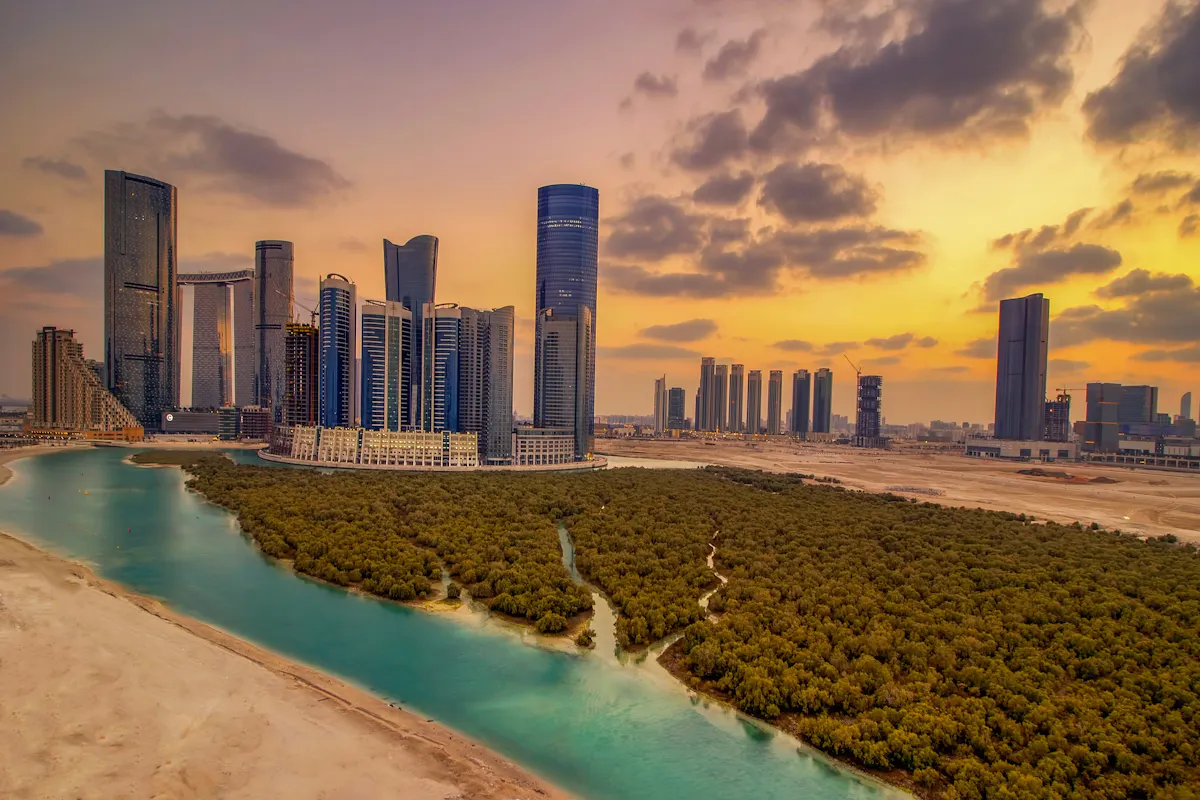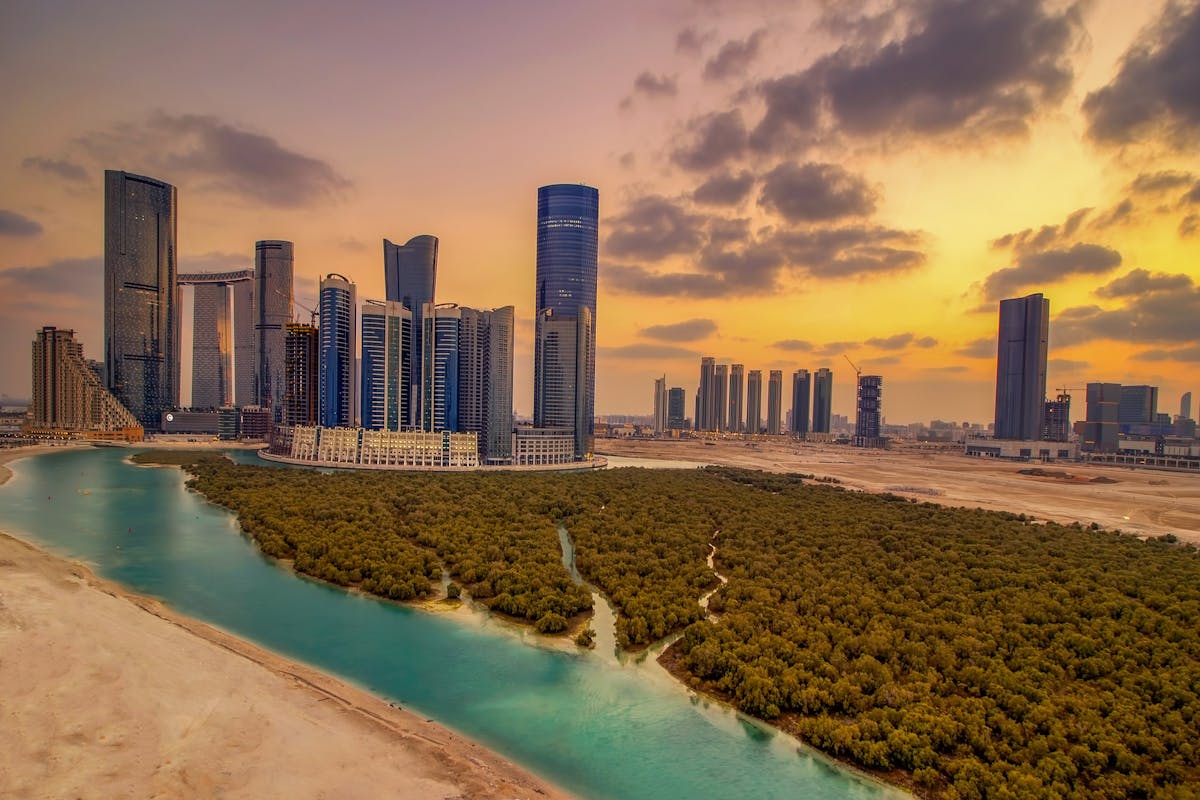 Reem Mall is located on Reem Island, a natural island situated 600 metres off the north-eastern coast of Abu Dhabi island easily accessible via private and public modes of transport. Reem Island is home to a variety of residential, commercial and retail developments, and sits close to Saadiyat Island and Al Maryah Island.
Snow Park Abu Dhabi FAQs
---
How big is Snow Park Abu Dhabi?
Where is Snow Park Abu Dhabi located?
What are Snow Park Abu Dhabi ticket prices?
Where can I eat and drink while at the Snow Park?
I do not have winter wear, can I rent some there?
How do I reach Snow Park Abu Dhabi?
What is the best time of the year to visit Snow Park?
Is there anything else to do on Reem island?