One of the most audacious adventure sports, skydiving, tops all thrill-seekers bucket lists. Presumed to be a dangerous sport, this once-in-a-lifetime experience is often attempted by only a few. However, Skydive Australia attempts to win over this common misconception by providing the best safety gear and qualified tandem skydive instructors. It also makes no compromises on the incredible sea, country and city views. One of the most sought after drop point is in Perth, the capital of Western Australia. Jumping off from 15000 feet above the city of Perth offers sweeping views of its sandy beaches, riverside botanical gardens and rugged mountains. What follows is information about skydiving in Perth that you would want to know before you take on this daring adventure.
What makes Skydiving in Perth different?
---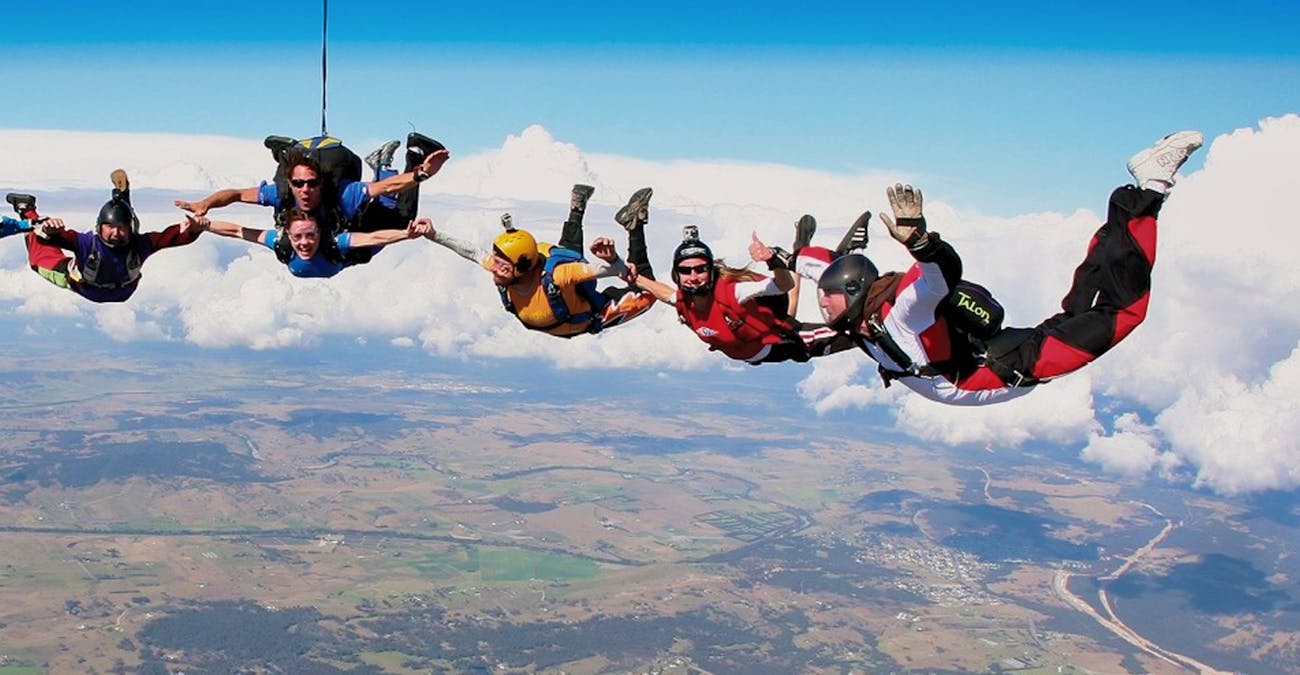 For starters, Perth's weather is almost always pleasant. This makes your rescheduling torments non-existent.
Perth is a rare coastal city that has the best of both worlds; turquoise oceans and enormous equatorial mountains. Jumping off from a high altitude in such a city brings you the greatest panoramic views of nature.
Australia is the most considered place for skydiving since it is highly regulated. The Australian Parachute Federation follows the highest safety standards and protocols. It also offers the highest altitude to skydive when compared to other countries; jump off 15000 feet above sea level. Perth is no exception to this case.
Tandem Skydive Perth offers the safest skydiving experience with their top skydive gear which leaves no room for errors. You can also skydive with a trained diver if you are a beginner or fear heights.
With all these reasons Perth makes a case to tick skydiving off your bucket list.
Choosing The Right Drop Zone in Perth
---
The city of Perth is a coming together of laidback city life and natural beauty. Located between the bay of the Great Australian Bight and the Indian ocean, skydiving here provides you with incredible views of the rich ocean ecosystem, the city's enormous buildings, and majestic mountains. There are two drop zones you can choose from; Perth City and Rockingham.
Skydive Perth
Perth City Tandem Skydive is Perth's only city skydive and the closest dropzone to travel to if you are in the city. You will jump off a flying aeroplane from an altitude of 14000 feet, freefall for 60 seconds and float under the canopy for 5-7 minutes. If you are someone who loves the strenuous countryside as well as contemporary urban life, this dropzone would be a perfect catch. You will encounter stunning bird's eye views of Perth CBD, Rottnest Island, Swan River, and the surrounding beaches.
Skydive Rockingham
Skydive Rockingham is every Thalassophile's dream dropzone. Everywhere you look there is blue sea. You will be dropped off from 15000 feet above the Rockingham beach, and catch sights of the Shoalwater Islands Marine Park and the cityscape of Perth. As with the other dropzone, this too will let you swim in the clear air for 5-7 minutes after you freefall for 60 eternal seconds.
How are they different?
Here is a comparision between both dropzones for you to pick what works best for yourself.
Tandem Skydive Perth

Book Now

Tandem Skydive Rockingham

Book Now

Experience
Drop 14000 feet above sea level from a moving plane. Plunge through the wind for 60 seconds before you hover in the sky for 5-7 minutes.

Learn More

Jump off 15000 feet and soar through the sky for 60 seconds. Swim through the clouds for about 7 minutes post that before you pull out your parachute to land.

Learn More

Slots

Slots are available throughout the day from 6 am to 5 pm. However, the availability of dates vary.

Slots are available throughout the day from 6 am to 5 pm. However, the availability of dates vary.

Views

Encounter stunning bird's eye views of Perth CBD, Rottnest Island, Swan River, and the surrounding beaches.

Gaze at the stunning views of Rockingham beach, the Shoalwater Islands Marine Park and the cityscape of Perth from above.

Ticket Inclusions

Skydiving gear, diving partner, 14,000-feet tandem skydive experience, and a certificate.

Skydiving gear, diving partner, 15,000-feet tandem skydive experience, and a certificate.
Skydiving in Perth - Prices and Tickets
---
Skydiving can be an expensive ordeal but worth every penny. The price points differ for both dropzones. Booking your Skydive Perth tickets online will save you time and dime since you need not travel to their office. Additionally, you can get a 5% cashback by booking your tickets online with Headout.
Skydiving in Perth - Experience Deconstructed
---
As you arrive at the airport of your desired drop point, safety measures and COVID mandatory checks will be conducted. After the initial security check (ID verifications and Australian Parachute Federation registration), your weight will be measured. If you weigh above 95 kg, you will need to pay an additional AUD50 before the jump. Your body gear will be strapped on and the instructor will walk you through the safety protocols thoroughly one by one.
Next, you will be flown to an altitude of 15000 feet where your equipment will be double-checked before you are cued to take the jump of a lifetime. Skydiving in itself is a feeling of incredible euphoria in your mind and body. Your body temperature is cooled down by the gushing winds and you begin to feel weightless due to lack of gravity. The feeling of fear is quickly overcome by exhilaration. The moments you are suspended in the air feels like a lifetime. First-time divers usually have a roller coaster of feelings from awe to joy and calm before they pull out their enormous parachute and reach the ground.
Know Before You Skydive in Perth
---
Skydive Perth City
Address -
Skydive Perth, Langley Park, East Perth, Western Australia 6004
Get directions
Getting There
By Car: Search for Langley Park, Perth on the GPS to get your directions. You will find ample parking space between Hill Street and Bennett Street.
By Train: Fremantle, Mandurah, Clarkson, Armadale, and Midland are train lines that travel to Perth City. You can board any of them. Get off at Perth Station or Elizabeth Quay Station. Head towards Riverside Drive which is a 10-minute walk.
By Ferry: Take a ferry to make your day more serene and hop off at Elizabeth Quay jetty. The centre is a 15-minute walk from there.
Skydive Rockingham
Address -
Skydive Rockingham, Shop 3, 14-16 Kent St, Rockingham, Western Australia 6168
Get Directions
Getting There
By Bus: Search for Skydive Rockingham on your GPS to get directions or take Kwinana Freeway towards Rockingham from Perth CBD. Take the left onto Patterson Rd, take a right turn onto Flinders Lane after approximately 4.5 km. At the end of the lane, a large pub car park is available for parking. The centre is 30 meters from the parking lot.
Free Shuttle Bus: FREE Perth CBD transfers operate daily at 6:00 am or 6:30 am to and from their dropzone centre. You will need to call 1300 815 241 or book online in advance.
By Public Transport: Take the Mandurah train line and get off at Rockingham station. Walk towards Rockingham bus stand 9 and take a 15-minute ride to Rockingham beach. The centre is only 200 meters from the beach.
Opening Hours H3
Both Tandem Skydive Rockingham and Tandem Skydive Perth centres are open from 9 am to 5 pm.
Best time to Skydive in Perth
As opposed to the popular belief of skydiving in summer, winter is a better option for those who want a less crowded, money-saving and clear sky experience. Yes, during winters, the temperature up there can get colder, but the views will be clearer since there is less moisture in the air. Perth is blessed with mild winters from June to August. March to May, sees a breezy Autumn. This makes it also a great time to go skydiving in Perth and a good substitute, should you get busy during the winter.
Quick Tips
---
You will not regret getting a picture and video of your experience. Spending a few extra dollars will allow you to recall this once in a lifetime experience.
Choose weekdays over weekends. The weekends are when most people get a break and choose to crowd the centre. Not to forget that Skydive Australia offers $30 off on your ticket during weekdays.
If you are interested in becoming a professional skydiver, you can take the 9-stage skydive solo training program at Perth.
Get a goodnight's sleep, do not consume alcohol, and eat light and healthy before your jump.
110kg is the weight limit, and 12 years is the minimum age to be allowed to skydive.
If the weather conditions are unfavourable, your jump will be called off. You will be informed and made aware of the reschedule options.
Skydiving In Perth Reviews
---
Best experience I have ever had. The freefall was exhilarating, the wind in my face, the speed and adrenaline was rushing through my body. Followed by a scenic and relaxing glide over Rockingham Beach, to soak up all the views.
Explorer Cheng, April 2021
Such an amazing and exhilarating experience! I was gifted skydiving for my birthday and in all honesty wasn't sure if I could go through with it, I was truly so excited and soo scared. So very glad I went through with it- definitely something to tick off the bucket list! All staff had everything sorted to a T and were all so welcoming.
Eryn D, October 2020
FAQs
---
How much is skydiving in Perth?
Is there an age limit for skydiving in Perth?
What is the weight limit for skydiving in Perth?
Which are the drop zones available to skydive in Perth?
How can I book Skydive Perth tickets?
How far in advance should I book a ticket?
Can I get photos and videos of me skydiving in Perth?
Ready to explore Perth?