Watching the clouds stream past as you plunge towards the surface at 220 km per hour from 15,000 feet is truly an unforgettable experience. Skydiving might seem like a risky undertaking. But the strict safety protocols for skydiving in Australia have made accidents a thing of the past. In fact, skydiving is much safer than several other seemingly benign sports and rides. The areas in Australia are hotspots for this adrenaline-inducing activity. Owing to the breathtaking scenery, tandem skydiving in Gold Coast is certainly worth experiencing. Read on to everything about Skydiving in Gold Coast.
Why Choose To Go Skydiving in Gold Coast
---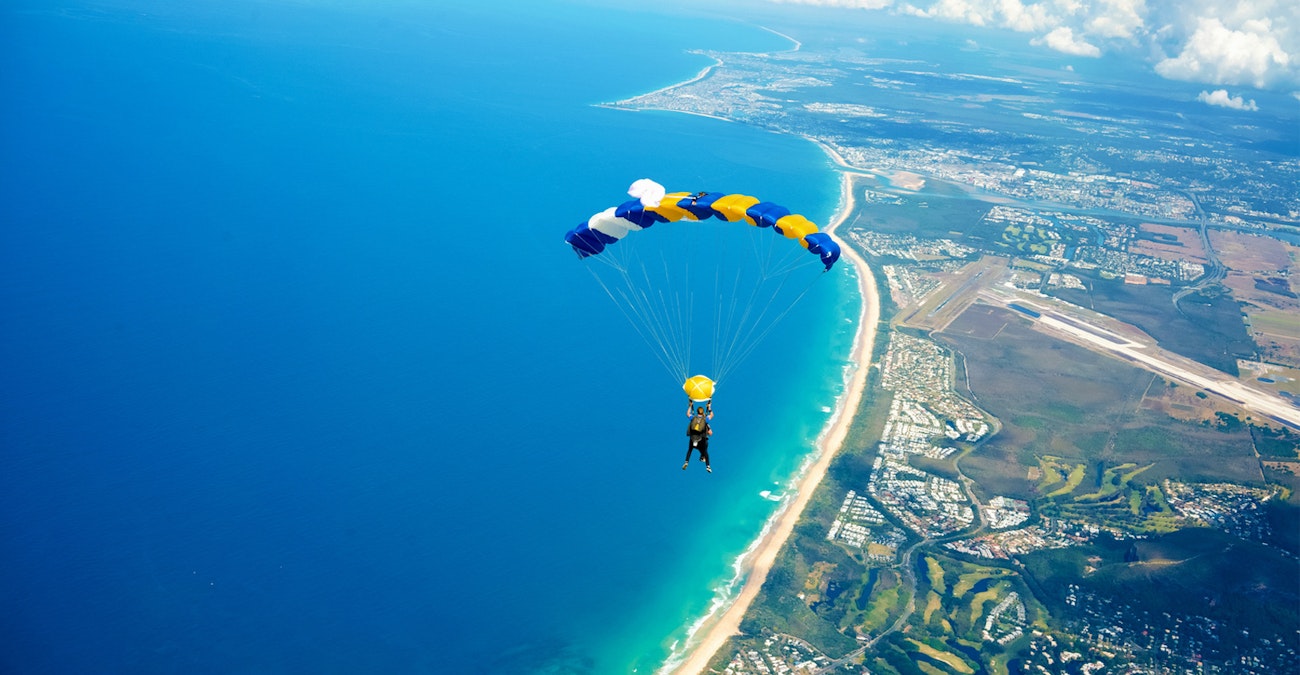 Skydiving in Gold Coast, among the many skydiving spots in Australia is an especially rewarding experience. The city is mostly sunny all around the year and Gold Coast well-known for its theme parks, nightlife, and surrounding rainforests - all of which can be seen during your jump.
There are 2 drop points at Gold Coast; Byron Bay and Noosa. Both offer spectacular views of the coastline. Situated at the eastern tip of mainland Australia, these drop-off points feature charming coastal settlements. The moment you leap from the aeroplane with your diving gear, the surface will be blocked by clouds. After about 10 seconds of speeding through the air, you will be treated to stunning panoramic sights. While the coastal settlements, beaches, and farmlands are wonderful, you will also catch glimpses of the inland lakes.
Skydiving in Gold Coast - Prices and Location
---
There are two primary drop locations as described below:
Skydive Byron Bay: Known for being the easternmost point in Australia, Byron Bay is a charming beachside. Cape Byron Lighthouse, Tallow Beach, Wategos Beach, and the sugar cane plantations are some fabulous sights you will catch during your flight from this point.


Skydive Noosa: Noosa's most happening localities are the local surfing spots and beaches. Unobstructed aerial views of Noosa Beach, Sunshine Beach, and Lake Weyba are a few of the impressive sights you will see.
Your Skydiving In Gold Coast Experience Deconstructed
---
Your skydiving experience will begin at the airport at Byron Bay or Noosa. COVID-19 mandatory checks will be conducted for the safety of all participants. You will then be asked to produce identity proof for your age. After paying the compulsory membership fee for the Australian Parachute Federation, all individuals in your group will be registered with them. If you are over 95kgs, you might be required to pay an extra surcharge of AUD50 before the jump. The maximum weight limit will range from 105kgs to 110kgs depending on your drop point. You will then receive extensive safety guidelines from your professional instructor.
With the initial formalities out of the way, you can then board the aeroplane. After reaching an altitude of 15,000 feet, you will be prompted to jump from the plane. Instructors will ensure that you have all your equipment strapped on. You will freefall for about 60 seconds before opening up your parachute and gently descending to the ground for anywhere between 5 and 7 minutes. If you want photos and videos of your diving experience, you can buy an add-on to your ticket before you board the aeroplane.
Choosing The Tandem Skydive Gold Coast Dropzone
---
Skydiving is the ultimate adventure sport for thrill-seekers. Airborne over the vast endless ocean and catching the wonderful views of the islands are perks of skydiving in Australia. Gold Coast is no exception to these perks. Here is a quick comparison between the two drop zones at Gold Coat to help you make your choice.
Tandem Skydive Byron Bay

Book Now

Tandem Skydive Noosa

Book Now

Experience
Strap on your equipment and leap from a whopping altitude of 15,000 feet. Experience the absolute freedom of freefalling through the air at 220 km/hr for a full 60 seconds before your parachute opens up. Soak in your beautiful surroundings as you waft towards the surface at a relaxing pace.

Learn More

Purchase a ticket to tandem skydiving near Noosa and enjoy one of the most thrilling adventure activities you can experience in the region. Feel the unforgettable rush of adrenaline as you plummet to the ground at an incredible speed of about 220 km/hr.

Learn More

Slots

Although the window to dive is short throughout the week (7 AM to 10 AM), slots open up every thirty minutes.

Noosa offers a much larger window since it is open from 8 AM to 12 PM on weekdays. On weekends, slots are open from 6 AM to 3 PM.

Views

Byron Bay offers more scenic variety. Besides the stunning coastline, you will see rainforests, nearby hills, and sugar cane plantations.

Soak in unmatched views of the Noosa Beach and Sunshine Coast. Although the landscape is not nearly as diverse as Byron Bay, the beaches are quite picturesque by themselves.

Ticket Inclusions

The ticket includes a 15,000-foot tandem skydive experience with a tandem jump master and any required safety equipment. You will also get a certificate at the end of the experience.

The experience includes a 15,000-foot tandem skydive, a tandem jump master, safety equipment and a certificate at the end of the experience.
Skydiving in Gold Coast- Know Before You Go
---
Byron Bay
Operating Hours
Mon to Sun - 7 AM to 10 AM (slots available every 30 minutes)
Getting There
By Bus: Take the 2 PM bus operated by Premier Motor Service or the 1 PM bus operated by Greyhound Australia. Both of these buses run only once a day and take about 3.5 hours for the journey to Byron Bay.
By Car: Head north on M1 Pacific Motorway and take the Gulgan Road exit to Mullumbimby. Take the 4th exit on the roundabout and turn left to the Shell service station. Turn right after about 950m and then turn left at the sign that says 'Byron Bay Ballooning / Skydive'. Head straight on the same road until you reach the destination.
Noosa
Operating Hours
Mon to Fri - 8 AM to 12 PM (slots available every hour)
Sat to Sun - 6 AM to 3 PM (slots available every hour)

Getting There
By Bus: TThe same bus operators (Greyhound Australia and Premier Motor Services) also run buses from Brisbane to Noosa. The journey takes about 2.5 hours.
By Train: Take the TransLink QLD from platform 6 of Central Station in Brisbane to platform 1 of Nambour Station.
By Car: Travel north along M1 until you reach Sunshine Motorway. Turn right onto this road and continue along highway 70. Take the Maroochydore Noosa Rd exit and take the fourth exit at the roundabout.
Best time to Skydive
It is always advisable to reach your skydiving location as early as possible. Reaching by 7 AM or 8 AM will ensure that you have enough time to account for sudden weather changes. To avoid the seasonal rains and extreme humidity, plan your trip to Australia between May and October.
Tips For First Timers Skydiving In Gold Coast
---
Do not consume any drugs or alcohol one day before your skydive.
Since the jump involves a lot of adrenalin, you are strongly advised to get at least 8 hours of sleep on the night before your tour.
The weight limit for the jump is generally set at 110kg. Participants also need to be at least 12 years old to be allowed to jump.
It is advisable to wear loose-fitting pants and shirts. If you are skydiving in winter, a jumper or fleece jacket may also be required.
The jump may be cancelled if conditions are not favourable. You will be informed in advance if it seems unlikely that your jump will take place on the expected date.
Skydiving in Gold Coast Reviews
---
This is a must do in life! The whole team are friendliest people I have meet at a business. The experience was AWESOME from start to finish! Great place to go for your first skydive and tick that off my bucket list.
Guzel Gabbasova, Google, April 2021
Amazing experience! The jump was epic but special mention to the crew who make the package video with the jump. Absolutely quality camera work with fantastic editing. An accolade to the camera man please! And of course the professional guy who made sure I landed safely! Well done team!
Jaden Innes, Google, May 2021
Frequently Asked Questions About Tandem Skydiving in Gold Coast
---
How much is skydiving in Gold Coast?
Can you skydive over the Gold Coast?
How long does a 15000 ft skydiving in Gold Coast take?
How to get to Skydive Gold Coast?
How can I purchase Skydive Gold Coast Tickets?
Is skydiving in Gold Coast worth it?
What are the drop zones for skydiving in Gold Coast?
Ready to explore Gold Coast?