Ready to unlock the ultimate insider tips for breezing past those never-ending lines at the Vatican Museum? With these nine awesome hacks, you'll be saving loads of time and soaking up all the breathtaking art and history without a worry in the world. Get ready to have the most incredible, stress-free visit to this iconic destination.
Waiting Time - Vatican Museum Lines
---
Gain a firsthand perspective of the crowds and understand why it's crucial to employ effective strategies to skip the line and optimize your visit! Join Sara, an intrepid explorer from Headout's business team in Italy, as she makes her way to the Vatican Museum, and see what she has to say.
9 Tried & Tested Ways to Skip the Infamous Vatican Museum Lines
---
1. Grab Skip-the-Line Tickets
Secure skip-the-line tickets in advance to bypass the long queues at the ticket counters. These tickets grant you access through a designated entrance, allowing you to breeze past the waiting crowds.
IMPORTANT NOTE: Keep in mind that Skip-the-Line Tickets do not mean that there will be zero waiting time. Depending on the season of your visit to the Vatican, the wait time might vary. Low-season sees barely any crowds, so you will be inside before you know it! High season on the other hand, might still take a while; account for 15-20 minutes at the security check.
2. Book a Guided Tour
Elevate your experience with a guided tour led by an expert who knows the museum like the back of their hand. It's time you say goodbye to endless queues as guides enjoy priority access, whisking you away on a fascinating journey through the Vatican's hidden gems. Take your pick from three fantastic tour options: go solo with a self-guided tour, explore with an audio guide, or dive deep with a licensed guide by your side. The choice is yours!
3. Explore Combo Deals
Why visit just Vatican City? How about a nifty guided tour that allows you to explore the best of Rome with a sweet bundle deal? Combo guided tours which typically take you around Colosseum, Borghese Gallery or the Pontificial Villas along with Vatican City are a great buy.
4. Visit during Off-Peak Hours
Plan your visit during less crowded times, such as early mornings or late afternoons. By avoiding peak hours, you'll encounter shorter lines and have more space to immerse yourself in the museum's extraordinary collection.
5. Use the Vatican Museum Entrance
Instead of entering through St. Peter's Square, access the Vatican Museum through its dedicated entrance, conveniently located to the right of the main entrance. This entrance typically has shorter queues, allowing for quicker entry.
6. Utilize Group Entrance
If you're traveling in a group, take advantage of the dedicated group entrance. This entrance often has shorter lines, ensuring a faster entry process for your entire group.
7. Special Treat: Take The Vatican Gardens Tour!
Combine your visit to the Vatican Museum with a tour of the Vatican Gardens. Not only will you revel in the garden's serene beauty, but you'll also gain access to the museum through a separate entrance, bypassing the main queues.
8. Consider Special Access Options
Explore special access options such as early morning or evening openings, available on select days. These exclusive opportunities grant you access to the museum with limited crowds, providing a more intimate and immersive experience.
9. Visit on Wednesdays
If your schedule permits, plan your visit for a Wednesday. On this day, the Vatican holds its weekly Papal Audience in St. Peter's Square, drawing crowds away from the museum, potentially resulting in shorter lines.
Recommended Vatican Museum Fast Access Tickets
---
The Vatican City - Essential Information
---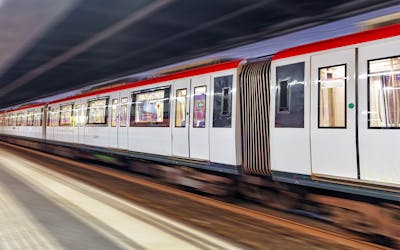 Getting to the Vatican is easy due to its small size. The Vatican Museum is just a 10-minute walk from St. Peter's Basilica. Here are your options to reach the Vatican.

1. Metro: The Ottaviano-S. Pietro station is the closest to the Vatican. Line A of Rome Metro stops there regularly, with the Vatican Museum and St. Peter's Basilica just 5 minutes away.
2. Train: St. Pietro train station is an option for travelers, but both the Vatican Museum and St. Peter's Basilica are 10 minutes away. It is convenient for Civitavecchia cruise port visitors.
3. Bus: Bus numbers 40 and 64 frequently stop at the Vatican. Buses 62 and 81 also stop at the Vatican, although a little less frequently.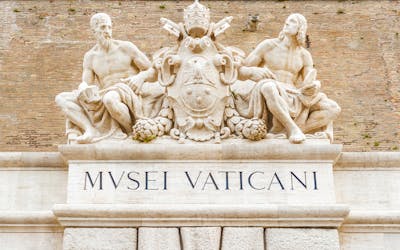 Timings
The Vatican museum opening hours are as follows:
Monday to Thursday - 8.30 AM to 6.30 PM
Friday/Saturday - 8.30 AM to 10.30 PM
Sunday - closed
Guests are expected to exit the museums by 5.30 PM
Free entry on every last Sunday of the month, from 9 AM to 2 PM, last entry at 12. 30. Exception to this is if the last Sunday coincides with Easter Sunday, 29 June Sts. Peter & Paul, Christmas Day, Feast of Stephen and Feast of Sylvester.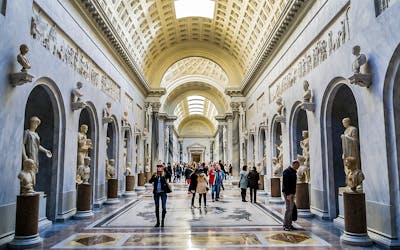 Online ticket booking is mandatory; no on-site ticket sales.
Bags exceeding 40*35*15 cm are not allowed in the Vatican Museums and Sistine Chapel, but cloakrooms are available.
Prohibited: amplified microphones, laser pointers.
Dress appropriately; no sleeveless blouses, miniskirts, shorts, or hats.
No mobile phone use in the Sistine Chapel; limit phone use elsewhere.
Do not touch artworks; alarms and surveillance are active.
No alcoholic drinks allowed in Museums or Basilica; food/drinks can be left at cloakrooms.
Top 10 Artworks Not To Be Missed
---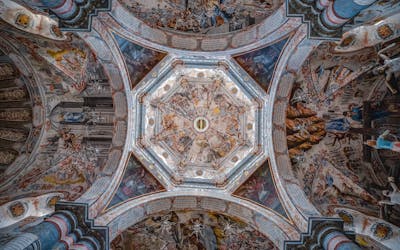 The Sistine Chapel Ceiling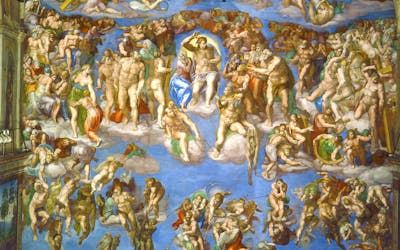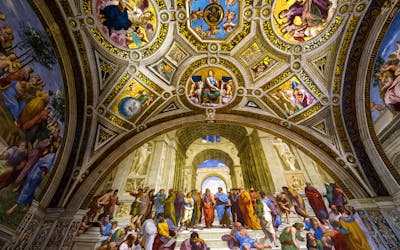 Raphael's School of Athens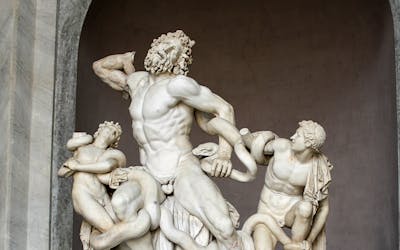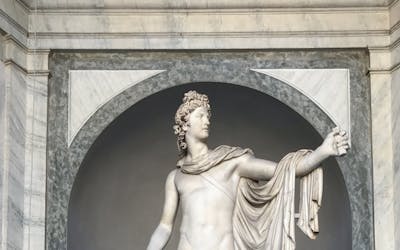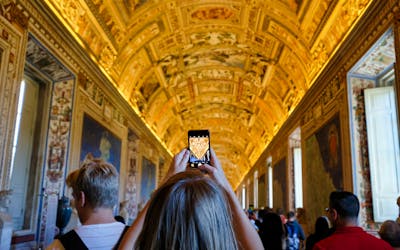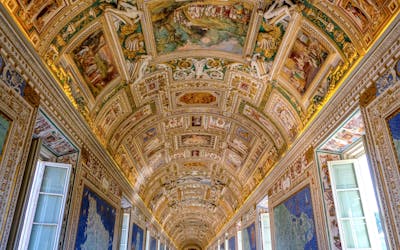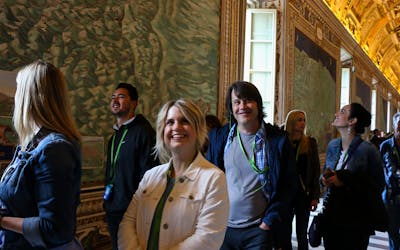 The Gallery of Tapestries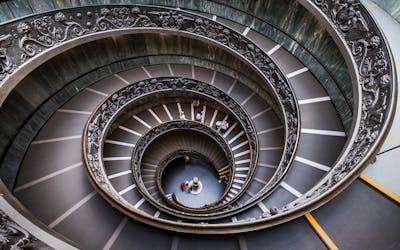 Vatican Museum: FAQs
---
No, outside food and drinks are not permitted inside the Vatican Museum. However, there are cafes and restaurants within the museum where you can enjoy refreshments during your visit.
Yes, the Vatican Museum offers wheelchair accessibility. Elevators and ramps are provided for easy access to different areas. Wheelchairs are also available for rent at the museum entrance.
Absolutely! The Vatican Museum welcomes visitors from all backgrounds and beliefs. The museum is a testament to the rich cultural and artistic heritage of Vatican City, appealing to art enthusiasts, history lovers, and curious travelers alike.
On a budget trip to Rome? Skip the expensive guided tour of the Vatican. Opt for a Skip The Line ticket instead. Grab an audio tour for minimal charge and explore at your pace.
But for the ultimate Vatican experience, choose a guided tour. Licensed guides know the museum inside out and and they'll help you make the most of your time there.
Yes, you can explore the Vatican Museum without a guided tour. However, a guided tour can enhance your experience by providing historical and artistic insights, as well as helping you navigate through the vast collection more efficiently.
Yes, when visiting the Sistine Chapel, visitors are required to maintain a respectful and quiet demeanor. Photography is strictly prohibited inside the chapel, and visitors are also asked to refrain from speaking loudly or making any disruptive noises.
Yes, the Vatican Museum offers storage facilities where you can safely store your belongings, including bags, backpacks, and umbrellas. This allows you to explore the museum comfortably without carrying heavy or bulky items.
No, once you exit the Vatican Museum, re-entry on the same ticket is not permitted. Ensure you have seen everything you wish to see before leaving the museum premises.
Skip the Lines: Vatican Museum Guide