Red Rock Canyon is a desert paradise that stands as a testament to the raw beauty and geological marvels of the American Southwest. Nestled just a short drive from the vibrant city of Las Vegas, Nevada, this awe-inspiring national conservation area boasts a tapestry of fiery-hued sandstone formations, rugged cliffs, and meandering canyons that have been sculpted by the passage of time. Stay on this page to learn everything you need to know before your visit to Red Rock Canyon!
Know Before You Go
---
Handy information
⏰ Suggested Duration:
2-3 Hours
☀️ Best Time to Visit:
Early Morning or Late Afternoon
💜 Must-Do at the Attraction:
Red Rock Scenic Drive
Must-see at Red Rock Canyon
Calico Tanks Trail
Lost Creek Trail
Red Spring Boardwalk
Opening Hours
8 AM to 5 PM
The Campground closes annually between Memorial Day and Labor Day weekend.
Why Is Red Rock Canyon Worth Visiting?
---
The red sandstone cliffs and vibrant desert wildlife make for an awe-inspiring backdrop that can't be found anywhere else in the city.
With over 26 hikes, you can get their blood pumping with exhilarating rock climbing and mountain biking trails while enjoying spectacular vistas.
Learn about the Native American history and witness the unique geological formations that took millions of years to form.
Whether it's guided yoga or just self-reflection, find solitude and clarity off the busy Las Vegas Strip.
Bewitched by the brilliant stars that paint the night sky, you can experience a peaceful moment of reflection while stargazing in the canyon.
Red Rock Canyon Highlights
---
1

Scenic Drive

Scenic Drive to the Red Rock Canyon
Take a scenic drive through the Red Rock Canyon National Conservation Area and bask in the breathtaking views of red and orange sandstone cliffs, unique rock formations, and the Mojave Desert landscape. Experience the magic of the Southwest and capture unforgettable memories along this picturesque route.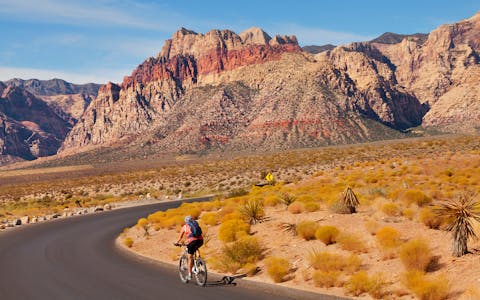 2

Hiking Trails

Hiking Trails at Red Rock Canyon
Explore the numerous hiking trails that cater to different fitness levels at Red Rock Canyon. Traverse through colorful canyons, climb towering rock formations, and witness diverse desert flora and fauna. From beginner-friendly paths to challenging routes, hikers can immerse themselves in the stunning beauty of this natural wonder, leaving with unforgettable memories.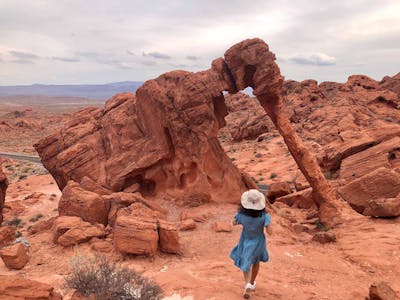 3

Rock Climbing

Rock Climbing at Red Rock Canyon
For the experienced rock climbers, Red Rock Canyon offers an exciting climb to the challenging routes at the towering cliffs. Renowned for its world-class climbing opportunities, the canyon offers routes suitable for all skill levels. You can test your abilities as a climber and enjoy spectacular views of this iconic rock climbing destination in the heart of Nevada's Mojave Desert.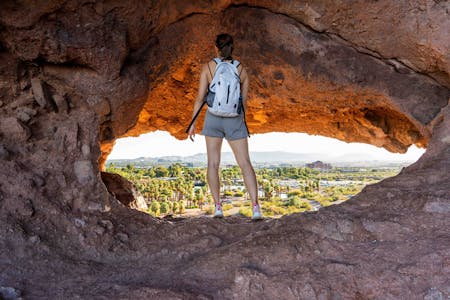 4

Wildlife Watching

Wildlife Watching at Red Rock Canyon
Watch the abundant wildlife that call Red Rock Canyon home. Observe diverse desert inhabitants, including bighorn sheep, wild burros, and elusive reptiles. Birdwatchers can spot colorful avian species soaring through the skies. Embrace the serenity of nature and cherish encounters with these fascinating creatures.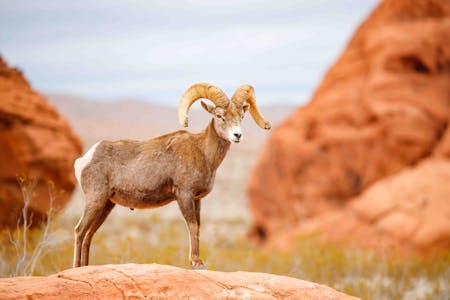 5

Camping

Camping at Red Rock Canyon
Stay overnight at the Red Rock Canyon Campground and wake up to a spectacular view of the desert sunrise. Discover secluded campsites with breathtaking views of sandstone cliffs and starry night skies. From tent camping to RV sites, nature lovers can revel in the tranquility of this natural wonder, making cherished memories around the campfire.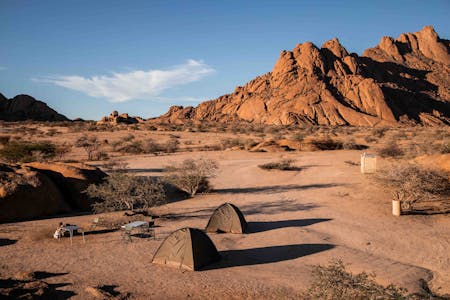 Best Time To Visit Red Rock Canyon
---
If you're planning to visit Red Rock Canyon, the best time to go is during the spring or fall months. The weather is mild with less crowds, making it more enjoyable to explore the area at your own pace. The summer months can be too hot to handle and winter can get chilly, so plan accordingly. Additionally, the early morning or late afternoon is the perfect time to visit for the best lighting and fewer crowds.
Red Rock Canyon Opening Hours
---
Red Rock Canyon is open from 6 AM to 8 PM, everyday.
However, timings vary throughout the year. Please check the opening hours before booking your tickets.
Getting There
---
Bus
The RTC (Regional Transportation Commission) offers a regular bus service to Red Rock Canyon from various pickup locations around the city. Route 104 will take you directly to the canyon entrance, and the journey should take around 45 minutes.
Car
If you prefer to drive or rent a car, Red Rock Canyon is only a short drive away from Las Vegas. From the Strip, take Charleston Blvd west until you reach the Canyon.
Insider Tips To Visit Red Rock Canyon
---
Visit early in the morning or late in the afternoon to avoid the crowds and heat.
Bring plenty of sunscreen, water, and snacks.
Keep an eye out for wildlife such as bighorn sheep and wild burros.
Check the weather forecast before going, as flash floods are a potential danger.
Visit during the spring for beautiful wildflower displays.
Restaurants Around Red Rock Canyon
---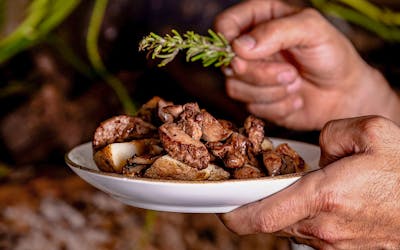 Bonnie Springs Restaurant
Located just a five-minute drive from Red Rock Canyon, Bonnie Springs Restaurant is a rustic eatery that serves delicious American cuisine. Try their hearty steak dinners or savory burgers. The old west decor adds to the dining experience.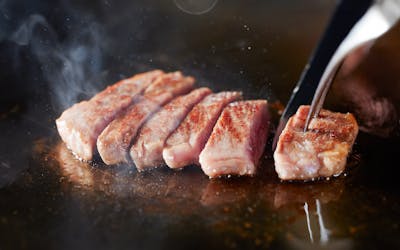 The Charcoal Room
The Charcoal Room is a sophisticated steakhouse situated within the Palace Station Hotel & Casino, only a 15-minute drive from Red Rock Canyon. Enjoy premium cuts of beef, seafood, and an extensive wine list. Don't miss their bone-in ribeye steak.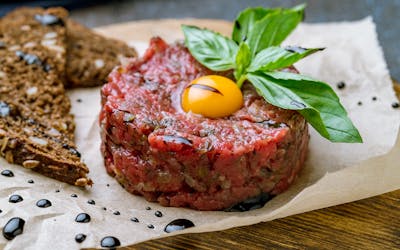 T-Bones Chophouse
Located in the Red Rock Casino Resort & Spa, T-Bones Chophouse is a fine dining restaurant that offers top-quality steaks and fresh seafood. Their in-house dry-aged beef is a must-try. The elegant ambiance makes for a perfect special occasion dinner.
Places to Stay Near Red Rock Canyon
---
Things To Do Near Red Rock Canyon
---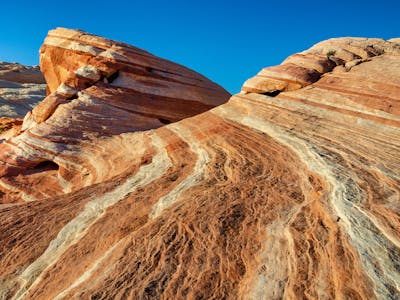 Valley of Fire State Park
Just an hour drive from Red Rock Canyon, this stunning park features red sandstone formations, petroglyphs, and hiking trails. Valley of Fire State Park is Nevada's oldest and most stunning state park. It showcases otherworldly red sandstone formations, ancient petroglyphs, and striking landscapes. A photographer's dream, the park's fiery hues glow under the desert sun. You can hike through slot canyons, explore unique rock formations, and soak in the park's surreal beauty.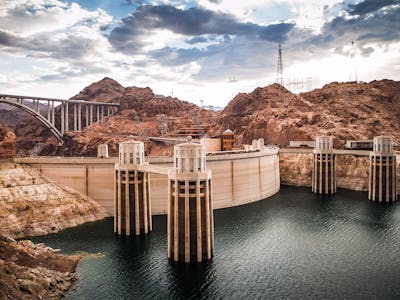 Hoover Dam
Less than an hour's drive away, this iconic dam offers guided tours, scenic views, and a chance to learn about its rich history. Hoover Dam is an engineering marvel located on the border of Nevada and Arizona, USA. Standing as a testament to human ingenuity, this concrete arch-gravity dam tames the mighty Colorado River, creating Lake Mead, the largest reservoir in the United States. Admire the dam's grandeur, learn about its history, and witness the breathtaking views from the observation deck.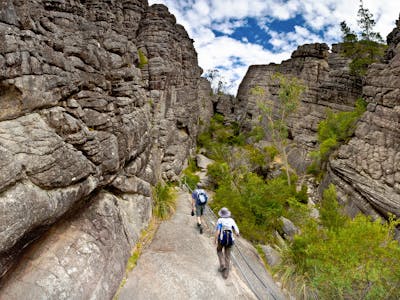 Grand Canyon National Park
A little over 4 hours' drive from Red Rock Canyon, this natural wonder is a must-visit destination with its awe-inspiring vistas and hiking trails. Grand Canyon National Park is an awe-inspiring wonder of nature, showcasing the colossal chasm carved by the Colorado River over millions of years. Vast and magnificent, its layered rock formations reveal Earth's geological history. You can hike its trails, enjoy panoramic vistas, and embrace the sheer beauty and grandeur of this iconic landmark.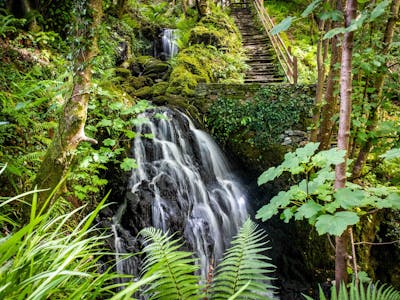 Springs Preserve
Located just 20 minutes away, this 180-acre park houses a botanical garden, museum, and walking trails, and is a great place for family fun and learning. Spanning 180 acres, it offers interactive exhibits, botanical gardens, and wildlife habitats. You can delve into the region's rich history, learn about sustainable practices, and enjoy scenic trails amid lush desert landscapes. It's a perfect blend of education and entertainment.
Las Vegas Strip
The Las Vegas Strip is an electrifying stretch of neon-lit resorts and entertainment venues in the heart of Las Vegas, Nevada. Roughly 30 minutes away, the world-famous Strip is home to iconic hotels, resorts, and casinos, as well as world-class dining, and shopping options. Known for its vibrant nightlife, world-class casinos, and iconic landmarks like the Bellagio Fountains, it offers endless entertainment, dining, and shopping options for visitors from around the globe.
FAQs
---
Hiking, rock climbing, scenic drives, picnicking, and wildlife watching.
Yes, there are several easy trails suitable for kids, and a visitor center with educational exhibits.
Yes, but be prepared for cold and snowy conditions. Check weather and road conditions before visiting.
Water, sunscreen, hat, comfortable shoes, snacks, camera, and binoculars for wildlife viewing.
Yes, but pets must be on a leash at all times and are not allowed on trails.
Early mornings or late afternoons are ideal for cooler temperatures and better lighting for photography.