Are you ready to be awestruck by the breathtaking Paris Pantheon? This iconic landmark is a must-visit for any traveler looking to explore the rich history and culture of Paris. From its stunning neoclassical architecture to the impressive list of famous French figures interred inside, the Paris Pantheon is a treasure trove of art, history, and culture that will leave you feeling inspired and enlightened.
Paris Pantheon in a Nutshell
---
Handy information
| | |
| --- | --- |
| ⏰ Suggested Duration: | 1-2 hours |
| ☀️ Best Time to Visit: | Early morning or late afternoon |
| 🎟️ Skip-the-Line Ticket: | €11.50 |
| 😍 Combo Ticket: | €20.70 |
| 🚇 Closest Metro | Cardinal Lemoine |
Must-see at the Paris Pantheon
The stunning dome with its intricate frescoes and panoramic views of Paris.
The crypt with the tombs of Voltaire, Rousseau, Victor Hugo, and others.
Getting There
Address
Pl. du Panthén, 75005 Paris, France
Get Directions
Opening Hours
10 AM to 6 PM,
Closed on 1st January, 11th May, 25th December and 17th June
Why is Paris Pantheon worth visiting?
---
Masoleum of Significance: The Paris Pantheon is a mausoleum and burial site that pays tribute to the greatest names in French history, like Voltaire and Rousseau.
Unique Architecture: Designed by Jacques-Germain Soufflot, the neoclassical building boasts of its colossal structure, breathtaking arches and ornate carvings.
Cultural Host: It is also a cultural hub that hosts a variety of events throughout the year, including concerts, lectures, and exhibitions.
French History: The Pantheon houses French cultural hidden gems, including a stunning fresco by Eugène Delacroix, a crypt filled with the remains of famous French revolutionaries, and a little-known museum dedicated to its history.
Scenic Views: You can climb to the top of the dome for panoramic views of the city, and see all the way to the Eiffel Tower on a clear day!
Recommended Paris Pantheon Tickets
---
Depending on the kind of experience you seek and time in hand, you can choose from a variety of Paris Pantheon tickets.
Paris Pantheon History
---
Built in the late 18th century, the Pantheon was originally intended as a church dedicated to Saint Genevieve, the patron saint of Paris. However, after the French Revolution, it was repurposed as a mausoleum and burial site for some of France's greatest figures. Over the years, the structure has had a significant impact on French culture and society. It has served as a symbol of French national identity, celebrating the country's rich cultural heritage and serving as a tribute to some of its greatest minds.

Today, it remains a must-visit attraction for anyone interested in history, architecture, or culture. Visitors can explore exhibits on French art, literature, and history, and pay their respects to some of the greatest names in French history, including Victor Hugo and Alexandre Dumas. And of course, no visit to the Pantheon would be complete without climbing the 206 steps to the top of the dome for breathtaking views of Paris!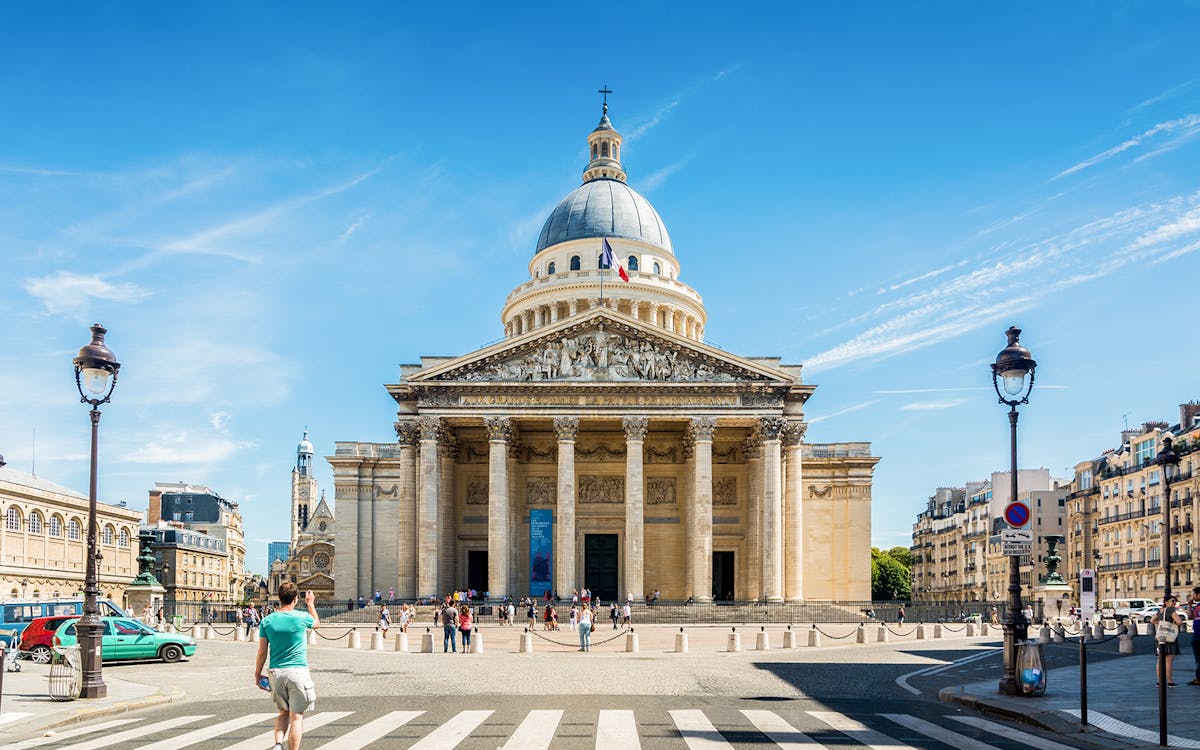 Paris Pantheon Architecture
---
The Paris Pantheon is a true masterpiece of neoclassical architecture, designed by Jacques-Germain Soufflot in the 18th century. Its stunning dome, towering columns, and intricate sculptures make it one of the most impressive buildings in Paris. The interior of the Pantheon is just as remarkable, with a grand nave and several chapels, as well as a crypt that houses the tombs of some of France's greatest figures. The Foucault pendulum, which demonstrates the rotation of the Earth, is also a fascinating feature.

The dramatic and Gothic exterior of the building looks its best is during the golden hour, when the warm, soft light of the setting sun illuminates the neoclassical facade, giving it a warm and inviting glow. With a rich cultural significance, the Pantheon offers a glimpse into the majestic French heritage.
Highlights of Paris Pantheon
---
This fascinating scientific exhibit demonstrates the rotation of the Earth and is a must-see for anyone interested in physics. The pendulum is suspended from the dome of the Pantheon, and it swings back and forth, seemingly defying gravity.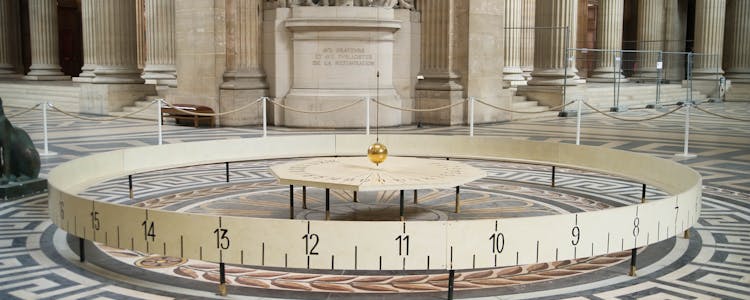 The crypt at the Pantheon is home to the final resting places of many famous French figures, including Voltaire, Rousseau, and Victor Hugo. It's a fascinating and somewhat eerie place, and it offers a unique insight into the country's cultural history.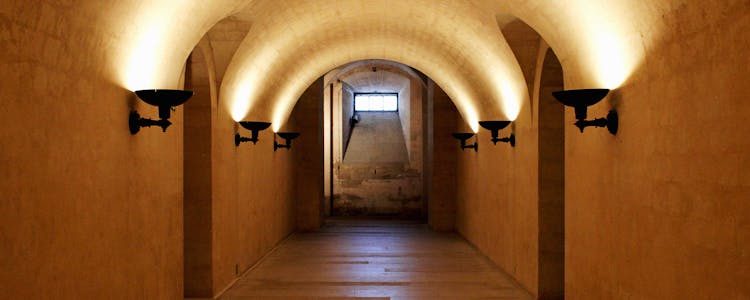 3

Frescoes by Eugène Delacroix
The interior of the Pantheon is decorated with stunning frescoes by the famous French artist, Eugène Delacroix. These intricate and colorful paintings depict scenes from French history and mythology and are a must-see for art lovers.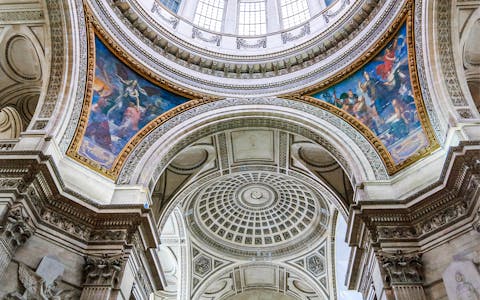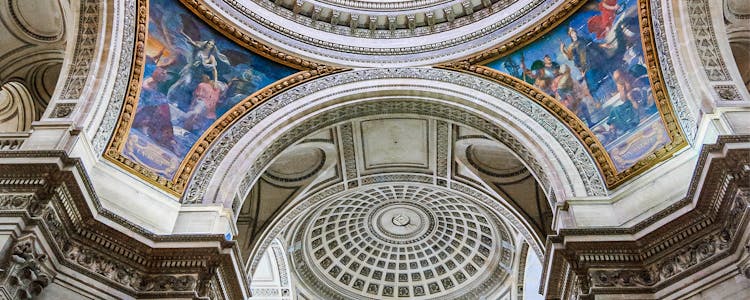 The Pantheon Tower offers a unique perspective on the city, with panoramic views that stretch for miles. The tower is open to visitors during the summer months, and it's a great way to get a bird's-eye view of Paris.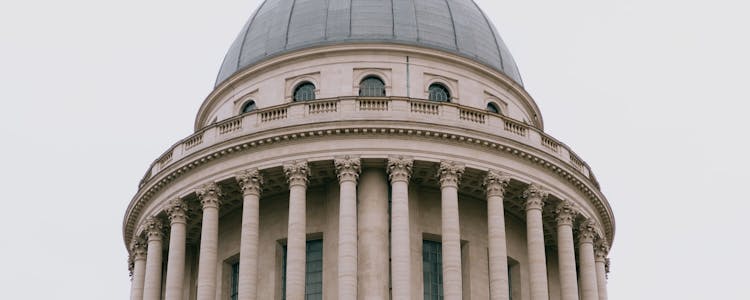 5

Chapel of Saint Genevieve
This beautiful chapel, located on the upper level of the Paris Pantheon, is dedicated to Saint Genevieve, the patron saint of Paris. It's a serene and peaceful space that offers a respite from the crowds.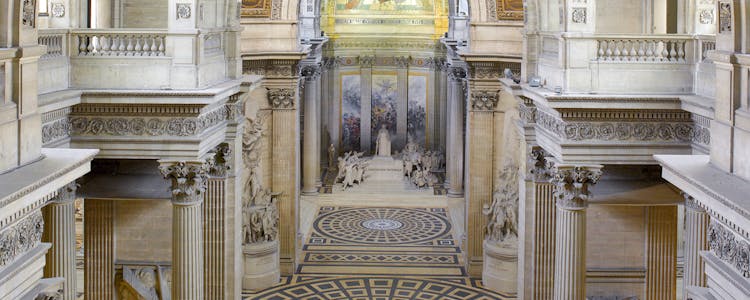 Best Time to Visit Paris Pantheon
---
The best time to visit Paris Pantheon is during the off-season, which is typically from November to March. This time of year sees fewer crowds and shorter lines, allowing visitors to fully appreciate the beauty and history of the building without feeling rushed. Moreover, you should arrive early in the morning or later in the afternoon to avoid peak hours. During the summer months, the Pantheon can get quite busy, so it's important to plan ahead and purchase tickets in advance to avoid long waits.
Paris Pantheon Opening Hours
---
From April 1 to September 30: Daily 10 AM to 6:30 PM
Last Entry: 5:45
From October 1 to March 31: Daily 10 AM to 6 PM
Last Entry: 5:15 PM
Closed on 1 January, 11 May, 25 December and 17 June (morning). It also remains closed during mass.
Getting There
---
By Car: Route via Boulevard Saint-Michel street and rue Soufflot street
The closest parking lot is a 5 min walk, 317m away.
By Bus: Route no. 21, 27, 83, 84, 85, and 89
Nearest Stop: Pantheon, Lycée Henri IV, and Cardinal Lemoine - Monge bus stops
By Train: Train Line B
Nearest Stop: Luxembourg Station
By Metro: Line no. 10 and 7
Nearest Stop: Cardinal-Lemoine metro station
Insider Tips to Visit Paris Pantheon
---
While taking a tour, don't forget to climb up the narrow spiral staircase to the top for a panoramic view of Paris.
Make sure you check out the crypt where famous French figures are buried.
Look up! You will be able to see the impressive dome ceiling painted by Puvis de Chavannes.
Check the schedule and plan your visit so that you can attend a concert or cultural event in the building.
Grab a bite of sceince and don't miss the Foucault Pendulum in the main hall.
Visit the Sainte-Genevieve Library for a glimpse of ancient manuscripts.
Paris Pantheon Facts
---
Originally built as a church dedicated to St. Genevieve, the Paris Pantheon was later converted into a secular temple in honor of French cultural and historical figures.
During the French Revolution, the church was turned into a secular temple dedicated to "the great men" of France.
The building was used as a model for other famous structures, such as the U.S. Capitol Building in Washington D.C.
The building's dome is 83 meters high and was the largest in the world at the time of its construction in the late 1700s.
During World War II, the Pantheon was used as a shelter for those seeking refuge from the Nazi occupation of Paris.
The Sainte-Genevieve Library located in the Pantheon holds over 2 million books and manuscripts.
The Pantheon's famous dome was used as a launching point for a hot air balloon in 1874, which traveled over 80 miles and set a new altitude record.
Restaurants Near Paris Pantheon
---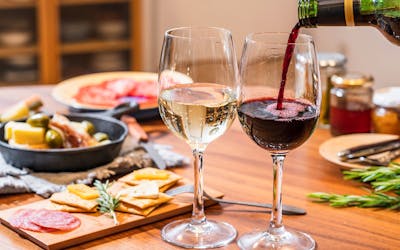 Les Papilles
This cozy French restaurant is known for its excellent wine selection and classic French cuisine. Do dine here if a special occasion or a romantic dinner is on the cards! Located 10 minutes away from the Pantheon by foot, the pricefor two is approx. €60.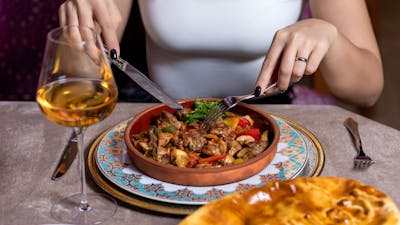 Le Petit Prince de Paris
Looking for a casual lunch or dinner? Mark Le Petit as your option. This charming bistro is popular with locals and tourists alike for its traditional French dishes and warm atmosphere. The price is approx. €50 for two and is located 5 minutes away from the Pantheon by foot.
-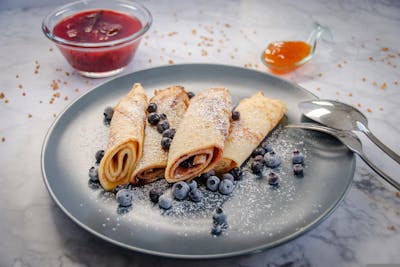 La Creperie de Josselin
If you want to grab a quick (yet tasty) bite, this cozy creperie is the place for you, known for its delicious savory and sweet crepes. This place is located 10 minutes away with an affordable price of €25 for two.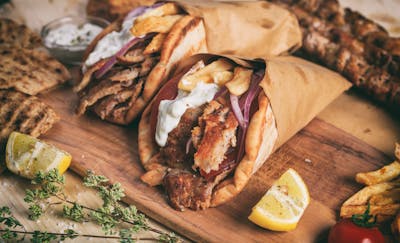 Au P'tit Grec
Hunting around for some Greek cuisine in Paris? Head over to this tiny hole-in-the-wall spot, which serves up some of the best Greek-style pitas in the city, perfect for a quick and filling lunch! With a price range as low as €20 for two, it is located 10 minutes away on foot.
-
Le Jardin d'Ivy
Spend a relaxing evening dining at one of the finest restaurants of Paris at d'Ivy. This charming garden restaurant offers a tranquil escape from the bustling city. The price comes at €70 for two, and is located 10 minutes away from the Pantheon by foot.
Places to Stay Near Paris Pantheon
---
Things to Do Near Paris Pantheon
---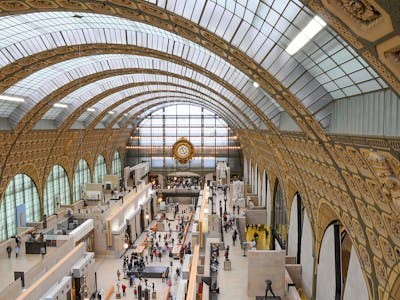 Musée d'Orsay
Immerse yourself in the world of art at the Musée d'Orsay, housed in a former railway station. Admire an extensive collection of Impressionist and Post-Impressionist masterpieces, including works by Monet, Van Gogh, Renoir, and Degas.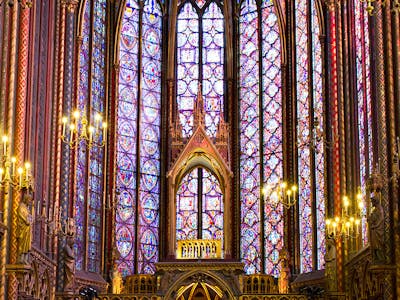 Sainte-Chapelle
Step into a stunning Gothic masterpiece and marvel at the exquisite stained glass windows of Sainte-Chapelle. As the sunlight filters through the vibrant panels, the interior is transformed into a kaleidoscope of colors, creating a truly awe-inspiring experience.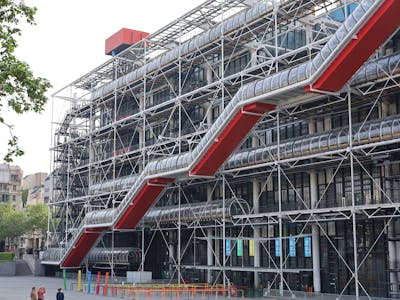 Centre Pompidou
Embrace modern and contemporary art at the Centre Pompidou, a renowned cultural hub. Explore its innovative exhibitions, discover thought-provoking installations, and enjoy panoramic views of the city from its rooftop terrace.
Canal Saint-Martin
Unwind in the trendy and vibrant neighborhood surrounding Canal Saint-Martin. Take a leisurely boat ride along the picturesque canal, explore charming boutiques, trendy cafes, and enjoy a picnic by the water's edge, soaking up the bohemian atmosphere of this lively area.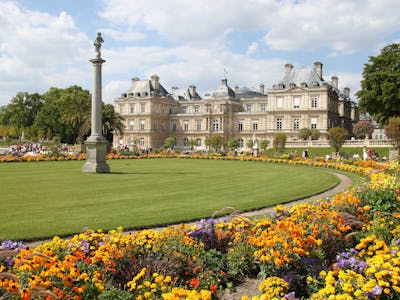 Jardin du Luxembourg
Take a leisurely stroll through this enchanting garden, marveling at its beautiful flowerbeds, serene fountains, and the picturesque Medici Fountain. Enjoy a relaxing picnic, play a game of chess, or simply bask in the peaceful ambiance of this Parisian oasis.
FAQs
---
The Paris Pantheon is approximately 232 years old as it was completed in 1790.
The Paris Pantheon was built by architect Jacques-Germain Soufflot.
The Paris Pantheon stands at a height of 83 meters.
Skip the line tickets for the Paris Pantheon are a time-saver, especially during peak tourist seasons to save time.
Combo tickets for Paris Pantheon are not only pocket-friendly but also let you explore more of Paris, as attractions like Saint Chapelle, Notre Dame and Arc de Triomphe are included with the tickets.
The best mode of transport to reach the Paris Pantheon is by public transportation, such as the metro or bus.
The Paris Pantheon is closed on 1st January, 11th May, 25th December and 17th June.
Paris Pantheon remains closed on Christmas and New Year.
There are no restaurants inside the Paris Pantheon, but there are numerous dining options available in the surrounding area.
There is no specific dress code to visit the Paris Pantheon, but it's advisable to dress modestly and respectfully as it is a historical and cultural monument.