Oktoberfest, the world's largest and most famous beer festival, is a time-honored Bavarian tradition that captivates millions of revelers each year. Held annually in Munich, Germany, this lively celebration boasts a rich history dating back to 1810, when it was originally conceived as a royal wedding party. Today, Oktoberfest is a global phenomenon, drawing visitors from across the globe who come to savor the finest German beers, indulge in traditional Bavarian cuisine, and immerse themselves in a spirited atmosphere of music, dance, and cultural festivities.
Oktoberfest: Know Before You Go
---
Oktoberfest traditionally takes place in Munich, Germany, and typically starts in late September and continues into the first weekend of October. The festival usually spans 16-18 days, depending on the year. While the start and end dates may vary slightly from year to year, the opening day often coincides with the last weekend in September, and the closing day typically falls on the first Sunday in October.
When is Oktoberfest in 2023?
In 2023, Oktoberfest is set to be celebrated from 16 September, 2023, to 3 October, 2023.
Oktoberfest Timings
On the first Saturday of the Oktoberfest, the tents open at 9 a.m. Non-alcoholic beverages will be available from 10 a.m. but the beer flows from 12 noon, when the tapping takes place!
Monday to Friday: 10 AM to 11.30 PM
Saturdays, Sundays and public holidays: Beer is served at 9 AM, and the last beer tapping is at 11.30 PM.
Big Tents: Last beer at 10.30 PM
Small Tents: Last beer at 11 PM
Oktoberfest Beer Tents
There are 17 large and 21 small tents to choose from at Oktoberfest and the Oide Wiesn. The beer tents remain open as long as there is beer! Make sure to book your tent on Oktoberfest Official Website in advance.
Where does Oktoberfest take place?
Oktoberfest takes place on the historic grounds where it began, the "Theresienwiese". Through the year, the grounds are a public park, until June when the grounds start preparation for the Oktoberfest!
History Of Oktoberfest
---
Oktoberfest traces its roots back to October 12, 1810, when Bavarian Crown Prince Ludwig, later King Ludwig I, married Princess Therese of Saxony-Hildburghausen. To celebrate the royal union, a grand public festival was held on the fields near Munich's city gates, which eventually became known as Theresienwiese or "Theresa's Meadow." The event included horse races, feasting, and beer, provided by local brewers. The festivities were so well-received that it was decided to make the celebration an annual tradition. Over the years, Oktoberfest evolved, introducing beer tents and halls, amusement rides, and an array of traditional foods and cultural attractions. It has since grown into an internationally renowned celebration of Bavarian culture!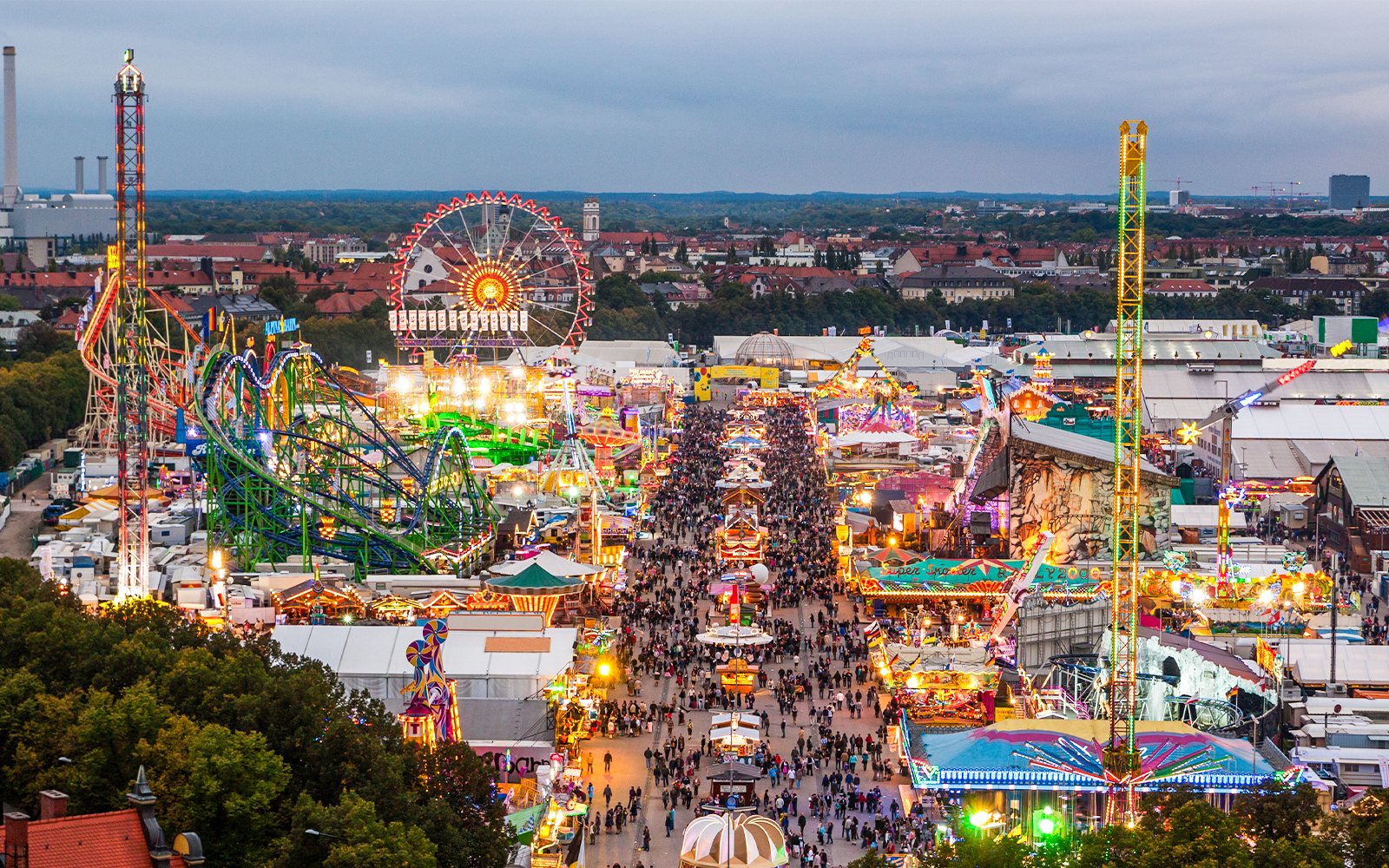 What Can You Do At Oktoberfest?
---
Drink beer. Lots of it! But of course, there are plenty of other things you can do here. The beer just happens to be the main attraction, but more on that later!
#1 Attend the Oktoberfest Prelude: Entry of Oktoberfest landlords and breweries
The Grand Entry of the Oktoberfest Landlords and Breweries is the festive and ceremonial event that marks the official opening of the Oktoberfest. Families of the tent landlords', horse-drawn drays of the Munich breweries, waitresses on decorated floats and all the beer tent bands, are among the participants!
When: 16th September 2023, for 45 minutes
Route: Sonnenstraße-Schwanthalerstraße to the Oktoberfest grounds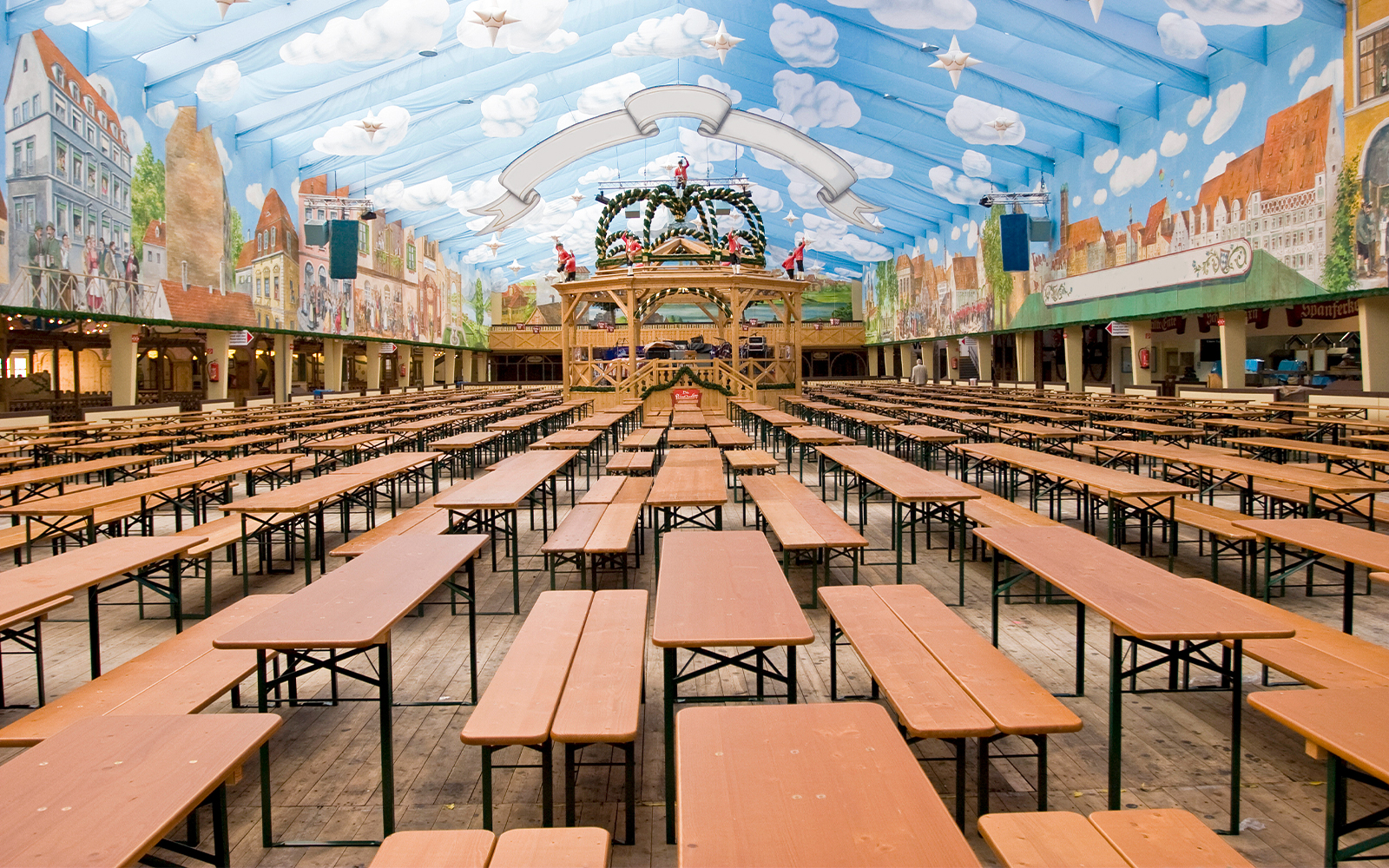 #2 Be There for the Ceremonial Tapping
"Tapping" at Oktoberfest refers to the ceremonial act of tapping the first keg of beer to officially mark the opening of the festival. Typically, the tapping of the first keg is performed by a notable dignitary, such as the mayor of Munich or a high-ranking official. Once the keg is successfully tapped, the beer flows freely, and the crowd erupts in cheers and applause!
When: 16 September, 2023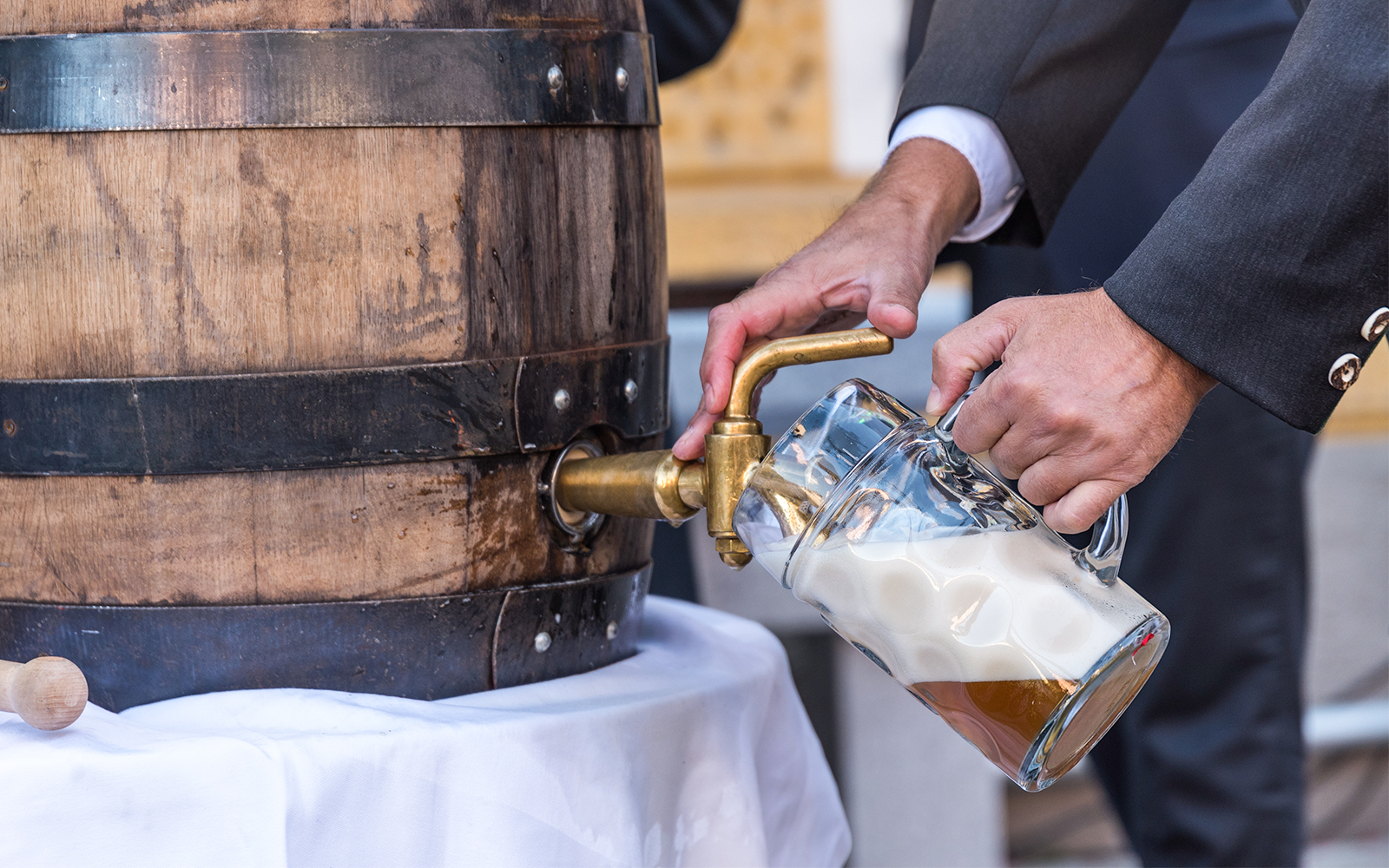 #3 Witness the Oktoberfest Costume and Riflemen's Parade
The Oktoberfest Costume and Riflemen's Parade, also known as the "Trachten- und Schützenumzug" in German, is a parade that takes place during the Oktoberfest festival in Munich. This parade focuses specifically on traditional Bavarian costumes and marksmen's groups.
When: 17th September 2023, for 2-2.5 hours
Route: Max II. Memorial to the Oktoberfest grounds (7 KM)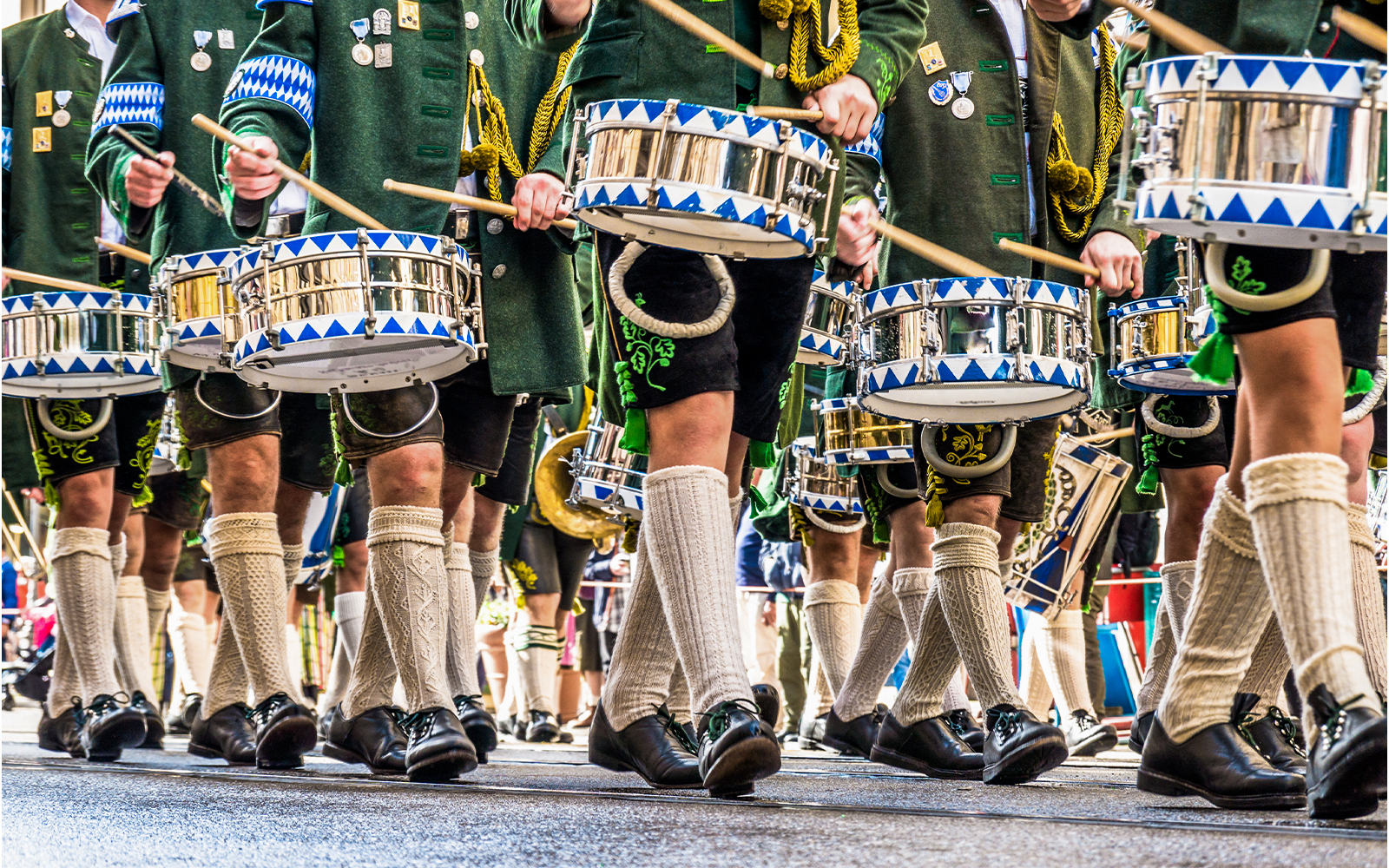 #4 Savor Bavarian Cuisine!
Indulge in delicious Bavarian cuisine, including pretzels, sausages, sauerkraut, schnitzel, roast chicken, and other hearty dishes. Be sure to try the local specialties.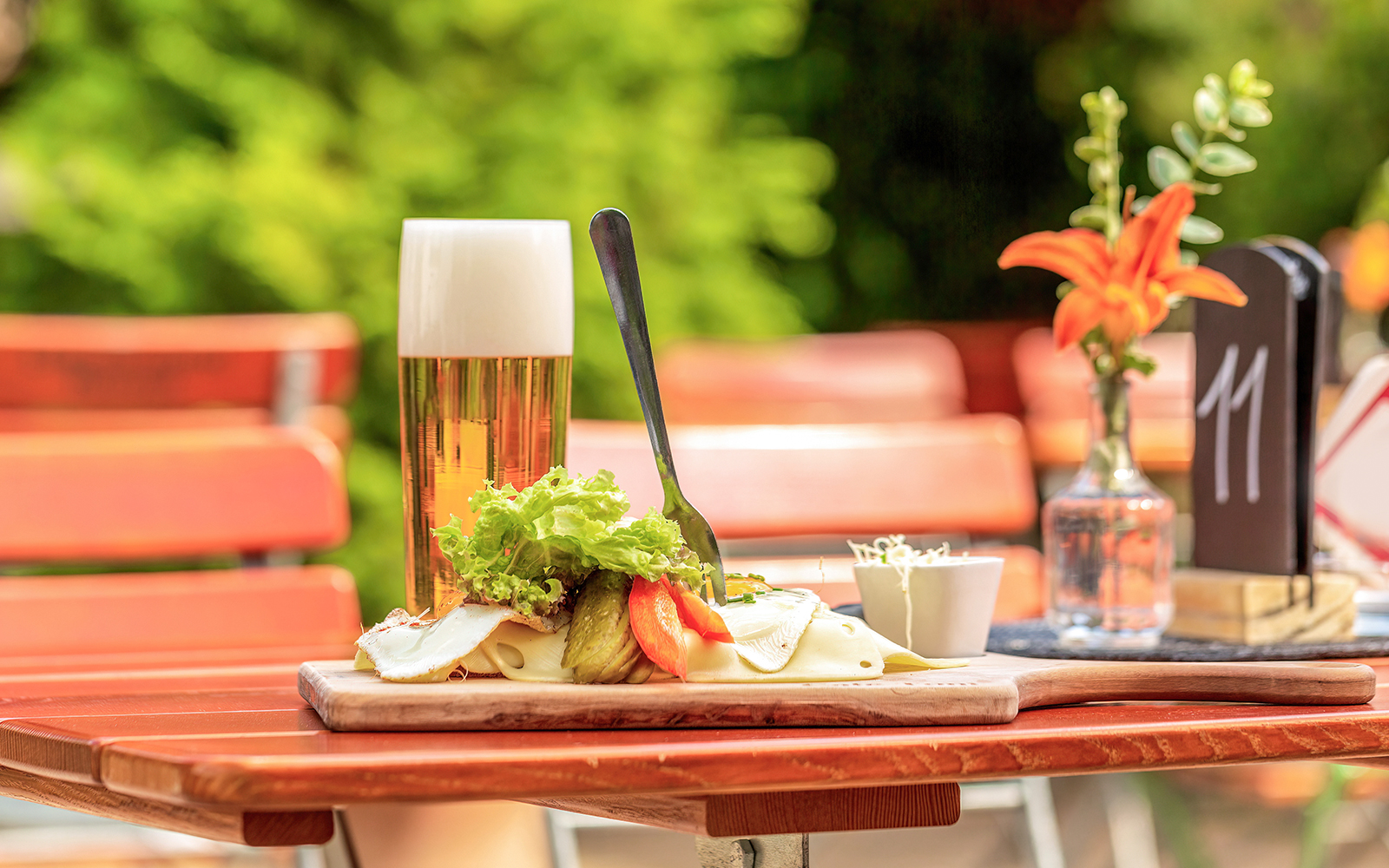 Savor The Oktoberfest Specialty Beer: Märzen
---
The beer at Oktoberfest is a special type of lager known as Märzen. It's characterized by a rich, malty flavor, a clean and crisp finish, and a slightly higher alcohol content, typically around 5-6% ABV. Brewed in March (hence the name "Märzen"), it's traditionally lagered until Oktoberfest, where it's served in one-liter glass mugs called "Maßkrüge." The beer is a central element of the festival, and each of the major Munich breweries produces their own Märzen for the event. Visitors to Oktoberfest can enjoy this unique brew alongside traditional Bavarian cuisine and festivities.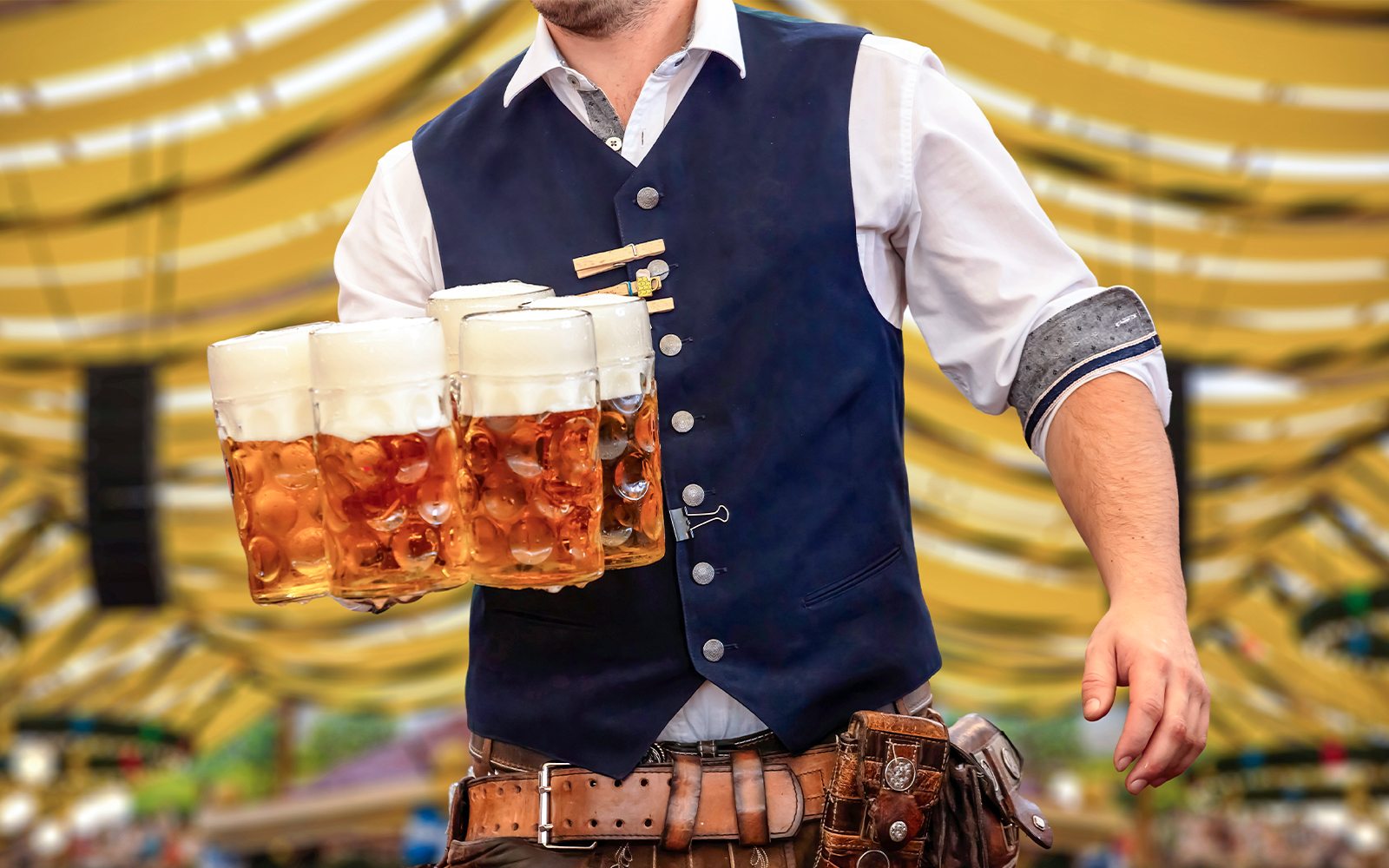 Oktoberfest Tips
---
Many vendors and food stalls may not accept credit cards, so have cash on hand for purchases.
Don't carry glass bottles. They are typically not allowed at the festival for safety reasons. Oktoberfest beer is served in durable one-liter glass mugs.
Large bags are generally not allowed into the beer tents for security and space reasons.
It's customary to tip the waitstaff in the beer tents, so be sure to leave a gratuity for their service.
To up the fun factor, dress in traditional Bavarian clothes!
FAQs
---
Nope! While it'll be fun to dress up in Bavarian clothes, you won't get any odd looks if you don't. Dress comfortably!
Oktoberfest is generally open to all ages. However, some beer tents may have age restrictions and are off-limits to minors after a certain hour in the evening. Be sure to check the specific rules of the tent you plan to visit.
No, outside food and drinks are typically not allowed in the beer tents. Oktoberfest is a place to enjoy traditional Bavarian food and beer provided by the festival vendors.
There is no general entrance fee to Oktoberfest itself. You only pay for what you consume, such as food and beverages. However, some attractions and rides within the fairgrounds may have their own fees.
While some larger tents and vendors may accept credit cards, it's advisable to carry cash with you as many smaller stalls and services may be cash-only.
Oktoberfest: The First Timer's Guide