Prepare to be spellbound at Madame Tussauds Istanbul, as lifelike wax figures of renowned personalities from history, entertainment, and culture come to life before your eyes. Step into the spotlight alongside your favorite stars, capturing unforgettable moments in stunning detail. With an ambiance that blends entertainment and artistry, Madame Tussauds Istanbul promises an immersive experience like no other. Join us in celebrating the essence of fame, creativity, and human achievement!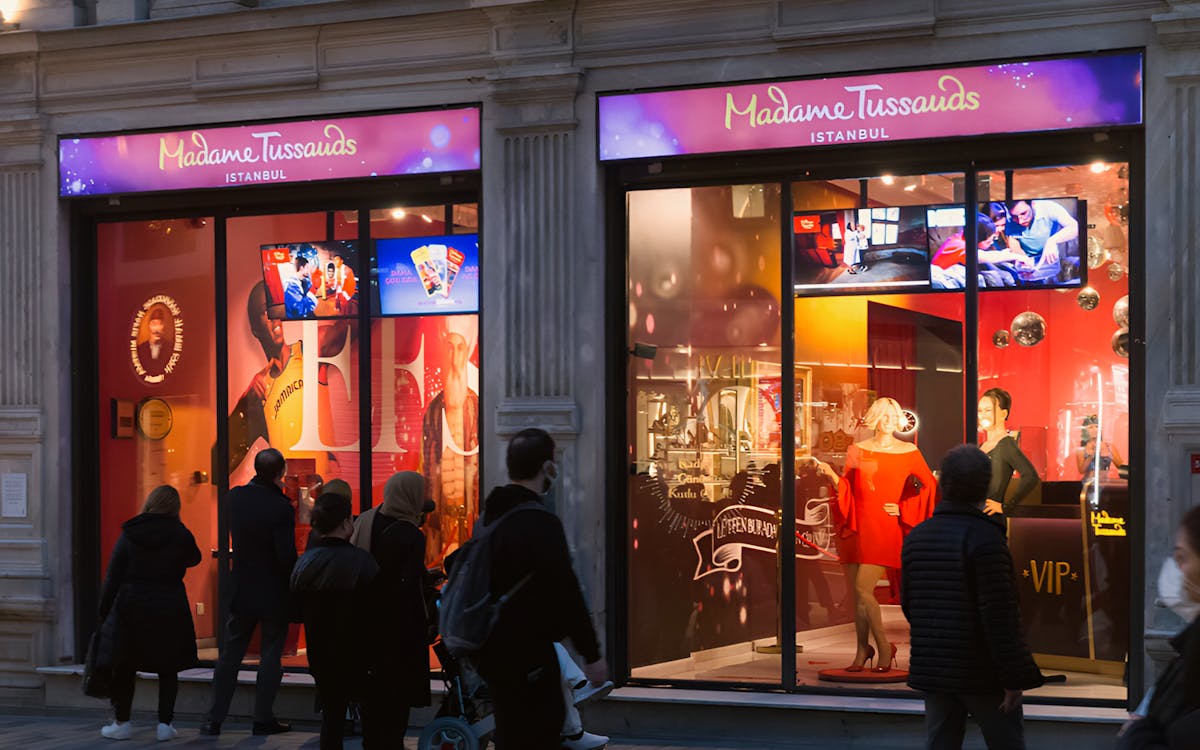 Madame Tussauds Istanbul - In A Nutshell
---
Handy information
| | |
| --- | --- |
| ⏰ Suggested Duration: | 45 - 60 mins |
| ☀️ Best Time to Visit: | Spring Weekdays |
| 💜 Must See: | VIP Party Room |
| 🎟️ Entry Tickets | €22.50 |
| 🚇 Closest Tram Stop | Ağa Camii |
Zones
Music
Film
Sport
VIP Party
Things to know
Opened in: 2016
Type: Wax Museum
Number of Figures: 60+
Opening Hours And Address
Daily: 11 AM to 9 PM

Address: Hüseyinağa, Grand Pera AVM, İstiklal Cd. no: 56/58, 34440 Beyoğlu/İstanbul, Türkiye
Get Directions
Why Is Madame Tussauds Istanbul Worth Visiting?
---
You'll get to encounter astonishingly realistic replicas of global icons and cultural luminaries.
You can capture memorable moments as you pose with your favorite celebrities, creating lasting memories.
You'll discover a diverse array of figures spanning history, film, sports, and more, reflecting Istanbul's cosmopolitan spirit.
Engage with dynamic displays and exhibits that offer insights into the lives and achievements of celebrated personalities.
Located centrally, the attraction lets you combine your visit with other Istanbul highlights.
Madame Tussauds Istanbul Tickets
---
Top Wax Figures Of Madame Tussauds Istanbul
---
The Michael Jackson wax figure at Madame Tussauds Istanbul pays tribute to the King of Pop's iconic legacy. Capturing his signature dance moves and style, the lifelike representation offers fans a chance to stand beside a musical legend and relive his timeless contributions to the world of entertainment.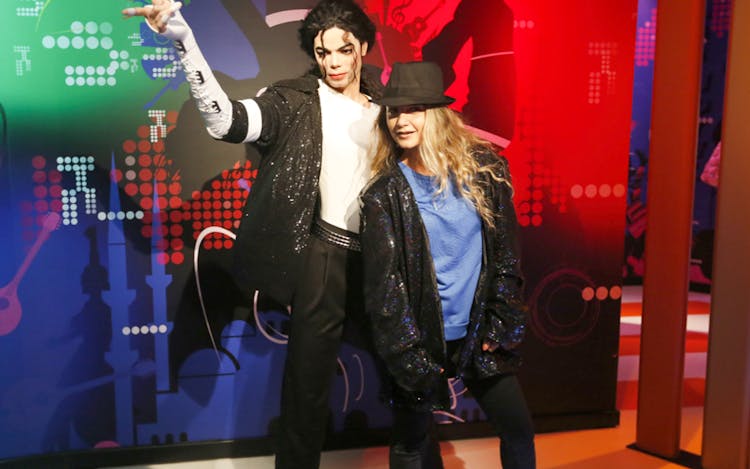 The Albert Einstein wax figure at Madame Tussauds Istanbul embodies the genius physicist's spirit. Impeccably crafted, it captures his iconic look and thoughtful demeanor, offering visitors an up-close encounter with his remarkable intellect and contributions to science. A must-see tribute to one of history's greatest minds.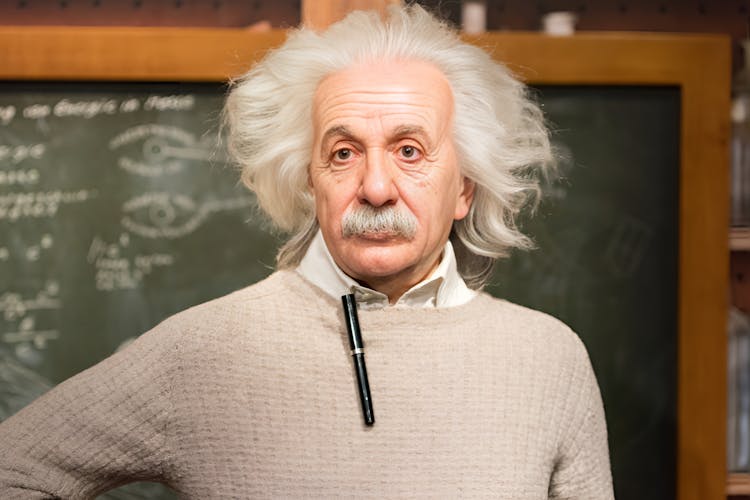 The Mustafa Kemal Atatürk wax figure at Madame Tussauds Istanbul pays homage to Turkey's visionary leader. Meticulously crafted, it captures his commanding presence and pivotal role in shaping the nation's modern identity. A respectful tribute to a revered figure who remains an inspiration to many.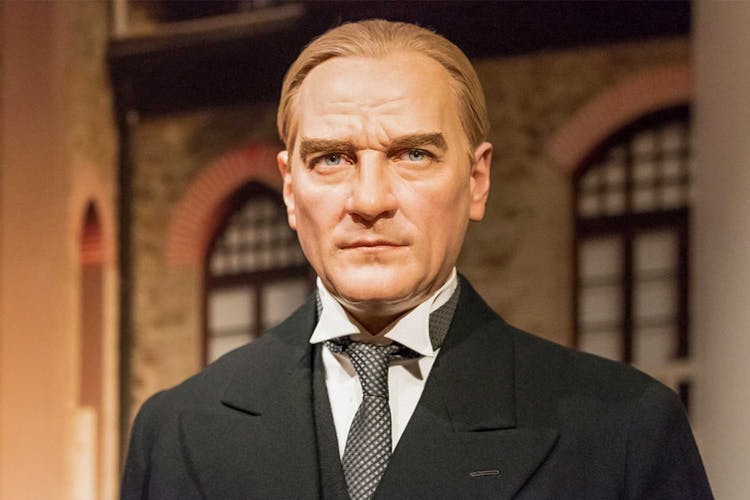 The David Beckham wax figure at Madame Tussauds Istanbul is a stunning homage to the football legend. With meticulous attention to detail, it captures Beckham's iconic style and charisma, allowing visitors to stand side by side with the renowned athlete.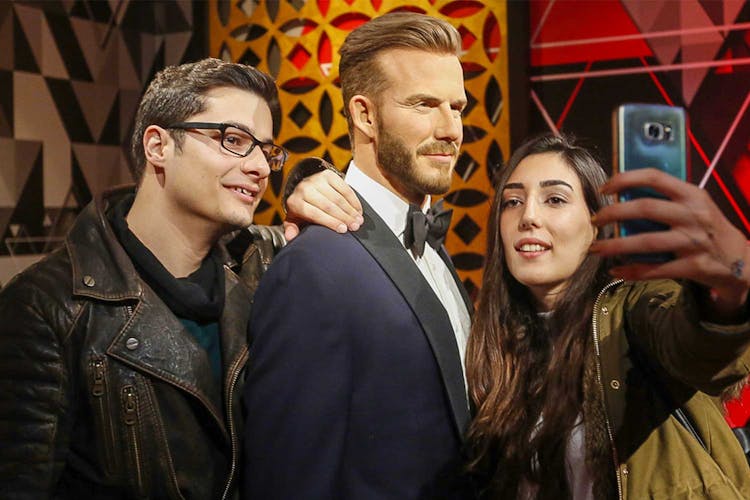 The Steven Spielberg wax figure at Madame Tussauds Istanbul captures the visionary director's essence. With meticulous attention to detail, it brings his iconic creativity to life. Guests can stand beside this lifelike tribute, experiencing the magic of his cinematic legacy up close and personal.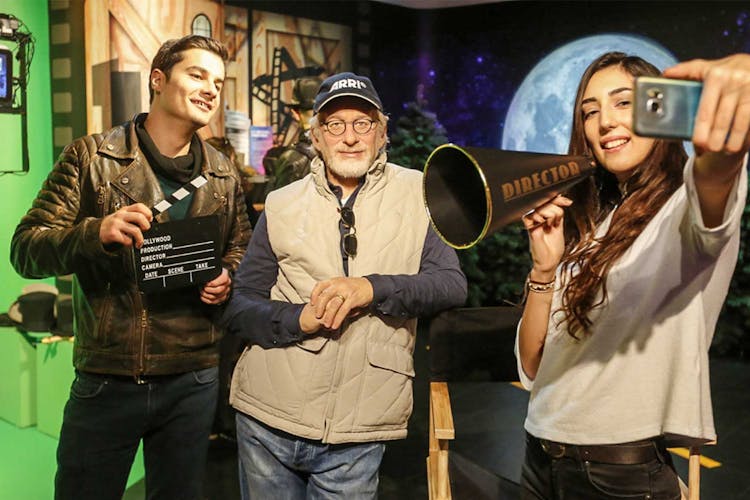 The Shrek wax figure at Madame Tussauds Istanbul brings the beloved ogre to life in remarkable detail. Step into the magical world of Far Far Away as you stand beside Shrek's lifelike figure, capturing the essence of this iconic character and creating enchanting memories.
Madame Tussauds Istanbul Timings
---
Daily - 11 AM to 9 PM
Last Admission at 8 PM
Getting There
---
Insider Tips to Visiting Madame Tussauds Istanbul
---
Purchase tickets in advance to avoid waiting in line at the counter.
Visit during the morning or weekdays to avoid peak crowds and enjoy a more relaxed experience.
Check the layout map beforehand to prioritize the figures you most want to see.
Be prepared for a queue during peak hours; patience pays off with immersive encounters.
Engage with interactive exhibits and props to fully embrace the experience.
Remember not to touch the figures, ensuring their preservation for future visitors.
Other Attractions around Casa Amatller
---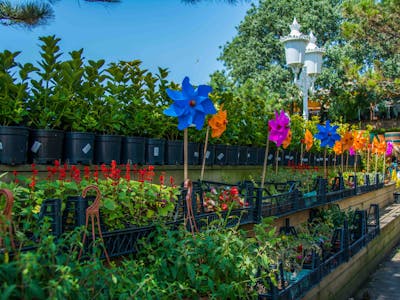 Çiçek Pasajı
Çiçek Pasajı, or the Flower Passage, is a historic arcade in Istanbul. Nestled in Beyoğlu, it enchants with its ornate architecture and charming eateries. Once a hub for flowers, it now offers a delightful blend of culture, cuisine, and a glimpse into the city's past.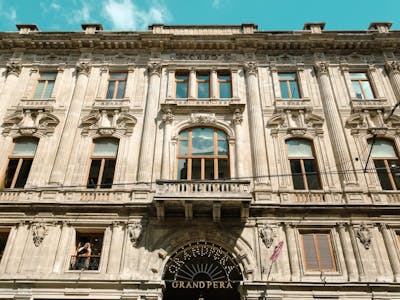 Pera Museum
Pera Museum in Istanbul is a cultural gem, hosting an impressive collection of Turkish and international art. From Orientalist paintings to Anatolian artifacts, the museum's diverse exhibits offer a captivating journey through history and creativity, making it a must-visit destination for art enthusiasts and curious minds alike.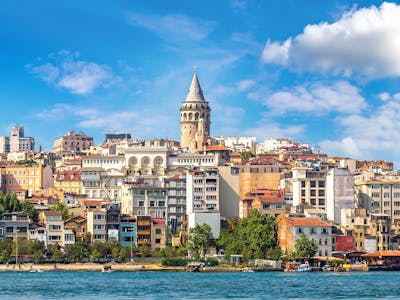 Galata Tower
Galata Tower, an iconic landmark in Istanbul, offers breathtaking panoramic views of the city's stunning skyline and the Bosporus. Dating back to medieval times, this cylindrical tower holds historical significance and continues to attract visitors seeking both history and unparalleled vistas of Istanbul's beauty.
BOOK NOW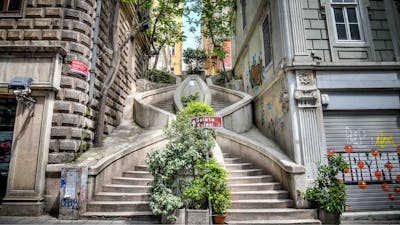 Kamondo Stairs
Kamondo Stairs, a hidden treasure in Istanbul's Karaköy district, are an architectural marvel adorned with intricate ironwork and artistic tiles. These historic stairs connect Bankalar Caddesi to the Kamondo family mansion, providing a glimpse into the city's rich past while offering a picturesque passage between eras.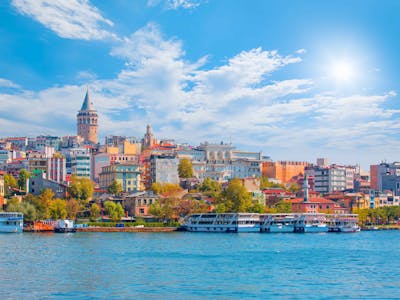 Dope Lookout
Dope Lookout, situated in Istanbul's trendy Beyoğlu district, offers a chic rooftop experience. With its vibrant atmosphere, panoramic views, and creative cocktails, it's a hotspot for both locals and visitors. Whether day or night, this stylish vantage point provides an unforgettable perspective of the city's dynamic energy.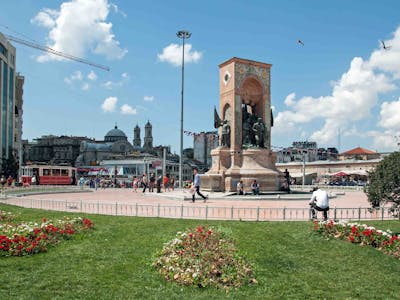 İBB Taksim Gezi Parkı
İBB Taksim Gezi Parkı is a serene urban oasis. With lush greenery, tranquil ponds, and scenic pathways, it offers respite from the bustling city. The park's cultural events and peaceful ambiance make it a favorite among both locals and visitors seeking relaxation.
FAQs
---
Madame Tussauds Istanbul is a renowned wax museum that features lifelike wax figures of celebrities, historical figures, and cultural icons.
Yes, the wax figures at Madame Tussauds Istanbul are meticulously crafted to be life-sized and incredibly lifelike.
No, touching the wax figures is not allowed to preserve their quality and prevent damage.
Absolutely, the museum offers various interactive displays that allow visitors to engage with the exhibits in creative ways.
The duration of your visit can vary, but most visitors spend around 45 minutes to 2 hour exploring the museum.