Collections
Lifestyle & Entertainment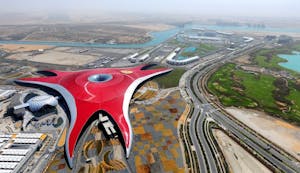 Ferrari World Tickets & Combos
Dubai
Ferrari World Deals
At this amusing theme park, witness adrenaline pumping rides & courses, amalgamated together into an incredible learning experience!
Learn about the culture of Ferrari World and experience the best from the Ferrari World roller coaster band wagon, Formula Rossa, the world's fastest roller coaster. The theme park is designed to capture the interests of all age groups packaged in over 20 rides.
There is something for everyone! You can also choose from a variety of deals, such as the Ferrari World Bronze, Silver and Gold Passes.
Ferrari World Facts
1. The construction of the park required double the amount of steel required to build the Eiffel Tower.
2. If Ferrari World was turned at an angle of 90 degrees, it would be taller than the Burj Khalifa, at over 300 floors!
3. The total roof area of Ferrari World uses the same amount of aluminium that would be enough to cover 40 replicas of the White House.
So don't wait and get your Ferrari World tickets now!