Spain's Royal Alcazar Seville Reopening Date - 15th June
---
With the lockdown restrictions being curbed in Spain, several attractions including the Spain's Royal Alcazar Seville reopening its doors on June 15 2020. New guidelines have been put in place ensuring a safe and seamless experience for all visitors.
Safety Measures in place post Royal Alcazar Seville Reopening
---
To ensure maximum safety it is now mandatory for all guests to wear masks and gloves before entering the venue. Considering the current situation, all visitors must respect the limited capacity assigned for each room and should keep a safe distance from others as well.
Hydro-alcoholic gel dispensers are made available at various points within the venue for visitors to make use of. To limit contact, information leaflets and paper plans have been temporarily suspended. It has been replaced with QR codes which have been placed in all the rooms of the monument, for the free download of information and photographs on mobile devices.
Visitors under the age of 14 must be accompanied by an adult at all times and will not be permitted alone within the venue.
The Bellver-Fabiola House Museum, Museum of Ceramics Triana and Castillo de San Jorge will remain closed until further notice.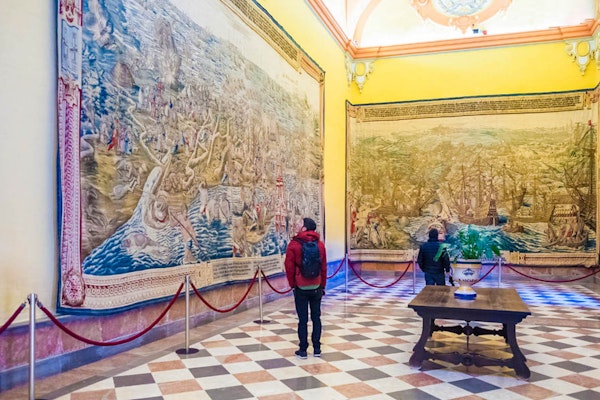 Booking Royal Alcazar of Seville Tickets Online
---
Royal Alcazar Seville Tickets are available online.
Due to limited availability and security reasons the number of tickets for sale will be limited to 250 per hour.
These tickets are strictly times. It is mandatory that all visitors reach 15 minutes prior to the start time to avoid any delay. Once at the monument, the ticket is valid until the time of eviction, so it is essential to keep it until the end of the visit. It is not possible to re-enter once a visitor has already exited the venue.
Visitors accessing the monument with free or reduced tickets must present the official supporting documentation at the access control.
For more information about visiting the Royal Alcazar of Seville, refer to their information page here.
Recommended Royal Alcazar Tickets For A Safe Experience