Museo del Prado or the Prado Museum is a world-famous art museum located in Central Madrid. It houses an extensive collection of European art, dating back to the 12th century. Inside you will find stunning artworks by iconic artists such as Titian, Francisco Goya, El Greco, Rubens, Bosch, and many others.
All of this and more makes Prado museum a must-see when in Madrid. The best way to make the most out of your visit to the museum is by going on a guided tour, especially if it's your first time at Prado. There's so much to see and learn and having an expert guide take you through every masterpiece is a sure-shot way of making your visit worthwhile.
Here is everything you need to know about choosing the right guided tour on your visit to Prado Museum.
What are the advantages of Prado Museum Tours?
---
No more waiting in long queues
Prado Museum is one of the most visited attractions in Madrid. Every year millions of visitors flock to explore its fascinating collection of artworks. This means that although it is a must-see attraction, you're bound to end up waiting in long lines to get in. With a skip-the-line ticket, you can save time and jump right in.
Get expert guidance on your tour
Prado Museum houses an extensive catalog of artworks by many iconic Spanish artists. History looms within the walls of the museum and each masterpiece. On a guided tour of the museum, you are accompanied by an expert historian who will charm you with interesting facts and stories throughout your visit.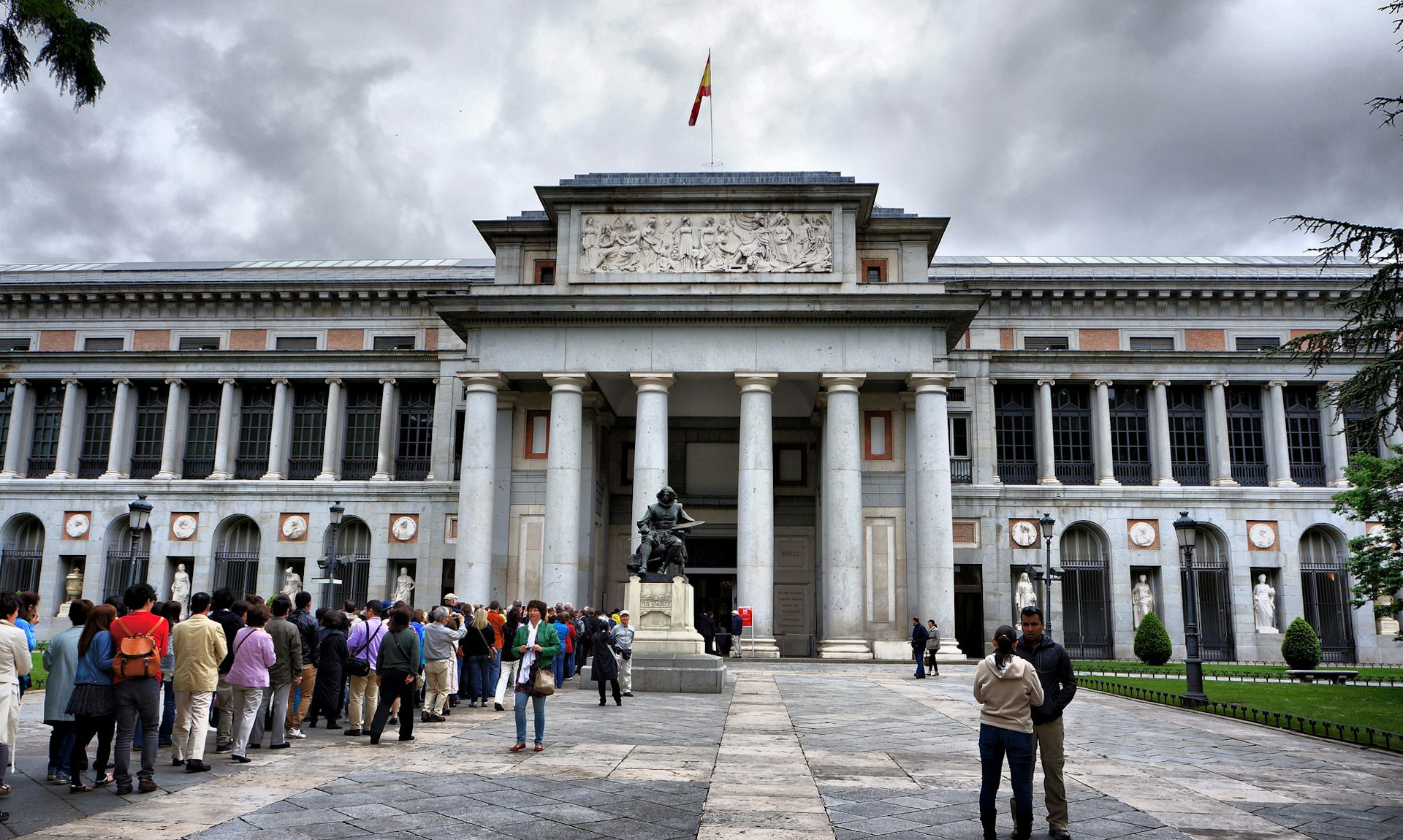 Easy navigation through the gallery
Prado Museum houses a massive collection of artworks including 8,200 drawings, 7,600 paintings, 4,800 prints, and 1,000 sculptures.With so much to see, a guided tour is the most time-efficient way to explore the gallery and everything inside it.
Flexible timings for your guided tour
Prado Museum tour tickets have flexible timings that span throughout the day. Choose the timing that suits your travel plans best when you book your tickets online.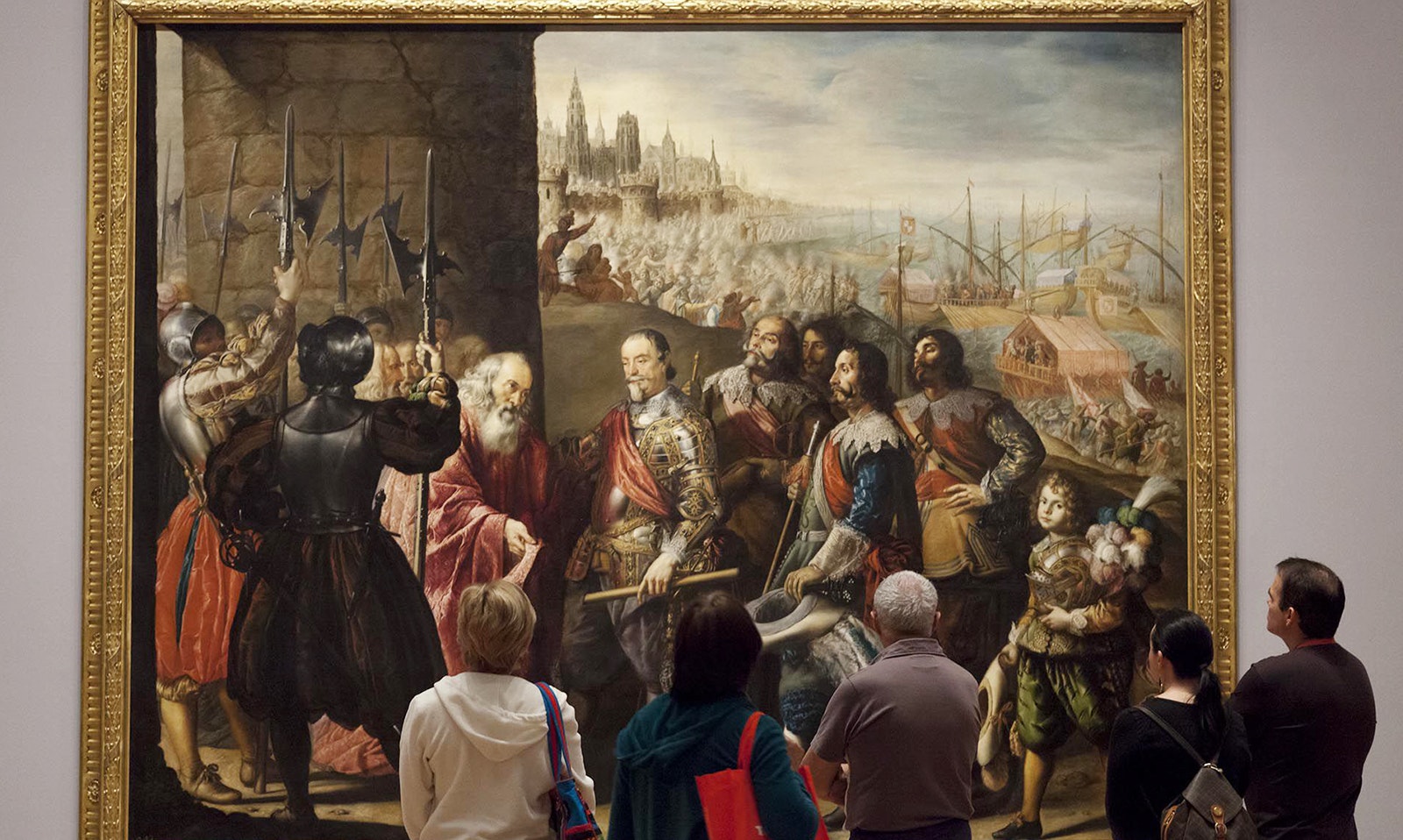 The Best Prado Museum Tour Options
---
How do I choose a Prado Museum Tour that suits me best?
---
Before deciding which tour to choose, take a look at the key features of each. Here's a list of all your Prado Museum tour options and their main highlights.
Visit one of the largest and most important museums in Spain on a guided tour. Marvel has the finest and most extensive collections of paintings, drawings, and sculptures by brilliant artists like Goya, Velasquez, El Greco, and others. Learn more about Prado's artworks including facts and anecdotes by an expert historian as you explore the museum. This tour is a good choice if you're on a budget but still want to make the most of your trip. 2

Skip The Line entry tickets
If you wish to skip the guided tour and explore the attraction on your own, go for this ticket. With this ticket, you get to save time by not waiting in long queues to get in. Make your way to the front and step inside the museum to find a magical world of art in one of Spain's most spectacular art museums. This is also a good option if you're traveling on a budget. 3

Skip The Line Guided Tour
Discover one of the world's most exquisite art museums on a skip-the-line guided tour of Prado Museum. This means that you get two additional benefits with this tour - skip the line & tour the museum with a professional guide. Your expert guide will take you through the history of each art piece including sculptures, drawings, paintings, and prints. Admire paintings like The Garden of Earthly Delights by Bosch, the Maja series by Goya, and thousands of other masterpieces. Additionally, this tour takes place in a small group, making the experience an intimate one. 4

Combo Ticket with Royal Palace of Madrid
Make the most of your visit to Madrid by visiting two of its most popular landmarks with a single ticket. Visit the iconic Prado Museum with over 20,000 works of art by iconic artists like Rembrandt, Velazquez, Caravaggio, El Greco, Goya, and more. Explore the chambers of the majestic Royal Palace of Madrid, the official residence of the Spanish Royal family. Along with priority access to both these attractions, you are also accompanied by an expert English or Spanish-speaking guide. If you want to make the most of your time in Madrid, choose a combo tour like this one. Calling all art & history buffs! Visit 3 of the most cherished art galleries in Madrid including Prado Museum, Thyssen-Bornemisza, and Reina Sofia. The three are fondly known as 'The Golden Triangle of Art,' housing a coveted collection of artworks within their walls. The best part is that this card is valid for a whole year from the date of purchase, giving you extreme flexibility when you plan your visit. Explore permanent collections, temporal exhibitions, and more with this 3-museum pass! Prado Museum Tours Deconstructed - A Typical Guided Tour Experience
--- Prado Museum houses a massive collection of artworks with so much to see and know. Here are some of the major highlights of your guided tour.
Las Meninas
This painting beautifully depicts Margaret Theresa as a 5-year-old girl, surrounded by the king, queen, and her maids, set in the Royal Alcazar of Madrid. Las Meninas was painted by one of the most iconic artists of the Golden age of Spain, Diego Velázquez. Being one of the most famous and controversial works of its time, the painting uses double imagery to raise dialogue between the artist and the viewer.
The Cardinal
Painted by one of the masters from the Renaissance age, Raphael's masterpiece is a legendary portrait of a young cardinal wearing a red cap. Raphael's use of oil on a panel coupled with his high quality of execution makes this a truly stunning piece of art. No one knows the identity of the cardinal in the painting, something that is debated even to this day.
La Maja Desnuda
The Naked Maja or La Maja Desnuda shows a beautiful woman resting on a velvet couch. It is said by some that the woman in the painting is the Duchess of Alba, while others believe that she is the Godoy's mistress Pepita Tudó. This art piece was painted between 1797 - 1800 on an oil canvas by renowned Spanish artist, Francisco Goya.
The Garden of Earthly Delights
Although created by Hieronymus Bosch between the years 1490 and 1510, The Garden of Earthly Delights found its way to the Prado Museum much later in 1939. The masterpiece is divided into three parts, showing how Adam and Eve met for the first time. Seemingly one of Bosch's most complex and enigmatic pieces, the painting is adorned with bright colors and fine detail.
Venus and Adonis
It is believed that there are more than 30 versions of this theme painted by Titian. Some of them were painted by him, while others were painted by his assistants. Either way, all versions are stand-alone masterpieces. The version of Venus and Adonis in Prado Museum depicts Adonis moving away from Venus, his lover, as she holds on to him in a longing embrace.
Are the Prado Museum Tours Worth It
---
The Prado Museum is one of the most visited attractions in Madrid, inviting more than 3 million visitors every year. If this is your first visit to Prado, then a guided tour is your best option. With its extensive collection of paintings, drawings, and sculptures, a guided tour assures you a meaningful and wholesome experience on your visit. An expert historian will give you an immersive experience of the museum where you can find out fascinating insights about each masterpiece. Make your visit to Prado Museum a memorable one by not just glancing at its artworks but also taking back captivating stories with you.
Prado Museum Essential Information
---
Opening Hours
Monday to Saturday: 10:00 AM to 8:00 PM Sundays: 10:00 AM to 7:00 PM
January 1, December 24, and 31: 10:00 AM to 2:00 PM
Please note that the museum is closed on January 1, May 1, and December 25.
Getting There
By Bus: Bus routes 9, 10, 14, 19, 27, 34, 37, or 45 will take you to Prado Museum in Madrid.
By Car: The closest car parks to Prado Museum are Parking Las Cortes and Parking Montalban.
By Metro: If you plan on traveling by metro, take Blue Line L1 and get down at Atocha station or take Red Line L2 and get down at Banco de Espana station. The museum is just a 10-minute walk from both stations.
By Taxi: You can catch a local taxi which will take you straight to Prado Museum.
Tips for Prado Museum Tour
---
Wheelchair accessibility & Strollers: Prado museum is fully accessible to people with reduced mobility. Additionally, strollers can also be used comfortably around inside the museum.
Storage: If you're carrying large bags, umbrellas, strollers, helmets, and the like, they must be stored at the luggage counter outside the museum.
Photography:Photography is strictly prohibited inside the museum. Handheld cameras and cellphones are permitted can be used however, the use of tripods and flash photography is not allowed.
Audio Guides: The use of audio guides are currently suspended until further notice.
Free access:On certain days, visitors can enjoy free access to Prado Museum. Free entry is permitted from Monday to Saturday between 6 PM to 8 PM and on Sundays and other public holidays from 3 PM to 5 PM.
Souvenirs:To make your visit to Prado Museum more memorable, head over to the Prado Museum souvenir shop. Choose from a range of delightfully themed souvenirs.
Cancellation policy:Some Prado Museum guided tour tickets can be canceled up to 24 hours before the date of the visit, while some cannot be rescheduled, amended, or canceled. Please check the cancellation policy before booking your tickets.
FAQs
---
What is the best guided tour while traveling with children?
What time do Prado Museum guided tours start?
For multi-lingual tours, are there different timings for each language tour?
Which is the best Prado Museum tour for budget travelers?
Can I book a private tour just for myself?
Ready to head to the Prado Museum?
---
Purchase discounted Prado Museum tickets via Headout today! Read more about the Prado Museum here.
Explore The Rest of Madrid
Fancy heading out to some other must-visit Madrid attractions? Take inspiration from our list of the best things to do in Madrid here.
In Madrid for a few days?
In the city for a few days and want some help charting out an itinerary? Check out our 1 day in Madrid & 3 days in Madrid itineraries for inspiration.