Known as one of the most tight and twisty tracks on the F1 circuit, the Hungaroring is often compared to a karting circuit. But with back-to-back turns and only a few, short albeit quick straights, it usually delivers on drama and excitement. It's also a great track to watch a race at thanks to the slight dip in where the track lies. The sunken bowl gives you views of various other parts of the track in addition to the one right before you. Lewis Hamilton has won the race eight times, making him the most successful driver in the history of the Hungarian Grand Prix. If you're a Mercedes and Lewis fan, you'll be hoping for a win here!
Hungarian GP in a Nutshell
---
Schedule
Friday, July 21, 2023
First Practice Session: 1.30 PM - 2.30 PM
Second Practice Session: 5 PM - 6 PM
Saturday, July 22, 2023 Saturday, July 22, 2023
Second Practice Session: 12.30 PM - 1.30 PM
Qualifying Session: 4 PM - 5 PM
Sunday, July 23, 2023
Main Race: 4 PM
Hungarian Grand Prix 2023 Opening Hours
For all three days, the track and fan zones open at 7 AM until 8 PM (8.30 PM on Race Day).
Why you must attend Hungarian GP 2023
---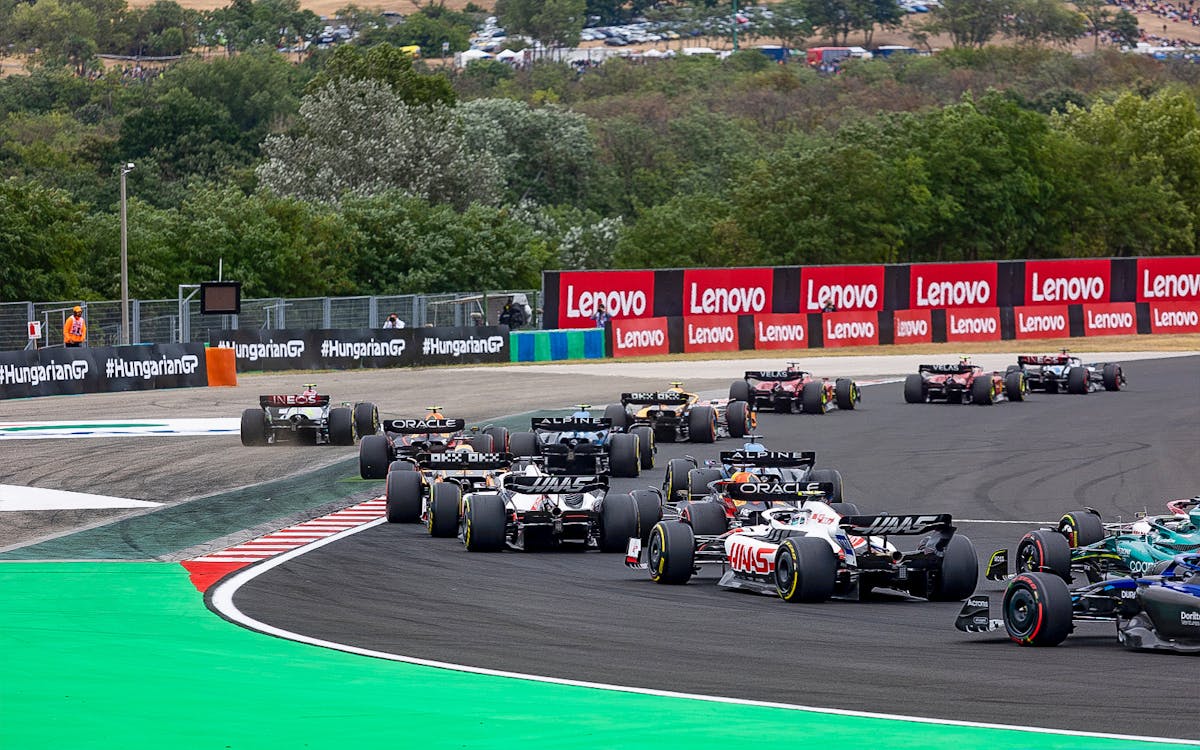 One of the most exciting and picturesque races on the calendar, the Hungarian Grand Prix 2023 is ideal for those who are not already F1 fans too. Not only is the track set in a natural bowl which gives you views of many sectors of the circuit, but it's also just 20 kilometers from Budapest which is a melting pot of culture and entertainment.
The track itself lends itself to an exciting and unpredictable race, with plenty of on-track battles and strategic maneuvers. What is even more exciting is that The Hungaroring circuit is notoriously difficult to overtake on, so it usually comes down to driver grit, and pit strategy. If you're a Ferrari fan, and counting on strategy, now might be a good time to apply for a role to make better race plans for them!
Even off the track, there is plenty to look forward to at the Hungarian Grand Prix. The Mogyorodi Aquarena vizi szorakoztatopark which is a water park, is close to the track and is a great way to unwind after the race, or through the weekend. Besides, with the bustling Budapest only a short way off, you will not be at a loss for things to do.
Fun Fact: Jenson Button, Damon Hill, Fernando Alonso, Heikki Kovalainen and Esteban Ocon all took their first F1 victories at the Hungarian Grand Prix.
Hungarian Grand Prix Circuit
---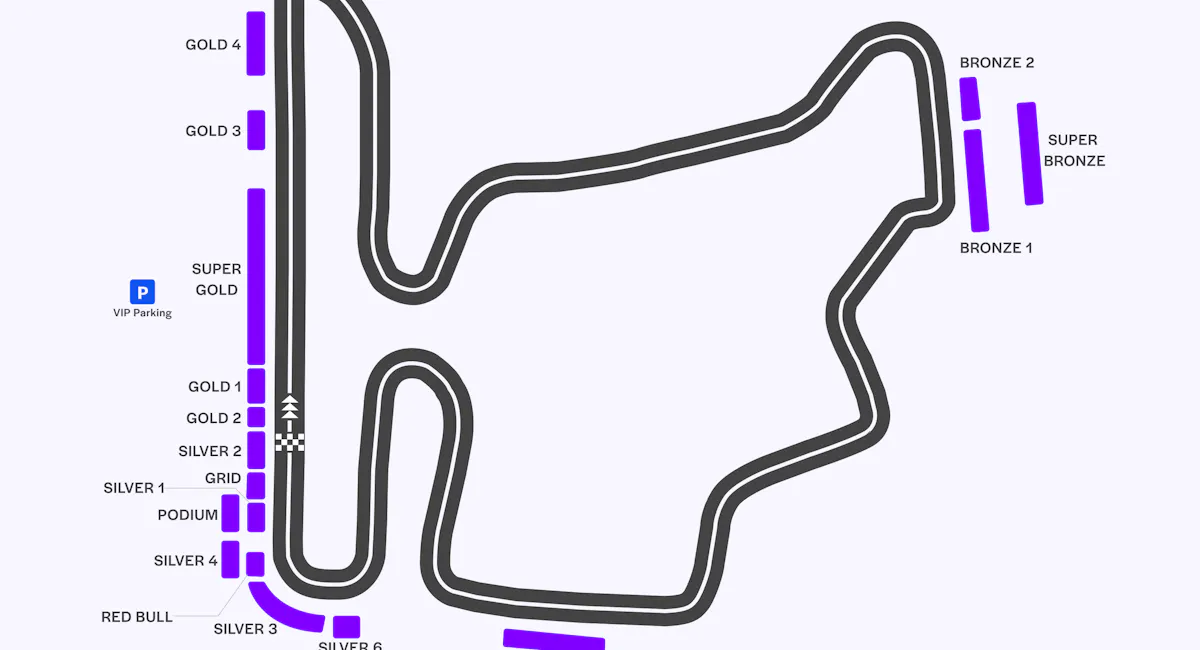 Lap Distance: 4.381 km
Total Laps: 70
Total Distance Covered: 306.63 km
Fastest Lap: 1:16.627 Lewis Hamilton (2020)
The Hungarian F1 Grand Prix circuit looks short and beautiful, but really can be a technically challenging one. The track has multiple corners, and hardly any overtaking opportunities. As it's July and peak summer, it is also a grueling race for the drivers, and is heavily dependent on off track strategy. Known to be the slowest circuits, you can count on the fickle weather to create even more drama.
Hungarian Grand Prix 2023 Tickets
---
Your Hungarian Grand Prix 2023 tickets give you an all-access pass for each of the days of action!
Sat midway down the main straight looking toward turn 1, Super Gold and Gold 1-2 Grandstands is guaranteed to provide you with some of the best views of the entire circuit. Here you will be able to soak in the pre-race atmosphere and see the winner cross the line. You will be able to see the cars on the downhill main straight into turn 1, where the majority of overtakes at Hungary are completed. Super Gold is the only covered grandstand at the Hungaroring with giant screens ensuring you won't miss any of the race unfold. These are also central to the F1 fanzone as well as food, drink and merchandise stalls.
How do I select the right seats?
---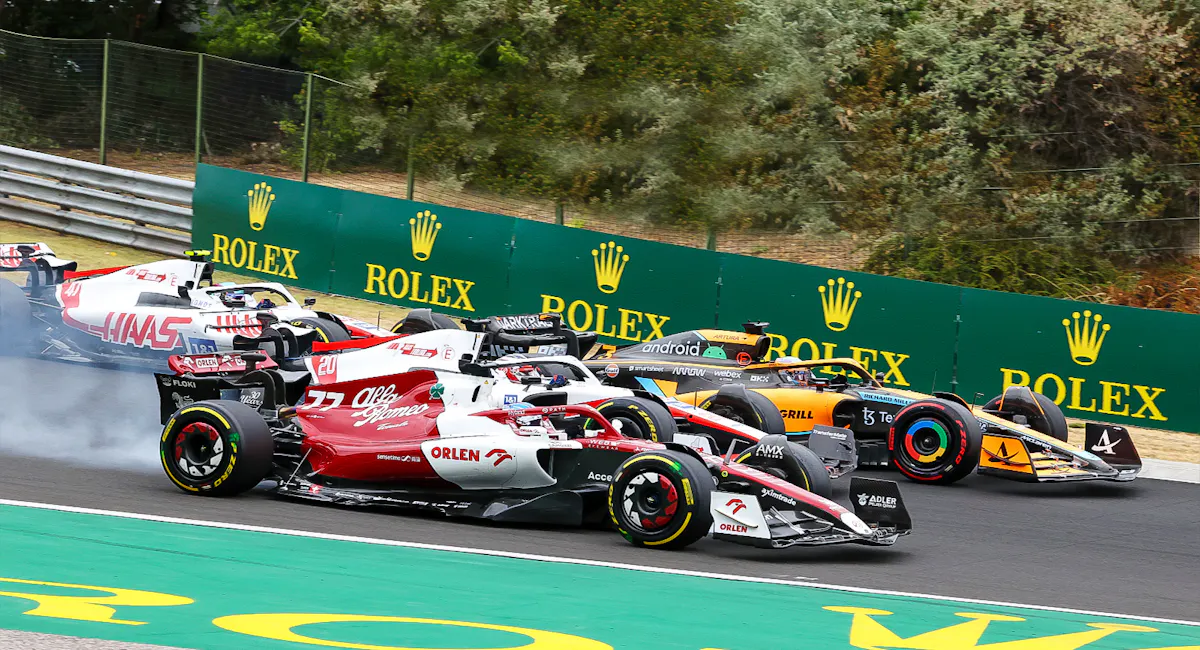 Track View

Giant Screen

Disability Access

Ideal For

Prices

Grid - Between Silver Grandstand 1 & 2
Final corner and main straight which includes the start/finish line.
Yes
No
Last corner and finish line. Plus, views of the pitlane action
EUR 419
Gold 4 Grandstand
Turn 1
Yes
No
All the action of Lap 1 usually happens here. It's also the end of the DRS zone, so expecting overtaking aplenty
EUR 539
SuperGold Grandstand
Main straight into turn 1
Yes
No
It is the only covered grandstand at Hungaroring. Also, closest to the food, drinks and merchandise stalls.
EUR 659
Plan Your Visit
---
Hungaroring Opening Hours
The Hungarian Grand Prix opens from 7 AM - 8 PM on all three days, but the timings are subject to change.
Getting to the Hungaroring, Hungarian Grand Prix Circuit
Suburban railway (HÉV) -Take the HEV from Örs vezér Square. Get off at Szilasliget stop (it takes about 30 minutes to get there). There is a stop at Hungaroring but the path is dirty while this one is a paved option.
Car - If you have access to a car, it can be a convenient way to get to the track. There is plenty of parking available, but expect traffic and delays on race day, though ususally, it takes 20 minutes via M3 motorway. You have to buy a pass (vignette) before driving onto the motorway, and that costs 10 EUR.
Shuttle bus - The Hungaroring offers shuttle buses from the Pest end of the Árpád Bridge (Volánbusz coach station, close to the M3 metro stop) , and take visitors to the center of Mogyoród (Templom tér). After that, it's a 40-minute walk to the track. On Race Day, the buses depart every 6-7 minutes.
Taxis - Taxis are available in the area, but expect high demand and prices on race day. It usually costs approximately 39 EUR or 9.900 HUF
F1 Dictionary - Everything There is to Know
---
Traction - Traction is a critical factor that affects cornering and acceleration. A car with good traction is able to take corners at a higher speed, as the tyres are better able to grip the road surface.
Black and white flag - This is a warning flag indicating unsporting behavior or rule violation.
Stop and Go penalty - If given this punishment, the driver must enter the pit lane and stop for a brief amount of time before rejoining the race. This penalty is usually given to drivers who have committed an infraction during the race, such as speeding in the pit lane or causing a collision with another car.
Apex - The point on a turn where the driver's car is closest to the inside of the corner, allowing for maximum speed and acceleration out of the turn.
Chassis - The structure of the car that includes the driver's seat, cockpit, suspension, and aerodynamic features.
FAQs
---
The Hungarian Grand Prix 2023 is a three-day event from July 21 to July 23.
Your Hungarian Grand Prix tickets give you an all-access pass for the three-day event. You can watch practice sessions, the qualifying sessions, and the final race with these tickets. These tickets also give you access to the fan zones, performances, and off-track activities. But please check your tickets, as tickets for only specific days are also available.
The weather at Hungaroring during the Hungarian Grand Prix can be hot and humid, with temperatures typically in the mid to high 20s Celsius (mid to high 70s Fahrenheit).
The race was won by Max Verstappen from the 10th position on the starting grid, while Mercedes drivers Lewis Hamilton and George Russell took second and third place respectively.
Spectators at Hungaroring during the Hungarian Grand Prix can enjoy a variety of amenities, including food and drink vendors, merchandise stands, and restrooms. Some grandstand tickets also include access to hospitality areas with additional amenities.
Hungarian Grand Prix 2023 Guide