The Austrian F1 Grand Prix, set at the Red Bull Ring, is at one of the most beautiful locations on the circuit. And what this short track lacks in length, it makes up for in quick turns, straights and even a hill to test cars going up and down! Home of the dominant Red Bull Racing Team, it's one of the most iconic circuits, and you might remember it being called the A1-Ring since it first hosted a race in 1996. With the Styrian mountains for a backdrop, this one tests the cars and drivers for speed, skill and resilience. Basically, the Red Bull cars and fans will love it!
Austrian GP in a Nutshell
---
Schedule
Friday, June 30, 2023 First Practice Session: 1.30 PM - 2.30 PM Qualifying: 5 PM - 6 PM
Saturday, July 1, 2023 Second Practice Session: 12.30 PM - 1.30 PM Sprint Race: 4.30 PM - 5.30 PM
Sunday, July 2, 2023 Main Race: 3 PM
Australia Grand Prix 2023 Timings
For all three days, the track and fan zones open at 7 AM until 8 PM (8.30 PM on Race Day).
Why you must attend Austria GP 2023
---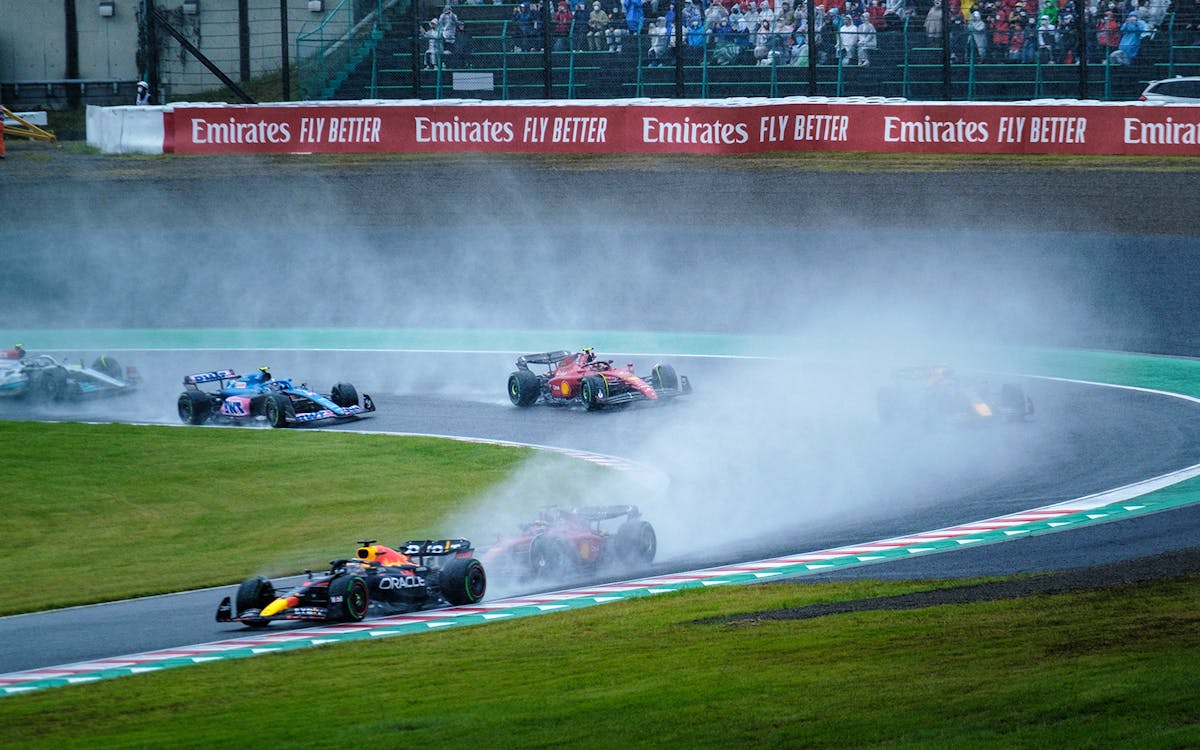 One of the most exciting races on the calendar thanks to the phenomenal atmosphere the Red Bull team and fans bring to their home game, the Austrian Grand Prix 2023 is also a sprint weekend. This means there's three days of action-packed racing and three days of trophies to be won.
The track is also a haven for overtaking, and with DRS at play, there's alway some wheel-to-wheel action expected here. Faster than it seems, the Red Bull Ring always stirs up last-minute drama - be it Verstappen overtaking Leclerc with three laps remaining, or Hamilton and Rosberg going all out in 2016 - making the Austrian Grand Prix a must-attend. It's also the tack at which Michael Schumacher let his teammate Reubens Barichello easily overtake him on the last lap to take victory, a move criticized by most, and eventually leading to a rule change!
Even off the track, there is plenty to look forward to at the Austrian Grand Prix. With two fan zones - the F1 Fan Zone and the Steiermark Village Fan Zone - there's lots of entertainment to be expected. Don't forget to take a picture at the iconic Red Bull installation that welcomes you to the race track.
Fun Fact: At the 2016 Austrian Grand Prix, Red Bull Racing became the first team to complete a pit stop in under two seconds. The team's pit crew changed all four tires on driver Max Verstappen's car in just 1.92 seconds.
Red Bull Ring
---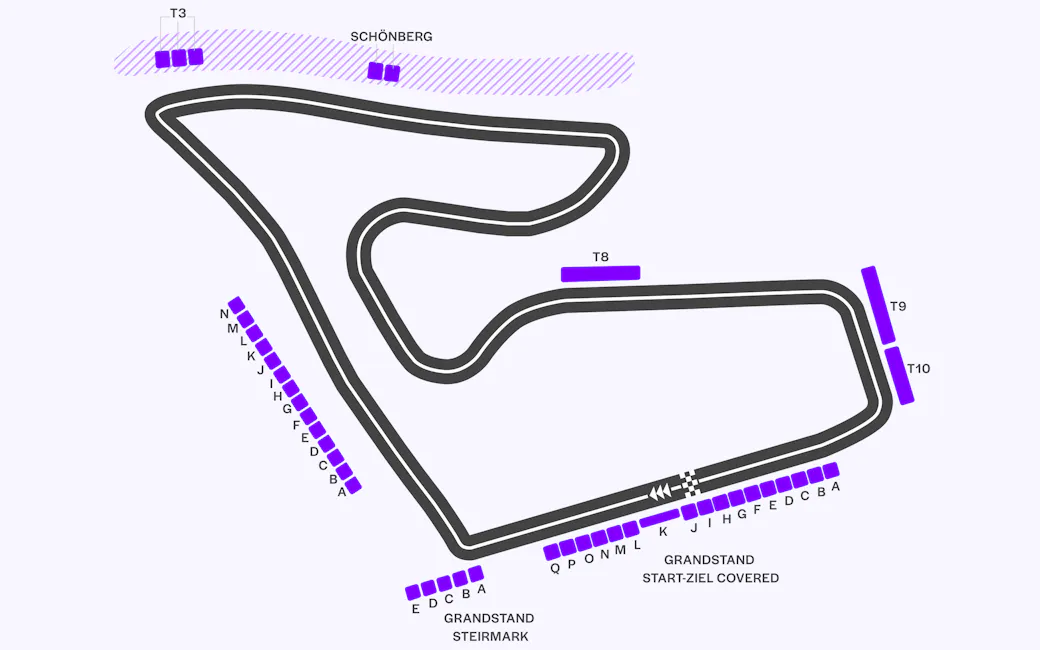 Circuit Length: 4.318 km
Total Laps: 71
Total Race Distance: 306.452 km
Fastest Lap: 1:05.619 Carlos Sainz (2020)
The Austrian F1 Grand Prix circuit looks short and beautiful, but really can be a technically challenging one. The track features several elevation changes and fast, sweeping corners that test the skill and needs drivers to be at their precise best. With 10 turns and long straights, it is one of the fastest circuits on the calendar, with top speeds reaching up to 320 km/h.
Austrian Grand Prix 2023 Tickets
---
Your Austrian Grand Prix 2023 tickets give you an all-access pass for each of the days of action!
If you're not busy admiring the Styrian mountains, and soaking in the atmosphere at the Fan Zone, then you need to get yourself a spot to watch this race.
How do I select the right seats?
---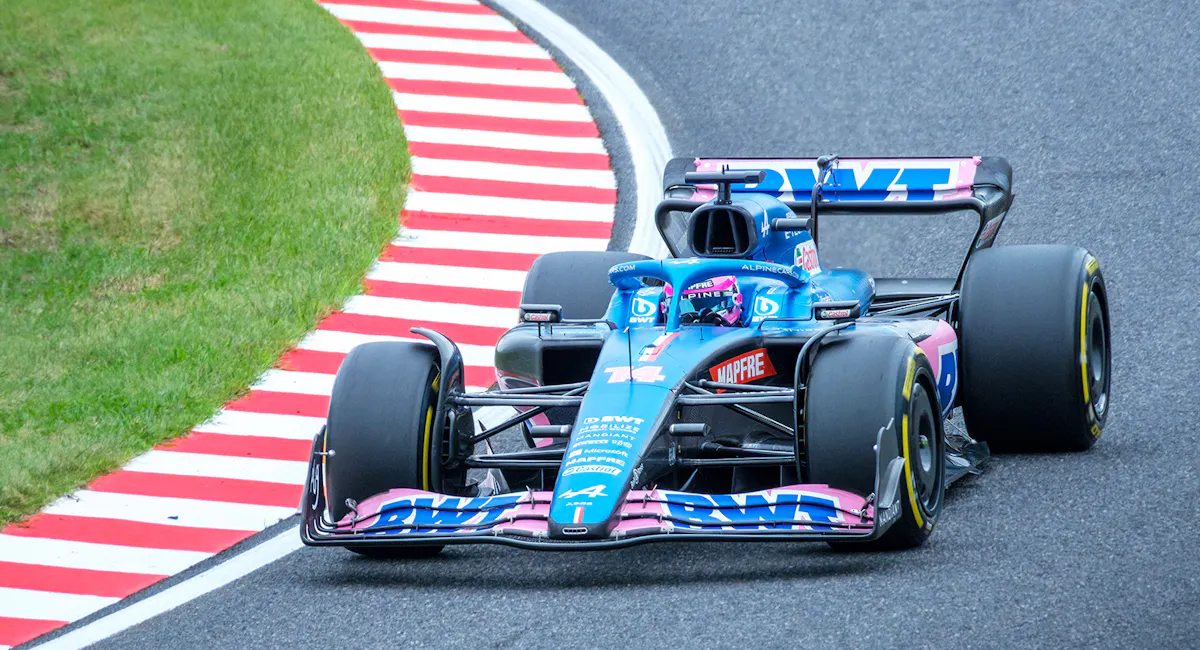 Track View

Giant Screen

Disability Access

Ideal For

Prices

General Admission
Various
No
No
No assigned seat but access to some grandstand areas
EUR 259
Grandstand T8
Exit of Turn 7 downhill to Turn 8, and part of Turn 9.
Yes
No
From this grandstand, you can also see the cars as they approach Turn 9, where lots of overtaking maneuvers are attempted.
EUR 445
Schönberg
The whole second sector, including the longest straight at the circuit.
Yes
No
Watch as the cars reach top speeds here and lots of overtaking action.
EUR 499
Grandstand T9
Exit Turn 8, through the fast left-hand Turn 9 and entry to the hairpin of Turn 10
Yes
Yes
In addition to turns 8, 9 and 10, you can even see Turn 1 and the pitlane exit from here. Plus, there are covered and uncovered seats.
EUR 499
Grandstand 3
Turn 1, Turn 2, Turn 3
Yes
No
Great for start of the race, overtaking and pit lane exit
EUR 589
Steiermark Grandstand
Turn 6, Turn 7, Turn 8
Yes
No
Good for mid-speed action and overtaking, panoramic view
EUR 779
Plan Your Visit
---
Red Bull Ring Opening Hours
The Austrian Grand Prix opens from 7 AM - 8 PM on all three days, but the timings are subject to change.
Getting to the Red Bull Ring, Austrian Grand Prix Circuit
Car - If you have access to a car, it can be a convenient way to get to the track. There is plenty of parking available, but expect traffic and delays on race day.
Shuttle bus - The Red Bull Ring offers shuttle buses from nearby cities like Graz, Vienna, and Klagenfurt. These can be a good option if you don't want to drive or if you're staying in one of these cities.
Train - The nearest train station is in the town of Knittelfeld, which is about 5 km from the track. From there, you can take a bus or taxi to the circuit.
Taxi or ride-sharing service - Taxis and ride-sharing services like Uber are available in the area, but expect high demand and prices on race day.
Bicycle or walking - If you're staying in the nearby town of Spielberg, you can walk or bike to the track. There are bike racks available near the entrance.
F1 Dictionary - Everything There is to Know
---
Nomex - A lightweight and fire resistant material used to make the driver's suit.
Monkey seat - A small rear wing mounted under the car's main rear wing, used to improve stability and grip
Slipstreaming - Following closely behind another car to reduce air resistance and increase speed.
Chassis - The structure of the car that includes the driver's seat, cockpit, suspension, and aerodynamic features.
FAQs
---
The Austrian Grand Prix 2023 is a three-day event from June 30 to July 2, 7 AM onwards.
Your Austrian Grand Prix tickets give you an all-access pass for the three-day event. You can watch practice sessions, the qualifying sessions, the Sprint and the final race with these tickets. These tickets also give you access to the fan zones, performances, and off-track activities. But please check your tickets, as tickets for only specific days are also available.
Charles Leclerc won last year's Austrian Grand Prix
Australia Grand Prix 2023 Guide