Ferrari World - Reopening Date 29th July 2020
---
Ferrari World officially reopened on 29th July 2020. With the safety of guests being at utmost priority an effective system has been put in place by the staff to ensure maximum protection and hygiene within the venue.
Safety Measures & New Rules at Ferrari World
---
Due to safety reasons, thermal screening has been introduced at the venue. It is mandatory for both staff and guests to undergo this screening before entering the venue. Capacity has been significantly reduced to avoid overcrowding within the attraction. Hand sanitizer dispensers have been placed at various locations which visitors can avail.
All guests are required to maintain a safe distance of at least 2 meters from other visitors within the venue. Visitors from the same household can stay together without any limitations.
Guests are required to wear face masks at all times inside the Park unless advised by staff. Visitors are granted access to ride mask-free on all attractions.
The onsite cleaning team has been doubled to ensure maximum hygiene is maintained within the venue. All rides and other common areas frequently touched will be cleaned extensively and sanitized, ensuring that the Park is completely disinfected. All guests are advised to download the Contactless App to limit the use of printed maps within the venue.
Currently, only the Ferrari store is open. The Past & Present Store will remain temporarily closed until further notice.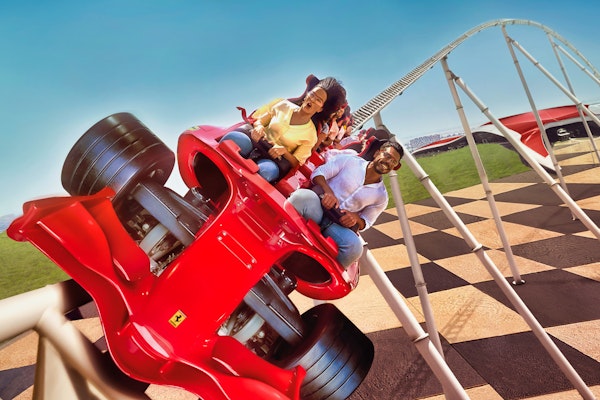 Booking Ferrari World Tickets Online
---
Tickets for Ferrari World are available here.
Tickets are not available at the Park entrance. To avoid overcrowding it is now mandatory for all guests to book tickets online before arriving at the venue.
Contactless and card payment is encouraged throughout.
For more information about visiting Ferrari World, refer to the information section here.