Eschenbach Palace
Discover Vienna through its classical music! Listen to compositions by Strauss, Mozart and Schubert at the beautiful Eschenbach Palace. Let the talented performance of the Vienna Supreme Orchestra and its soloists amaze you while the vintage interior of the Eschenbach Palace takes you back in time.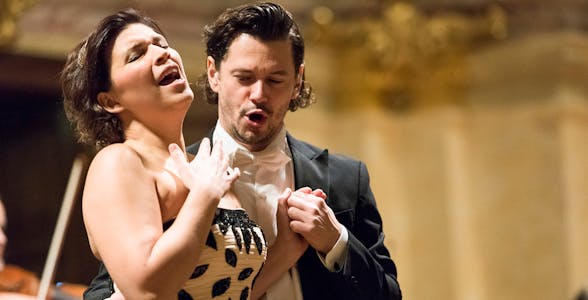 Free cancellation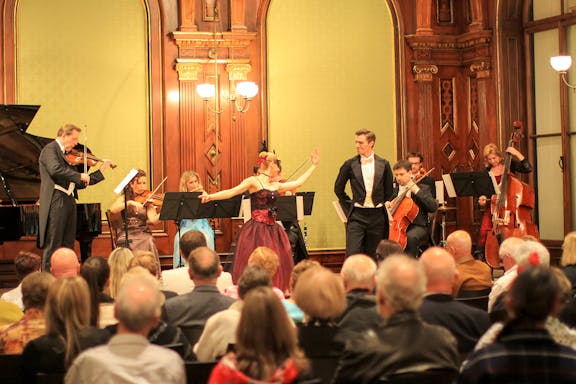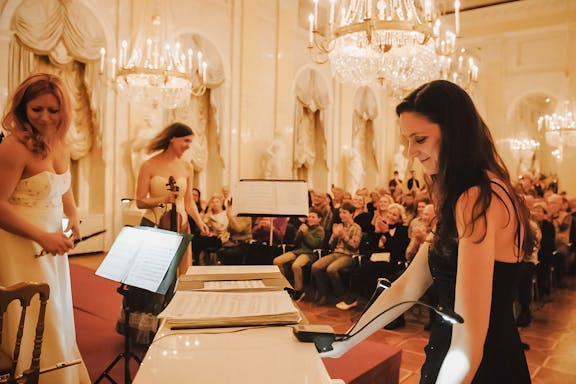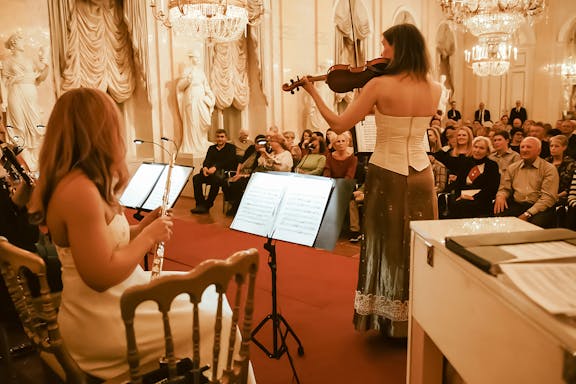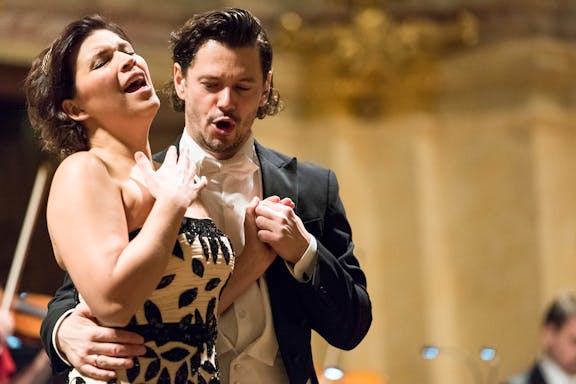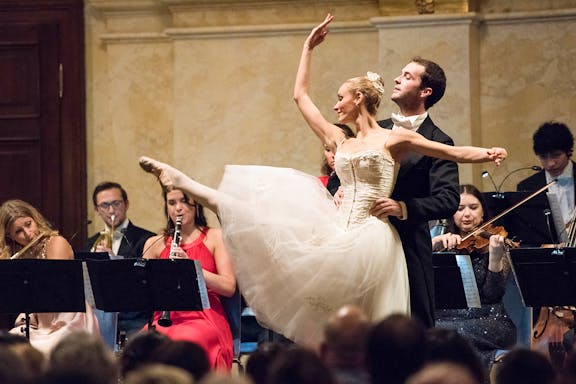 Guide to Eschenbach Palace Vienna

Eschenbach Palace, built in the Palladian Classicism style, was opened in 1872 by Emperor Franz Joseph I. This iconic and historic building is situated on the famous Ringstrasse, in the first district of Vienna. Most of the original design from the plans of Otto Thienemann for the building has been preserved. The ballroom, with its wonderful acoustics and coffered ceiling, is the ceremonial hall and forms the centre of attraction at the venue. Be it Mozart or Strauss, you will be mesmerised by the experience of a classical concert here.
What Makes Eschenbach Palace Vienna Special?

Located in the historic first district, Eschenbach Palace Vienna has been around for more than 150 years, but its splendour has not lessened even a bit. Otto Thienemann's Palladian classicism design cuts an impressive figure at the Ringstrasse, where there is no shortage of magnificent and regal-looking buildings. With the Vienna Supreme Concerts being hosted at the venue regularly, you'll be able to experience the delightful nuances of the acoustics of the venue when listening to the works of some of the most famous classical music practitioners — Mozart, Strauss, Schubert and others. If you're looking for a pleasing blend of history, architecture and music when you're in Vienna, a visit to one of the Eschenbach Palace concerts is a must.
About Eschenbach Palace Vienna

History

Architecture

The Eschenbach Palace was conceived in the 1860s as the association building of the Austrian Trade Association. Emperor Franz Josef I ceremoniously inaugurated the building in 1872 at the Ringstrasse. In the initial days, the palace had a key role to play in the realization of many innovative ideas, such as the Vienna Urania, the TGM or the Vienna World Exhibition. Not only was Eschenbach Palace used for balls, meetings and festivals, but it was also the hub for the unveiling of technical innovations in those days. In fact, in 1868, the ballroom was witness to the first public test flight of Wilhelm Kress' flying model. Now, after extensive renovations, it has become a premium venue for all kinds of events, especially classical music concerts.

The Eschenbach Palace, constructed in the elegant Palladian Classicism style, incorporates the architectural visions of Otto Thienemann, a renowned architect from Vienna. The building has many attractive aspects but the most beautiful part of it is the 'Golden Ballroom', a feat of concert venue architecture, with its coffered ceiling, graceful arcade arches, and numerous marble pilasters. The acoustics are flawless and the aesthetics transports you back to the Golden Age of Viennese classical music, as if Mozart himself has taken the stage. Similarly, the Banquet Hall mesmerises guests with its elegance, adorned with opulent wood panelling and ornate tapestries.
Plan Your Visit to Eschenbach Palace Vienna

Timings

Getting There

Facilities and Accessibility

Tips/Guidelines

Mon to Fri: 9 am to 6 pm
Sat & Sun: Closed
Timings may vary for concerts at the Eschenbach Palace

The best way to get to Eschenbach Palace Vienna is by public transport. Here are some of the options that you can explore when you're in town.

Bus: The nearest bus stops are Getreidemarkt and Museumsquartier. Bus lines 48A, 4A, 57A, 59A, N38, and VAL 2 stop near Eschenbach Palace.

Subway: Subway lines U1, U2 and U4 have stations that are close to the Palace. Museumsquartier station of subway line U2 and Karlsplatz station of subway lines U1 and U4 are the closest stations.

Train: Train lines that stop near Eschenbach Palace are R95, S1, S3, S50, S7, and S80.

It is best not to travel by personal car because parking in the first district is notoriously difficult to find.

The venue is wheelchair accessible.
Eschenbach Palace has air conditioning.
The venue is stroller accessible.
Service animals are allowed inside.

Although there is no strict dress code, it is recommended that guests dress in smart casual attire or eveningwear, especially during concerts and events.
A cloakroom is available for guests but you should avoid carrying large bags or items.
Make use of public transport or taxis to get to Eschenbach Palace instead of driving, as parking can be limited and Vienna is notorious for its narrow lanes.
Maintain decorum and switch off your phones during performances.
Be careful while purchasing tickets for children. Some of the concerts may have age restrictions.
Infants must sit on laps and children must be accompanied by an adult.
Do not hesitate to ask for the staff's help if you need any assistance.
Classical Concerts at Eschenbach Palace Vienna

How can you get cheap tickets to concerts in Eschenbach Palace Vienna?

Getting cheap tickets to concerts in Eschenbach Palace Vienna is a breeze when you book them online. You will be able to access all the latest deals and offers and figure out which ticket best suits your needs. Online portals also let you buy your tickets in advance, thus ensuring that you get the best out of your money. Choose from a large variety of tickets and get all the information at your fingertips, so that you can make a informed decision.

What is currently playing at Eschenbach Palace Vienna?

Eschenbach Palace Vienna is currently hosting a series of Vienna Supreme Concerts, in which the Vienna Supreme Orchestra will present the best of Mozart, Strauss and other classical music Maestros.

What is the dress code at Eschenbach Palace Vienna?

While there is no strict dress code, we recommend that you choose semi-formal or smart casual attire when visiting the Eschenbach Palace for a concert. It is customary to dress up at classical music concerts, so don't be afraid to bring out your cocktail dress, formal shirts and other other eveningwear options. It is also best to wear formal shoes during these events.
Top Things to Do in Vienna
Eschenbach Palace Vienna FAQs

Is the Eschenbach Palace Vienna wheelchair accessible?

Yes, Eschenbach Palace Vienna is wheelchair accessible. The staff, too, is ready to help guests with special needs for any kind of accessibility assistance.

What kind of activities can I do at the Eschenbach Palace Vienna?

At the Eschenbach Palace, you can enjoy the best of Viennese classical music and also tour the beautifully created rooms that have so much history associated with them.

How do I get to Eschenbach Palace Vienna?

The easiest way to reach Eschenbach Palace Vienna is by taking public transportation. It is located a few minutes away from the Museumsquartier subway station and the Karlsplatz subway station, and also serviced by many bus routes.

What is the dress code at Eschenbach Palace Vienna?

Although there are no strict dress codes usually, it is best to dress in semi-formal, formal or smart casual attire when visiting Eschenbach Palace.

Is there parking available at Eschenbach Palace Vienna?

Parking is very difficult to find in the first district of Vienna so we suggest that you take public transportation to reach the venue. However, the area is a short-term parking zone from Monday to Friday, with a maximum parking time of two hours from 9:00 to 22:00.