Vienna Music Association
See the best of Mozart and Strauss' concerts performed by the talented Vienna Mozart Orchestra. It is a beautiful concert hall in the Innere Stadt borough of Vienna, Austria that celebrates the beauty of classical music through its timely concerts.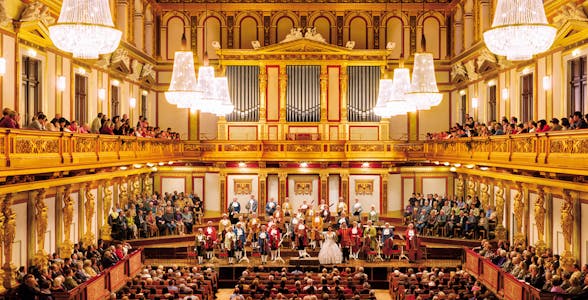 Headout's Top Recommendations
Free cancellation
Free cancellation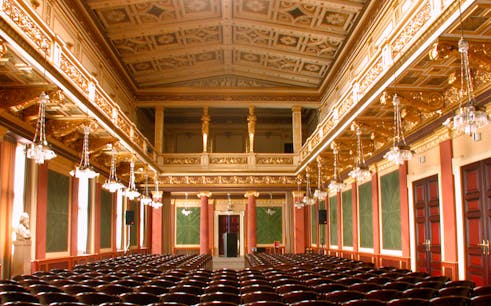 Duration
1 hr 30 mins - 1 hr 45 mins
Inclusions
Reserved seat in the chosen category
Free Vienna Mozart Orchestra CD
4-course meal at Opus (VIP ticket)
1 glass sparkling wine or orange juice (VIP ticket)
Reserved seating in the chosen category
Free Vienna Mozart Orchestra CD
Cancellation Policy
You can cancel these tickets up to 24 hours before the experience begins and get a full refund.
You can cancel these tickets up to 24 hours before the experience begins and get a full refund.
Guide to Musikverein Vienna

The Musikverein, also known as the Viennese Music Association, located in Vienna, Austria, is one of the most prestigious concert halls in the world. Founded in 1870, it quickly gained notoriety for its impressive acoustics and became a favorite performance venue for prominent composers such as Brahms, Strauss and Mahler, and others. Today Musikverein continues to host some of the world's finest classical music performances. It is home to the Vienna Philharmonic Orchestra as well as an important stage for the Vienna Mozart Orchestra. Many renowned soloists and guest orchestras from around the globe, too, perform at the venue to a full house. The Musikverein's Great Hall is comparable to some of the most famous classical music concert venues in the world, like Konzerthaus in Berlin or the Symphony Hall in Boston.
What Makes Musikverein Special?

The Musikverein in Vienna is one of the premier concert venues for classical music in the world.. Located in the center of Vienna, it provides guests with a unique opportunity to experience some of the best orchestral performances from around the world. The building itself is an impressive structure, featuring the Great Hall, with the world-famous acoustics, and a number of smaller halls that were later constructed in order to have smaller and more intimate performances. The Musikverein hosts a number of events throughout the year, including performances by the Vienna Philharmonic Orchestra, Vienna Mozart Orchestra and other special performances by talented artists from all over the world. Musikverein's Vienna New Year's Concert is possibly the most well-known classical music concert in the world. The venue's rich history and famed acoustics make it a must-visit for classical music fans.
History

Architecture

The Musikverein has played an essential role in the development and preservation of classical music in Vienna since its inception. After an Imperial decree in 1857 by Emperor Franz Joseph, Vienna's old city walls were demolished and the brand new boulevard, the Ringstraße, was built. This is where the Musikverein was built. The first recital was held in 1872 by Anton Bruckner and an old pipe organ, which was built by Friedrich Ladegast, was part of the original equipment setup. The organ that currently exists in the Great Hall was installed in 1907 and then rebuilt again in 2011. Being the home of the Vienna Philharmonic Orchestra, the Musikverein hosts a number of top-tier classical music concerts throughout the year and it has become an icon in the world of classical music.

The Musikverein is a stunning building with an impressive exterior and interior design. The hall was designed by Danish architect Theophil Hansen, in a style that came to be known as Strict Historicism, with deep Greek influences in not only the architecture but also the decorative and colour elements. It features tall Corinthian columns and statues, while the interior is characterized by gold-plated decorations and richly decorated ceilings. The venue also features excellent acoustics, which are made possible by its narrow shoebox shape. The interior of the hall is also decorated with beautiful blue and gold frescoes, making it one of the most attractive venues in Vienna.
Plan Your Visit to the Musikverein

Timings

Getting There

Facilities and Accessibility

Tips/Guidelines

Mon, Tues, Wed, Thurs, Fri: 9 am to 8 pm

Sat & Sun: 9 am to 1 pm

The best way to get to Musikverein Vienna is by public transport. Here are some of the options that you can explore when you're in town:

Bus: Oper/Karlsplatz, Karlsplatz and Schwarzenbergplatz bus stops are all about a three to five minutes walk from Musikverein. Bus lines 14A, 48A, 4A, 57A, 59A, N25, and VAL 2 stop nearby.

Subway: Take lines U1, U2 and U4. The closest U-Bahn (underground) station is Karlsplatz, from where it is a ten-minute walk along Friedrichstrasse.

Tram: The Oper/Karlsplatz stop is closest and various tram services, including the 1, 2, 62, 71 and D lines, can be used to get to the venue.

If you're driving a personal car to the Musikverein, parking is available nearby in Parkgarage Stephansplatz garage or in one of the many side streets around the venue.

• The venue has wheelchair access for guests.

• Adapted toilets and lifts are available for guests with special needs.

• Guide dogs are allowed at the venue and there is also a dog zone in the Resselpark.

• Musikverein has a designated seating area for wheelchair users.

• The venue has disabled parking available.

• Be sure to dress appropriately for the occasion; semi-formal, formal or smart-casual attire is advised.

• Be respectful of the performers and other attendees. Do not talk during the performances, and make sure to put your phone in silent mode during the performance.

• We recommend that you arrive a little early when visiting so there are no delays and you can quickly settle down.

• Picture and sound recordings are prohibited during the performance.

• All bags will be searched upon entry, so make sure to bring only the necessary items.

• Feel free to ask the staff for help in case you need anything.
Classical Concerts at Musikverein

How can you get cheap tickets to concerts in Musikverein?

Buying tickets online is the best way to get cheap tickets to concerts in Musikverein. Online ticketing services usually offer great deals and discounts, allowing you to purchase tickets at a considerably lower price point. Additionally, when you buy your ticket online, you can choose from a variety of seating options and make sure that you are getting the best value for your money. It is convenient and fast, allowing you to make your purchase from the comfort of your own home.

What is currently playing at the Musikverein?

Musikverein has a number of concerts lined up each year. Currently, it is hosting the Mozart Orchestra concerts that have multiple performances each week. If you're looking for an enriching classical music experience in Vienna, this is a great choice.

What is the dress code at Musikverein?

At the Musikverein Vienna, formal and semi-formal attire is recommended for concerts, especially those in the evening. Collared shirts, cocktail dresses, pantsuits, heels and dress shoes work well, although there is no strict dress code usually. It is best to avoid sportswear and casual clothes like shorts and t-shirts.
Top Things to Do in Vienna
When is the Musikverein open?

The Musikverein is open from 9 am to 8 pm, Monday to Friday and 9 am to 1 pm on Saturdays.

Is photography allowed inside the venue?

Photography is only allowed in specific areas of the building so be sure to ask the staff when you visit. Picture and sound recordings are prohibited during the performance.

Are there food and beverage options available?

There are a variety of food and drink options available near Musikverein. You'll find restaurants serving all kinds of cuisine, including traditional Austrian food, close to the venue.

What is the address of Musikverein?

Musikverein is located at Musikvereinspl. 1, 1010 Wien, Austria.

How can I purchase tickets to concerts in Musikverein?

Tickets for concerts in Musikverein can easily be purchased online. It's time-saving and hassle-free and also enables you to make informed choices.