Kursalon
A visit to Vienna wouldn't be complete without a visit to Kursalon, a venue where Johann Strauss used to play. Book your tickets for an evening dedicated to classical music that includes performances by opera singers and ballet dancers.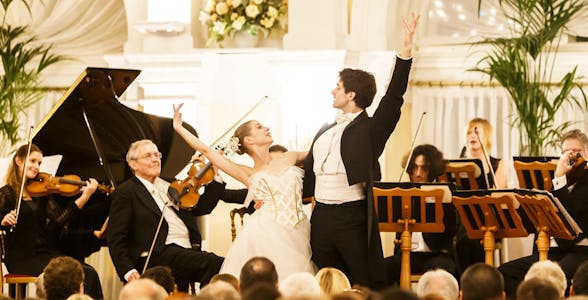 Headout's Top Recommendations
Inclusions
Cloakroom fee (VIP option)
A glass of sparkling wine or orange juice during the intermission (VIP option)
CD and program booklet (VIP option)
Dinner in the restaurant Johann
Cancellation Policy
These tickets can't be cancelled or rescheduled.
These tickets can't be cancelled or rescheduled.
Kursalon in Vienna, Austria is a luxurious and spectacular venue with a rich history. Built between 1865 and 1867, the Kursalon was originally envisioned as a recreational center under Emperor Franz Joseph I which would provide mineral water for drinking. Designed by Johann Garben in the style of the Italian Renaissance, the building features frescoes and marble columns that represent a royal Viennese grandeur. Today, the Kursalon is home to a variety of events, ranging from concerts and operas to formal dinners and receptions. It is one of the most recognizable landmarks of Vienna.
What Makes Kursalon Special?

Kursalon Vienna is a must-visit attraction when you're in town. Located in the heart of Vienna, it is famous worldwide for its classical music concerts, with performances from top-tier artists and ensembles. There is something for everyone at the Kursalon, whether it be operas, concerts or other kinds of cultural events. Kursalon is also known for its association with Johann Strauss, who was the first to perform a classical music concert there. Apart from its musical significance, Kursalon is also well-known for its vibrant culinary scene. Its in-house restaurant, Johann, is a great place to try out traditional Viennese cuisine.
History

Architecture

The Kursalon Vienna is a historical music hall located in the heart of Vienna, Austria. Dating back to the mid-19th century, it was originally built as a spa and was later converted into a ballroom and music venue, rapidly becoming a part of Vienna's thriving social scene. It has since become one of the most iconic musical locations in Vienna, hosting works by some of the most celebrated composers throughout history, brought to life by talented performers from orchestras and ensembles with international fame. The Kursalon, to date, remains an important venue for classical music performances and continues to attract visitors from all over the world.

A stunning example of Italian Renaissance-style architecture, the Kursalon was designed by Johann Garben and built between 1865 and 1867. It features an impressive facade of red bricks, white plaster and decorative cast iron ornamentation. Inside, the ornate interior is decorated with elaborate marble columns and sculptures, stained glass windows and beautiful frescoes. The ceiling features a magnificent painted glass dome that adds to the grandeur of the venue. Apart from its musical legacy, the Kursalon's rich and beautiful architecture, too, makes it one of Vienna's most popular attractions.
All Your Kursalon Tickets Explained

Kursalon tickets usually come in two varieties — one that provides access to only classical music concerts in Kursalon and the other that has dinner added to the concert. Depending on your budget, the time you can spare and the experiences that you are seeking, choose from any of these Kursalon tickets for an enriching and vibrant experience.
Which Kursalon Tickets Should You Go For?

The Kursalon dinner and concert tickets are very popular because they provide a wholesome experience of not only world-famous Viennese classical music but also traditional Austrian cuisine. You also usually spend less money on combo tickets than what you would've spent if you booked these activities separately. So we recommend the dinner and concert tickets for Kursalon.
Plan Your Visit to the Kursalon

Timings

Getting There

Facilities and Accessibility

Tips/Guidelines

Mon, Tues, Wed, Thurs, Fri: 9am to 9pm

Sat & Sun: 11am to 9pm

The best way to get to Kursalon Vienna is by public transport. Here are some of the options that you can explore when you're in town.

Bus: Riemergasse and Lisztstraße are two nearby bus stops. Take bus lines 14A, 4A, 59A, 5B, N25, and VAL 2 to reach Kursalon.

Subway: The quickest route to the Kursalon is to take the U1 subway line and get off at Stadtpark station, which is only a five-minute walk away. 

Tram: Take trams 5 or 33 from Schwedenplatz and get off at Musikverein stop, which is within walking distance from the Kursalon. 

If you're driving a personal car to Kursalon, parking is available nearby in the Stadtparkgarage or U-Parkgarage.

• There is an accessible entrance for wheelchair users.

• Seating is available for those with reduced mobility at the Kursalon.

• Barrier-free washrooms are available for guests with special needs.

• Lifts are available for guests.

• Check the opening hours for the Kursalon before your visit to make sure it is open.

• Although there is no strict dress code, it is encouraged that guests dress in formal and semi-formal attire for performances and events.

• Pay attention to the signs and instructions around the Kursalon so you can familiarize yourself with the venue.

• Make use of public transport or taxis to get to the Kursalon Vienna instead of driving, as parking can be limited and Vienna is notorious for its narrow lanes.

• Avoid carrying large bags or items if possible, as it is usually not allowed in concert halls and auditoriums.

• Be respectful to other visitors and switch off your phones during performances.

•Do not hesitate to ask for the staff's help if you need any assistance.
Classical Concerts at Kursalon

How can you get cheap tickets to concerts in Kursalon?

Buying tickets online for concerts at Kursalon Vienna is an easy and cost-effective way to plan your visit. With the click of a few buttons, you may be able to avail fantastic deals and discounts on classical music concert tickets for Kursalon. There is no need to wait in line anymore, or worry about seat availability — you'll have all information at your fingertips with online tickets to concerts in Kursalon! Book from anywhere, anytime, get customer service support and pay securely for a hassle-free experience.

What is currently playing at the Kursalon?

The Kursalon has a number of Mozart and Strauss concerts lined up each year. These are popular with tourists and locals alike and give a stellar opportunity to experience the Golden Age of Viennese classical music.

What is the dress code at Kursalon?

When visiting the Kursalon Vienna, it is recommended that guests dress in smart and elegant clothes — formal, semi-formal or smart casual attire. For some events, even jackets, closed shoes, heels and ties are appropriate, although there are usually no strict guidelines regarding the dress codes. It is best to avoid wearing casual and athletic wear like shorts, flip-flops, etc.
Top Things to Do in Vienna
Is the Kursalon Vienna wheelchair accessible?

Yes, the Kursalon Vienna is wheelchair accessible. There are ramps, wheelchair-friendly bathrooms, and elevators for easy access.

What kind of activities can I do at the Kursalon Vienna?

The Kursalon Vienna offers a variety of activities for visitors, such as guided tours, fine dining, and classical music concerts.

How do I get to Kursalon Vienna?

The easiest way to reach Kursalon Vienna is by taking public transportation. It is located a few minutes away from the Wien Stephansplatz U-Bahn (subway) station and is also served by multiple tram lines.

What is the dress code at Kursalon?

Although there are no strict dress codes usually, it is best to dress in semi-formal, formal or smart casual attire when visiting Kursalon.

Is there parking available at Kursalon?

Yes, there is parking available at Kursalon Vienna. There are several parking garages nearby and the surrounding streets offer limited paid street parking. It is best to arrive early to ensure availability.