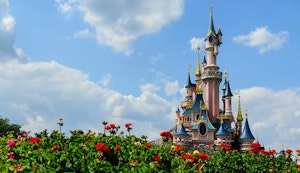 Disneyland Paris is the most-visited theme park in Europe and the second Disney entertainment park to open outside the United States of America. The first was Japan. Disneyland Paris is surely the most beautiful of all Disney's parks. The highlight is the stunning and magical Le Chateau de la Belle au Bois Dormant. Or the Sleeping Beauty Castle in English.
Formerly known as Euro Disney Paris, Disneyland Paris was opened in the year 1992 and has been a focal point of recreation and entertainment in Paris since. Disneyland Paris consists of two parks - Disneyland Park and Walt Disney Studios Park. Both the parks are an instant hit with children as well as adults.
Disneyland Park Paris
Disneyland Park is famous for it's classic attractions, shows and street parades that are spread across 5 incredible landscapes. You can trace the story of Aladdin and marvel at miniature scenes from the city of Agrabah, play Indiana Jones and hold onto your hat as you go hurtling down a runaway wagon through mysterious jungle ruins, head backstage to meet Mickey Mouse and much more!
Walt Disney Studios Park
At Walt Disney Studios Park, you will be able to discover the methods and secrets behind the most magical scenes made by Disney for film and television. You will not only learn how these scenes are made, but also experience it in an interactive manner. Spend time at Disney Animation Studios and discover how a Disney classic gets made, experience an explosive special effects experience in a spacecraft's control room at the Armageddon : les Effets Spéciaux and many other attractions to give you a fantastic day.
Disneyland Paris Timings
October to May : 10 AM to 7 PM for Disneyland Park and 10 AM to 6 PM for Walt Disney Studios
June to September : 10 AM to 11 PM for Disneyland Park and 10 AM to 7 PM for Walt Disney Studios
Famous Disneyland Paris Rides
Enjoy the Phantom Manor, Indiana Jones et le Temple du Peril, Disneyland Railroad, Discovery Arcade, Dumbo The Flying Elephant, It's A Small World, Autopia, Adventure Isle, Arcade Beta, Big Thunder Mountain and others.
How To Get To Disneyland Paris
Disneyland lies 20 miles to the east of the center of Paris. Most visitors take the RER, suburban commuter trains, from Paris. Line A of the RER system ends at the Marne La Valee station. This station is located right across the gate of Disneyland Paris.
Headout offers numerous Disneyland Paris tickets and tours which have hotel pick up and drop off as well.