IMG Worlds of Adventure Reopening Date - 10th July 2020
---
In the mission to create a relaxed and enjoyable experience for all, IMG Worlds of Adventure has introduced new rules and guidelines which are advised to be followed by every visitor.
Safety Measures in place at the IMG Worlds of Adventure
---
For safety reasons, thermal cameras have been installed at the entrance of the park for guests and staff to check all arriving visitors to IMG World. All guests must follow social distancing by maintaining a minimum of 2 meter space from one another.
For hygiene purposes, all rides are sanitized after every trip giving more attention for all touchpoints and ride queue lines for maximum safety. Each ride is disinfected with a special COVID-19 disinfection chemicals vehicle after every use.
Retail stores and F&B outlets will continue to remain open however, with limited capacity to avoid overcrowding. All restaurants will be frequently cleaned and disinfected after every dining experience. Limited slots are provided to avoid any direct contact.
Hand sanitizers have been placed at every entrance and exit of the attractions for guests to avail.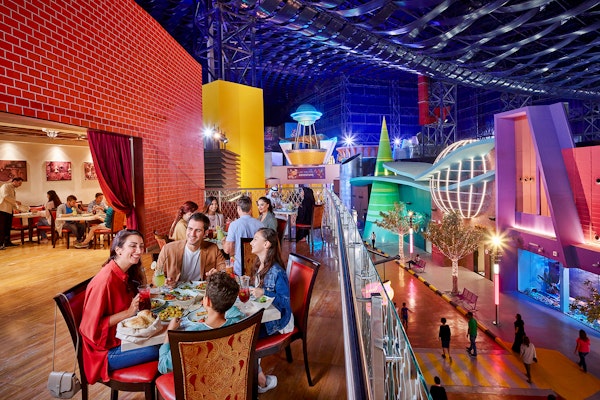 Booking IMG Worlds of Adventure Tickets Online
---
Tickets for the IMG Worlds of Adventure are available here.
To limit contact, all visitors are advised to book their tickets online. Card payment is accepted at the venue. It is necessary to enter with a QR code in physical or digital format.
For more information about visiting IMG Worlds of Adventure, refer to their website here.