Apart from being the New York Times' critics pick, Drunk Shakespeare has played over 850 times in total since its premiere in 2014. Its unique concept includes the one of the members of the cast getting drunk on four to six shots of whisky before performing in front of an audience. Drunk Shakespeare follows the trend of drinking and performing in front of the audience that was once popularised by Comedy Central and Drunk History. Directed by David Hudson, this play puts on a brand new performance with every show, as the talented cast takes turns on getting drunk and performing on stage.
The Story
The stage is set in a hidden library with over fifteen thousand books. Five professional New York actors meet (calling themselves the Drunk Shakespeare Society), and one of them consumes five to six shots of whisky before getting onstage. What follows ahead is a mayhem of hilarity as the rest of the actors try to keep the script on track while the drunken member rambles on. Every show is different depending on who is drinking... and what they're drinking!
Practical Information
---
Show Details
Show Timings
Tues: 7.30 PM, 8 PM & 10 PM
Wed: 8 PM
Friday: 8 PM & 10 PM
Saturday: 6 PM, 8 PM & 10 PM
Duration
1 hour, 30 minutes including one intermission
Leading Roles
Alison Wien
Caitlin Morris
Kelsy Lidsky
Josh Hyman
Directed by
David Hudson
Know Before You Go
Audience
Audience under 21 will not be permitted inside the theater.
Available Facilities
In-house Bar
Coat check
Wheelchair accessible
Outside Food
Strictly prohibited. If you'd like to grab a meal before or after the show, check out our guide to the 30 Best Restaurants in the Theater District.
Dress Code
Smart and casual wear is recommended. Keep in mind, the theater is air conditioned throughout the year and can get a bit chilly.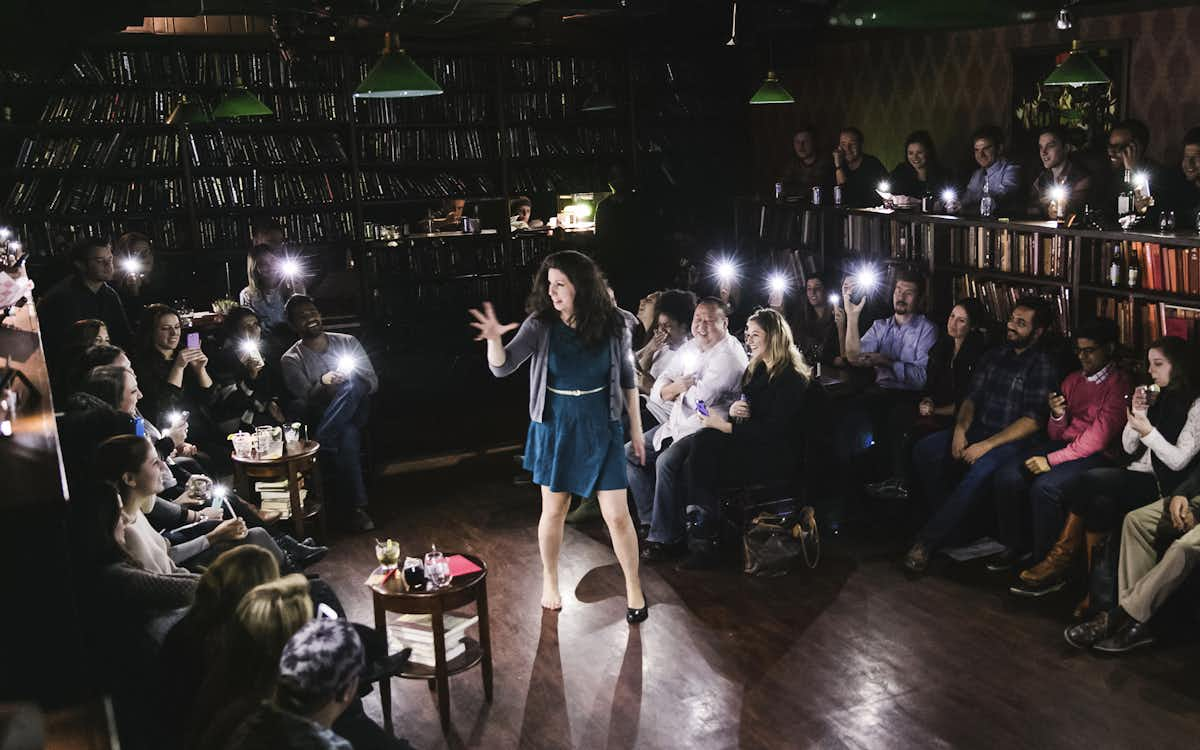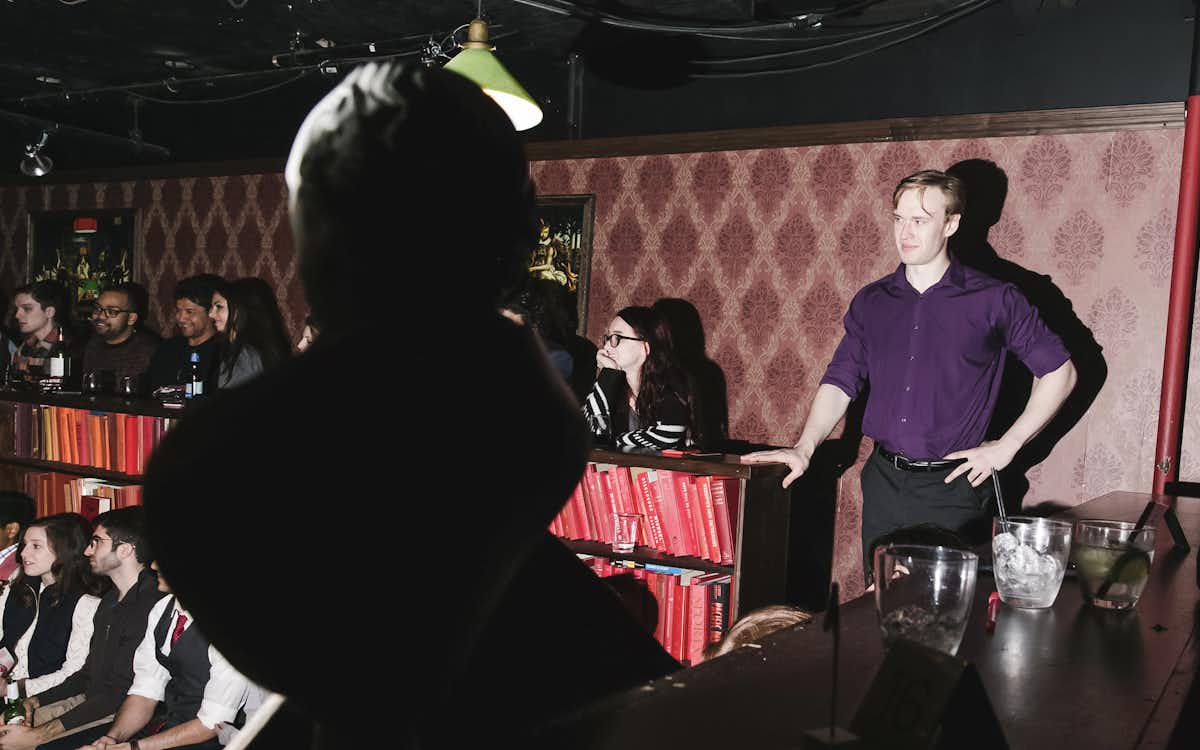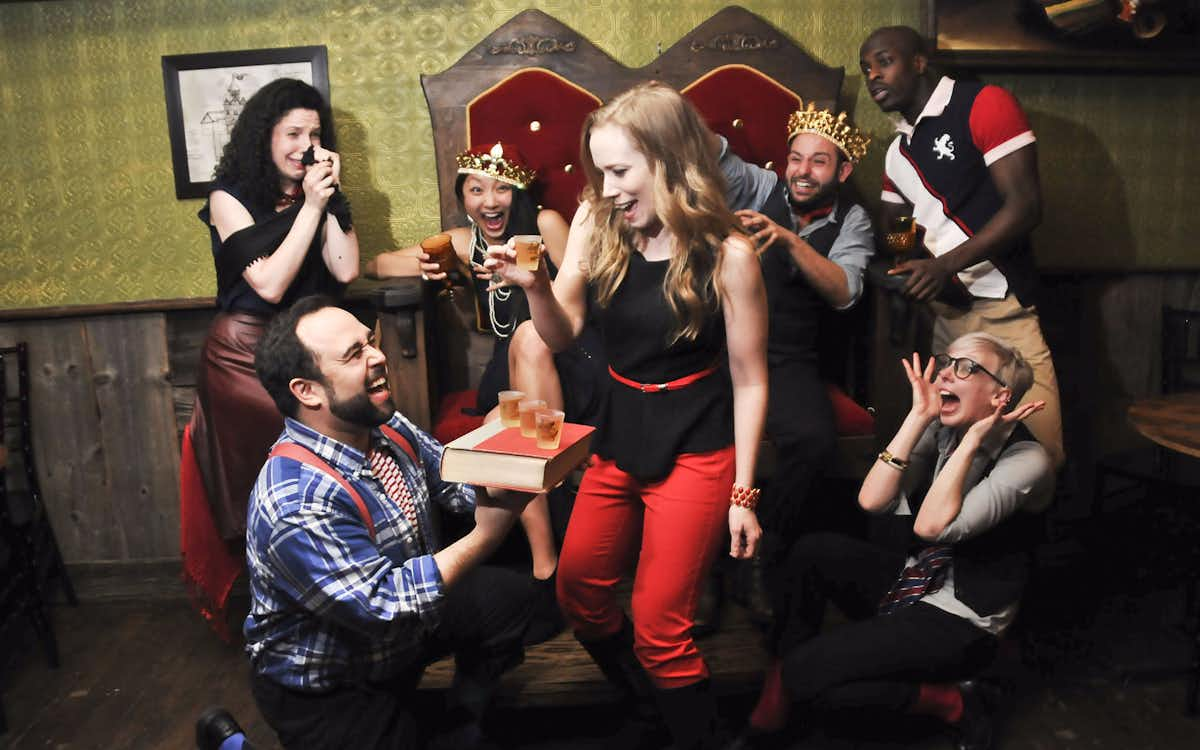 Performance
---
Drunk Shakespeare Reviews
"It offers considerably more fun than many Shakespeare productions, worth experiencing not to watch an actor get drunk, but to watch a cast juggle so many balls so adroitly."
– The New York Times

"The buzzy performance is a mix of faithful deliveries of the Bard's powerful lines and contemporary pop culture references. The result is a show that successfully makes a rich, heavy play accessible, while retaining the air — and language — of the originally version."
– The Huffington Post
About The Lounge Theatre
---
The Lounge Theatre is located on the 6201 Santa Monica Boulevard at El Centro, which lies just one block east of Vine. The Lounge is a refurbished 2 storey arts complex with a whopping 50-seat and 46-seat space, each with their own dressing room, entrance and separate air conditioning units. Designed to meet the complete comfort of the viewers, there is also a huge lounge and lobby area where they can socialise and enjoy beverages.
Drunk Shakespeare Discount Tickets
For those looking to book Drunk Shakespeare discount tickets online, platforms like TodayTix and Headout are your best bet, as they source tickets directly from the box office and scour the internet for any discount codes available for these shows. Any price advantages are then passed on ensuring that you are paying the lowest prices.
The Headout advantage when booking Off-Broadway tickets:
One of the few platforms that gives you the ability to select specific seats.
Gives you the ability to skip the box office lines and directly pick up tickets from our Headout hosts stationed right outside the theatre.
Last-minute tickets: If you made a spontaneous plan, we generally have decent last minute inventory for most Broadway shows.
24/7 customer service to back you in case something goes wrong.
---