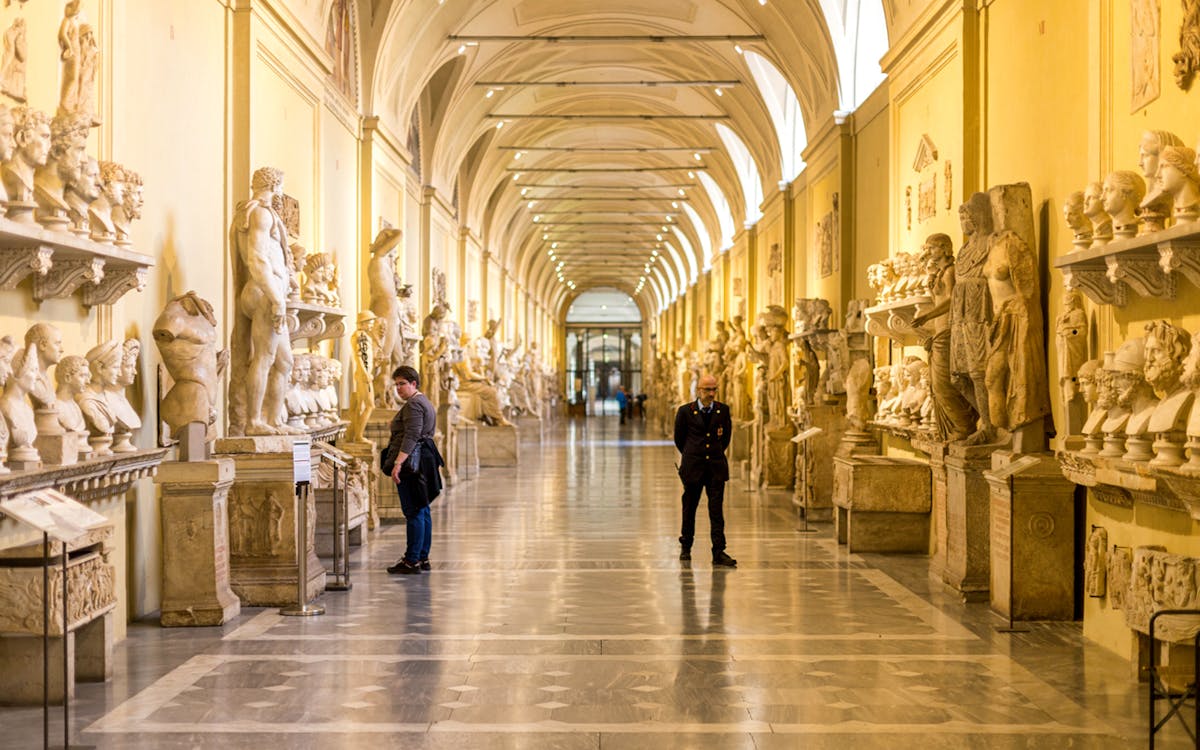 Escorted Exclusive Skip The Line Tickets to Vatican Museum & Sistine Chapel
Show Tickets on Your Phone
Skip the Line and Save Time
Best Safety Standards
This experience has been verified to follow best safety standards in compliance with local regulations and WHO
Safety Details
Skip the ticketing lines at the Vatican Museums and Sistine Chapel by heading into the priority entrance with a dedicated assistant before exploring the famous Raphael Rooms, Gallery of Maps, Michelangelo's frescoes, and much more historical art on this self-guided tour!
highlights
Save your precious time by bypassing the winding ticket queue and head straight to the intriguing Vatican Museums and explore the Pigna Courtyard, Pius Clementino Museum, Chandelier's Gallery, Tapestries Gallery, Raphael's Rooms and many more!
With these fast-track tickets from Headout, you need not worry about the long winding queues and security checks, and you will also be guaranteed access to an otherwise sold out attraction.
On this self-guided tour, you will also get a chance to marvel at the breathtaking murals of the adored Sistine Chapel and Michelangelo's famous work of art, The Final Judgement.
inclusions
Entrance tickets with exclusive "No Wait" Partner's entrance.
A host will escort you to the priority entrance of the Museums.
exclusions
Professional tour guide
Audio guide (chargeable).
Transportation.
moderate cancellation policy
These tickets can be canceled up to 72 hours in advance for a full refund.
your experience
Bypass the Winding Ticket Queue and Head Straight to the Intriguing Vatican Museums
Once you meet your host at the designated meeting point, you will take a short walk to the priority entrance to the Vatican Museums. Upon entering, you will be free to roam the Museum and Sistine Chapel at your own pace, learning as you go! The Vatican Museums and Sistine Chapel boast of the finest artwork ever to be made. Made up of 54 galleries, the Vatican Museums house one of the largest, and also the most important, collections of Renaissance art in the world. Built in the 15th century, the Sistine Chapel's walls and ceilings are covered by some of the most astounding frescoes ever produced.
Marvel at the Sistine Chapel and Michaelangelo's The Final Judgement
The 54th gallery of the Vatican Museums is the famed Sistine Chapel. Completed around 1483 the Sistine Chapel is arguably the most famous chapel in the world due to the artwork located within. View many of the most famous frescoes in the world, including the famous ceiling and The Final Judgement painted by Michelangelo. Not only does the Sistine Chapel hold some of the world's most precious works of art, but it is also still used for religious purposes such as the Papal Conclave - the process through which a new Pope is chosen.
Sights Covered
Vatican Museum and its Walls | Pigna Courtyard | Pius Clementino Museum | Chandelier's Gallery | Tapestries Gallery | Raphael's Rooms | Sistine Chapel: Michaelangelo's Final Judgement and Creation of Adam fresco
know before you go
COVID Information
It is mandatory to wear a face mask at all times. Please bring your own
Social distancing within the attraction is maintained - an interpersonal distance of over 1 meter
Large gatherings are avoided
Entry will be denied to guests with body temperatures of 37.5°C or higher
Important Information
Please note that this tour is self-guided
Timings
The Vatican Museums and Sistine Chapel are open from Monday to Saturday - 9.00 AM to 6.00 PM
Sundays are closed, except for the last Sunday of every month. Open hours for every last Sunday of the month is from 9.00 AM to 2.00 PM
Access to St. Peter's Basilica is free but there could be a waiting line during peak season
The last entrance at the Sistine Chapel on November 30th will be at 8.30 AM
Dress Code
Please be dressed appropriately. Sleeveless blouses, miniskirts, shorts, and hats are not permitted. Your head, knees, and shoulders MUST be covered for both men and women. Comfortable shoes are recommended. We recommend that you carry a stole or a scarf to cover your head
Accessibility
People with wheelchair disabilities do not have to purchase these skip the line tickets as their entry is free. The Vatican Museums offer free wheelchair hire from the cloakroom
Restrictions
Late arrivals will not be accommodated. This is a self-guided tour, but audio guides can be rented inside the Museums and are chargeable separately. The tour assistants will help you enter the Vatican Museums and our services will end upon the ticket's delivery at the entrance (lobby) of the Museums. No strollers, umbrellas or bulky bags are allowed inside the Museums
Getting There
The closest station to the Vatican is the Ottaviano-S. Pietro station. Line A of the Rome Metro stops at this station every few minutes. The Museum is a 5-minute walk from this metro station