St. Charles Church
Visit one of Vienna's most important and sacred buildings in Central Europe, the Karlskirche (Church of St. Charles). It is an eminent example of Baroque architecture completed in 1739.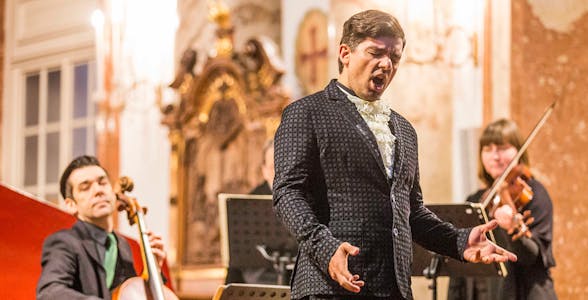 Free cancellation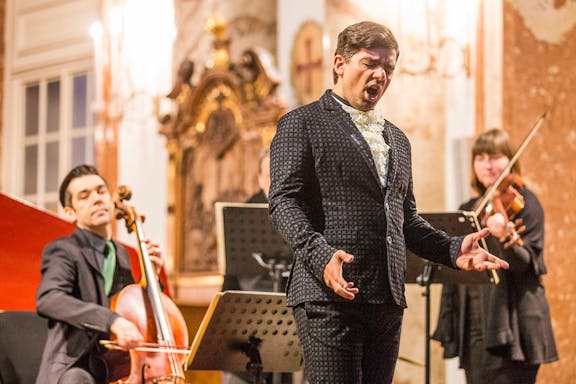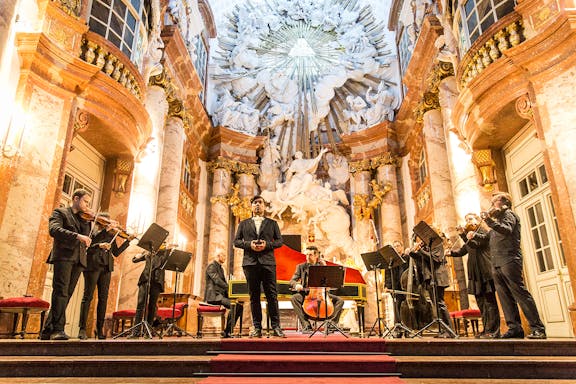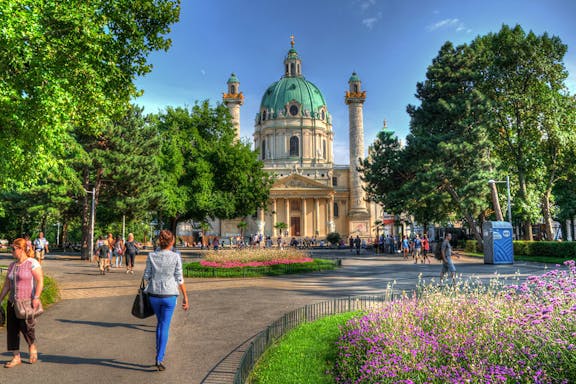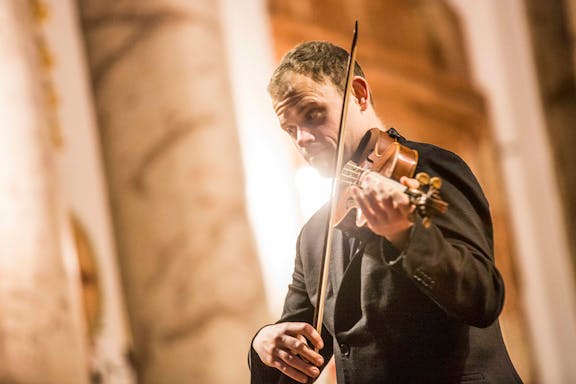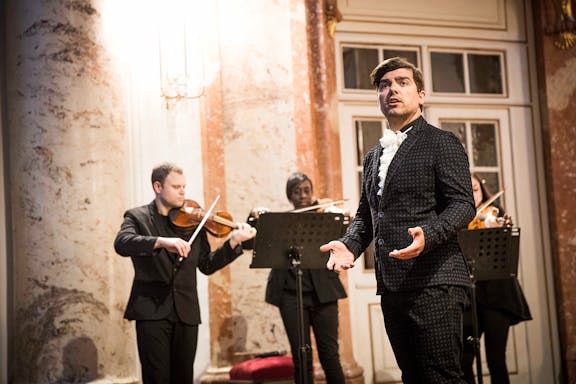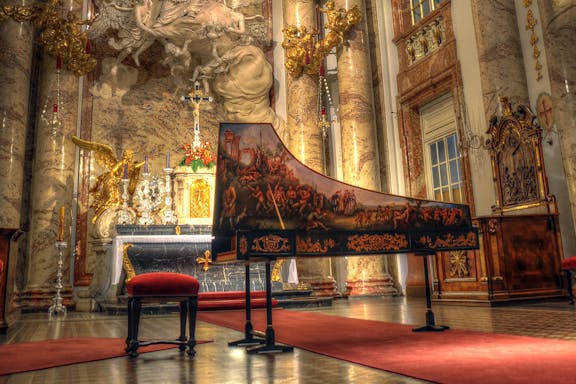 Guide to St. Charles Church (Karlskirche) Vienna

The Karlskirche in Vienna, also known as St. Charles Church, is an impressive Baroque church built between 1716 and 1737. Considered one of the greatest works of architecture in Vienna, the church was built by Johann Bernhard Fischer von Erlach. The Holy Roman Emperor,  Charles VI, patronized the building of the church and it was dedicated to Saint Charles Borromeo. The Karlskirche has two distinctive towers and impressively carved Corinthian columns that will lead you into a magnificently decorated interior. But the church's beauty is not its only highlight. The acoustics inside are spectacular and that makes Karlskirche a truly amazing venue for classical music concerts. Some of the most renowned concerts in Vienna are performed here throughout the year. So don't miss out on this cultural heritage of Vienna when visiting the city!
What Makes Karlskirche Special?

Karlskirche is a beautiful Viennese landmark featuring a unique blend of the Baroque, Rococo and Classical styles. The facade of the church is stunning but the interiors are just as striking with spiral columns, sculptural decorations, frescoes, paintings and other artwork. Moreover, the grand venue has excellent acoustics, making it a favourite among enthusiasts of classical music. It is just one of those landmarks that are popular with not only tourists but also the locals, with its serene church services, beautiful classical music performances and its fantastic views of the city — you can see the Karlsplatz, Resselpark, the Musikverein, and many other Viennese icons. For a beautiful evening of world-renowned organ recitals and exquisite chamber music concerts, Karlskirche should be at the top of your bucket list.
History

Architecture

Karlskirche, or St. Charles Church, was built when, at the end of the 1713 plague, Emperor Charles VI pledged to construct a church dedicated to his namesake patron saint, Charles Borromeo, who was well-known among the people for being a healer of plague sufferers. In fact, his life and works are depicted on two columns at the entrance. Johann Bernhard Fischer von Erlach was chosen to design the iconic building after winning a competition. But, he died before it could be completed and his son took over, who finished his work using partially altered plans. Because of its magnificent Baroque looks and its melodious acoustics, the has become a symbol of Austrian joie de vivre.

Karlskirche is world-renowned for its architecture and is perhaps the most celebrated Baroque structure in the city. It is also heavily influenced by the Rococo and Classical styles of architecture. The exterior of Karlskirche Vienna is marked by two grandiose towers and an oval dome, making it a stunning sight to behold. Inside the church, we are treated to intricate stucco work, frescoes and marble statues depicting religious scenes like, with delicate and bold red and gold accents. It also houses works of renowned Baroque artists, such as Johann Michael Rottmayr and Paul Troger. The interior is truly a masterpiece of Baroque architecture, especially the high altar. The grand old organ watches over the pews and it, too, is intricately designed. But an appreciation for the architectural wonders of the Karlskirche would be incomplete without mentioning its breathtaking acoustics, which makes it such a favourite among music lovers.
Plan Your Visit to the Karlskirche

Timings

Getting There

Facilities and Accessibility

Tips/Guidelines

Mon-Sat: 9 am to 6 pm

Sun: 12 pm to 7 pm

The best way to get to Karlskirche Vienna is by public transport. Here are some of the options that you can explore when you're in town.

Bus: Schwarzenbergplatz is the closest stop. Bus lines 14A, 48A, 4A, 59A, 69A, and VAL 2 stop near Karlskirche.

Subway: U1, U2, and U4 subway lines all have stops close to the church. Karlsplatz is the closest station. 

Light Rail: Light Rail lines 71, BB, and D stop near Karlskirche.The Gußhausstraße station is the nearest one to Karlskirche and is within walking distance.

If you're driving a personal car to Karlskirche, parking is available near the church but there are limited spaces.

• The Karlskirche Vienna is wheelchair accessible for most parts. You can freely ask the staff for assistance.

• Seeing-eye dogs are allowed inside.

• An accessible entrance with a ramp and lifts are available inside.

• Visitors with ID for persons with disabilities get free entry and elevator ride to the panorama.

• Be sure to wear appropriate attire. Shorts, tank tops and flip flops are discouraged inside the church, it being a place of worship.

• St Charles Church is a popular tourist attraction in Vienna. Hence, it is almost always crowded. If you visit early in the morning, you'll likely get a more peaceful experience.

• Taking pictures in the church is allowed, but flashes and tripods are not. Be sure to enquire at the venue, still, as you may not be allowed to photograph or record performances.

• If you're planning to attend a service, remember to be quiet and follow the instructions given by the staff.

• It is best to switch off any electronic devices before entering and be respectful of the Church's works of art.
Classical Concerts at Karlskirche

How can you get cheap tickets to concerts in Karlskirche?

Buying online tickets to concerts in Karlskirche is the best way to get the most out of your money. Online tickets are often cheaper than buying them directly from the venue because of frequent deals and discounts available. It also saves you time and effort as you don't have to stand in long queues and you can buy your ticket anytime, from anywhere. Buy one or multiple tickets, just with a few clicks. Plus, you also get to make a more informed choice if you buy online tickets to concerts in Karlskirche, so you can make the right decision for yourself and your loved ones!

What is currently playing at the Karlskirche?

Karlskirche has a number of concerts lined up each year. Currently, it is hosting Vivaldi's Four Seasons concerts that have multiple performances each week. If you're looking for an exciting classical music experience in Vienna, this is a great choice.

What is the dress code at Karlskirche?

The recommended dress code at Karlskirche Vienna is smart casual. Visitors should avoid overly casual clothing such as shorts and t-shirts, as well as anything too flashy or revealing, considering the customs of a place of worship. It is best to double-check the dress code before attending a performance, to ensure that you don't miss out on any important information.
Top Things to Do in Vienna
Where is the St. Charles Church (Karlskirche) located?

The St. Charles Church (Karlskirche) is located in Vienna, Austria. The address is Kreuzherrengasse 1, 1040 Wien, Austria.

What are the opening hours of St. Charles Church?

The church is open from 9 am to 6 pm Monday to Saturday. On Sundays, the church is open from 12 pm to 7 pm.

Are there any special events at the Karlskirche?

Yes, the Karlskirche regularly hosts concerts and other special events throughout the year.

How do you reach Karlskirche using the subway?

U1, U2, and U4 subway lines all have stops close to the church. Karlsplatz is the closest station.