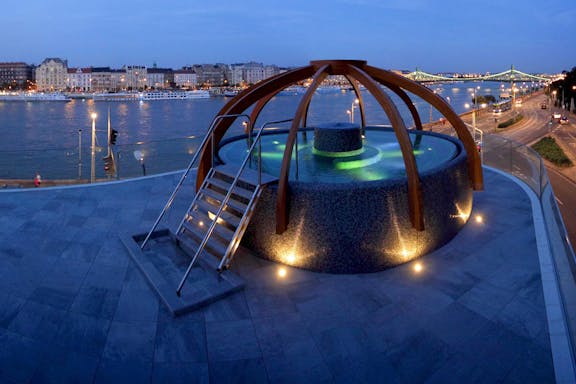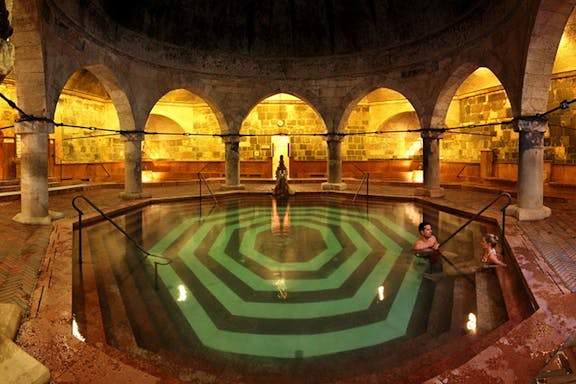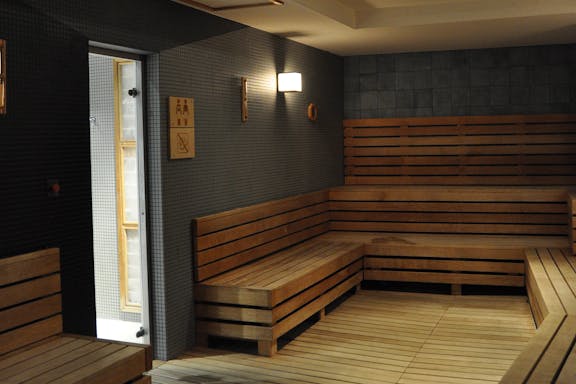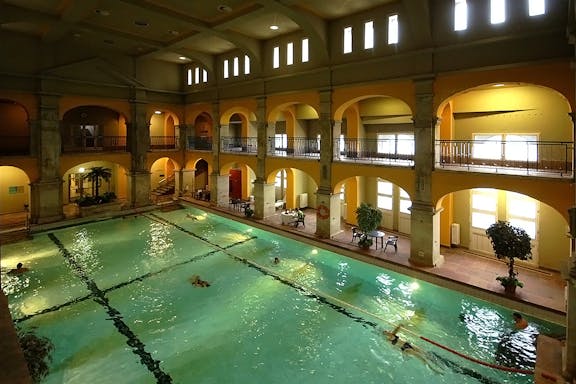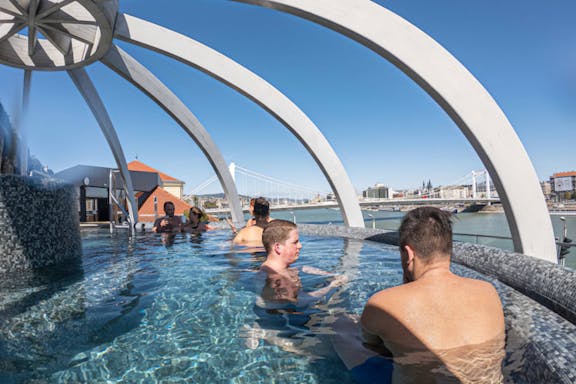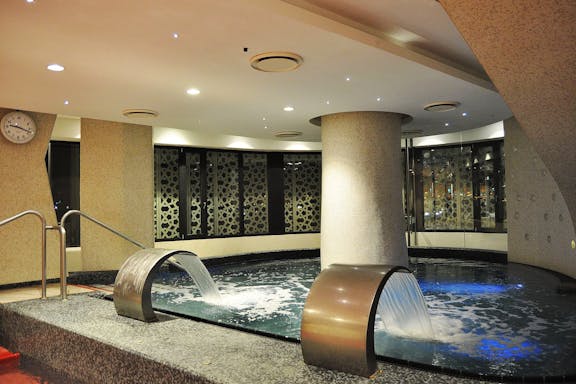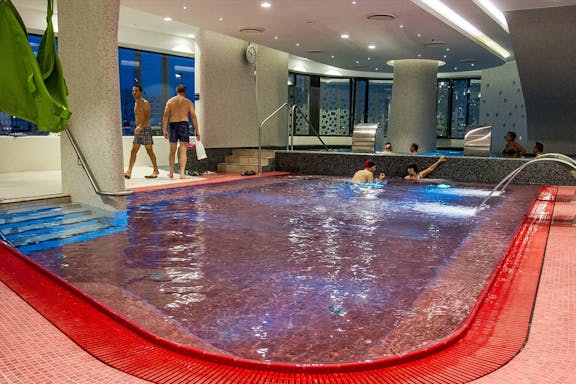 Nestled in the heart of Budapest, the Rudas Baths are a popular medieval Turkish bath in Budapest. They aren't just your ordinary relaxation spot; they're a piece of history dating back to the 16th century during the time of Ottoman rule. A unique blend of age-old tradition and modern luxury makes Rudas Baths truly special. So, if you're seeking a one-of-a-kind, soothing, and culturally rich experience, read on to discover why Rudas Baths should be on your travel itinerary.
A Soothing Oasis: Rudas Baths is an oasis of relaxation nestled in the heart of Budapest. With its thermal waters bubbling from deep within the Earth, this place is a sanctuary for weary souls seeking rejuvenation.
Restored Ottoman Architecture: Marvel at the well-preserved Ottoman-style architecture, transporting you to a bygone era.
Local Hangout: Experience Budapest like a local – this is where residents come to unwind and socialize.
Health Benefits: Thermal waters are believed to have healing properties for various ailments, making your visit not only enjoyable but potentially therapeutic.
Panoramic Views: What sets Rudas apart is its rooftop pool. You get to soak in warm water while gazing at the stunning Budapest skyline.
Your Rudas Baths Tickets Options

Full-Day Entry Ticket

Are you ready to dive into the soothing waters of Rudas Baths and unwind in style? The Rudas Baths entry ticket is your key to relaxation in this historical gem. Here's what you need to know:

Recommended Ticket:

What's Included in the Ticket:

All-day entry to the Rudas Thermal Spa.
Locker usage on weekdays on an adult ticket.
On weekends, you'll enjoy the added luxury of a cabin on an adult ticket.

Why Choose This Ticket:

With this ticket, you will have the freedom to explore the historic Rudas Baths at your own pace and unwind to your heart's content. Imagine starting your day with a refreshing dip in the thermal pools, followed by a session in the rejuvenating saunas and much more.
Plan Your Visit to the Rudas Baths

Opening Hours

Getting There

Tips/Guidelines

Rudas Baths offers a range of wellness and coed baths, as well as a mesmerizing Turkish Bath. Here's a breakdown of the opening hours:

Wellness & Coed Baths Timings: Daily from 6 AM - 8 PM
Turkish Bath Timings for Men:

Mondays & Wednesdays: 6 AM - 8 PM
Thursdays: 6 AM - 12:45 PM
Fridays: 6 AM - 10:45 PM

Turkish Bath Timings for Women: Tuesdays: 6 AM - 8 PM

Please Note:

The drinking fountain is open only on Tuesdays and Thursdays from 10 AM - 2 PM.
The bath complex transforms into a magical night bathing spot on Fridays and Saturdays, open from 10 PM to 3 AM.

Location:


Rudas Baths is conveniently located at

Döbrentei tér 9, 1013, Budapest, Hungary. Get Map Directions

Getting There:

By Tram: Hop on trams 19, 41, 56, or 56A, and make your way to the nearest tram stop, Rudas Gyógyfürdő.
By Bus: If you prefer the bus, catch bus number 7 and disembark at the Elisabeth Bridge, the nearest bus stop.
By Car: If you're driving from Budapest International Airport, it's approximately 22 km to Rudas Baths. The nearest parking spot, Parkolo, is just 4 meters away, ensuring a hassle-free arrival.

Timing is Key: To avoid the crowds, consider visiting the Rudas Baths during weekdays, especially in the morning or early afternoon. Weekends tend to be busier, so plan accordingly. 
Bring Essentials: Don't forget to pack your essentials - a towel, slippers, and a waterproof bag for your swimwear. You can also rent or purchase these items at the baths if you prefer to travel light.
Silence and Relaxation: Please keep in mind that Rudas Baths is a place for relaxation. Be respectful of others and maintain a peaceful atmosphere in the bathing areas.
Health Considerations: If you have any medical conditions or concerns, it's advisable to consult with a healthcare professional before using the thermal baths, as the high mineral content may not be suitable for everyone.
Rules for Children: Children below the age of 14 years are not allowed in the Rudas baths.
What is Inside Rudas Baths?

Thermal Baths and Pools

Rudas Baths is known for its thermal baths and pools, each fed by a natural hot spring. The thermal waters are rich in minerals, making them not only incredibly soothing but also beneficial for your health. 

Saunas

Rudas Baths features a range of saunas for those who love a good sweat session. Whether you prefer the traditional Finnish sauna or the aromatic herbal steam room, you'll find your perfect heat therapy option here.

Turkish Bath

Step back in time as you explore the Turkish Bath, a stunning architectural marvel that dates back to the Ottoman era. Its octagonal pool beneath an exquisite dome is a sight to behold! Relax and unwind while soaking in the authentic Turkish ambiance.

Therapy Pools

Rudas Baths offer therapy pools with different water temperatures, perfect for targeting specific ailments or simply indulging in hydrotherapy. These pools are designed to promote relaxation and alleviate muscle tension.

Rooftop Pool

One of the standout features of Rudas Baths is its rooftop pool offering panoramic views of Budapest. Imagine soaking in warm water while taking in breathtaking vistas of the city, especially magical during the evening when the city lights up.

Indoor Swimming Pool

If you're looking for a more traditional swimming experience, Rudas Baths has you covered with its indoor swimming pool. Whether you're an avid swimmer or just want to cool off, this pool provides a refreshing break from the thermal waters.

Massage Services

Indulge in the massage services to complete your relaxation journey at Rudas Baths. Skilled therapists will help you unwind and rejuvenate with a range of massage techniques. Pamper yourself and relieve any lingering tension.

Drinking Fountains

Stay hydrated during your visit with the drinking fountains scattered throughout the complex. The water in these fountains is rich in minerals and can work wonders on your body.

Rudas Bistro

After all that relaxation, you're bound to work up an appetite. Head over to the Rudas Bistro, where you can savor delicious Hungarian and international dishes. 
Can I book Rudas Baths tickets online? 

Yes, you can easily book

Rudas Baths tickets

online in advance at our website and secure your spot. This also allows you to avoid long ticket queues at the entrance and save time.

What is the price of Rudas Baths tickets?

Rudas Baths tickets typically start from

€25

. This ticket includes full-day entry to the bath complex and locker usage.

Is it necessary to book Rudas Baths tickets in advance?

It's highly recommended to book

Rudas Baths tickets

in advance, especially during peak tourist seasons. Booking in advance ensures you secure your preferred time slot and package.

What are the timings of Rudas Baths?

Rudas Baths remain open from 6 AM to 8 PM every day. 

Where is Rudas Baths located?

Rudas Baths are situated at Döbrentei tér 9, Budapest, on the Buda side of the Danube River.

Are there age restrictions at Rudas Baths?

Children under the age of 14 are not permitted in Rudas Baths, ensuring a serene and relaxing environment for adults.

What should I bring with me to Rudas Baths?

Bring your swimsuit, a towel, and flip-flops. You can also rent towels and purchase swimwear at the baths if needed.

Are there food and beverage options at Rudas Baths?

Yes, Rudas Baths offer a cafe where you can enjoy light snacks and refreshments.

Do Rudas Baths provide locker facilities?

Yes, lockers are available in Rudas Baths to store your belongings securely.

What's the best time to visit to avoid crowds at Rudas Baths?

Mornings and weekdays are usually less crowded, providing a more tranquil experience at Rudas Baths.

Is the rooftop bath in Rudas Baths open year-round? 

The rooftop bath in Rudas Baths is open year-round, offering a unique experience no matter the season.

Can I combine Rudas Baths with other attractions in Budapest?

Absolutely! The baths are conveniently located near landmarks like Buda Castle, Fisherman's Bastion, and Matthias Church, allowing you to explore the area in a single day.

How do I get to Rudas Baths?

Rudas Baths are conveniently located in Budapest's city center, making them easily accessible by various modes of transportation. You can reach the Rudas Baths by taking the tram 19, 41, 56, or 56A to

Rudas Gyógyfürdő

or bus number 7 to

Elisabeth Bridge

. 

Can I enjoy Rudas Baths if I can't swim? 

Absolutely! The thermal baths are shallow, and you don't need to swim to enjoy the therapeutic waters. Simply relax and soak in the soothing waters.