Niederosterreich Palace
Immerse yourself in delightful Viennese music at the beautiful Viennese palace, Palais Niederösterreich. Be carried away by the works of Wolfgang Amadeus Mozart, Franz Schubert and, of course, the Strauss Dynasty performed by the Vienna Supreme Orchestra and its soloists. Treat yourself to a magical evening of music's greatest compositions.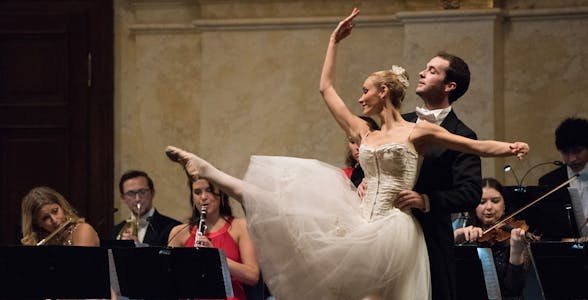 Free cancellation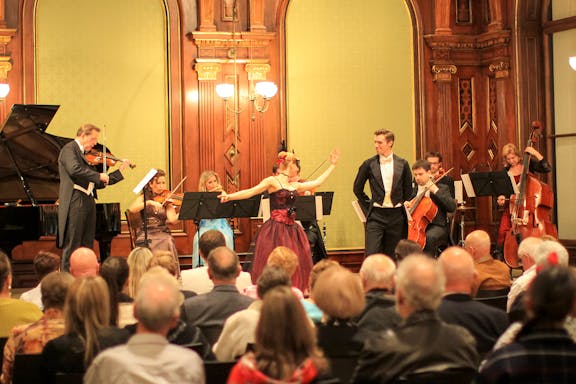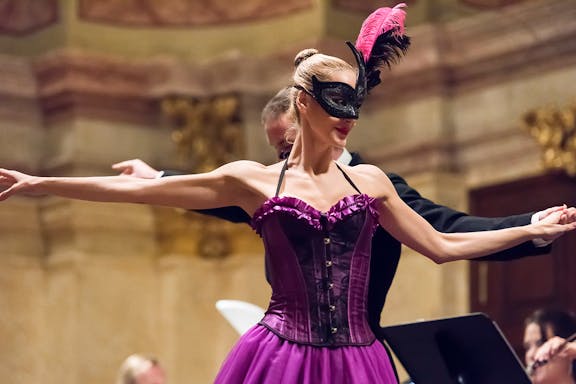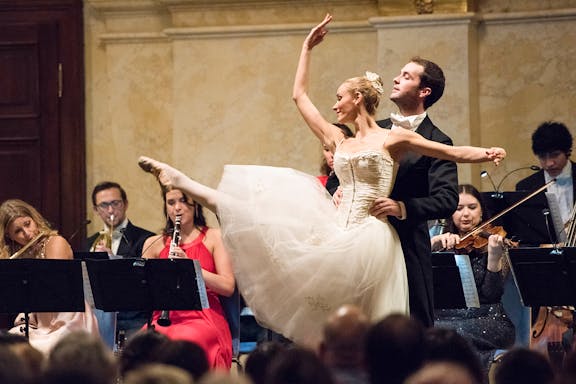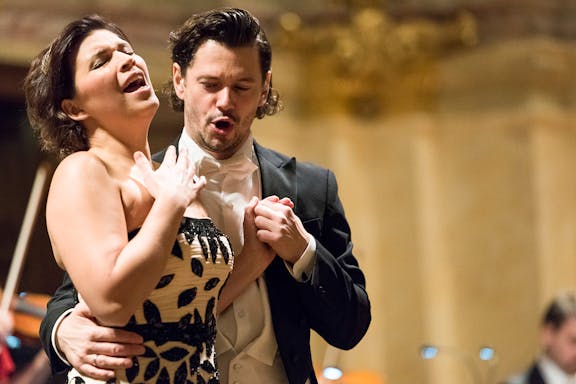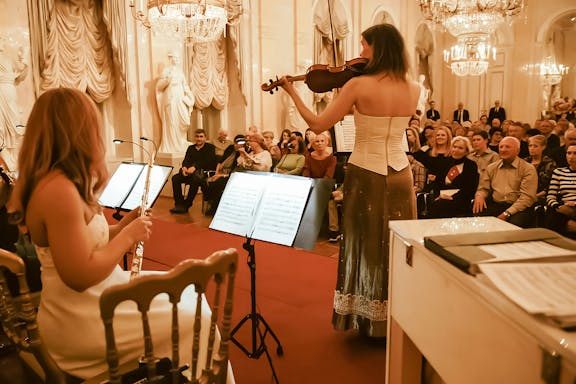 Guide to Niederosterreich Palace Vienna

Niederosterreich Palace, or the Niederösterreichisches Landeshaus ( meaning 'Estates House of Lower Austria'), is a building that attests to the rich history of Vienna. Historically, the building has housed many government establishments — till 1861, it contained the estates general of the state of Lower Austria and after 1861, some state government ministries and the state assembly were also housed there till 1997. In 1918, it was occupied by the parliament of the new Republic of German Austria. Even today, the building is partly occupied by the Austrian Federal Ministry for Europe, Integration and Foreign Affairs and is a private event location. Therefore, it is not always fully open. But, with the classical music concerts that the palace hosts, you can get a chance to see the venue in all its splendour. With music, too, Niederosterreich Palace has a long history as it would host concerts back when there were very few dedicated venues for music in Vienna.
What Makes Niederosterreich Palace Special?

The palace's rich history is an attraction in itself. Not only has it been a hot seat of politics, revolution and governance, but it is now also a popular venue for events, celebrations, balls and concerts. Niederosterreich Palace's history with the government notwithstanding, it also has a rich musical heritage. The palace used to be a venue for concerts even before dedicated music halls started coming up in Vienna. It is said that Franz Liszt, then a child, performed here in 1822. Apparently, a few of Beethoven and Schubert's works were also first presented here at the Niederosterreich Palace. The Landtagssaal, the largest of the rooms inside and a favourite for classical music concerts has beautiful acoustics and is a visual delight with its frescos. Get an extraordinary experience, surrounded by music, art and history, when you visit Niederosterreich Palace Vienna.
About Niederosterreich Palace Vienna

History

Architecture

Niederosterreich Palace's history can be traced back to the early 16th Century. This is when a Vienna base was needed by the representatives from the province of Lower Austria and the original structure was used for this. Apart from its association with various government ministries and seats of power, the palace is also widely known for being the centre point for the revolution of March 1848. At that time a crowd, consisting mostly of students and young people, gathered at the old university and marched to the Niederosterreich Palace to voice their demands. It is here that one of the first victims of the revolution, Karl Heinrich Spitzer, died. A few years down the line, another significant political event was centred at the palace. It was here that the birth of the first Austrian Republic took place in October 1918, the palace becoming the seat of the new republic.

The Niederosterreich Palace, an exquisite example of Gothic architecture, offers a multitude of rooms suitable for diverse purposes such as exhibitions, festivals, concerts, and meetings. Some of the features that will take your breath away, even before you enter any of the event rooms, are a majestic staircase, spacious foyers, a charming courtyard, and a beautiful balcony. The huge windows ensure that abundant natural light fills the venue, but it can also be dimmed if desired. Although most of the current structural elements are from the 19th century, a piece of its initial history is tucked securely within Niederosterreich Palace. The chapel and the Gotisches Zimmer, or Gothic Room, both dating back to the 1500s, remain remarkably preserved. An undeniable focal point within the palace is the Renaissance-style Landtagssaal, or Parliament Hall, adorned with magnificent ceiling frescoes by Antonio Beduzzi. Some of the other rooms include Rittersaal, Herrensaal, Prälatensaal, Gotisches Zimmer, and Seminar Room Hartmann, which can all be arranged in multiple ways to suit the event.
Plan Your Visit to Niederosterreich Palace

Timings

Getting There

Facilities and Accessibility

Tips/Guidelines

Mon to Thurs: 8:30 am to 5 pm
Fri: 8:30 to 3 pm
Sat & Sun: Closed
Timings may vary for concerts at the Niederosterreich Palace

The best way to get to Niederosterreich Palace Vienna is by public transport. Here are some of the options that you can explore when you're in town.

Bus: Herrengasse also has a bus stop. You can take the 1A and 2A bus lines to reach the Niederosterreich Palace.

Subway: The U3 line has a stop at Herrengasse. The palace is a few minutes walk away from the stop.

It is best not to travel by personal car because parking in the first district is notoriously difficult to find.

The venue is wheelchair accessible.
Niederosterreich Palace Vienna has air conditioning.
The venue has a lift for the use of guests.
You can use the cloakroom present at the venue for your coats and bags.
Niederosterreich Palace offers free WiFi to visitors.

Although there is no strict dress code, it is recommended that guests dress in smart casual attire or eveningwear, especially during concerts and events.
Although a cloakroom is available for guests, you should avoid carrying large bags or items.
Make use of public transport or taxis to get to the palace instead of driving, as parking can be limited and Vienna is notorious for its narrow lanes.
Maintain decorum and switch off your phones during performances.
Because of the air conditioning, the hall may get chilly. Be sure to keep something warm at hand.
Niederosterreich Palace is a private event location and it also still houses the Austrian Federal Ministry for Europe, Integration and Foreign Affairs. Therefore, it is not always open to the public.
Classical Concerts at Niederosterreich Palace

How can you get cheap tickets to concerts in Niederosterreich Palace Vienna?

Buy your tickets for concerts at the Niederosterreich Palace online, and you'll get to enjoy many discounts and offers, making not only you and your loved ones but also your wallet happy. Usually, prices go up as the show date comes near, so make sure that you get your tickets in advance to enjoy the best prices on your concert tickets. Browse through all the seating options and find the seats that are best suited for your needs with just a few clicks.

What is currently playing at Niederosterreich Palace Vienna?

Niederosterreich Palace Vienna is currently hosting a series of Vienna Supreme Concerts, in which the Vienna Supreme Orchestra will present the best of Mozart, Strauss and other classical music Maestros.

What is the dress code at Niederosterreich Palace Vienna?

There are no strict dress codes for concerts at Niederosterreich Palace, but it is customary for visitors to dress up in formal attire or smart casual attire when attending these events. Have fun with your eveningwear — a nice cocktail dress with heels, or a pantsuit, or formal shirts and trousers with brogues, it is a great opportunity to flaunt your formals!
Top Things to Do in Vienna
Niederosterreich Palace Vienna FAQs

Is the Niederosterreich Palace Vienna wheelchair accessible?

Yes, Niederosterreich Palace Vienna is wheelchair accessible. The staff, too, is ready to help guests with special needs with any kind of accessibility assistance.

What kind of activities can I do at the Niederosterreich Palace Vienna?

At theNiederosterreich Palace Vienna, you can enjoy the best of Viennese classical music and also tour the beautifully created rooms that have so much history associated with them.

How do I get to Niederosterreich Palace Vienna?

The easiest way to reach Niederosterreich Palace Vienna is by taking public transportation. Herrengasse has both a bus and a subway stop that is a few minutes away from the venue.

What is the dress code at Niederosterreich Palace Vienna?

Although there are no strict dress codes usually, it is best to dress in semi-formal, formal or smart casual attire when visiting Niederosterreich Palace.

Is there parking available at Niederosterreich Palace Vienna?

Parking is very difficult to find in the first district of Vienna so we suggest that you take public transportation to reach the venue. However, the area is a short-term parking zone from Monday to Friday, with a maximum parking time of two hours from 9:00 to 22:00.