The island of Capri, just off Amalfi Coast, is every traveler's dream come true. Picturesque in the truest sense, Capri brings to you a canvas coloured with incredibly blue water, surreal cliff sides, pine-tree dotted landscapes, hillsides strewn with bougainvillea-laden villas and natural beauty rarely witnessed. Legend has it, that when Roman Emperor Tiberius first visited this elysian island, he was smitten at first sight and decided to settle there in an instant. Not only does Capri cater to nature lovers, but to foodies as well. It is home to authentic, delectable Italian cuisine -- don't miss out on pizzas, Caprese salads, chocolate cake and of course, lip-smacking Gelato in a burst of flavors!
If you're planning a day-trip from Rome to Capri, here's everything you need to know about travel options, must-see spots and other travel hacks.
Why take a day trip from Rome to Capri?
---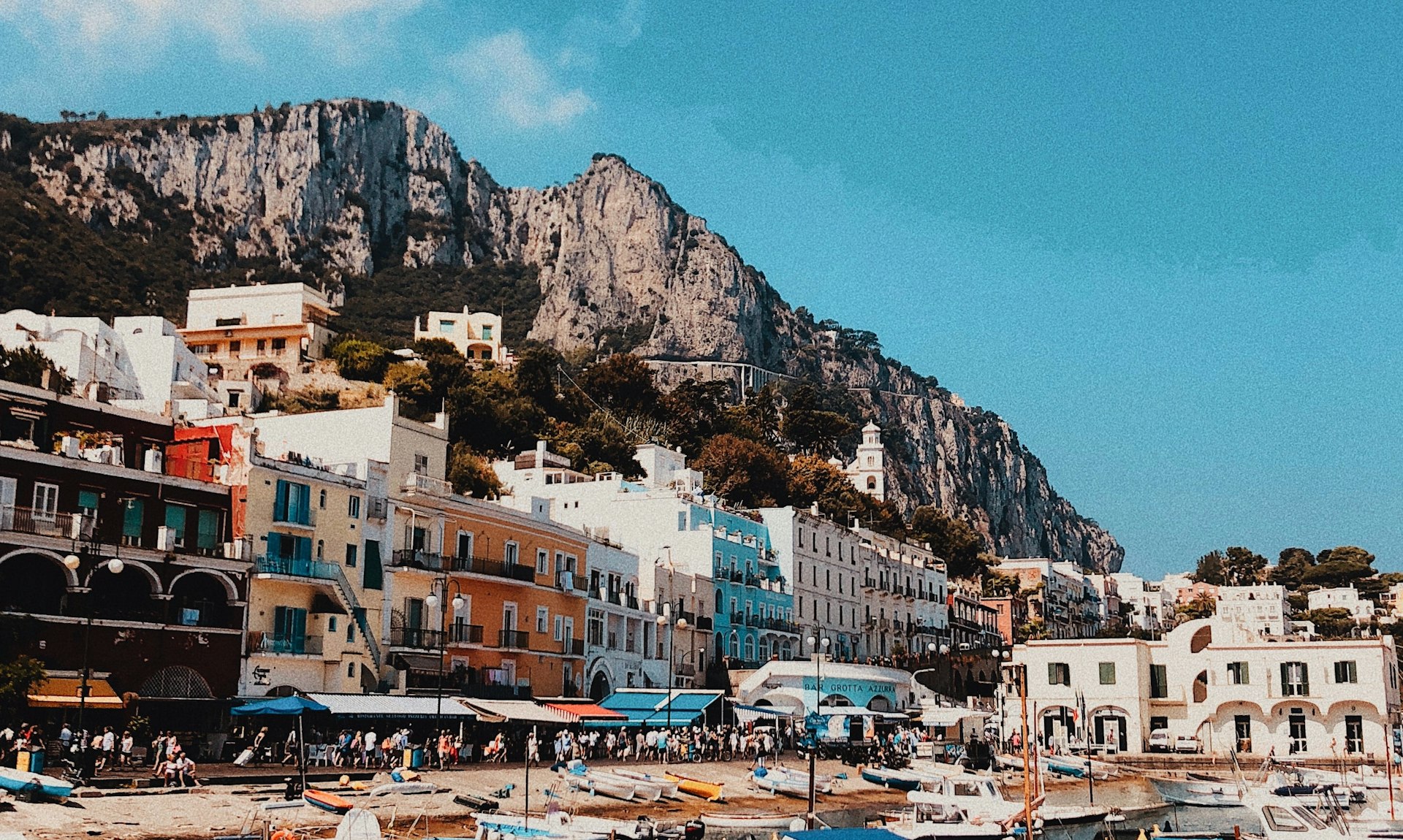 Whether you're looking for serenity on a long hike or an electrifying night out, Capri offers something for every wanderer. Here are a few of the many reasons to visit Capri:
Hop on to a boat to witness the magnificent Faraglioni rock formations or simply swim next to them for a closer look
Explore the lesser known town of Anacapri and indulge in local food, wine and culture
Don't miss out on the Blue Grotto, a natural sea cave that glows blue in the dark
Visit the Punta Carena, the second-tallest lighthouse in Italy, for a breathtaking sunset
While on the go, stop by local grocery stores and pick up a flavorful Caprese salad
Keep an eye out for famous celebrities lounging at beaches
Dance till you drop at nightclubs that only open after midnight!
A step-by-step guide to travelling from Rome to Capri
---
Being an island, Capri does not have an airport. The only way to reach the shore is by ferry/boat. However, you can take a train, bus or car from Rome to Naples -- the closest town to Capri -- and board a ferry to the island.
Rome to Naples by train:
If you plan on traveling directly from Fiumicino Airport in Rome without stopping in the city, hop on to the Leonardo Express shuttle to the Roma Termini train station. From there, you can take a direct train to Naples. If your flight lands late during the day, it's wise to stay a night in the city. If you land at Rome's Ciampino Airport, you can take a direct bus or cab to the Roma Termini station, and then transfer directly to Naples. Pro tip: Keep about three to four hours of travel time on hand to travel between Rome to Capri.
At the Roma Termini station, you have three train options to arrive in Naples. For a day trip, perhaps the best travel option would be the Eurostar Freccia Rossa (TAV). This is the fastest train, at a little over an hour to reach Naples from Rome -- however, it is also the most expensive, at €40. The most economical option would be the Intercity train, that takes about two hours to reach Naples and costs €20. The third option, the Interregionali, while cheap at just €10, takes about four hours since it stops at every station and is not ideal for those looking to spend just a day in Capri.
Rome to Naples by bus:
Travelling to Naples from Rome is cheapest by bus. The journey takes up to three hours and a one-way ticket costs between €9 and €12. You can board a bus at the Rome Tiburtina bus station and get off at the Metropark Centrale in Naples. Purchase tickets at the bus station or on the Flix Bus website.
Rome to Naples by car:
Renting a car is a convenient option to traverse the 225km distance between Rome and Naples; the journey between both cities is about 225km and will ideally take about 2.5 hours. However, this option is best if you plan to stay in Naples and take a day-trip to Capri. Or else, finding a parking spot in the crowded city is challenging. Not to mention having to cross several toll booths during the journey. If you opt for hiring a taxi from Fiumicino airport, the journey would cost between €350 and €400 on average.
Naples to Capri:
After arriving in Naples, there are two major ports from where you can board a ferry towards Capri: Molo Beverello and Calata di Massa. Take a local bus, subway or taxi to either of the two ports. The slow and regular ferries depart from Calata di Massa port and costs about €15. The journey varies from 50 to 80 minutes, depending on whether you opt for the slow or regular ferry. If you prefer a faster journey, hop onto a ferry at the Molo Beverello port and you can reach Capri in under 40 minutes. While you can buy tickets for your journey at the ports itself, a better option would be to book them online so as to avoid a situation where tickets are sold out. Pro tip: July and August are the busiest months of the year, so book your tickets online to avoid long queues. Stay updated with ferry timings from both ports to plan a seamless travel.
Rome to Capri by helicopter:
The fastest way to reach Capri from Rome by far is the helicopter -- and also the most expensive. The journey takes about 20 minutes, and prices start from around €1000. These helicopter trips usually include a private pick up and drop from the airport to the landing point in Capri, plus a private drop to your hotel on the island.
Capri Day Trip from Rome with Blue Grotto
Looking to avoid the hassle of planning the trip from scratch? Book an organized tour to skip lines, enjoy a pre-planned itinerary, escape public transport and enjoy the best of Capri. During this 13-hour day trip, explore Capri and Anacapri, along with major attractions like Marina Grande and the Blue Grotto.
With this guided tour, you can experience the best of Italian culture: be it the delicious cuisine, local architecture or the vibrant market areas. A professional tour guide, fluent in four languages -- English, Spanish, German and French -- will escort you through the trip with interesting trivia about the region and its prime attractions.
Things to do in Capri: Don't miss out on these experiences!
---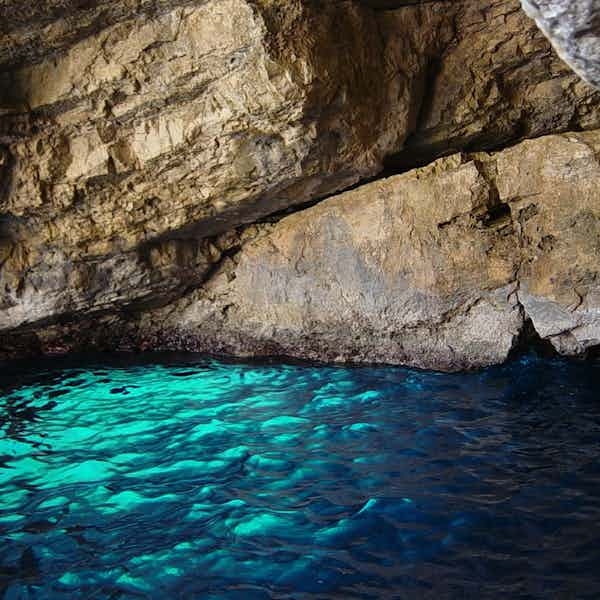 Take a boat tour around the island
Capri is home to some truly jaw-dropping natural wonders. Prepare to be mesmerised by stalactites and icy-blue water in natural caves like the La Grotto Verde and La Grotto Bianca. The La Grotto Azzurra, also known as The Blue Grotto, is a true spectacle: a small opening at the top of the cave allows soft sunlight to trickle in, illuminating the ocean and giving it a magical blue finish. This is not something to skip during your visit to Capri.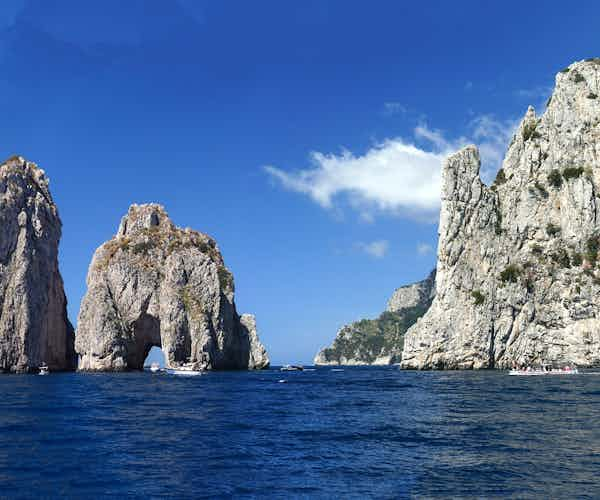 The Faraglioni
Did you know that the Italian blue wall lizard is only found in Capri? Particularly on the Faraglioni, a towering three-part limestone formation amidst the vast, blue ocean. Over the years, the sea eroded the weaker parts of the Faraglioni, leaving a brilliant limestone structure that is a dream for all photographers. You can walk around the island to witness this formation, or take a boat to experience it up close. If you're lucky, you might spot one of the blue lizards calmly sunbathing against a rock! Anacapri
Anacapri is a charming little town perched on Mount Solaro in Capri. Just a short bus ride away from main Capri town, Anacapri exudes a quieter, more folksy vibe for travelers. Stroll through the gardens, pop by the local Villa San Michele museum or enjoy a quiet dinner before heading back to Capri. You can also go right to the top by taking a chairlift to the highest peak of Mount Solaro and take in the spectacular panoramic view of the ocean. The Piazetta
Stroll through the crowded town square, Piazetta, originally known as Piazza Umberto 1. It is dotted with quaint cafes that serve authentic local coffee during the day and refreshing wines during the evenings -- perfect against the backdrop of the ocean. A prime attraction for high society folks, you can often witness individuals dressed in luxury brands lounging about the square. Tap your feet and sing along with local musicians who perform lively music with unique handmade instruments. Giardini di Augusto
The Gardens of Augustus are perfect to soak in the beauty of Mediterannean nature and relax. Located at a short walking distance from the town square, entry to these gardens costs just €1. The garden and flowered terrace, adorned with beautiful dahlias, geraniums and a variety of vibrant flowers, are maintained with immaculate perfection. The cherry on top? This garden offers a stunning view of the Faraglioni and bright blue ocean, serving as a popular tourist spot for day travelers. Villa Jovis
Soak in Capri's history by visiting Villa Jovis, an ancient ruin, known to be one of Emperor Tiberius' castles during his reign. Just about an hour from Capri's main town square, Villa Jovis, though now in ruins, gives an interesting insight into ancient architecture and Tiberius' lifestyle. The castle overlooks the sea, giving you the opportunity for some splendid photographs. Rumour has it that anyone who dared to cross paths with Tiberius was thrown off the very cliff Villa Jovis is built on. Via Camerelle
Louis Vuitton? Dior? Loro Piana? Valentino? Via Camerelle is a one-stop destination for Italian luxury brands! This delightful little street is a sought after destination for high-fashion aficionados. People casually carrying multiple bags embellished with some of the top designer brands in the world is a common sight on Via Camerelle street. Treat yourself to designer wear, or simply stroll down the street window shopping. Buonocore Gelateria
A visit to Italy is incomplete without some creamy gelato. Head to the Buonocore Gelateria in Capri and indulge in some delicious gelato. Whether it's a sunny afternoon, or a cool evening after sight-seeing, there's no better time for a gelato. Fresh batches are prepared daily, from local ingredients, and the inviting scent is sure to pull you close from a mile away. Choose from a variety of flavors -- ranging from strawberry and vanilla to mint chocolate and rum and raisin.
Best time to visit Capri
---
Ideally, the best time to visit Capri is during the spring and fall seasons, when the sun isn't blazing on you and right before the chill settles in. July and August are the busiest -- and most expensive -- months, with tourists flooding in from around the world. If you're looking for a peaceful hike or the opportunity to calmly explore the island while not splurging, May-June and August-September would be your best bet.
Tips for your Capri day trip
---
Your trip to Capri is incomplete without three main souvenirs: your own artisan perfume, limoncello (a wicked liqueur), and a pair of local, hand-stitched sandals
The best way to move around the island is on foot. Cars are rarely used and access is limited in most parts of the town
Make sure that bookings for stay are confirmed in advance. During peak seasons, it is close to impossible to find a place to stay at a reasonable price. Alternatively, if you're worried about burning a hole through your pocket due to hotel prices in Capri, check for cheaper accommodation in Anacapri
Carry plenty of sunscreen! You'll be walking in the sun through the day, don't risk sunburn
Local groceries and small cafes offer small, quick bites at a reasonable price. This should keep you going through the day
At the ports in Naples, you can be charged a small fee for surplus baggage. Make sure to carry extra cash, i.e., local currency, at all times
During summers, there's a party held every Sunday at the beaches. Ask locals around to reach the party location
More Reads
---