With its exquisite Renaissance art, verdant vineyards, idyllic landscapes, and sensational cuisine, Tuscany offers an embarrassment of riches. Home to some of the world's finest and most iconic works of art, the region presents an unrivalled taste of Italy's distinctive and historic legacy. Stroll along the cobbled pathways and witness the confluence of medieval and Gothic architectural masterpieces on a day trip from Florence to Tuscany's rustic medieval towns.
Dotted with historic monuments and nestled in the heart of Tuscany, Siena is an artistic and cultural haven that is one of the most-visited provinces in the region. Owing to its lush landscape and medieval and Gothic architecture, Siena has been declared a UNESCO World Heritage Site.
The walled town of San Gimignano is famously referred to as the 'Town of Fine Towers'. Freckled with gorgeous medieval churches, this town perfectly encapsulates Europe's heritage. Marvel as its stunning art and architecture combine to bring the Renaissance era alive.
Home to the legendary 'Leaning Tower of Pisa', Pisa is peppered with magnificent palaces, medieval churches and enchanting castles. The medieval villages of Greve, Montalcino, Montepulciano, and Castellina fascinate with their ancient walls, countless vineyards and rolling hills.
If you are considering taking a day trip to Tuscany, there are several significant attractions that you should be able to cover in a day. Here is your complete guide with all you need to know about traveling from the capital of Florence and exploring the Tuscan countryside in one epic day.
Why take a day trip from Florence to Tuscany?
---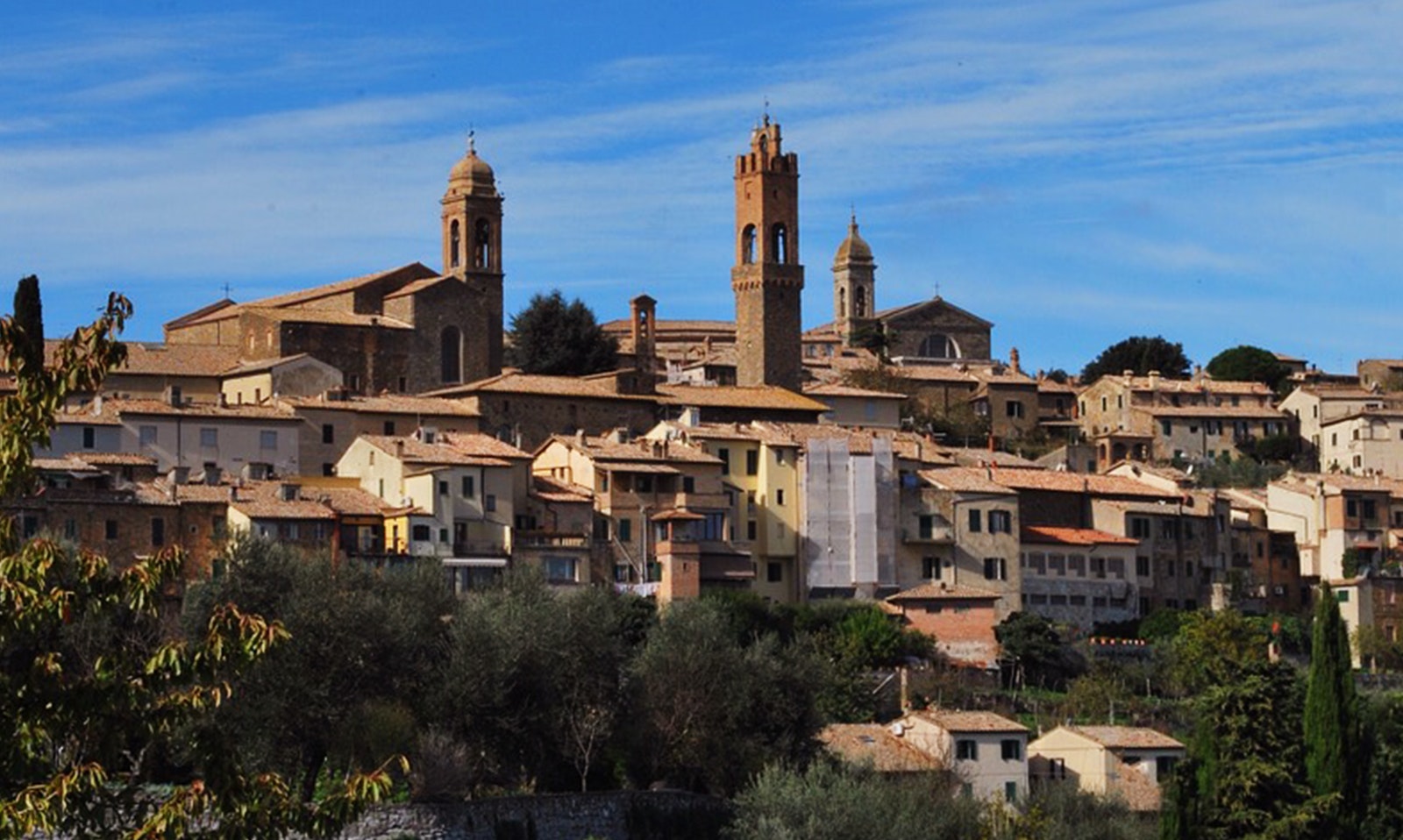 As if being the birthplace of the Renaissance movement wasn't enough, Tuscany offers plenty of reasons to visit it. Here are just a few to get you dreaming about this idyllic region:
Explore the terraced landscapes and pastoral hills of the gorgeous Tuscan countryside
Travel back in time amongst the ancient ruins and centuries-old monuments
Witness the grandeur of some of the most renowned architectural masterpieces
Visit the historic churches and castles from the medieval period in San Gimignano
Bear witness to works of art by some of the world's most well-regarded artists, from Botticelli to Michelangelo and Raphael
Wine and dine on authentic sumptuous Italian cuisine and indulge in the finest local wines on a wine-tasting tour
How to get from Florence to Tuscany - All your transport options
---
Getting around in Tuscany
As the capital of Tuscany, Florence offers plenty of public transportation options. Although public transportation services are available across most of Tuscany's towns and cities, the connectivity offered is much less consistent in the smaller towns.
Florence to Tuscany by Bus
With several bus companies operating in and around Tuscany, buses offer the most convenient way to get around. You can consider traveling by bus in and around Tuscany as there are several hilltop towns and regions along the coast (Siena, Grosseto, Cecina, Lucca, Pisa) which are not accessible by train. The bus station in Florence is situated right in front of the SMN train station. Typically, two buses leave for Siena every hour. A one-way ticket is around €7.80 if you purchase it at the station beforehand and €10 if purchase it in the bus. You can access the bus schedules here.
Florence to Tuscany by Train
Siena is located just 43 miles (69 km) from the capital city of Florence. You can take a quick train from Florence to Siena. There are two trains available every hour. One train takes you directly to Siena and the other takes you to Empoli where you can change trains. A one-way ticket is generally around €6.80. The typical commute time is around 1 hour and 30 minutes. You can access the train times here.
Florence to Tuscany by Car
Taking a road trip from Florence to Tuscany offers a chance to immerse yourself in its picturesque landscapes. You should be able to choose from many of the car rental agencies operating right out of the Florence airport. A drive from Florence to Siena or San Gimignano generally takes about 1 hour and 20 minutes. Make sure you avoid the ZTL (Restricted Traffic Zones or Zona Traffico Limitato) and understand the road signs. (Quick tip: the green signboards indicate toll roads and the blue signboards indicate highways).
Organized tours from Florence to Tuscany
It is always a good idea to travel from Florence to Tuscany with an organized group. Save yourself the hassle of planning your itinerary, buying the tickets and standing in queues. All your travel woes are completely taken care of and you can spend all your time gazing at the spectacular scenery right from the comfort of your coach instead of worrying about finding the right bus stops.
Suggested Itineraries
---
Florence to San Gimignano, Siena, and Pisa
Experience the best of Tuscany in a day with this guided tour from Florence to San Gimignano, Siena, and Pisa.
Travel through the walled city of Siena and traverse its gorgeous landscapes and architecture.
Experience the best of San Gimignano, a UNESCO World Heritage Site renowned for its medieval heritage.
Visit Pisa and marvel at the many cultural and architectural masterpieces of significance that abound in the region.
Delight in a sumptuous lunch of authentic Italian cuisine and go on a local wine tasting tour.
The tour includes a multilingual English speaking guide, a guided tour of Siena, wine-tasting tour, and self-guided tour of San Gimignano and the Piazza dei Miracoli.
The Essence of Tuscany Wine Tour
Traverse the terraced landscapes of Chianti and experience the essence of Tuscany amidst lush vineyards and olive groves on this tour.
Explore the lush pastures of Chianti and taste Vino Nobile di Montepulciano, the finest authentic Tuscan wine.
Experience a guided lunch tasting of scrumptious Rosso di Montalcino, Brunello and super Tuscan red wines.
Visit the village of Montalcino and browse through its many artisan shops.
The tour includes hotel pick-up for those staying in Old Town, commentary by an English-speaking guide and tour escort, along with round-trip transfers and a guided wine and oil-tasting in Chianti.
Florence to Chianti and Sassicaia Wine Tour
Travel from Florence to Chianti and Sassicaia on this breathtaking wine-tasting tour and drive along the Tuscan countryside.
Indulge in a local wine tasting tour amidst the rolling hills of Chianti and experience authentic Tuscan wine at its finest.
Drive along breathtakingly scenic vineyards and quaintly charming farmhouses in the small towns of Greve and Castellina.
Witness the ancient farming traditions of the Tuscan locals and taste the divine local cuisine.
The tour includes commentary by an English-speaking guide and tour escort, along with round-trip transfers.
Fun things to do in Tuscany - The attractions you can't-miss!
--- Piazza del Campo, Siena
Regarded as one of Europe's most famous medieval squares, the Piazza del Campo stunningly brings alive Tuscany's vivid past with its architectural integrity and distinct design. Once the meeting point for three sloping hill communities that combined to form Siena, the Piazza del Campo is the heart of this scenic town. Its design showcases a shell-shaped basin from which eleven dark passageways radiate outwards and divide Siena into its many districts. Leaning Tower of Pisa, Pisa
One of Italy's most iconic sights, the Leaning Tower of Pisa is an absolute must-visit. Taking nearly two centuries to complete construction, the tower owes its legendary status to ill-conceived design plans. Tilting at 3.9 degrees off the vertical, the tower is held in place by a system of steel braces connected to neighbouring buildings. Access to the tower is limited to 45 people at a time, so make sure you book your tour package in advance online to escape the rush. Piazza della Cisterna, San Gimignano
Nestled amidst the medieval buildings of San Gimignano, Piazza della Cisterna or the 'Tower of the Devil', is a historic UNESCO World Heritage site that was once the cornerstone of the medieval town. Built in 1287 and connected to the Piazza del Duomo nearby, it features a triangular-shaped piazza that was dotted with workshops and taverns at the height of the medieval period. Church of Sant'agostino, Lazio
Constructed in 1483, the Church of Sant'agostino was one of the first Roman churches built during the Renaissance era. It houses significant artwork within its Cavalletti Chapel, namely the 'Madonna di Loreto' by Caravaggio. It also displays a Guernica canvas of Saint Augustine and several sculptures, including the 'Madonna del Parto' by Jacopo Sansovino. Taste the Finest Italian Cheese
Cheese lovers rejoice! Tuscany offers many delectable types of seasoned and fresh cheeses. The region is renowned for its aged and semi-aged Pecorino cheese. Each cheese has its own distinct taste and flavor so don't miss out on trying as many as you'd like! Go on a Guided Wine Tasting Tour
From the Romanesque castles and churches to the rolling hills and lush olive groves, the Tuscan countryside has plenty to offer. Wine lovers rejoice as you can drive along the scenic hillside on a guided wine tour and get a taste of Tuscany's noblest and most celebrated wine - the Vino Nobile di Montepulciano. Traverse along the picturesque Chianti countryside and taste the indulgence of the rich red Chianti wine that is native to the region. Piazza dei Miracoli, Pisa
Considered one of the finest works of architectural finesse in the world, Piazza dei Miracoli, or the 'Square of Miracles', is among the most significant structures in Europe. A UNESCO World Heritage Site, it is situated amidst lush greenery and hosts the Cathedral, the Leaning Tower, Monumental Cemetery and Baptistery. The Santa Maria Assunta Cathedral showcases classic Romanesque architecture at the height of its glory. It houses exquisite Italian Gothic artworks by artists such as Giovanni Pisano. The Monumental Cemetery displays impressive frescoes depicting stories of the Universal Judgment, Triumph of Death and stories of the Hermit Saint. Uffizi Gallery, Florence
Home to some of the most legendary works of art in the pantheon, the Uffizi Gallery was constructed between 1560 and 1580 and boasts of invaluable ancient sculptures and paintings by artists such as Giotto, Botticelli, Michelangelo, Caravaggio and many more. For all the culture vultures out there, the Uffizi Gallery is a must!
Before you take a day trip from Florence to Tuscany
---
Guided vs Self-Guided Tour
Although self-guided tours give you the freedom to explore the territory at your own pace, a guided tour offers a hassle-free and convenient experience that allows you to sit back, relax and take in the spectacular scenery of the Tuscan landscape. With a guided tour, you will be in the company of an experienced bilingual tour guide who speaks English and Italian. The guide will expertly take you through the region with fascinating guided commentary and help you make the most of your day in Tuscany.
The guided tours offer easy access to all of the most renowned destinations in Siena, San Gimignano and Pisa, including the Piazza del Campo, Church of Sant'agostino, Piazza dei Miracoli and more. If you are looking to spend a stress-free and leisurely day under the Tuscan sun, a guided tour is the way to go!
Best time to visit Tuscany
---
Although Tuscany boasts of mellow weather throughout the year, the best time to visit Tuscany is between Mid-May to July and during the month of September. The spring season offers visitors clear, sunny skies with temperatures ranging from 64°F (18°C) to 82° F (28°C), making it the best time to bask under the Tuscan sun and go sightseeing. Since it is also the peak tourist season, make sure you book your airfare and accommodation well in advance to avoid spikes in rates.
Visiting in the fall season between October and November allows for pleasant weather conditions along the Tuscan countryside. If dates aren't a concern, this is a great time to visit Tuscany. The region celebrates several festivals like Harvest and Easter during this period.
The low season in Tuscany is during the winter months from December to February. However, if the weather isn't a concern and you are in a festive mood and looking to celebrate Christmas, Tuscany offers many great options to ring in the cheer and the new year. There is little chance of snow and it is perfect for travelers wanting to escape extreme weather conditions and save a quick buck on their travel expenses. Please note that the tours will not be available on Sundays or bank holidays.
Handy travel tips
---
If you are looking for traditional, authentic Italian hospitality, ditch the hotel. Choose to stay in a farm stay accommodation nestled amidst the scenic landscapes within the heart of the region and have a truly Tuscan experience.
The most common breakfast available in Tuscany is Brioche or a small pastry with coffee. These are available at most cafes, which are generally known as coffee bars in the region.
Many smaller towns in Tuscany generally shut shop during the afternoon from 1:30 - 4:00 PM for their afternoon siesta. This includes small stores, boutiques, and salons. Most shops are closed on Sundays and Monday mornings, so plan your trip around that.
Internet coverage is spotty in many of the villages of Tuscany. The Wi-Fi availability may be intermittent in the countryside with faster speeds available in the cities and towns.
If you are using public transportation or are in a crowded tourist hotspot, watch out for your wallet and make sure that you keep it in your line of sight at all times, as pickpockets frequently target tourists during the high season.
Carry comfortable walking shoes and a large bottle of water per person on your hikes. Consider hiring a bicycle to traverse the hilly territory at your own pace.
More Florence guides
---