Today is my last day in Florence, and as I sit in my crowded hostel room, I'm still shocked at how I pulled off this spontaneous trip to Tuscany all by myself. If you ever happen to be in Florence and have a day to spare, let me recommend visiting Tuscany in all its sun-kissed glory.
With its exquisite Renaissance art, verdant vineyards, idyllic landscapes, and sensational cuisine, Tuscany offers an embarrassment of riches. Home to some of the world's finest and most iconic works of art, the Tuscan region presents an unrivalled taste of Italy's distinctive and historic legacy. Stroll along the cobbled pathways and witness the confluence of medieval and Gothic architectural masterpieces on a day trip from Florence to Tuscany's many rustic medieval towns.
Stick around for some personal tips at the end which might benefit all the first-timers in Tuscany!
Tuscany - The land of sun-baked olive groves and vineyards
---
The Tuscan region stretches from the Tyrrhenian Sea to the Apennines. The most prominent cities in this region include Florence, Pisa, Siena, San Gimignano, Lucca, Arezzo and Livorno.
Dotted with historic monuments and nestled in the heart of Tuscany, Siena is an artistic and cultural haven that is one of the most-visited provinces in the region. Owing to its lush landscape and medieval and Gothic architecture, Siena has been declared a UNESCO World Heritage Site.
The walled town of San Gimignano is famously referred to as the 'Town of Fine Towers' with its gorgeous medieval churches.
Home to the legendary Leaning Tower of Pisa, Pisa is peppered with magnificent palaces, medieval churches and enchanting castles.
If you are considering taking a day trip to Tuscany, there are several significant attractions that you should be able to cover in a day. Here is your complete guide with all you need to know about traveling from the capital of Florence and exploring the Tuscan countryside in one epic day.
Tuscany Map

Siena is known for its historical monuments of Romanesque and Gothic elements.

Spot the Collegiate Church, the Church of Sant'agostino and more.

Gasp at Pisa's Baptistery, Cathedral, and its most recognizable landmark: The Leaning Tower of Pisa.
Why take a day trip from Florence to Tuscany?
---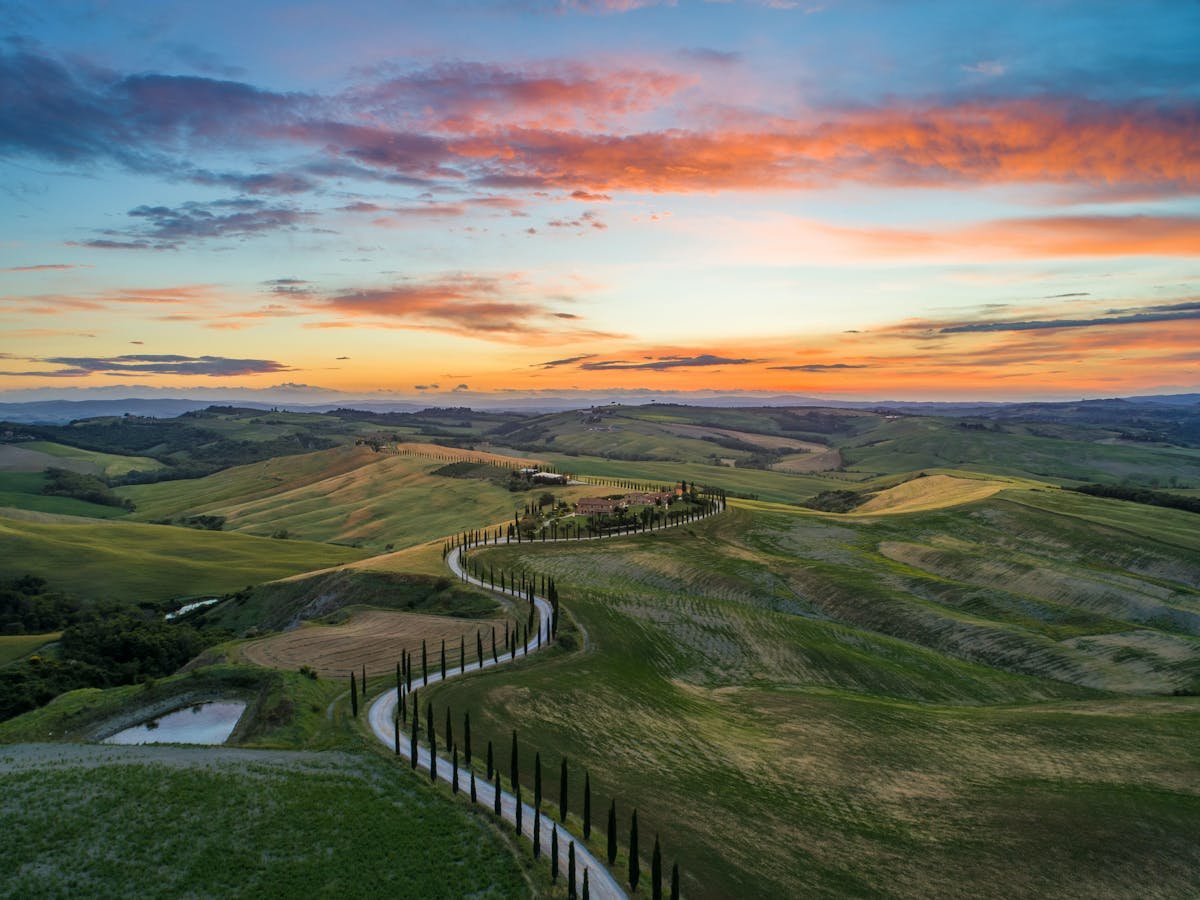 Have you ever come face-to-face with such sheer beauty that you just had to pull out your notepad and try to describe the experience in words? No? Just me? Okay then.
There are plenty of reasons to visit Tuscany!
The Spectacular Views
Tuscany is surrounded by terraced landscapes and pastoral hills, showing off the chic countryside all along your driving route. If you're all about nature, your commute alone will make your trip worth your while!
The Birthplace of Renaissance Artists
If you're a lover of art, the following names will certainly make you swoon: Leonardo da Vinci, Michelangelo, Raphael, Donatello, Caravaggio, Jan van Eyck.. must I go on? Tuscany is the birthplace of the Renaissance movement; these artists sprung from these very northern hills!
A Treasure Trove of Italian History
Those for a thirst of historical knowledge will get their share: travel past centuries-old monuments and ancient city ruins. If you're looking for your share of Italian history, you'll see plenty on your trip to Tuscany (tip: might be best to book yourself guided tours for the most historical context).
Must-Visit Landmarks
Your route is littered with some of Italy's finest landmarks that are frequented by locals and tourists alike. Be it medieval castles or archaic churches, you'll see them all. The masterpieces of San Gimignano, Siena & Pisa call out to you!
Drink Your Way Through Tuscany
Add a touch of scandal to your trip with some of the finest local wines at your disposal! You'll be just the right amount of buzzed to soak in the gorgeous Tuscan countryside. Indulge in the authentic sumptuous Italian cuisine while you're at it!
Guided vs Self Guided tour of Tuscany
---
Whether you choose guided or self-guided tours, you're guaranteed to be surrounded by the lush Italian countryside.
Self Guided Tours
If you're in Florence for more than a day, then I highly recommend you rent yourself a car and drive your way through the Tuscan countryside on your own. This gives you the liberty to make spontaneous pitstops at locations you deem memorable and enjoy the scenery at your own pace. Here's a guide to help you better plan your trip from Florence.
Guided Tours
If you're on a time crunch or in the city for a limited time, I recommend you consider guided tours. You're promised a hassle-free and convenient experience, allowing you to sit back, relax and take in the spectacular scenery of the Tuscan landscape as your guide leads the way. Another perk of signing up for a guided tour is easy access to all of the renowned destinations in Siena, San Gimignano and Pisa, including the Piazza del Campo, Church of Sant'agostino, Piazza dei Miracoli and more.
Check out additional Florence to Tuscany day trip tickets here if you're leaning towards guided tours.
A Typical Guided Tour Itinerary
The Tuscan region is far widespread to explore over a day. Moreover, public transport in rural Italy is not very well connected. However, the All Tuscany in a Day Tour that I signed up for has a perfectly packed itinerary that helps you make the most of your day.
Get picked up from the designated meeting point and begin your journey to the heart of Tuscany!
Stop at Siena, a picturesque providence primarily known for its historical monuments of Romanesque and Gothic elements. Visit Piazza del Campo, Piazza del Duomo, and a winery between Siena and San Gimignano.
Stroll through the town of San Gimignano next, drinking in remarkable sights through this walled town that shows you one side of medieval Europe.
Cruise down the quaint roads along the famous Chianti region to the city of Pisa, where hidden treasures are housed: from the Baptistery and the Cathedral to, of course, the Leaning Tower of Pisa.
More Recommended Florence To Tuscany Tours
Top things to do in Tuscany
---
Still harboring the classic Italian landscapes, Tuscany boasts of medieval hilltowns, cypress-lined streets, rolling vineyards and olive groves, and charming farmhouses– straight out of a Renaissance painting! There's only so much you can do in one day. While the 'All Tuscany in a Day Tour' was fulfilling, there are a few other things you must try in Tuscany if you have some more time on your hands.
1

The Lovely City of Pisa

FOR THE PHOTOGRAPHY LOVERS
One of the most recognizable landmarks in the world, the leaning tower of Pisa is an attraction you don't want to miss. That said, Pisa houses quite a collection of stunning landmarks: visit the Campo dei Miracoli, the Romanesque Cathedral, the baptistery, the Camposanto, and more.
Ticket Prices: Range from $7 to $25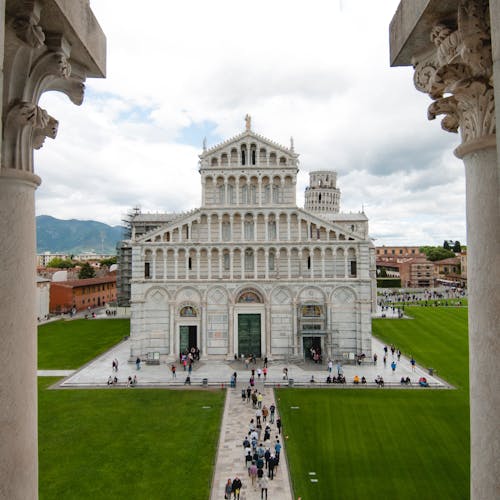 2

Nature-Kissed Alpi Apuane

FOR THE HIKERS & NATURE LOVERS
Throw on your walking shoes and take to the marble quarries of the Alpi Apuane, a region in Northern Tuscany that is considered something of a botanical wonderland. Your walking trails are lined with beech and chestnut trees and striking wildflowers. This is also a great place to spot exotic and native birds: the golden eagle, kestrels, sparrowhawks, and more.
Main Peaks: Monte Pisanino, Monte Tambura, Monte Cavallo & Pania della Croce.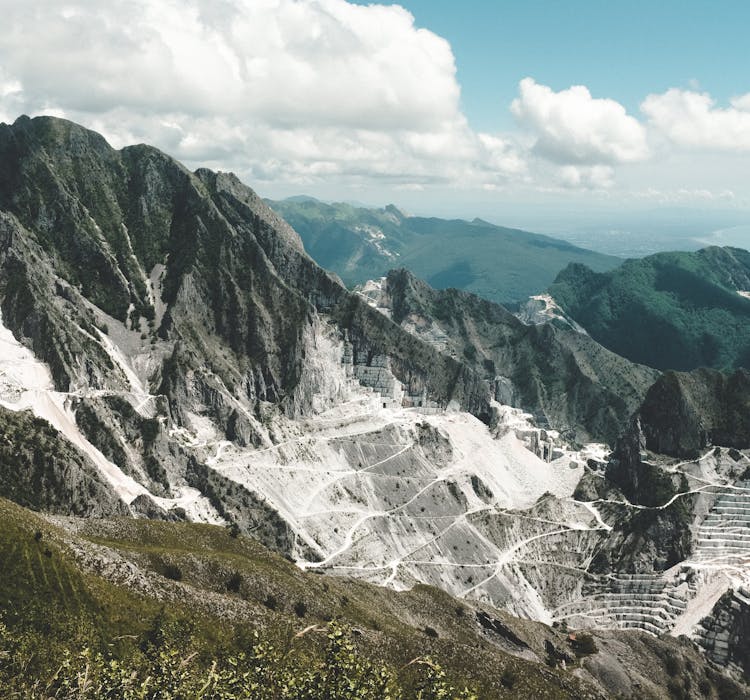 3

Visit The Uffizi Gallery

FOR THE ART LOVERS
Soak up the Renaissance brilliance at The Uffizi Gallery. Housing one of Italy's finest art collections and the world's largest collection of Italian Renaissance paintings. Marvel at the works of world-famous artists like Da Vinci, Raffaello, Masaccio, Cimabue, Botticelli, and Giotto.
Highlights: Annunciation, Virgin and Child, Birth of Venus, The Annunciation & more.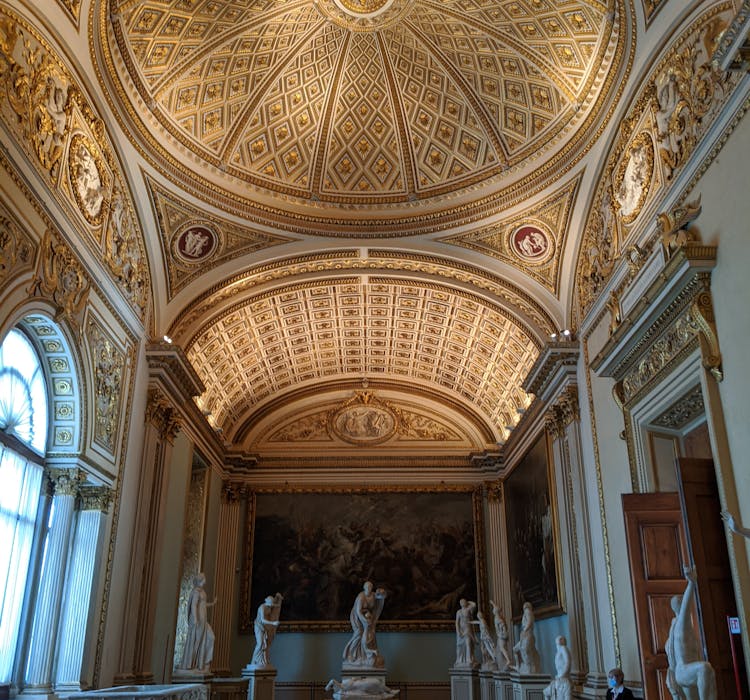 4

Monasteries in La Verna

FOR THE HERITAGE LOVERS
Make a pilgrimage to La Verna at a mountain-top retreat in La Verna, one of Tuscany's main pilgrimage sites. Whether you're here to pay homage, visit the monk's quarters, or curious about what unfolds at this oft-frequented pilgrimage, you'll have an interesting time.
Highlights: Basilica and Belfry, Corridor of the Stigmata, Chapel of the Stigmata & more.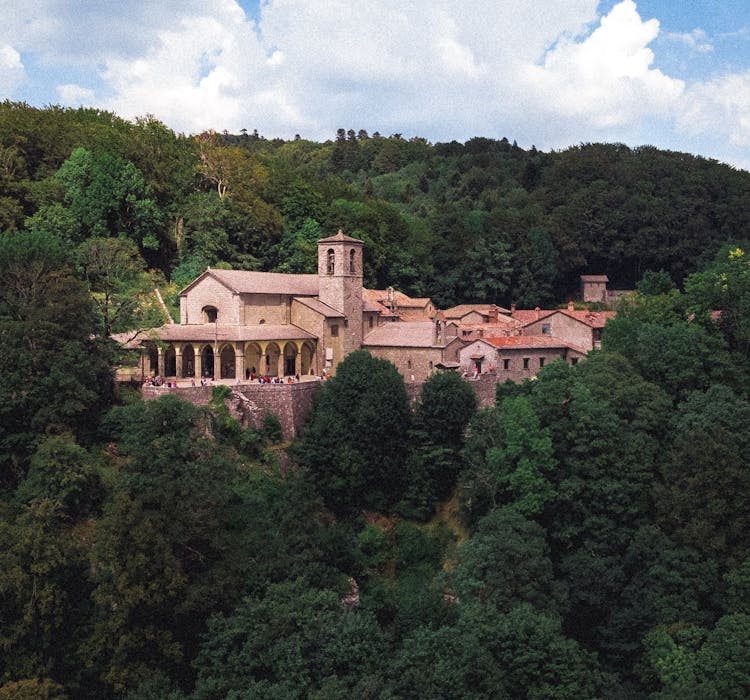 5

The island life at Giglio

FOR THE BEACH LOVERS
Lined with beaches, stone villages, and scenic citadels, Giglio is a quaint island off the coast of Tuscany. Compared to its neighboring island, Elba, Giglio is relatively unspoilt and less crowded, making it the ideal place to sample the good old island life in Tuscany.
Highlights: Giglio Porto, Giglio Castello & Giglio Campese.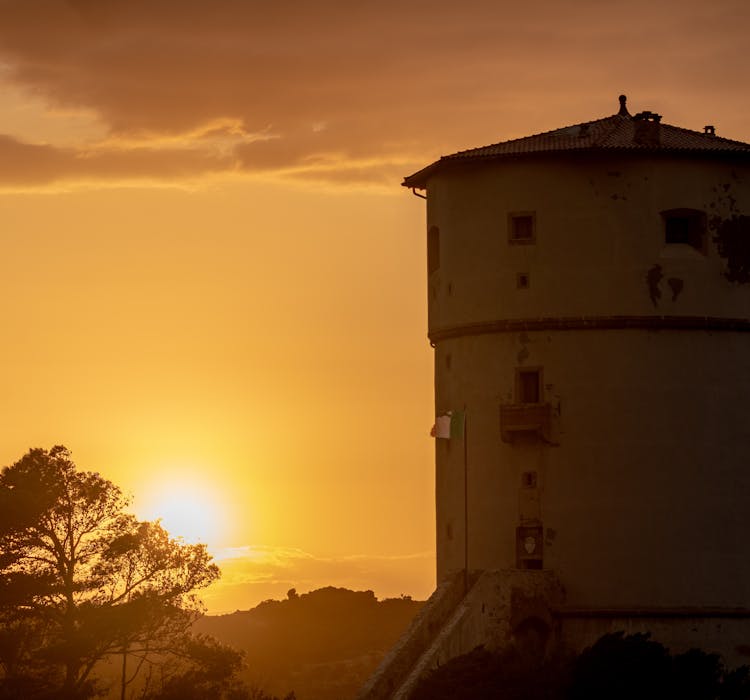 6

Truffle Sampling in Mugello

FOR THE FOOD LOVERS
Not even the Tuscans truly appreciate the gold mine that grows in their backyard- truffles. If you're a fan of truffles (or truffle oil), definitely sample this traditional Tuscan ingredient. If you're thinking of high quality truffles, definitely visit either Mugello or San Miniato.
Other places? Piedmont, Le Marche, Umbria, Emilia-Romagna & Abruzzo and Molise.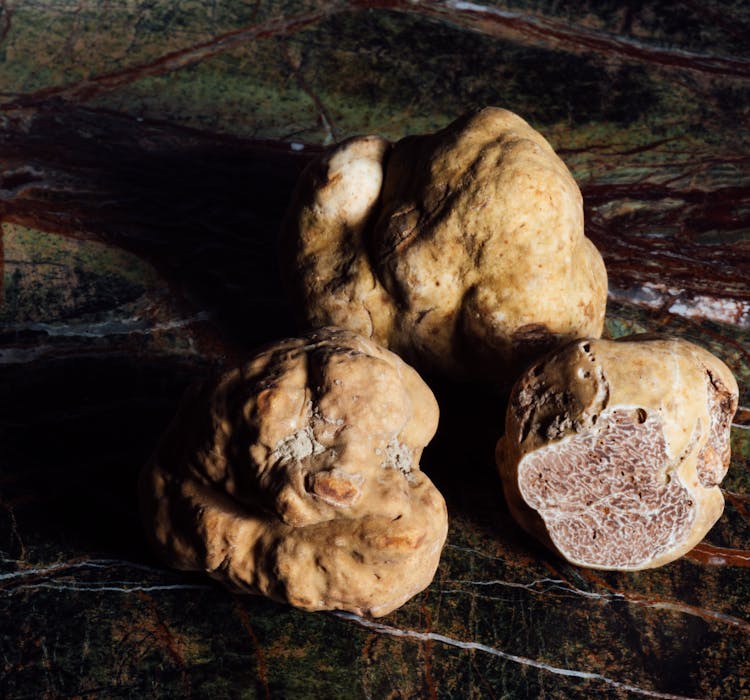 7

Wine Tasting in Chianti

FOR THE WINE LOVERS
No trip to Tuscany would be complete without a visit to the celebrated Tuscan vineyards. The long stretch of vineyards between Florence and Siena is home to some of Italy's finest appellations, so don't forget to pick yourself a bottle on your way back home.
Best Appellations: Brunello di Montalcino, Chianti Classico & Vino Nobile di Montepulciano.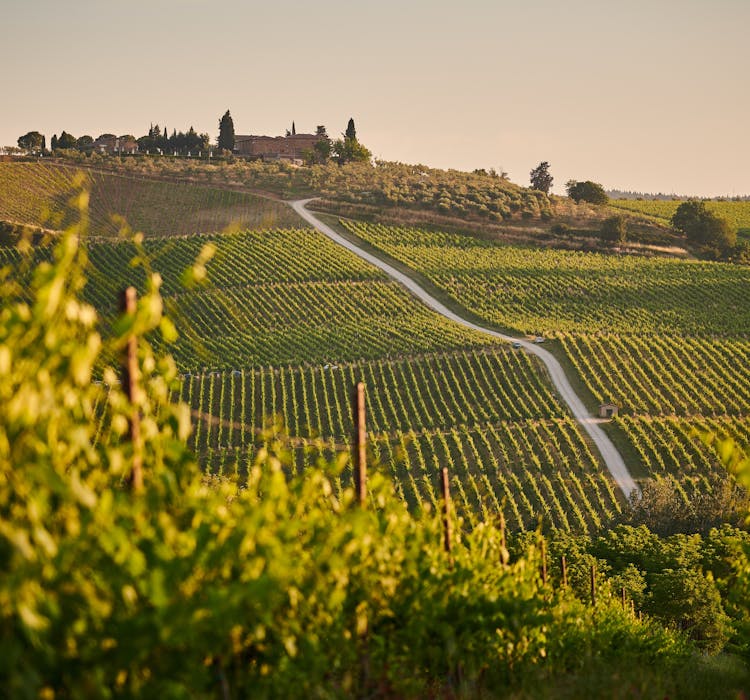 8

Eu-Natural at Bagno Vignoni

FOR THE SPA LOVERS
Make your way to one of Tuscany's trendy spa towns, Bagno Vignoni, a tiny and vibrant village with a natural hot spring and Medici-era pool. The pool is not currently accessible, but the village is still lined with free outdoor sulfur pools for you to take a dip in.
Did you know? Bagno Vignoni was the set for films like Nostalghia, Al lupo, al lupo & Affettuose Lontananze.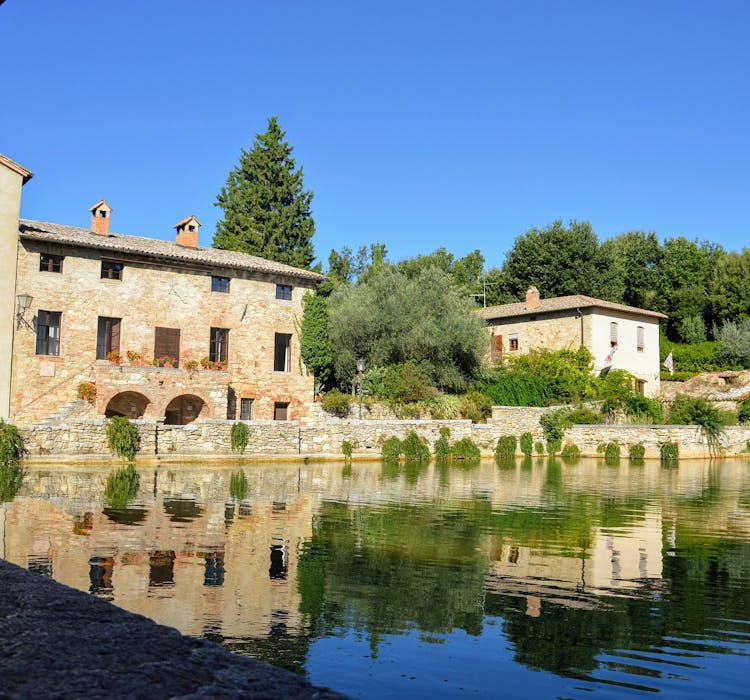 What is the best way to travel from Florence to Tuscany
---
Let me preface this by saying that there's no right answer to this question, but it depends on what you're looking to get out of the trip.
Florence being the capital of Tuscany offers plenty of public transportation options. Although public transportation services are available across most of Tuscany's towns and cities, the connectivity offered is much less consistent in the smaller towns like Chianti and San Gimignano. Here are all the different ways you can get around the Tuscan region from Florence.
Going from Florence to Tuscany - All your options listed
---
| Mode of Travel | Time | Cost | Best For |
| --- | --- | --- | --- |
| Car | 1 hour 20 minutes | from $9 per gallon | Freedom to stop at leisure |
| Bus | 2 hours | from €7.80 | Economically feasible |
| Train | 1 hour 30 minutes | from €6.80 | Comfortable journeys |
| Organised Tour | 12 - 14 hours roundtrip | from €67 (all inclusive) | Seamless, no hassle travel |
Florence To Tuscany by Car
Tuscany is made for four wheels. Banked like a racetrack at every turn, cruising down these often-deserted country roads is an experience in itself. I'd say if you're all about driving yourself to Tuscany, invest in a great rental; be it a Fiat 124 or a Fiat Spider convertible, you're sure to have a good time either way. There are many car rental agencies that operate right out of the Florence airport. Your drive from Florence to Siena or San Gimignano would ideally take about an hour and a half.
Hot tip: avoid ZTL (Restricted Traffic Zones or Zona Traffico Limitato) zones. The green signboards indicate toll roads and the blue signboards indicate highways).
Florence To Tuscany by Bus
This is more up my alley - a budget-friendly way of getting around where I don't have to drown in anxiety about swerving on the roads too hard. Many bus companies operate in and around Tuscany from several hilltop towns and regions along the coast (Siena, Grosseto, Cecina, Lucca, Pisa). The bus station in Florence is situated right in front of the SMN train station. You can access the bus schedules here.
Florence to Tuscany by Train
Many of the hilltop and coastal regions are inaccessible by train, so this mode of transportation will limit your destinations. Siena, however, is one of the most popular destinations visited from Florence via train. A mere 43 miles from the capital city of Florence, you'll enjoy a scenic route all the way to Siena. There are two trains available every hour. One train takes you directly to Siena and the other takes you to Empoli where you can change trains. You can access the train times here.
Organized tours from Florence to Tuscany
In case you were wondering how I traveled from Florence to Tuscany, this was it. Nothing eases my anxiety like a well-organised tour with a guide leading the way, planning my itinerary for me, and taking care of all the logistics. All I had to do was sit back, enjoy the bus ride, and gaze out the window to drink in the spectacular scenery under the Tuscan sun!
Sign up for our monthly newsletter
Your dose of travel fix - from hacks and deals to travel tips and everything in between, delivered monthly to your inbox
Please enter a valid email
Unsubscribe anytime
Best time to visit Tuscany
---
Although Tuscany boasts of mellow weather throughout the year, the best time to visit Tuscany is between Mid-May to July and during the month of September. Spring in Tuscany flaunts clear, sunny skies with temperatures ranging from 64°F (18°C) to 82° F (28°C), making it the best time to bask under the Tuscan sun and go sightseeing. Since it is also the peak tourist season, make sure you book your airfare and accommodation well in advance to avoid spikes in rates.
Visiting in the fall season between October and November allows for pleasant weather conditions along the Tuscan countryside. If dates aren't a concern, this is a great time to visit Tuscany. The region celebrates several festivals like Harvest and Easter during this period.
The low season in Tuscany is during the winter months from December to February. However, if the weather isn't a concern and you are in a festive mood and looking to celebrate Christmas, Tuscany offers many great options to ring in the cheer and the new year. There is little chance of snow and it is perfect for travelers wanting to escape extreme weather conditions and save a quick buck on their travel expenses.
Restaurants in Tuscany
---
Chefs in Tuscany have been scaling the heights of culinary excellence since forever. The freshest and most authentic Italian dishes are found in Tuscany, with a host of farm-to-table establishments serving fusions of tradition with a touch of modern. Here are our top picks for the best restaurants in Tuscany.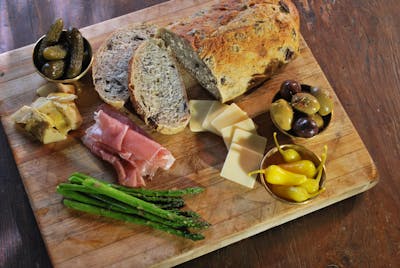 La Taverna di San Giuseppe, Siena
Once an Etruscan wine cellar and a medieval chapel, this intimate restaurant offers diners an informal dining experience. Mostly frequented by locals, this restaurant is the perfect spot to indulge in an antipasti, some homemade pasta, the chianina steak and the cinghiale (wild boar).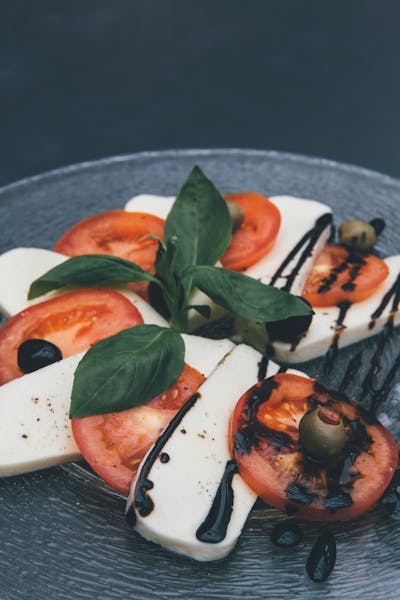 L'Imbuto, Lucca
Inside Lucca's Contemporary Art Museum, find a different kind of creativity at L'Imbuto. Choose your pick from tasting menus for 40, 60 and 90 euros with dishes made of fresh and traditional Tuscan ingredients by Chef Cristiano Tomei.
Il Canto Del Maggio, Arezzo
Handwritten menus are a thing of the present in this tiny and quaint hamlet. At Il Canto Del Maggio, enjoy an authentic, non-touristy Tuscan experience with locally sourced ingredients and an outdoor dining area that overlooks verdant valleys and hills of the region.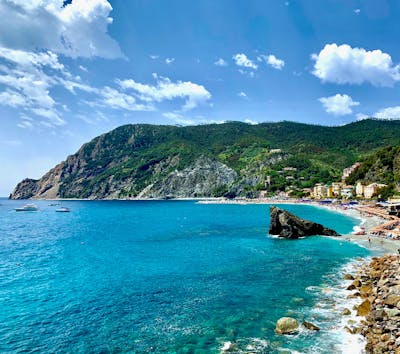 Il Pellicano, Grosetto
Overlooking a pristine small bay along the Tyrrhenian Sea, Il Pellicano is one of Italy's most enchanting and storied addresses. Live out your dolce vita fantasies while soaking up the sun and lingering over luscious alfresco lunches. Wine tastings, mixology courses, and cooking masterclasses with Michelin-starred chef Michelino Gioia are must dos here.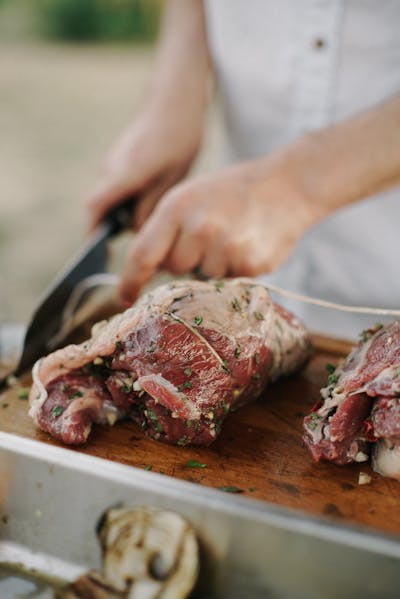 Del Fagioli, Florence
Few dishes are more quintessentially Tuscan than the Bistecca alla Fiorentina. If you're looking for a melt-in-the-mouth perfectly grilled T-bone cut from the region's highly prized Chianina cattle breed - this family-run trattoria in Santa Croce is the best place to get it.
Where can I stay in Tuscany?
---
Thinking of extending your trip for another day or two? Here are some of my hotel recommendations to check in for the night.
Hotel Athena
A quick walk from the tourist attractions of Siena, Hotel Athena is conveniently located for those looking to do a little sightseeing. It is furnished with local handicrafts, equipped with a terrace overlooking the Tuscan hills, and serves you a taste of the authentic Sienese cuisine at its restaurant.
Hotel Bologna
At Hotel Bologna in Pisa, you'll be privy to the city's distinctive air indoors! The interiors are adorned with prestigious furnishings (all undeniably Italian), giving you an elegant place to stay with a touch of drama. It is also a quick walk from the Cathedral and the main artery.
La Cisterna
La Cisterna is located in the heart of San Gimignano. In an elegant 14th-century building and furnished in a classic Florentine style, this hotel promises a fun stay, along with great views of the square and the Tuscan countryside from your windows.
Shopping in Tuscany
---
From cheese and wine to shoes and jewels, to terracotta vases and hand-decorated pottery, Tuscany has an abundance to take back home!
In the larger cities of Florence and Siena, you'll likely find branded shops and upscale boutiques. In smaller towns, shopping from local craftsmen is your best bet, and a good one too! You'll find a host of workshops, food markets, weekend pop-up markets and the likes. Each town in Tuscany has it's own produce that you won't find anywhere else and these make for the perfect souvenir. In Volterra, you have the alabaster, in Scarperia you have perfectly carved knives, in Casetino you will find "panno casentinese" a typical orange wool and in Montelupo Fiorentino you have drop-dead gorgeous ceramics.
If you're looking to take home food and wine, Tuscany is spoilt for choice. From the pecorino cheese in Pienza to the panforte and ricciarelli biscuits in Siena, lard from Colonnata and pan buccellato from Lucca - you'll find a different variety of cheese around every corner. While the most famous Tuscan wine is the Chianti variety, make sure to take home a bottle of the Montalbano , Montepulciano and Montalcino, Vernaccia from San Gimignano and Morellino di Scansano from Maremma.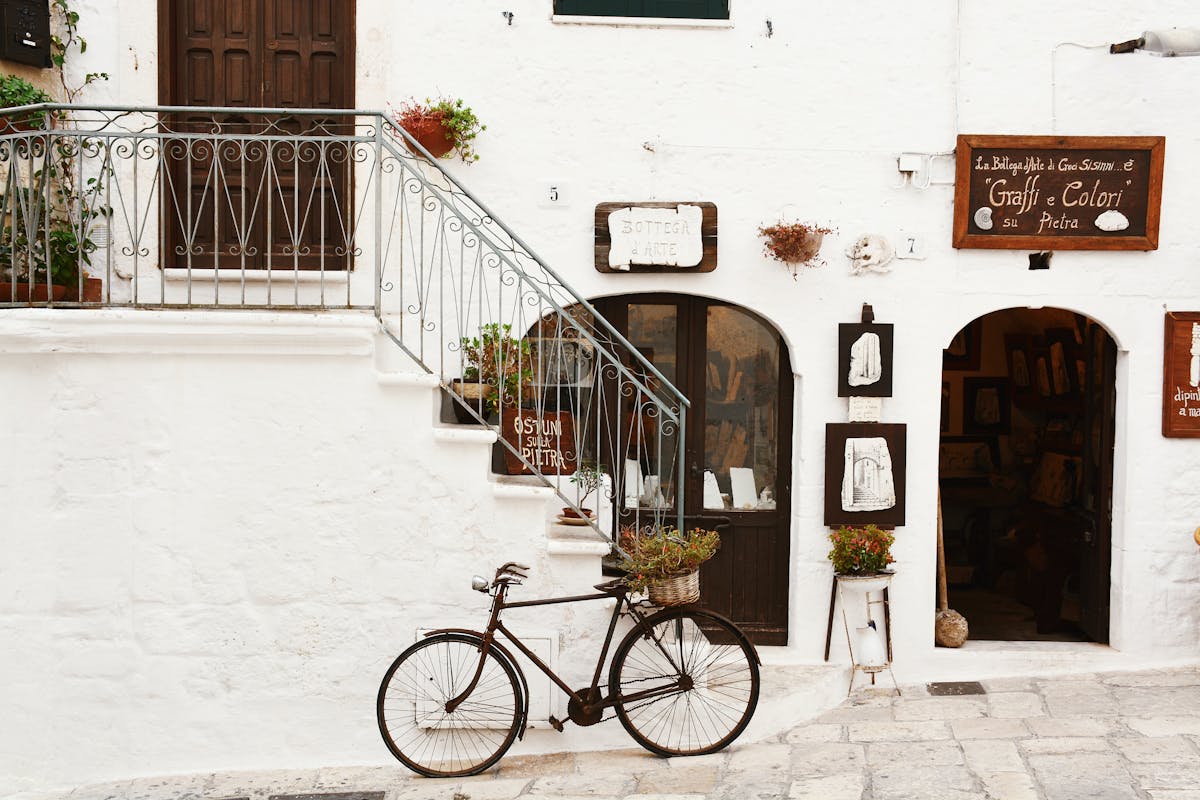 What I Would've Done Differently?
---
This might be an unpopular opinion, but if I were to do it over again, I'd ditch the hostel! While I was on my wine tour in Chianti, I heard about a farm stay accommodation. It sounded a lot less crowded, a little more comfortable, and apparently the bathrooms have locks on them (that's right, in a hostel that's not always a guarantee!)
I'd have the same breakfast every day. The cafes in this region are called "coffee bars" and my favourite breakfast was a simple Brioche with coffee. Now that I will be robbed of this simple luxury, I wish I ate it more (seriously, they are to die for).
Smaller towns in Tuscany shut shop in the afternoon (typically between 1:30 PM and 4 PM) for their afternoon siesta. Don't delay your lunches or wait for a later time to pick yourself a souvenir, because you'll end up starving or going back home empty handed- both of which I've done (on the same day at that!)
The internet coverage is spotty in many of the smaller villages in Tuscany. If you're depending on it for route navigation, download your maps offline, lest you wish to be stranded in the middle of nowhere. Of course, this didn't happen to me, but I was upset I had to wait to get back to the hostel to post my Instagram stories!
If you're using public transportation, I cannot stress this enough. Hold onto your personal belongings closely- keep them in your line of sight at all times. Pickpockets frequently target tourists, and if you stick out like a sore thumb (like I did with my dusky complexion and exotic accent), you're most likely going to be a target.
Wear comfortable shoes (that have already been broken into)- do not choose this day trip to break into your new pair of sneakers.
Before I conclude, let me answer the billion-dollar question: was it, in fact, a Tuscan fairytale? Yes, in every sense of the phrase. Who would've thought this little Italian region would have so many places to explore in one day!
More day trips from Florence
---
Once you've had your fill of Renaissance art in Florence step out of the city and venture a little further afield. Being at the very centre of Italy makes Florence a great base from which to explore the rest of the country. Rolling hills, charming coastal villages and honey-stoned towns can be reached within 3 hours from Florence. Here are our top picks for the most gorgeous, hassle-free day trips from Florence.
In Florence for a few more days? Check out the Best of Florence here and make your visit worthwhile!
Ready To Explore Florence?
Check out our comprehensive Florence Travel Guide packed with itineraries, tours, culture trips, best hotels, restaurants and a lot more.
Know Before You Go
A simple list of questions I got the answers to on this trip!
The easiest way to get from Florence to Tuscany is a comfortable train ride from Florence. There are two trains available every hour. One train takes you directly to Siena and the other takes you to Empoli where you can change trains. A one-way ticket is generally around €6.80.
Florence is in Tuscany. Tuscany is a region of Italy and Florence is the capital city of that region. The region of Tuscany is called Toscana in Italian. The city of Florence is called Firenze in Italian.
Tuscany has a cluster of many beautiful towns and it is hard to pick one. However, one of the prettiest few would be San Gimignano, Lucca, Cortona, Montepulciano, Suvereto, Fosdinovo, Barga and Pitigliano.
A day trip around the Tuscan region may not be expensive, but if you plan on staying a while longer - between accommodation, food and sites, you can really burn through the euros on a trip to Tuscany.
While most of Tuscany is safe, crowded tourist hotspots like Pisa is infamous for theft.It's always best to guard belongings when visiting larger cities, particularly after dark.
The best times to visit Tuscany are between late September and October and between April and May. These months see comfortable temperatures and fewer crowds at the major sights.
Tuscany is home to dramatic landscapes, and the historic cities of Florence, Siena and Pisa. This region in Central Italy flaunts an embarrassment of art, fresh local dishes, delicious wines and hilltop towns that overlook breathtaking and verdant valleys.
Expect to spend a minimum of €60 per day on a day trip to Tuscany (exclusive of petrol costs). A decent meal would cost €12 and €5 on local transportation. Guided tours that are inclusive of transport, lunch (minus wine), services of a local expert guide and sightseeing costs average at around €65 to €75.
To see the best of Tuscany and experience some of its stunning landscapes, it's best to explore Tuscany by car. However, if you don't have your car, an organized tour is a great option. If you're interested in discovering the best of Tuscany at your own pace, you can commute by train between the major town and hire a car to explore the interiors.
Yes they do speak English in Tuscany but knowing a few basic phrases in Italian can be hugely helpful.
Tuscany has two international airports, the Galileo Galilei International Airport in Pisa and Amerigo Vespucci Airport in Florence.
Florence to Tuscany Guide