Walking Tours in Athens
Top Experiences in Athens
Travel Guides and Tips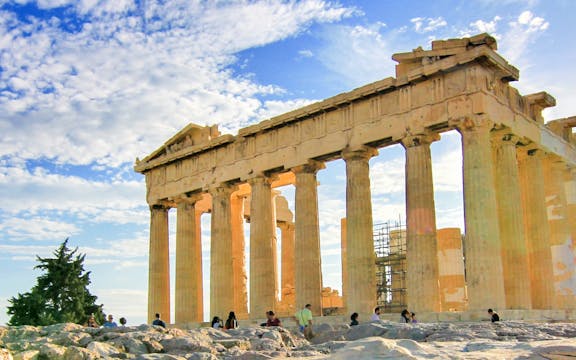 A Guide To Visiting The Colossal Acropolis Ruins Of Athens
The Acropolis of Athens sits atop a craggy hill, preserving what's left of the 2500-year-old city dedicated to Athena, the Greek Goddess of War. The ancient ruins fill you with the nostalgia of the movies, books, and history classes about early Greece. The highlight is the famous Parthenon temple, whose tall distinctive columns have left […]
Read More
Are walking tours in Athens worth it?

There is no better way to unveil Athens than by exploring its streets. The city has an abundance of history, culture, art, and architecture which is best experienced on foot. A walking tour across the city guarantees you knowledge and wonder of the small details along its streets and is well put together by an expert local guide who will accompany you along the way.
Are walking tours in Athens kid-friendly?

Walking tours in Athens is just as much for children as they are for adults. To keep children entertained and ensure that it is an educational journey, your tour will include a variety of activities and attractions. From famous landmarks and neighborhoods to the best street food, and street art to stories about mythological characters, these walking tours are going to leave children wanting more.
What are the starting prices for walking tours in Athens?

Walking tours in Athens start from as low as €31. If you choose to go on a private walking tour, the prices may be higher.
Are Athens walking tours better in the mornings or evenings?

Both early mornings walking tours and evening walking tours are great options to consider in Athens. Pick the morning walking tours if you wish to see the sites in natural light and if you have kids coming along. An evening walking tour would be perfect if you want to avoid the crowds and if you want to experience Athens' nightlife.
What are the popular neighborhoods for walking tours in Athens?

The most popular neighborhoods to take a walking tour in Athens are: 

Apostolos Pavlos Streets: Located in the heart of Athens, Apostolos Pavlos streets are picturesque and you get to see archeological sites such as the Sacred Rock, the Acropolis Museum, Zosimades National Stadium, Municipal Art Gallery of Ioannina, and many others. 
The Riviera: This neighborhood is along the beautiful coast of Athens, lesser-known to tourists. Walk past Averof Ship, the surviving naval vessel of the Hellenic Navy, the luxury yachts, and Flisvos Marina. 
Plaka Neighborhood: This is the oldest part of Athens and is adorned with paved alleys, classic old Greek buildings, and stone churches. 
SNFCC park: Short for Stavros Niarchos Foundation Cultural Center, the park offers a great spot to have a picnic. You can take amazing views of the Saronic Gulf from the lighthouse, and play water games in summer. 
How long are walking tours in Athens?

Most walking tours in Athens last at least for 3 hours to cover maximum ground in the city. If you intend to enter the archeological sites or museums, the time may increase up to 6 hours.
Do walking tours in Athens include transfers?

Most walking tours inside Athens do not include transfers. All the most important attractions are located within walking distance from each other, so there would be no need for transfers between the spots.
What are the main attractions on a walking tour in Athens?
Can I cover most of Athens on a walking tour?

Yes, since most of Athen's popular attractions are located close to each other, you can cover most of them on a walking tour. Should you decide to enter the sites and explore them, you may have to divide your itinerary or pick separate tours on different dates.
Is it safe to walk around Athens?

Athens is considered a very safe city to walk around, even for solo female travelers. Nevertheless, make sure to be careful with your wallets and passports while walking around neighborhoods like Omonia, Exarcheia, Vathi, and Kolokotroni since their crime rates are high.